This Pecan Pie Trifle Recipe is an easy and delicious dessert for holidays and dinner parties. It's a great fusion of pie and a layered trifle! Prepare this in a trifle dish for a pretty centerpiece to your dinner party ideas menu.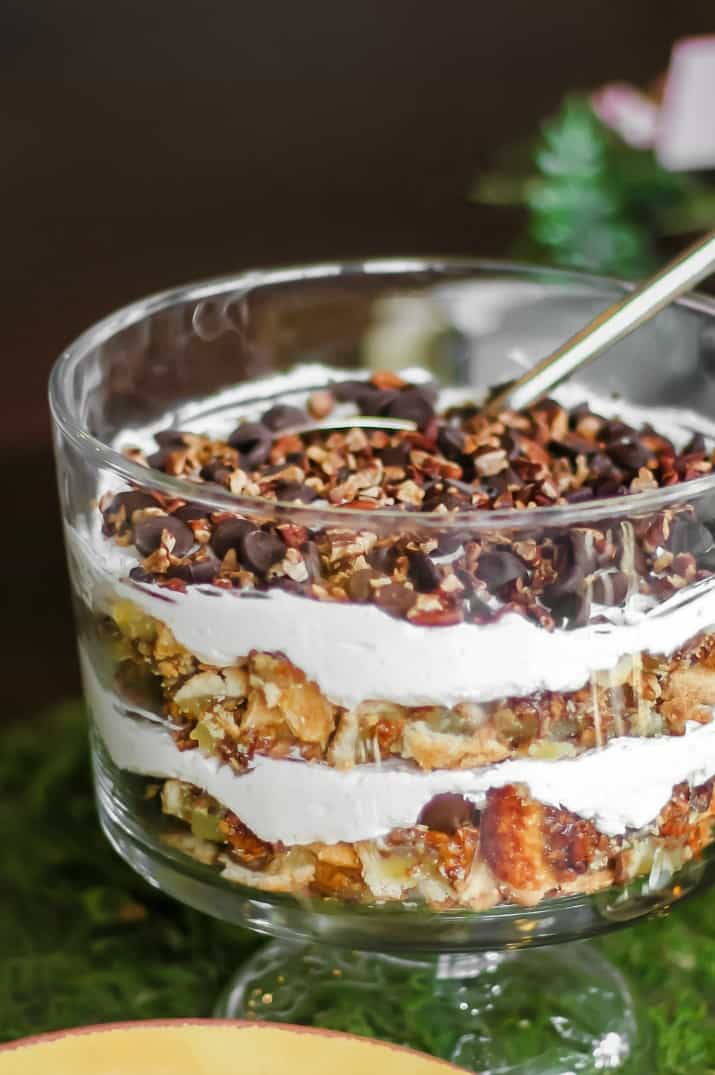 Easy Pecan Pie Trifle
Put this delicious trifle on your holiday dessert table and watch your guests devour it! This recipe is part of our Easter brunch entertaining menu, and great for Christmas, or Thanksgiving entertaining too.
If you live in the South, pecan pie is pretty much a staple dessert item. It's on the menu for most holiday or family gatherings, and now I'm serving up this classic dessert with a twist!
I love the idea of a pecan pie trifle to change things up every now and then, and holidays are the perfect time to do that. Make it ahead so it has time to sit in the refrigerator where the flavors will blend together.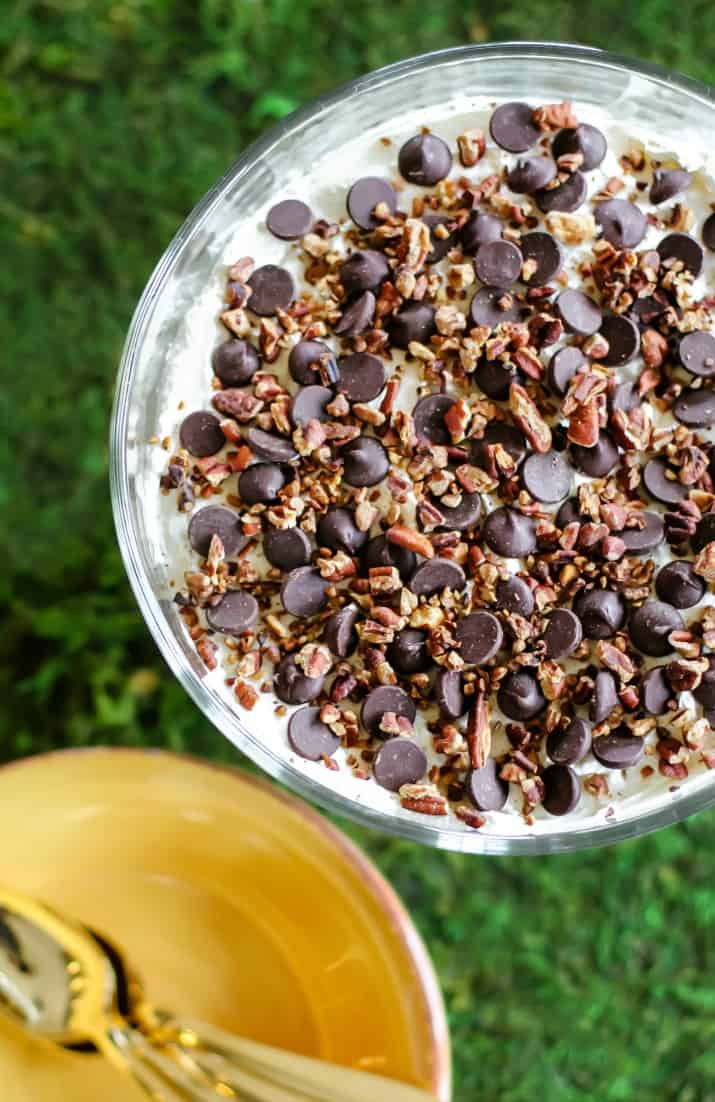 More Trifle Recipes
You can have a show-stopping layered dessert all year long!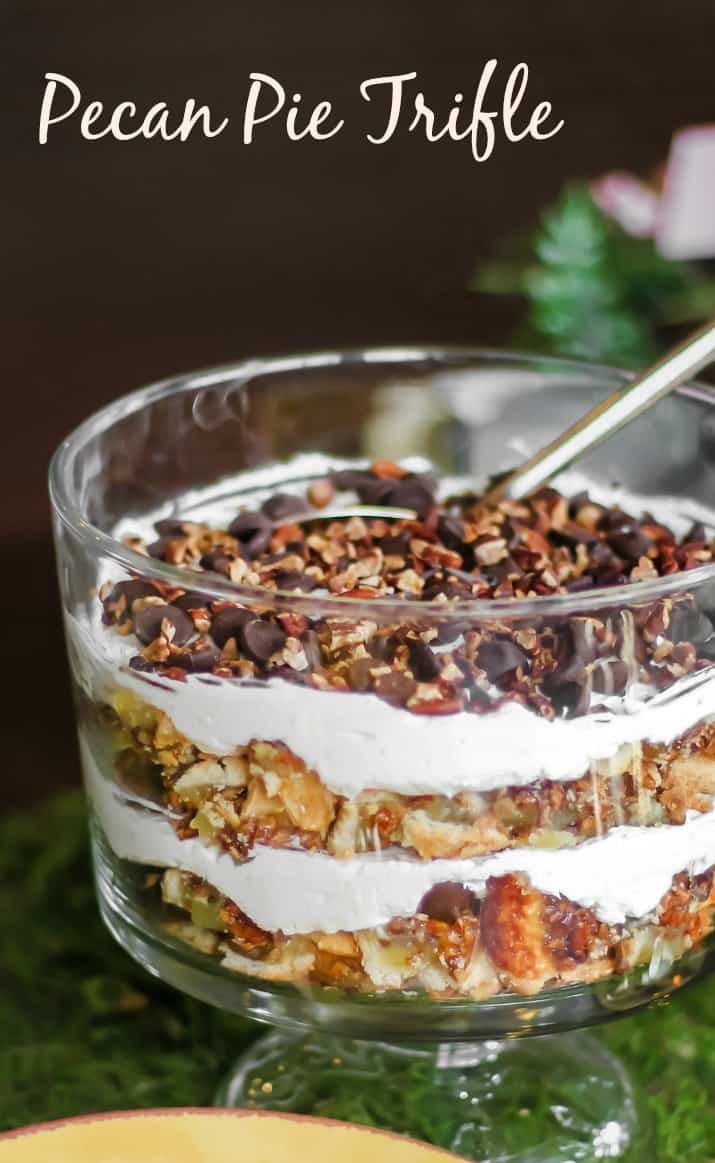 Dessert for a Dinner Party
This pecan pie trifle recipe is a dessert fusion of two classic desserts, a pie and a trifle. It's full of texture and delicious flavor, and it can serve a large dinner party.
There are recipes for this all around the web but this one is a little different. I've eliminated the need for chocolate and caramel syrup by sweetening the cream layer slightly and using chocolate chips instead.
For me, the sweetness of the two syrups was just too much combined with the custard center of the pie. Plus, I like the bite of the chips. The crunchy nuttiness of the toasted pecans creates the perfect balance.
HOSTESS TIP: Use pie from the bakery instead of a frozen pie. In my experience the texture is better to work with in a bakery pie. The frozen ones were sticky and more difficult to cut apart.
Of course you could always make your own pie such as this Kahlua pecan pie recipe, if you'd like.
Delicious Holiday Dessert
Add this pecan pie trifle to your Thanksgiving or Christmas dessert menu too. It can serve a crowd and it's something unique to try alongside pumpkin pie. Serve it with this Kahlua & coffee recipe with Irish cream for a delicious end to a meal.
BEST TIP: Since you're whipping several ingredients, not just whipping the cream, let the stand mixer do its magic so it's easier on you.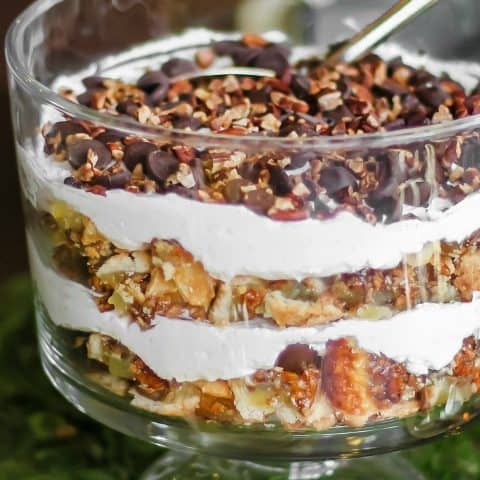 Pecan Pie Trifle Recipe
Yield:
1 large trifle serves about 10
This Pecan Pie Trifle Recipe is an easy and delicious dessert to make for the holidays or any time you entertain. A great fusion of pie and a layered trifle!
Ingredients
1 1/2 large prepared pecan pies from the bakery section of the market
8 oz. block of Philadelphia Cream Cheese, at room temperature
1 1/2 cups heavy cream
1/2 cup powdered sugar
1 1/2 teaspoons vanilla extract
3/4 cup dark chocolate chips
1/2 cup pecan pieces, toasted
Instructions
In a heavy duty mixer with a wire attachment, combine cream cheese, whipping cream, powdered sugar, and vanilla until smooth and whipped; about 2 to ­3 minutes.
Cut pie into 1-­inch cubes and layer half in the bottom of a trifle dish.
Top with half of chocolate chips and pecans, and
Add a layer using 1/2 of the whipped cream cheese mixture.
Layer with remaining pie pieces and the remaining cream cheese mixture.
Top with remaining chocolate chips and pecans.
Cover and refrigerate for 8 hours or overnight.