Serve up a stylish Al Fresco Dinner Party and menu with these inspirational images and recipes. Plus, 5 tips to make Father's day or his birthday, special. This al fresco dinner party for dad is your road map to Father's Day success! Find more summer entertaining ideas here.
With summer in full swing, and Father's day just ahead, I wanted to create an inspirational al fresco dinner party tablescape that could work for multiple occasions. This party is set with father's day in mind, but it can easily be applied to a gentleman's birthday or any casual summer dinner party.
I've provided the menu and recipes for this dinner party, so you have nothing else to think about other than the guest list and/or maybe a gift. This party tabletop and menu could work right into Fall entertaining too!
Set an Al Fresco Dinner Party in neutral, earthy tones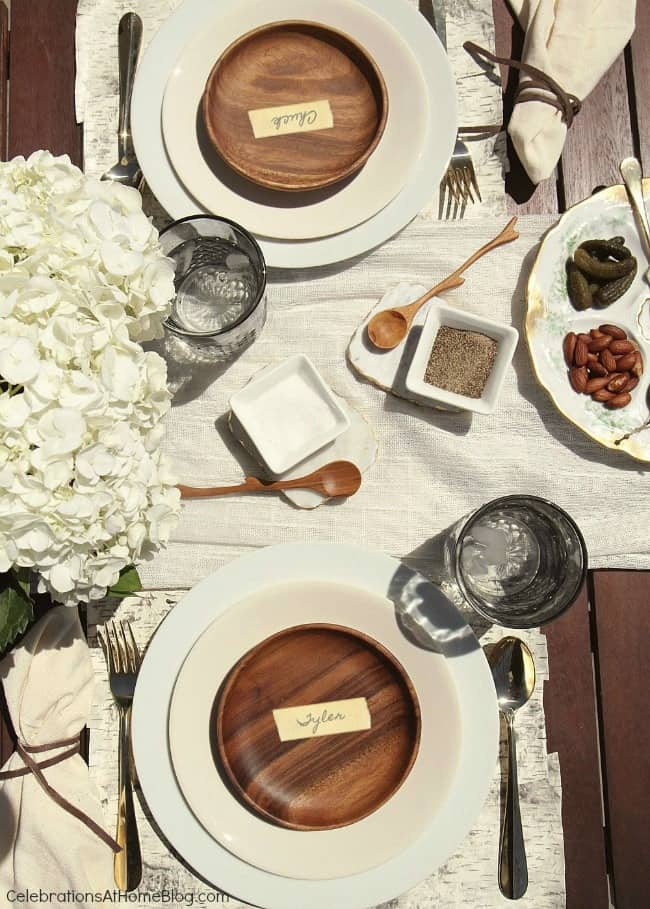 Al Fresco Dinner Party tablescape & tips for father's day entertaining
Incorporate natural elements into the tablescape. In order to add interest and detail while keeping the setting more masculine, I decided to use an array of natural textures like wood and stone in the table setting. Simple pieces like the wood appetizer plates, marble coasters, and leather cording tied around napkins ended up bringing this look to life.
Keep flower arrangements simple. Stunning bouquets are lovely for more feminine or formal occasions, but I like to keep it simple for Father's Day with a centerpiece of hydrangeas. The large fluffy blooms are my go-to choice and add a fresh element to the table setting while keeping the focus on the food.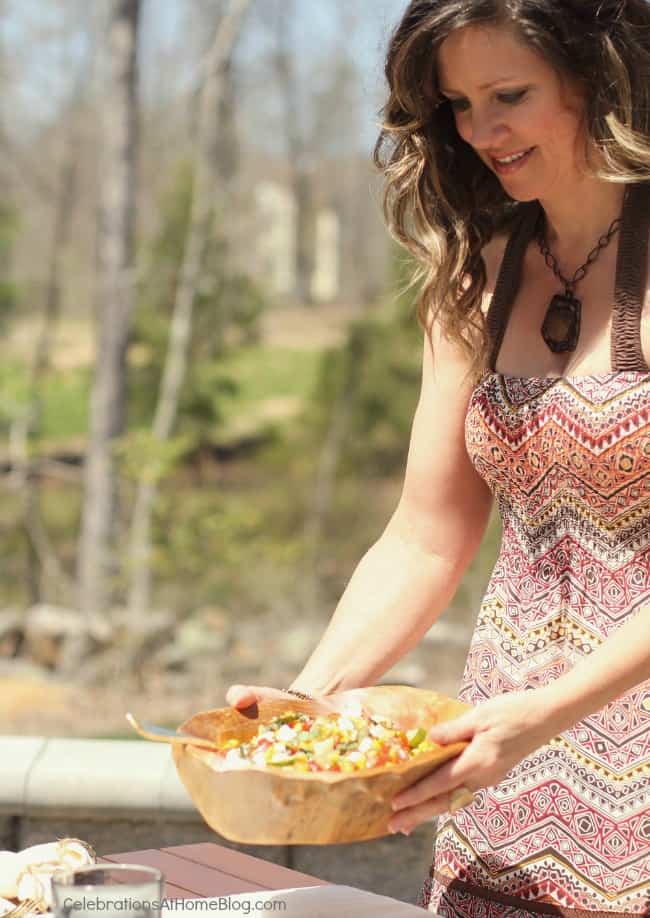 Casual Delicious Menu & Recipes
Serve up dad's favorites. Of course, on Father's day the menu always consists of dad's favorite foods! Around here that means sun dried tomato burgers with summer corn salad on the side. I like placing the burgers on a pedestal to give the meal a celebratory feel. For a special touch I made cheese frico "bowls" and filled them with a lightly dressed salad.
Serving a variety of nibbles on the vintage oyster dish I picked up while visiting New Orleans completes the look.
Add a little fun. I've found creating trivia cards based on dad's favorite things and other fun facts, is a great way to spice up the meal. It's so entertaining to see what the kid's write down, and so fun when they find out something new about their dad! I've created a similar version for you to download and print, HERE.
Don't feel like you have to do it all
To save my sanity, when hosting celebrations I choose to either serve a catered meal and make a signature homemade dessert, or make the main dishes and dress up a beautiful store-bought cake. I love doing this by surrounding them with macarons of the same color palette or flavor profile. The extra treats are a delicious bonus!
I hope you enjoyed the party. Happy hosting!