Easy Fall Dinner Party Menu + Black & Tan Tablescape
Host a fall dinner party with an easy menu full of comfort food, and a cozy black and tan tablescape. This make-ahead menu is perfect for entertaining at home.
How to host a fall dinner party at home
It's so fun to host themed dinner parties like a Moroccan party, or Mexican dinner party. But a fall dinner party can also be more informal and carefree.
This party plan is easy on the host, and includes a menu full of seasonal flavors and ingredients. Think comfort food, apples, pumpkins, etc.
Plus there's an inviting tablescape for a casual evening with friends, that include candles, neutral dishes, and a simple vase of flowers.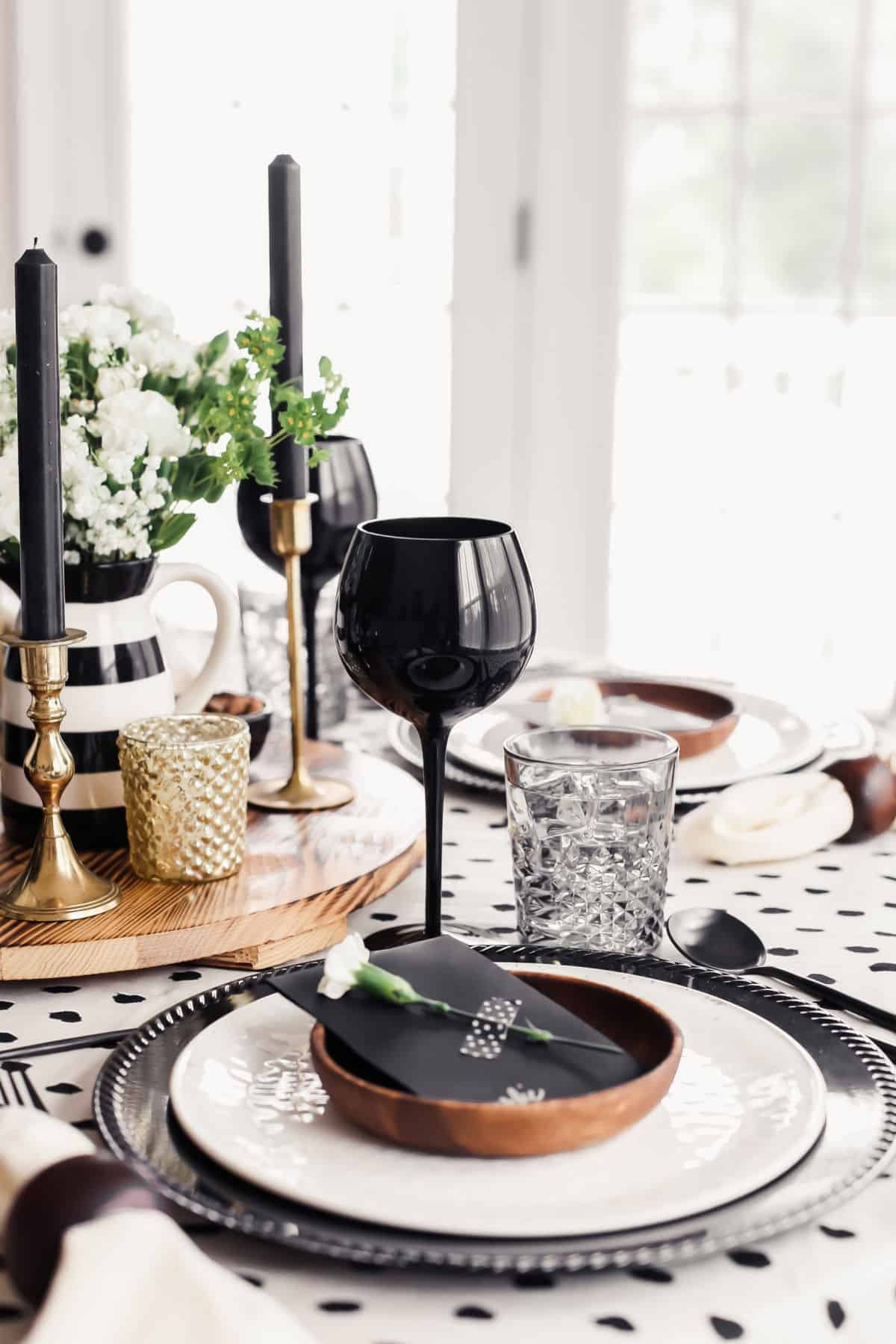 Fall table setting
contains affiliate links
The inspiration for this table setting came from the cute tablecloth. I loved the color pairing of black and tan together, and the Dalmatian pattern adds a nice detail.
Create this relaxed setting for an intimate dinner with friends.
Layer black chargers, tan dinner plates and small wooden dessert plates each place setting.
Add black wine glasses, and water glasses to compliment the design.
This set of black flatware is a favorite accent to use on the table.
Creating place cards is simple. I don't always use them but sometimes I just like the added decoration it brings to a place setting. These are basic card stock with a flower stem attached with decorative washi tape.
Add wood elements with napkin rings, and round serving board at the center of the table. Serving boards aren't just for cheese and charcuterie!
Centerpiece idea
Speaking of the center of the table, I created a very informal fall centerpiece with candlesticks, votive candles, and flowers. In this arrangement even the bottle of wine becomes part of the décor!
The large wood serving board creates a focal point, similar to how a tray would. And the centerpiece is so eclectic that it makes great fall dinner table décor even when the table isn't set for guests.
PARTY TIP: Find a new use for wooden serving boards. Make them part of your centerpiece and top them with candles, flowers, and wine.
Signature drink
Wine is always a good idea to serve with dinner. But you can serve up a signature party drink to sip on with appetizers before the meal. Fall cocktails can add seasonal flavor, or you can keep it classic.
Prepare a small tray with ingredients to make the drink, and let guests help themselves. Don't make the recipe too complicated though.
This simple drink is made from 1 1/2 parts gin to 3 parts Elderflower lemonade and is refreshing and festive.
PARTY TIP: Make or print a single menu card so guests know what will be served. You can showcase it in a frame or casually place it on the table.
Easy make-ahead fall menu
Prepared these recipes ahead of time so you're not stuck in the kitchen when guests arrive. These are classic dishes you can feel confident serving.
And you can check out even more dinner party menu ideas for hosting a party at home.
Main course
Since fall is all about comfort food it's a good time to make a batch of spaghetti with slow cooker spaghetti sauce. Don't be surprised if your guests ask for the recipe!
Serve some veggies in the form of this beet & goat cheese salad or a lovely fall fig salad. Add some crusty bread and butter for a meal that satisfies.
Pasta is notoriously filling so keeping the other items light is a smart idea. If you'd rather opt for a crudités platter than the cheese appetizers that would be fine too.
Dessert
For dessert serve a rustic apple galette with caramel drizzle topped with a scoop of vanilla bean ice cream. Or you can offer the easiest pumpkin ice cream for a delicious seasonal treat.
Are you in the mood to host a fall dinner party that's easy to prepare, and lots of fun? Time to send those invitations!
If you like this post, PIN, Share, or sign up for our Newsletter at the top of the page. And don't forget to follow CAH on Instagram or Facebook. Cheers!