Slow cooker spaghetti sauce for a crowd served over pasta is the perfect meal for entertaining. This recipe is fantastic and so easy you'll want to keep it handy year round.
As you begin to have company for the holiday season you will likely be feeding a crowd for more than just the holiday meal. What better way to please the palate than with spaghetti and homemade meat sauce that's easy to make?
My husband grew up in West Virginia where there's a restaurant called Jim's Spaghetti House, famous for it's sauce. He stumbled across the recipe a while back and we adapted it for the crock pot, and for our family meal. The thing that makes this sauce unique is the fact that you DO NOT pre-cook the ground beef.
The raw meat is combined with the rest of the ingredients and cooked on low for several hours. This gives a very fine texture to the finished sauce, which we prefer over big chunks of meat using the traditional pre-browning method.
The sauce literally takes 5 minutes to prepare and then you can forget about it until dinner time. It makes a large quantity which makes this the perfect meal to serve when entertaining a crowd. Or you can use the sauce to make my baked spaghetti recipe.
Make this slow cooker spaghetti sauce for a crowd when you have guests coming to visit.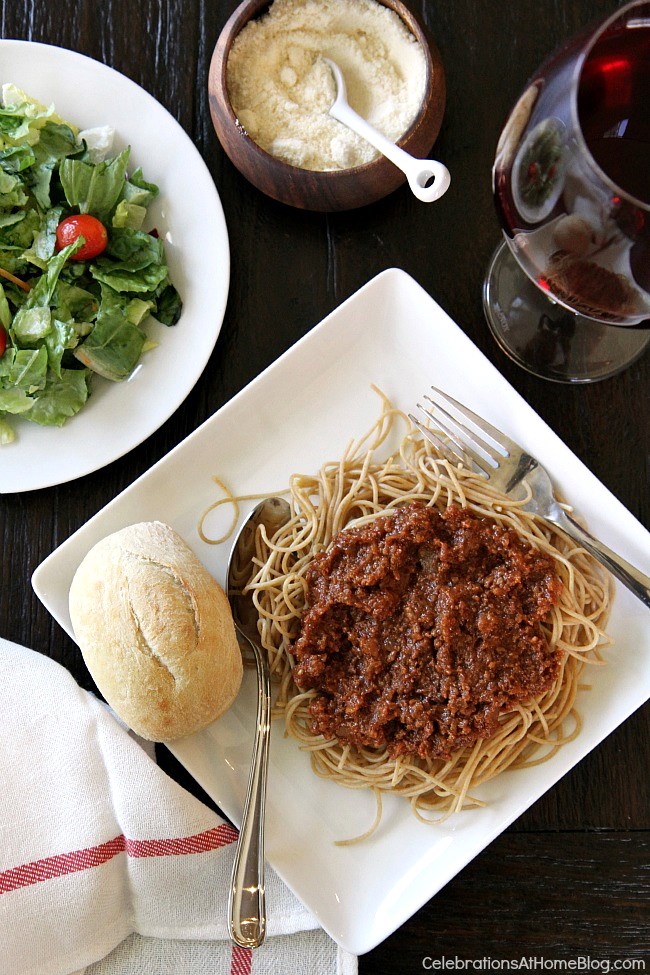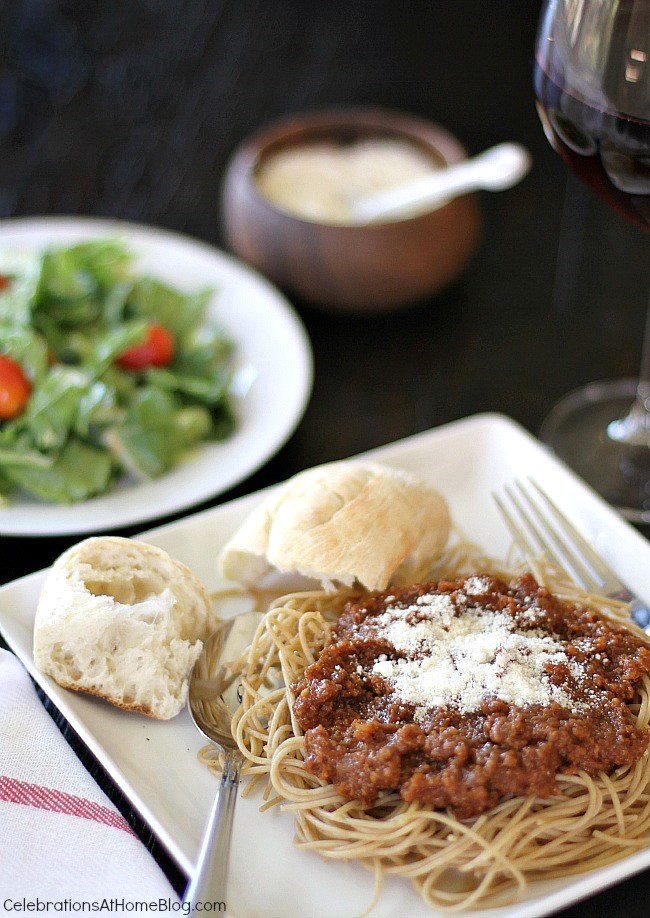 Use lean meat for this recipe; since there's no draining involved and you don't want it to be greasy.
Also, the sugar adds a touch of sweetness to the sauce. If you've never added sugar to your sauce (whether homemade or jarred) then you are missing out. This is a trick I learned in college from one of my neighbors! It balances out the acidity of the tomatoes and creates a rich flavor.
When we eat this at home we like to add a few dashes of Texas Pete to the dish just to give a little kick. Serve with salad and bread for a meal that will please everyone. End on a sweet note with a dessert like chocolate chess pie, or tiramisu chocolate trifles.
Slow Cooker Spaghetti Sauce for a Crowd

2 pounds 93% lean ground beef
1/2 cup water
1 1/2 large onion, chopped
1 (29 ounce) can tomato sauce
1 (6 ounce) can tomato paste
2 teaspoons pepper
2 bay leaves
1/4 cup sugar
3 teaspoons red wine vinegar
1 1/2 teaspoons salt
3 teaspoons chili powder
1 teaspoon garlic powder (not garlic salt)
1/2 teaspoon dried oregano

DO NOT BROWN THE MEAT FIRST.

Combine all ingredients together, except bay leaves, in a large slow cooker. Use your hands to completely integrate all the ingredients together until smooth.

Add bay leaves on top of mixture and place lid.

Cook on low heat for 6-8 hours.

Remove bay leaves, stir, and serve over cooked spaghetti noodles.

Makes about 12 servings.