Easy Layered Penne Pasta Bake
Easy layered penne pasta bake is comfort food that's delicious and satisfying. This recipe has penne pasta, marinara sauce, and ground turkey, and is ready in under an hour. Six simple ingredients are all you need to make this casserole that's good enough to serve guests, or a family dinner.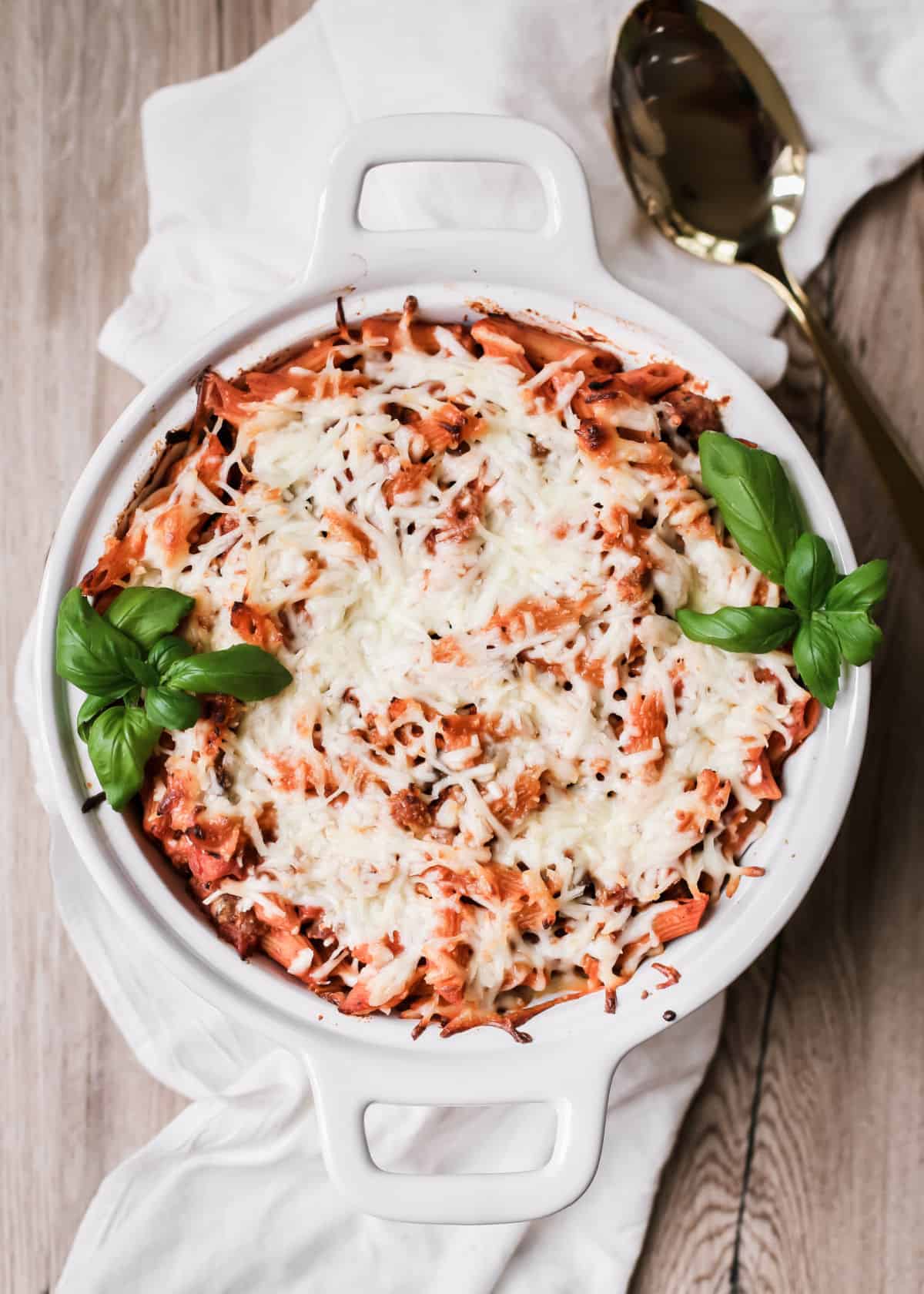 Penne Pasta Casserole
Fall and winter cooking is my favorite. It's the time to think about warm comfort food, and easy casseroles. And this delicious baked pasta dish fits that perfectly.
This recipe is a twist on traditional lasagna, but it's so much easier to put together!
It's got traditional ricotta, mozzarella, and marinara sauce. However, I've substituted penne for the lasagna noodles, and ground turkey for the beef. Plus, we added some mushrooms for good measure.
Why You'll Love It
You can feel confident serving this rustic meal for a casual fall or winter dinner party.
It's a no-fuss recipe so busy hosts can make it for overnight guests.
Quick and easy preparation makes it great for week nights or busy weekends.
Use simple ingredients, starting with jarred sauce so you don't have to spend hours in the kitchen.
Easy meal for dinner party menus for an Italian night or cozy movie night.
This is a great make-and-take meal for new moms, a sick friend, or potluck parties.
It's freezer friendly so you can make it now before the holiday rush.
It's budget friendly. Double the recipe for a crowd!
Ingredients
This main dish gives a nod to lasagna but it's so much easier to prepare. There aren't multiple noodles to arrange and tend to.
The penne makes it hassle free and the ricotta cheese adds a delicious creamy layer you'll love.
Dried Pasta. Use a 12-ounce package of Penne pasta. Get a nutrition boost by using whole wheat pasta or Cauliflower pasta. Use a brand that's high in protein if you want to make this a meatless meal.
Sauce. You'll need a 24-ounce jar of marinara pasta sauce. We use Ragu but you can use your favorite brand.
Meat. Cook 12-ounces of ground turkey and drain any excess fat. I usually buy leaner varieties when putting it in recipes. It eliminates the need for draining. A mix of white meat and dark meat will work well for this too.
Mushrooms. We love the added flavor and texture mushrooms give this dish, especially if you're making a vegetarian version. Use fresh sliced, or from a jar or can. Some people don't like mushrooms. If that's the case, leave them out.
Ricotta Cheese. Creamy ricotta makes this casserole extra good! I always choose skim or part skim when buying it.
Mozzarella Cheese. Two layers of cheese is always better than one when it comes to baked pasta! Shredded mozzarella melts and combines with the ricotta for extra goodness. Pre-shredded works fine for this recipe as it melts nicely.
How to Make It
Combine the cooked pasta, pasta sauce, cooked meat, and mushrooms in a large bowl.
Layer half of the mixture into a deep casserole dish.
Spread a layer of ricotta cheese over the pasta mixture and sprinkle with half of the mozzarella.
Spoon remaining pasta mixture on top and cover with the rest of the mozzarella.
Cover loosely with aluminum foil and bake.
Substitutions & Additions
Swap the penne for another pasta like fusilli, rigatoni, ziti, rotini or shells. Long noodles like spaghetti are not recommended.
Take this dish to the next level and use my slow cooker meat sauce to replace the marinara and ground turkey.
Use ground sausage, chicken or beef in place of the turkey.
Chop and sauté and onion and add it to the pan along with the turkey.
Add in a little bit of shredded parmesan or white cheddar to add even more cheesy flavor.
Add a pinch of red pepper flakes to the meat mixture before layering.
Expert Tips
Undercook the pasta slightly. It will continue to cook in the oven so boiling it for about 1 minute less than the package states for al dente will help avoid overcooked, mushy pasta.
Season the ground turkey with 3/4 teaspoon of salt while it's cooking. Turkey meat is very bland and mixing it with the sauce does give it flavor, but a little salt during the browning process helps it come alive.
Let the casserole sit for 5 minutes to rest before serving. Garnish with fresh basil or parsley and serve with a bowl of grated parmesan.
Make Ahead
To make it ahead, prepare the dish up to the point of baking. Cover and refrigerate up to 24 hours until ready to bake. Let it come to room temperature for about 30 minutes before cooking in the oven. Bake for about 30 minutes or until cheese is melted and bubbly.
Freezing
Freezing Unbaked. Assemble the casserole in a freezer safe pan and double wrap it tightly with a layer of plastic wrap, then a layer of aluminum foil. Freeze up to 3 months. Thaw in the fridge overnight and bake as directed.
Bake from Frozen. Remove the dish and let sit on the counter for 30 minutes. Then transfer the dish to a COLD OVEN. Turn the oven to 350 degrees F and bake for about 50 minutes or until it's hot and bubbly.
What to Serve with Pasta
Add one or two of these side dishes or salad recipes to round out your pasta dinner menu.
More Main Dish Casserole Recipes
For more easy casserole recipes try one of these crowd favorites.
If you like this post, PIN, Share, or sign up for our Newsletter at the top of the page. And don't forget to follow CAH on Instagram or Facebook. Cheers!
Layered Penne Pasta Bake Recipe
Easy penne pasta casserole is layered with ground turkey, sauce and cheese, and baked to perfection. A delicious comfort casserole for dinner parties and guests.
Ingredients
12-ounce package Penne pasta, cooked and drained
24-ounce jar Marinara Pasta Sauce
12 ounces ground turkey, cooked through
3/4 cup mushroom pieces (fresh or from a jar, drained)
1 cup ricotta cheese
2 cups shredded mozzarella cheese
Instructions
Preheat oven to 350 degrees.
In a large bowl combine cooked pasta, pasta sauce, cooked meat, and mushrooms.
Spoon half of the mixture into a 2 1/2 quart deep casserole dish.
Spread ricotta cheese over pasta mixture. Sprinkle with half of the mozzarella.
Spoon remaining pasta mixture on top and cover with remaining mozzarella.
Cover loosely with aluminium foil and bake for about 30 minutes or until heated through and cheese is melted.

Notes
Substitute the turkey with ground sausage or beef.