Everything You Need to Know to Get Your Guest Room Ready
Here's everything you need to know to get your guest room ready for overnight visitors or holidays. Plus a printable checklist to follow. Get it all here.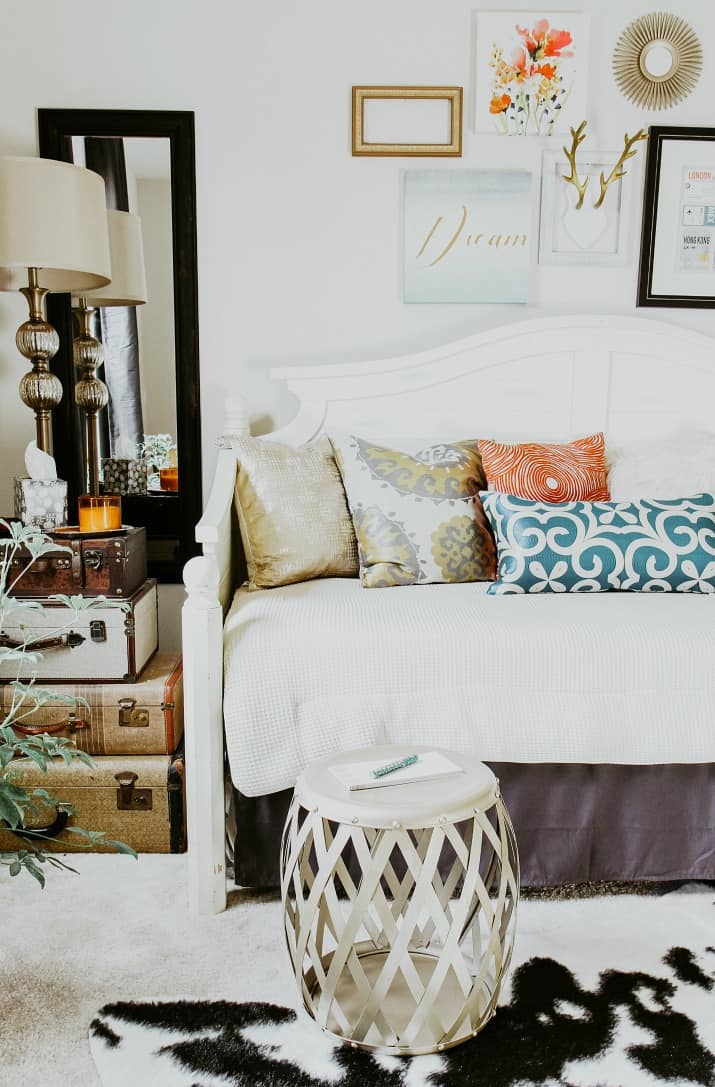 Everything you need to know to get your Guest Room ready
Having guests stay overnight is the ultimate in home entertaining. And we're heading into the holiday season where you may begin to feel like you have a revolving door as friends and family come and go.
I've been working on getting our guest room "guest ready" and I'm sharing my tips with you here. This room had been sitting here for the better part of a year filled with all the furniture castaways from other rooms. I realized it was time to get it into shape for visitors and give it a personality of it's own.
I love how it's turned out! I think it has a "lounge-y" feel for every day use, but appeals to guests whether male or female.
The one thing I knew we would have to work with is the daybed. It's the perfect transitional piece of furniture for the space. It's a sofa by day, and with a pop-up trundle bed underneath, it can sleep 2 at night.
Design a neutral space that can accommodate all ages and genders
The bedding is simple and neutral making it the perfect canvas for decorative pillows. A MUST for a daybed. It's all about balance when it comes to mixing and matching pillows. For this room I wanted to add some color including gold, some graphic prints, and some texture. I used the orange/cream pillow, the fuzzy fur pillow, and the black and white pillow to help do that.
A gold throw at one end of the bed is necessary so you can curl up with your feet underneath and read a book or magazine.
I thought about buying bedside tables, but I ended up really liking the eclectic look of using what I already own. A tray table is at one end, while a stack of vintage suitcases is at the other. On one side I provide fresh water and glasses for guests, as well as fresh flowers. These pretty roses were only $5 and the color is just perfect for the room!
It's also a good idea to have an alarm clock and box of tissues close by. I also added this scented candle which actually freshens the room without even being lit.
A green plant adds life to the room and makes it feel very homey. I'm crazy about these lightweight planters that have the look of pottery without the weight!
Make decorations functional as well as attractive
Add a side chair for guests to sit in if they don't want to lounge on the daybed. It can also double as a drop spot for purses or jackets. Add a pillow to bring color to that side of the room.
I hung dark curtains to help control the amount of light that comes in. Regular blinds don't block sunlight very well so the charcoal gray curtains can be pulled closed to provide extra shade for sleeping in.
I love this small drum table that sits in front of the bed. It was originally a silver metal finish which I painted matte gold to coordinate with the room. It's a great spot to set a drink, place a book, or to hold a notepad and pen for jotting down notes.
For pure decoration I added a gold ampersand to the window. It's an unexpected location for it and I just love that!
Provide amenities for your overnight guests
A well stocked guest room includes amenities that visitors may have forgotten to pack, as well as useful items to make them more comfortable.
The left side of the room is the real work horse of the space. It has the closet and a console table that I've turned in to an amenities center. I found decorative boxes that add color to this very neutral zone, as well as splashes of gold. I added a little "welcome" card where you can add your WiFi code to the back so guests can log online if they need to.
Provide snacks for your guests to enjoy without feeling like they have to ask. I filled one box with chips, nuts, snack bars, apples, and mints. If you don't want to have a carafe of water in the room, you can add a couple of bottles of water here too. Mini bottles of wine are also a nice touch.
Another box holds toiletry items they may have forgotten. Along with the usual bath items, I've included a shower cap, a lint roller, wrinkle remover spray, makeup remover wipes, deodorant, and hairspray. I've stocked up on travel size items as well as unused bath gels and lotions from hotel stays.
I've also included soap displayed in an apothecary jar, some fabulously chic toothbrushes, toothpaste, floss, and mouthwash.
Underneath the table I've provided a storage chest filled with towels, some magazines to read, and a trashcan.
I've stocked the closet with flocked non-slip hangers (I love these), pant/skirt hangers, as well as a clean robe.
Extra pillows and blankets are neatly folded and at the ready, while a small stool is awaiting our guests' suitcase or travel bag.
Create an inviting space for overnight guests
My obsession with art wall collages continues in the guest room with lots of black and white and gold, and a punch of color. It's fun to mix inspirational quotes, with star-burst mirrors, colorful prints, and empty frames.
I've used a few of these frames in various sizes around the house, and love the sleek simple lines. I added a colorful piece of scrapbook paper to one here, to bring color to the white and gold wall – one of my favorite "tricks"!
I've been wanting a rawhide rug for the longest time, but couldn't decide where it would go, or even which color way to go with. I finally decided on this black and white faux hide for the guest room and I just love it!
Is your guest room ready for visitors? I hope you'll use these tips to make your guests' stay as comfortable as possible. The key to being a good hostess is to think about their needs ahead of time and be prepared. Decorate in your own style but make it comfortable and inviting.
I think that covers everything. I'm ready to take reservations! Who's coming over?
Here's a FREE PRINTABLE CHECKLIST so you can have everything ready for your guests needs: