Best Picnic Ideas For Adults
We're sharing fall picnic ideas with wine so they're perfect for couples and adults. When it comes to packing a picnic we've got you covered with picnic food suggestions, travel tips, and a list of exactly what to bring. A picnic for adults is different than a family picnic so follow our tips and start planning a picnic date now!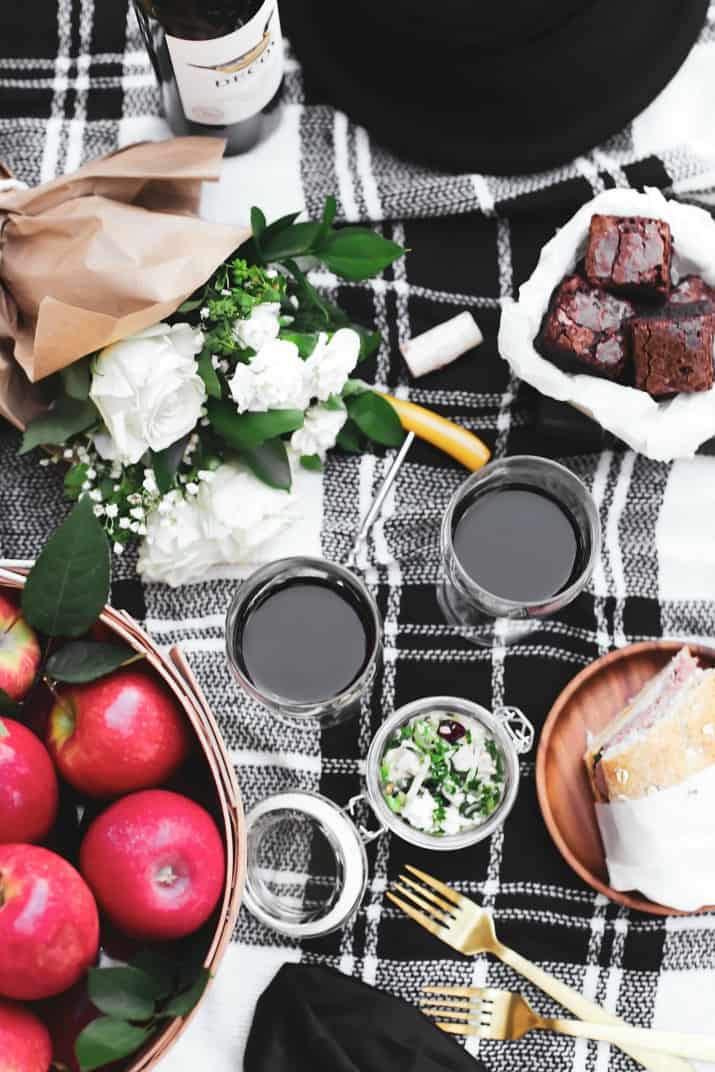 Picnic Ideas for Couples
Fall is my favorite season. It ushers in cuter fashion options, more comfortable temperatures, and lots of fun outdoor activities like tailgating parties and pumpkin carving parties.
This year why not plan a romantic picnic for two as a date outing to enjoy all of those? A day of apple picking is the perfect scenario to set your fall picnic in!
Here in central Virginia we are only a short drive away from dozens of apple orchards. And there's always ample space for taking a rest and spreading out a picnic lunch. Adding a bottle of wine like Merlot makes it extra special and tasty for fall.
*Post contains affiliate links
Easy Picnic Food
Save your self time and hassle by purchasing your picnic menu from the grocery store or local sandwich shop. Deli sandwiches and bagged chopped salad are excellent options.
Try to buy food that doesn't need to be kept cold with an ice pack. 
Cheese and wine are classic options for a couples picnic. Add charcuterie & cheese to your basket along with simple water crackers and fruit or nuts. One or two cheeses should be plenty for a party of two. Try brie, hard goat cheese, or classic white cheddar.
Take the sandwiches out of the packaging you bought it from and wrap them individually with parchment paper. This makes them easy to travel and easy to eat without getting messy.
Add a bag of kettle potato chips. They're my go-to chip for entertaining because they're delicious and go with everything!
Prepare the bagged salad and transfer it to individual serving jars with lids. Use vinaigrette dressing rather than a cream based dressing so there's no worry about spoilage. 
Pack a bottle of wine like Merlot. It's terrific paired with roast beef sandwiches from the deli.
Pack up the best homemade fudge brownies you can make in advance, or grab some from the bakery for dessert. They're easy to eat and they travel well. They also taste delicious with the Merlot wine.
What Items You Need
Here's a list of items that will make your picnic outing run smoothly (affiliate links).
How to Pack a Picnic
Pack two small picnic baskets rather than one large one. They'll be lighter and each person can carry one. Fill one with food and the other with drinks and other essentials.
Bring a couple of baskets for apple picking, and your favorite guy or gal!
Fill flip-top bottles with water. They're MUCH better for the environment than buying more plastic bottles.
Use blankets and throws to cushion breakable bottles.
Wrap the wine glasses in cloth napkins to cushion them. 
Don't forget the cork screw, utensils, and small plates.
Bring along a small trash bag to clean up your mess if there's no trash can available.
Some extras you may want to take along are fresh flowers, a camera, a good book, and extra throws in case a chill hits the air.
Make sure you drink responsibly.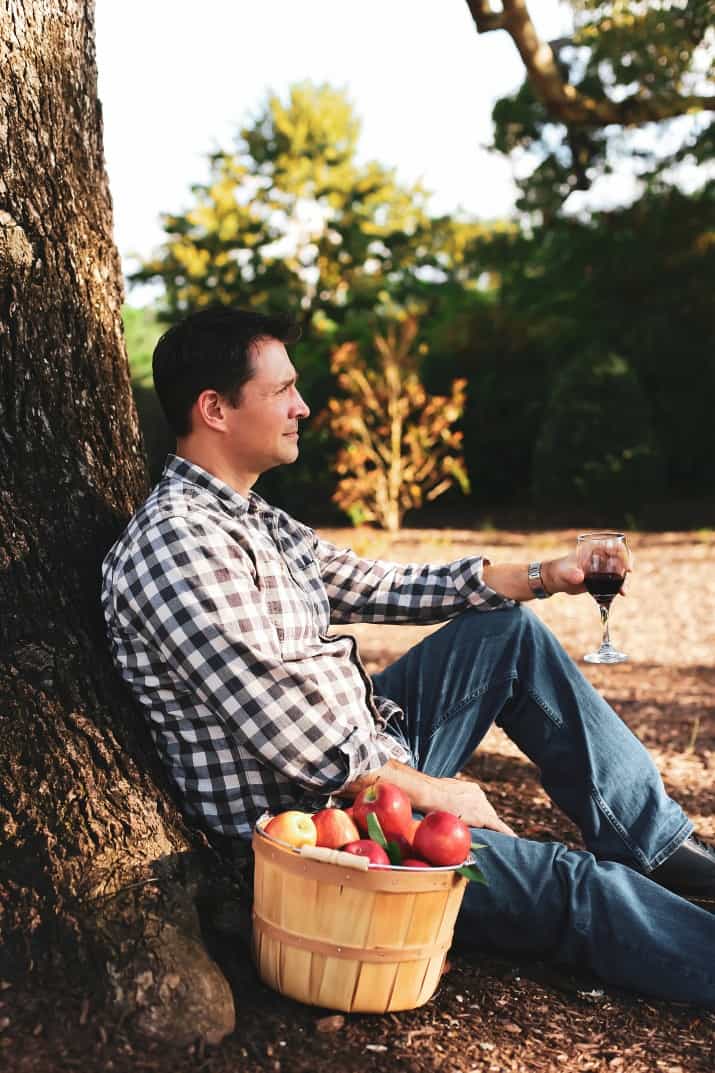 Group Picnic Ideas
Picnics aren't just for couples. Here are some ideas to try with a group of friends.
Head to a local winery and then purchase their specialty bottles to go with your food.
Go to a community park and set up yard games to play.
Find a nature trail to hike and then set up a picnic at the end.
Head to an outdoor concert with picnic in tow.
Of course our apple picking fall picnic is a great idea! You can make these delicious apple appetizers with your bounty.
Set up a stylish tailgate picnic party for football games.
Do a picnic and movie night in your own back yard.
Find a steeplechase nearby and make a day of it.
A picnic by the lake or on a boat is nice for spring and summer.
I hope these picnic ideas for adults inspires you to pack a meal and hit the road for some outdoor fun. A fall picnic is the best way to enjoy the season. Pack a basket and don't forget the wine!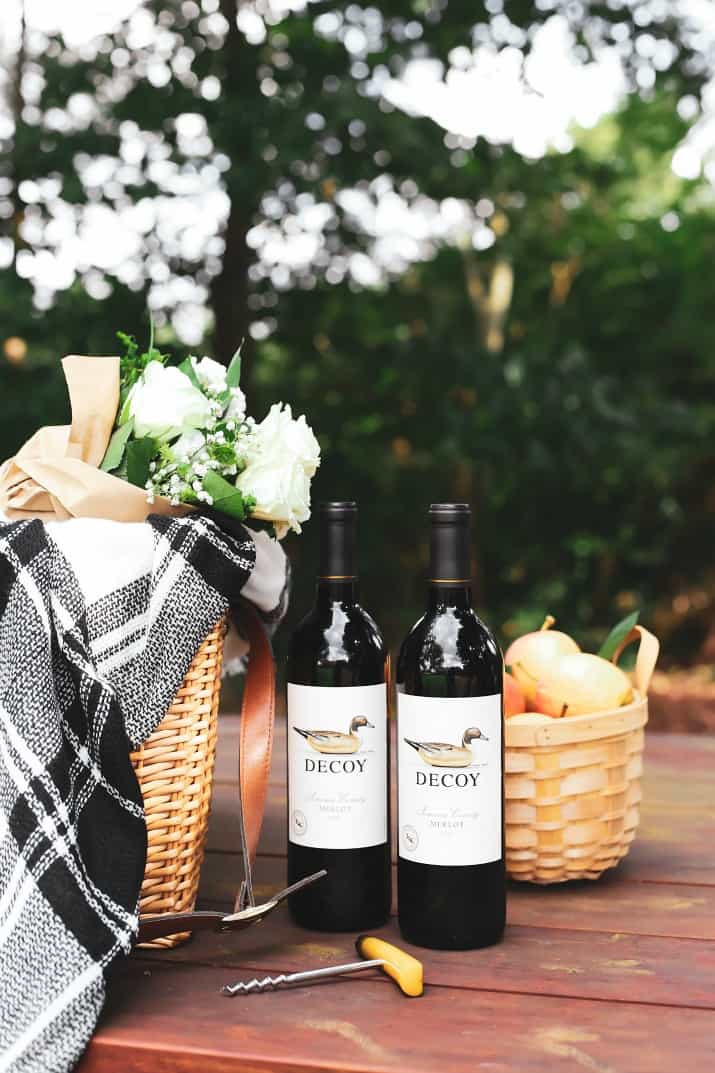 If you like this post, PIN, Share, or sign up for our Newsletter at the top of the page. And don't forget to follow CAH on Instagram or Facebook. Cheers!