Easy-Travel Tailgate Picnic
Easy tailgate menu that travels well for picnics or on-the-go game day fun. Make everything ahead so it's hassle free! Just pack them up and carry them along for beach day, concerts, or festivals, too!
Easy Recipes that Travel Well
When it comes to taking food on the go for a tailgating party or a picnic, you need to keep 3 things in mind: easy to prepare, travels well, and temperature stability.
This simple menu incorporates each of those and tastes great! Find the recipes in the card at the bottom plus other recommendations below that you can make substitutions with or mix and match.
Tailgate Menu Ideas
Make these recipes for any occasion that takes you on the road, such as football tailgating, outdoor concerts and festivals, camping, even a backyard graduation party with boxed lunch.
Easy Snacks
One of the best things about picnic style food is that it's snackable! Here are some delicious appetizer recipes that travel well.
Party Tips
The focaccia for the sandwiches can be made the night before, as well as the pasta salad. Make the sandwiches either the night before or the morning before you head out.
Prep the fruit for the kabobs but hold off assembling them until you're ready to pack up. You don't want to refrigerate the donuts overnight because they can dry out and harden.
Put what you can into storage vessels that can also be used as serving containers. Various sizes of mason jars come in handy for holding dips, dry goods, drinks, and salads.
Other items can be placed on dishes and wrapped tightly with foil or saran wrap. You could also use large storage containers with lids if you have them.
Turkey Focaccia Sandwiches
Focaccia is a good way to make these sandwiches extra special, and the thin bread makes them less bulky and filling. Cut them into mini sandwiches so they're easy to graze on.
Easy Focaccia
Did you know you can make focaccia using pizza dough? It's a much simpler process than making it from scratch, but you still get that rustic homemade-style bread.
Start with a can of refrigerated pizza dough or frozen dough that you've thawed. Do NOT use thin crust.
Unroll it or shape it to fill a sheet pan, and brush or drizzle with olive oil.
Season the top with any variety of dried or fresh herbs. I've used garlic powder, Italian blend, and rosemary. Sprinkle on some shredded or grated Parmesan cheese and bake.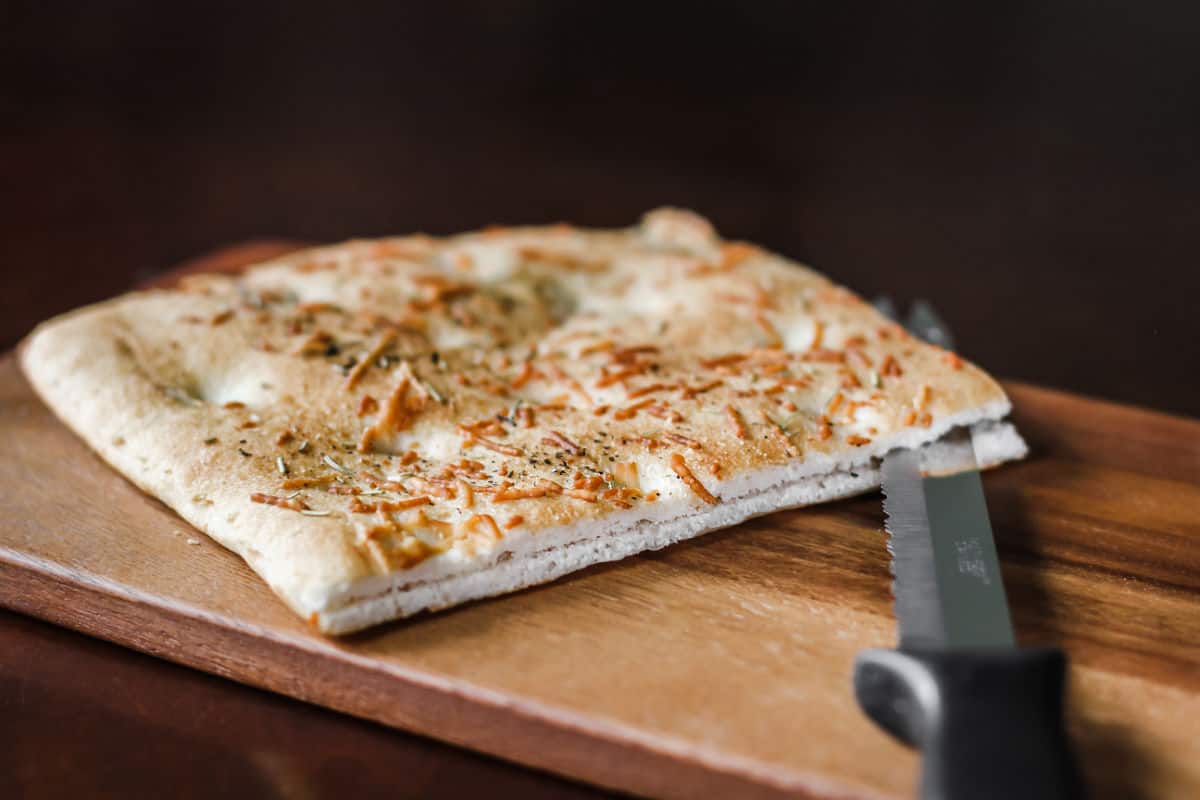 Once the bread has baked and cooled, use a serrated knife to cut it through the middle for a top layer and a bottom layer. Now build the sandwiches.
Sandwich Ingredients
Spreadable herb & garlic cheese spread (Alouette) really makes these sandwiches delicious, plus you don't have to add cheese as an extra layer. You could also use Dijon mustard instead.
Deli sliced smoked turkey makes these sandwiches a winner with everyone. You can also substitute other deli meats like chicken breast, roast beef, or salami. Make a vegetarian option with sliced vegetables like cucumber or mushrooms.
Fresh tomatoes and basil leaves add so much flavor and brightness to these mini sandwiches.
PRO TIP: Build one large sandwich and then cut it into mini sandwiches. Insert food picks in rows, about 2 inches apart. Cut into mini sandwiches leaving picks in tact to hold each one together.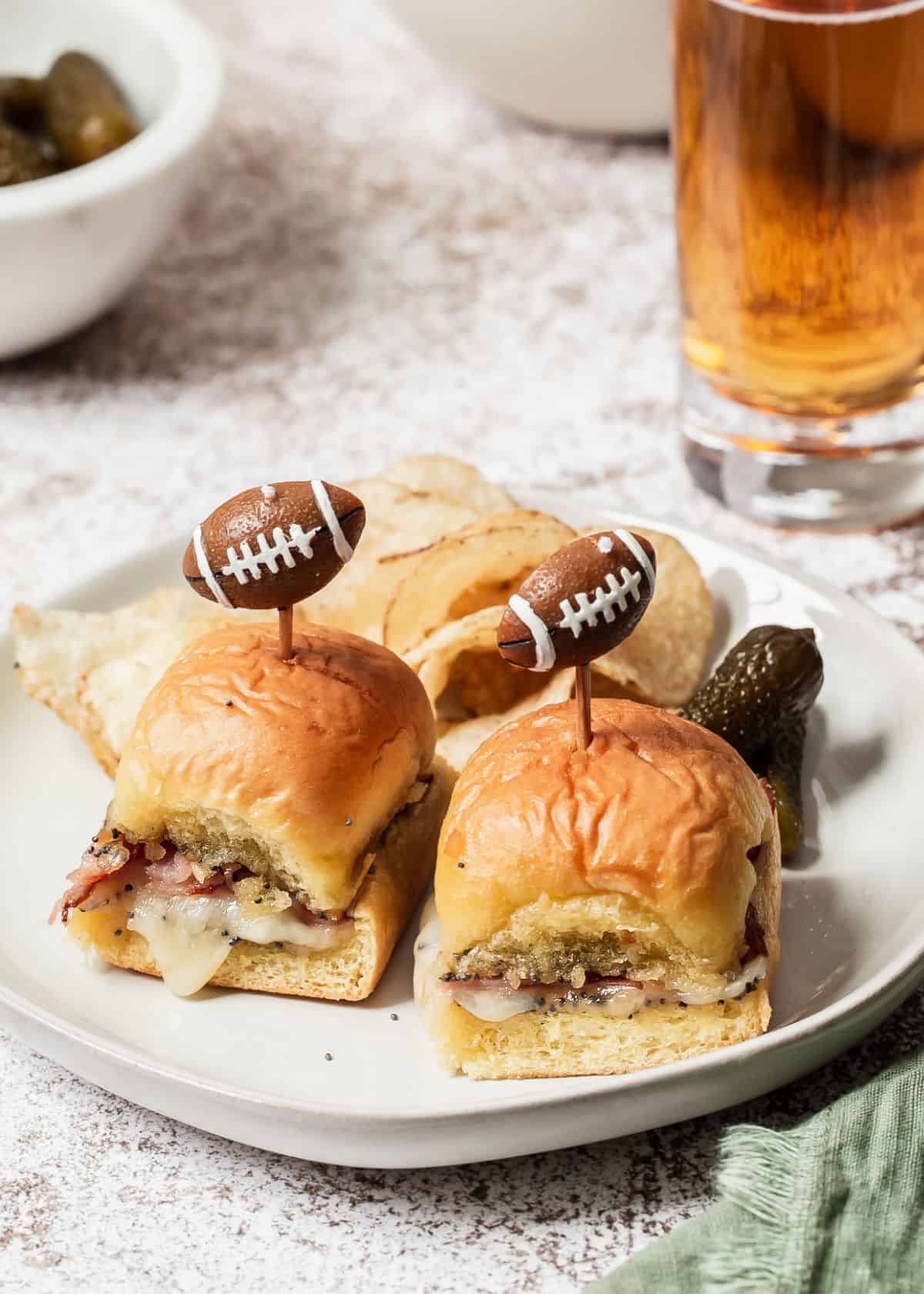 More Sandwich Recipes
There's a never ending combination of ingredients when it comes to making sandwiches. Here are a few more to try.
PARTY TIP: To keep baked sandwiches warm, wrap them tightly in aluminum foil and place them in a small cooler with other hot items or heating pad.
Round out the meal with crudites, pretzel chips, hummus and pimento cheese spread.
PARTY TIP: Use disposable kraft paper trays to serve food on, and as a plate to eat snacks and food from.
Make & Take Pasta Salad
This is a great pot-luck pasta salad and you don't have to worry about creamy mayonnaise here.
Use any small pasta as they fit nicely into jars for travel. Use bowties, elbows, penne, or rigatoni.
Adjust the amount of vinaigrette to suit your taste, whether you like a more moist salad or drier one. Substitute with pesto if you like.
I love the extra protein from the chick peas. You could also use white cannellini beans or edamame.
This salad is colorful and pretty with tomatoes, yellow pepper and peas. But, you could substitute with red or green peppers, asparagus tips, or diced cucumber.
PARTY TIP: Spoon pasta salad into 8-ounce canning jars for individual servings. Replace the lid securely and refrigerate until ready to pack and go!
Other Sides
Want to try a different side dish? Choose one of these yummy recipes.
Fruit & Donut Kabobs
These kabobs are so refreshing and indulgent at the same time. The doughnut holes are balanced by the fresh fruit and you can pack a small jar of chocolate to drizzle on top or dip them into for extra decadence.
Ingredients you need.
Doughnut holes
Fresh strawberries, washed and tops removed
Pineapple chunks
Start with 8-inch wooden skewers and layer on each item until skewer is full, leaving room at the end for a "handle" to hold on to.
Bring along some sweet snacks that are easy to nibble on but don't leave you filling full, such as a canister of caramel popcorn, or sweet & salty Chex mix.
More Desserts
Make these the night before and take them with you. They feed a crowd!
Let me know what your favorite on-the-go recipe is for a tailgate menu.
If you like this post, PIN, Share, or sign up for our Newsletter at the top of the page. And don't forget to follow CAH on Instagram or Facebook. Cheers!
Easy Travel Picnic Recipes
Easy recipes that travel well for a tailgate party or picnic. Mini focaccia sandwiches paired with flavorful pasta salad.
Ingredients
Easy Focaccia
1 can refrigerated or frozen (thawed) pizza crust dough. Do NOT use thin crust.
olive oil
garlic powder
dry Italian herb blend seasoning
dried rosemary
shredded or grated Parmesan cheese
Sandwich
1 container herb & garlic cheese spread (I used Alouette)
2 vine ripe or Roma tomatoes, sliced
Fresh basil leaves
1/2 pound sliced smoked turkey from the deli
Pasta Salad
1 1/2 cups Dry small pasta; cooked and drained
1 can (15 ounce) chick peas, drained and rinsed
2 medium sized tomatoes, diced
1 yellow pepper, diced
1 cup cooked green peas
1/4 - 1/3 cup Balsamic vinaigrette dressing
1/3 cup shredded Parmesan cheese
Instructions
Heat oven to 400 degrees F. Lightly spray baking sheet with nonstick cooking spray.
Unroll pizza dough onto baking sheet. Do not roll it or thin it out.
Press indentions into the top of dough, using the handle of a wooden spoon, or your finger. Brush a light coating of oil over top.
Sprinkle lightly with garlic powder, Italian seasoning, rosemary, and cheese.
Bake 10-13 minutes or until golden brown. Cool for 30 minutes and then cut in half horizontally using a long serrated knife.
To build sandwiches, spread bottom half of focaccia with cheese spread. Top with a layer each of tomatoes, basil and turkey, and top with other half of focaccia.
Insert picks all over large sandwich, about 2 inches apart. Cut into mini sandwiches leaving picks in tact to hold each mini together.
For pasta, combine first 5 ingredients in a large bowl. Pour dressing over salad and mix well. Add cheese and mix to integrate.