Best Bacon Wrapped Appetizers
These bacon-wrapped appetizers are always a hit at parties. They're bite-sized, salty, sweet, and delicious! Three simple ingredients are all you need for this make-ahead recipe that's perfect to serve at room temperature. Serve them for breakfast appetizers, fancy cocktail parties, or tailgating.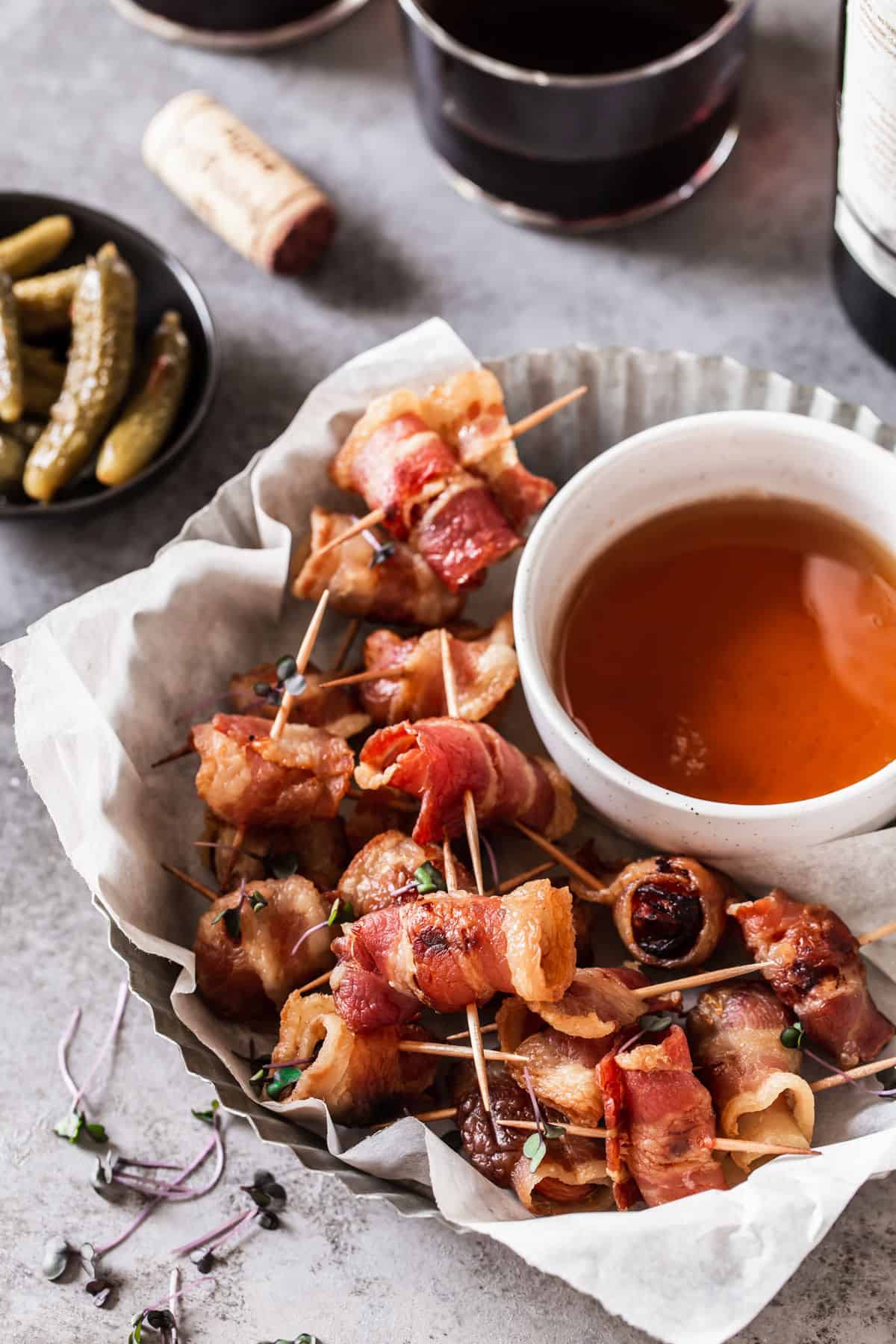 Appetizers with bacon are one of the most popular finger foods at parties. It's perfect for any occasion whether it's a morning brunch party or an evening buffet with cocktails. And these bacon wrapped bites are one of the best hors d'oeuvres you can offer!
This is another one of those recipes that I've been serving for over 20 years to rave reviews. They're similar to the classic bacon wrapped water chestnuts (aka rumaki) or bacon wrapped dates with blue cheese.
With this recipe you get juicy dried apricots and crunchy almonds inside for a sweet and savory combination that's got a good bite to it. All that equals the perfect bacon appetizers to me!
Salty bacon lends itself well to sweet or savory recipes whether it's mixed into a filling, a cheese ball, or used as a topping.
EXPERT TIP: Make them in advance, store them in the refrigerator, and cook them just before guests arrive. They are perfect at room temperature and your guests will be begging for more!
Why You'll Love This Recipe
Prepare these the day before and keep in the fridge until you're ready to cook and serve.
These are an ideal appetizer to serve at room temperature.
Easily make a double or triple batch because they are such a crowd pleaser.
Since they're great at room temperature, they make a good snack to take for a tailgate party or to a potluck party.
It's a one-bite appetizer combining sweet and salty. If you like bacon wrapped dates then you'll love these!
Ingredients
You only need three ingredients for the appetizers and two for the dipping sauce. While the sauce isn't completely necessary, I highly recommend it!
Bacon. Use a 12- or 14-ounce package of Center Cut or regular sliced bacon. You can usually get about 14 or more slices inside, which you'll cut in half for wrapping.
Dried Apricots. Find a small package in the dried fruit aisle of the grocery store. There should be plenty inside, even if you want to make a double batch.
Whole Almonds. I typically use unsalted almonds, but you can use salted too if you want. You don't have to toast these before using them in the recipe.
Dipping Sauce
Make this simple dipping sauce in the microwave in less than a minute. It's so delicious to dip the appetizers into!
Apricot preserves
Soy Sauce
What You Need
*Post contains affiliate links
Baking pan. You need a pan with sides high enough to keep the rendered grease inside. Many sheet pans come with a rack and will work, or a large roasting pan.
Aluminum Foil. Use this to line the baking pan to make cleanup a breeze.
Baking rack. You'll need a flat baking rack or cooling rack to cook the bacon bites on. That way the fat drops down and away from the appetizers.
Toothpicks. Use plain wooden toothpicks to keep bacon-wrapped appetizers together as they cook. They also act as a handle to pick them up with, and eat. Another idea is to use 6-inch skewers so you can put two on a skewer or simply have a longer handle to hold on to.
How to Make Bacon Wrapped Appetizers
Start by lining a large baking pan with aluminum foil, and placing the baking rack on top.
Cut the bacon in half and set aside.
Cut each apricot in half and push a whole almond into the center opening.
Wrap each apricot with a piece of bacon and secure with a toothpick. Place it on the prepared baking rack and pan.
Bake everything until the bacon is cooked through and crispy.
This recipe can easily be doubled or tripled for large parties and gatherings. It's ideal for Christmas Eve or Christmas theme parties.
Best Bacon to Use
There's so much variety in the world of bacon. However it's smoked, cured, sliced or flavored, bacon is delicious. But, when it comes to appetizer recipes, you do need to follow some rules.
I like to use center cut bacon for wrapped appetizers. The slices are meatier with less fat rendered, and it's still thin enough to roll easily and cook through.
You can use regular thin-sliced bacon too. Just know that packages and brands can vary greatly when it comes to meat to fat ratio.
I don't recommend thick cut bacon for these because it's bulky to roll and takes longer to cook through. I like to save it for when I need to use crumbled bacon in a recipe or for a brunch board.
Leftovers & Storage
These are an easy cocktail party recipe because you can make them the night before and bake them right before guests arrive. 
If you have any leftovers, wrap them in aluminum foil or in an airtight container and refrigerate for up to 4 days.
Reheat them in the oven at 350 degrees for about 5 minutes, or microwave them for about 10 to 15 seconds, until warmed through.
More Bacon Appetizer Recipes
I hope you'll add these bacon wrapped appetizers to your next gathering. They're sure to a winner on the food buffet!
If you like this post, PIN, Share, or sign up for our Newsletter at the top of the page. And don't forget to follow CAH on Instagram or Facebook. Cheers!
Bacon Wrapped Apricots Appetizers
Bite sized bacon wrapped appetizers with dried apricots and almonds are addictive! Make them in advance and cook them just before guests arrive. They are perfect at room temperature!
Ingredients
14 slices Center Cut bacon, cut in half
14 dried apricots, cut in half
28 whole almonds
Dipping Sauce
½ cup apricot preserves
2 Tablespoons soy sauce
Instructions
Preheat oven to 375 degrees F.
Prep for backing by lining a broiler pan or sheet pan with aluminum foil. Place flat wire baking rack on top of it.
Stuff each almond into the center of the cut apricot - there is a natural slit in the center.
Wrap 1 piece of bacon around each stuffed apricot and secure with a wooden toothpick. Place on a wire rack.
Bake for 20-25 minutes or until bacon is cooked to your desired color and crispness. Turn once half-way through baking.
To make the dipping sauce, combine preserves and soy sauce in a small bowl and microwave for 30 seconds to 1 minute or until preserves are melted and smooth. Check it after 30 seconds and give it a stir before continuing to heat, if needed.