Wild Rice with Fruit and Nuts
Fruit-nut wild rice is a great side dish for holidays or a dinner party at home.
Fruit & Nut Wild Rice
When you're entertaining and cooking for a dinner party are you often stumped for the perfect side dish to make?
Some of the mental notes I go through when planning my menu are: Will it appeal to everyone? Is it not too heavy so guests feel like taking a nap afterwards? Is it relatively easy to prepare given the other menu items? Will it complement the entrée?
This fruit-nut wild rice recipe answers all these questions with a resounding "yes!" It's a dressed up version of rice that's easy to make and so delicious. This is the kind of side dish you can make for a dinner party any time of year, or for any of those holiday pot luck gatherings. It's a nice alternative to a traditional dressing too.
This is a family favorite and I think you'll like it too. It goes well with beef, poultry, pork, or fish so you'll end up making it again and again.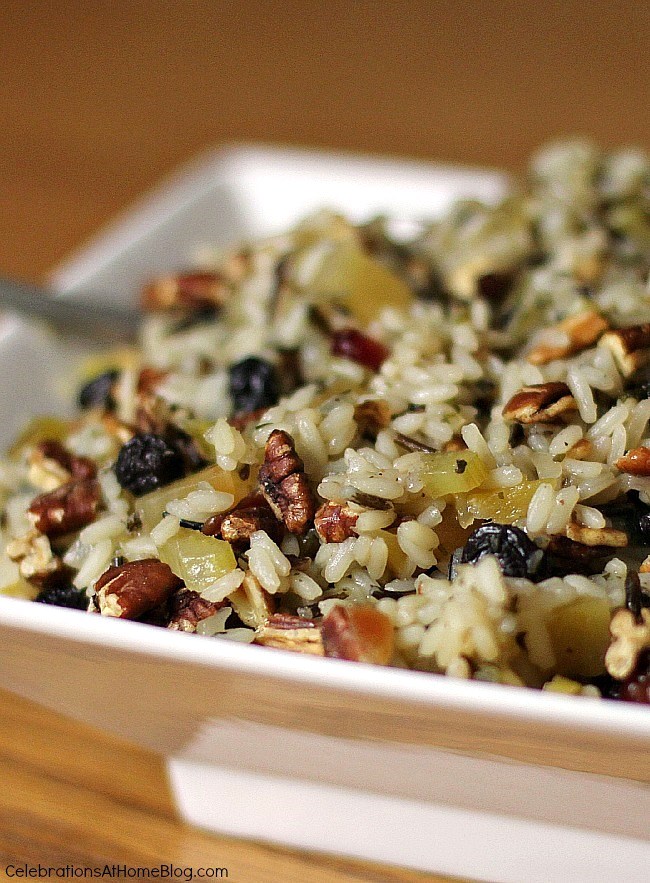 More Rice Side Dishes
Other side dish items you may enjoy with this are Brussels Sprouts with bacon, and Beet & Goat Cheese salad.
PARTY TIP: Double the recipe to serve a dinner party for 6 or 8 people.
Wild Rice with Fruit & Nuts
An easy flavorful side dish that starts with Uncle Ben's long grain and wild rice. Dress it up for a dinner party and double the recipe to serve 6 or 8.
Ingredients
1 box long grain and wild rice (Uncle Ben's), with seasoning pack
1 small onion, finely chopped
2 celery ribs, finely chopped
1/2 cup chicken broth
1 (7 ounces) package mixed dried fruit(I used a combination of dried raisins, dried berries, and dried tropical fruit)
1 cup chopped walnuts or pecans, toasted
1/4 tsp pepper
Instructions
Cook rice according to package directions substituting the 1/2 cup chicken broth for 1/2 cup water called for.
Just as broth & rice come to a boil, add in the onion, celery, and dried fruit. Continue with package directions.
Once rice is cooked, stir in nuts and pepper and serve.