Easy Chicken Skewers Appetizer
Easy chicken skewers appetizers are soaked in a jerk seasoned mix and served with delicious herb dipping sauce. Make them in the oven year round or cook them on the grill in the summer. They're perfect for an appetizer party or dinner party.
Jerk Seasoned Chicken Skewers
If you're a fan of chicken satay or skewered food in general, you're going to love these chicken skewers appetizers. They pair great with white wine like a not-too-sweet Riesling, or sparkling Rosé.
This recipe is full of flavor, and terrific to serve with a party cheese board or as part of a larger party buffet along with easy elegant hors d'oeuvres.
What You'll Love
Prepare them ahead of time and let them marinate for hours before cooking. That makes pre-party prep super easy.
When you serve skewers for an appetizer it adds instant fun to the menu. They're easy to hold and eat without getting your hands dirty.
There's so much flavor from the jerk seasoning mix, and it's complemented by a simple herb dipping sauce.
This chicken recipe isn't limited to appetizers. Feel free to double or triple the recipe and serve them as an entrée for a dinner party alfresco.
Delicious Appetizer for a Party
If you think appetizers are the best food group, then you're my kind of people!
I could literally live on appetizers for every meal. And these chicken skewers could make it possible! These are not only great for a cocktail party, they would be fantastic for a ladies luncheon, baby and bridal showers, or engagement parties too.
For more food on a stick, try delicious charcuterie skewers, these easy puff pastry cheese skewers and simple dessert skewers to round out a skewer party menu.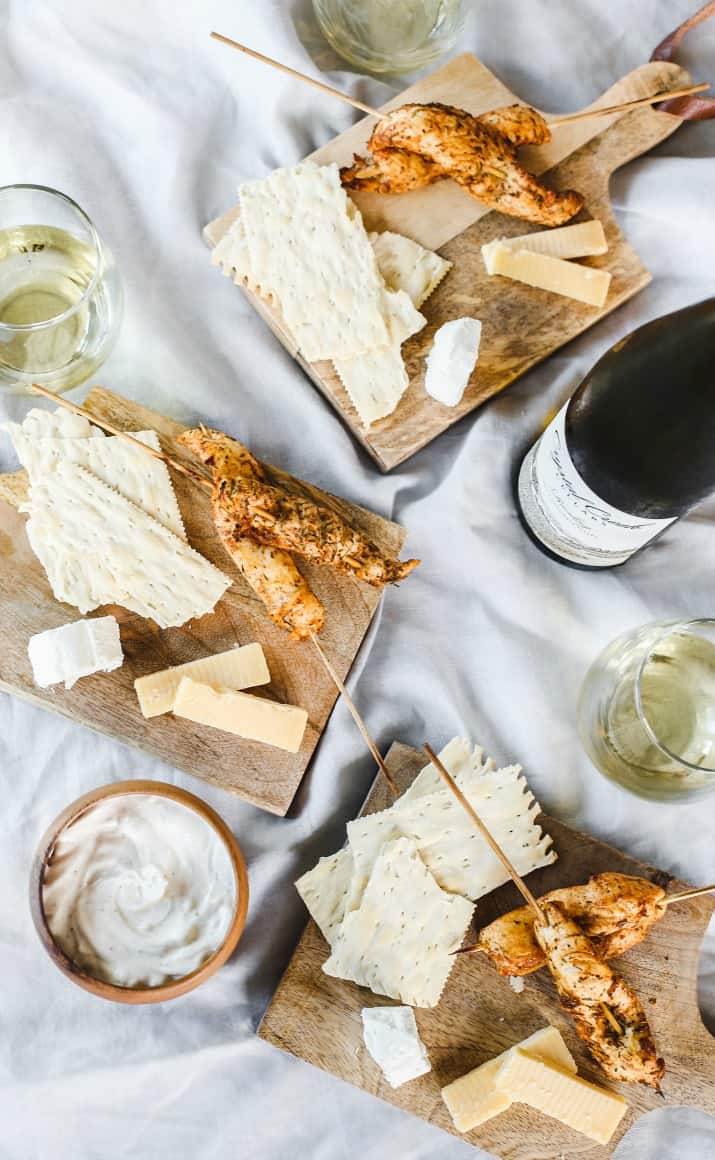 How to Make Chicken Skewers
You can make 10 skewers or cut the chicken down to half size and thread them onto 20 skewers, for smaller bites.
Serve these for an appetizer party or make them the main meat dish for a casual cookout. Alternate chicken pieces with bell peppers and onions to make jerk chicken kabobs.
Start with a pound and a half of boneless, skinless chicken breasts cut into 10 strips.
Marinate the chicken in the jerk seasoning for at least 2 hours so they can absorb the flavor.
Soak wooden skewers in a long baking dish filled with water, for about 15 to 30 minutes. This keeps the skewers from burning during cooking.
Once the chicken is ready, thread the strips onto the skewers and cook as directed.
How to Make Jerk Seasoning
This recipe combines dry rub ingredients with sweet citrusy orange juice for a flavor explosion!
For the dry jerk spices you'll need:
sugar
salt
dried thyme
paprika – use regular paprika, or smoked paprika for smokier flavor
nutmeg
crushed red pepper
black pepper
Once you've combined the dry spices together, add the orange juice and whisk together until it's mixed well. Make sure to use juice with No-Pulp.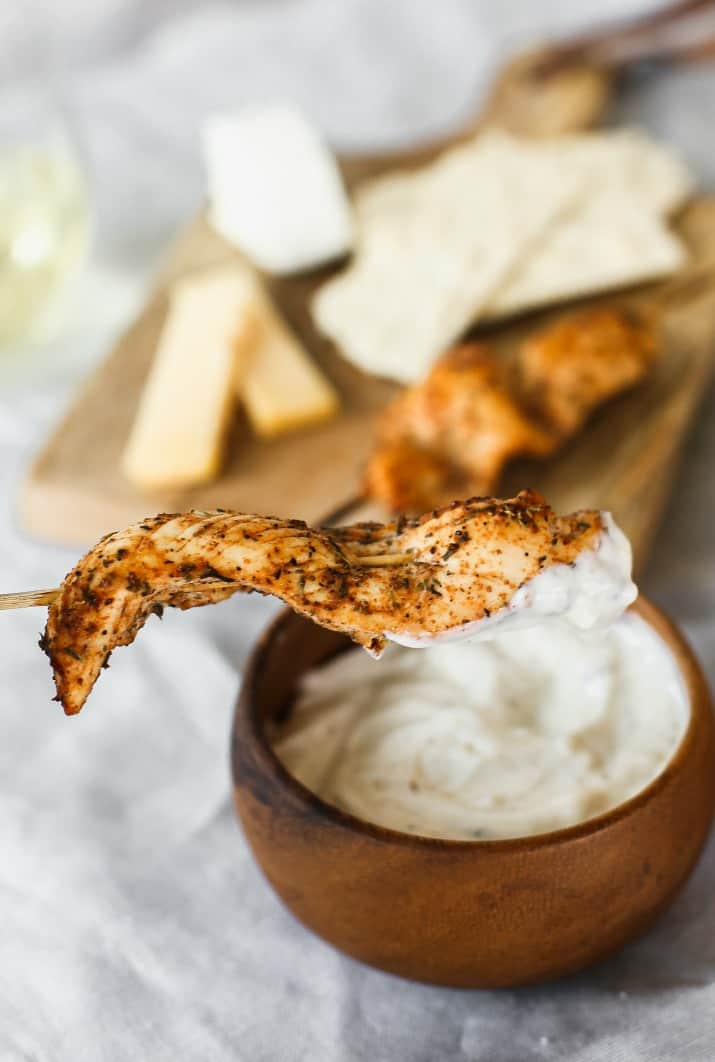 Although these chicken appetizers marinate in a liquid mixture, they cook up more like a dry rub in the end. The garlic and herb dipping sauce is perfect for the finishing touch on these.
PARTY TIP: Add a squeeze of lime to the sauce or directly onto the cooked chicken for a beautiful touch of citrus and freshness.
Garlic & Herb Dipping Sauce
Dipping sauce makes everything better in my opinion! This simple dip is creamy and adds a cooling sense to the jerk spice.
Use it for the chicken skewers as well as vegetables and crudites.
The base is a mixture of mayonnaise and sour cream. I always use the Light versions but not the fat free versions.
The seasonings are salt, garlic powder, black pepper, and dried onion flakes.
Just combine all the ingredients in a serving bowl, cover, and refrigerate for at least two hours so the flavors can fully develop.
More Chicken Appetizers
Try these other delicious recipes using chicken.
If you like this post, PIN, Share, or sign up for our Newsletter at the top of the page. And don't forget to follow CAH on Instagram or Facebook. Cheers!
Chicken Skewers Recipe
Yield:
10 chicken skewers
Total Time:
2 hours
32 minutes
Easy chicken skewers with jerk seasoned marinade are a delicious party appetizer. Serve them with this yummy herb dipping sauce.
Ingredients
1 1/2 pounds boneless, skinless Chicken Breasts cut into strips (about 10 strips)
Marinade
2 Tablespoons Orange Juice (no pulp)
1 teaspoon Sugar
1 teaspoon Salt
1 teaspoon dried Thyme
1 teaspoon Paprika (I used 1/2 regular & 1/2 smoked paprika)
1/4 teaspoon Ground Nutmeg
1/4 teaspoon Crushed Red Pepper
1/4 teaspoon Black Pepper
Garlic & Herb Dipping Sauce
1/2 cup Mayonnaise (I use light)
1/2 cup Light Sour Cream
1/2 teaspoon Salt
1/4 teaspoon Garlic Powder (NOT garlic salt)
1/4 teaspoon Black Pepper
1/4 teaspoon dried onion flakes
Instructions
Pre-soak 10 wooden skewers in water for 15-30 minutes.
Meanwhile, combine all dipping sauce ingredients together in a small bowl. Cover and refrigerate for at least 2 hours.
Whisk all marinade ingredients together in a small bowl.
Place chicken in a large resealable bag and pour marinade over chicken. Reseal bag and massage marinade into chicken so it's completely covered. Place in refrigerator and let marinate for at least 2 hours.
Pre-heat oven to 450 degrees. Prepare a broiler pan by covering bottom with aluminum foil, and spraying the cooking rack with non-stick cooking spray.
Remove chicken and thread each strip onto a wooden skewer. Place on prepared broiler rack and cook for 12-15 minutes or until juices run clear and chicken is cooked through.
Remove chicken and serve with garlic herb dipping sauce.

Notes
Add a squeeze of lime directly onto cooked skewers or to dipping sauce for a bit of freshness.