Cheese & Pesto Puff Pastry Appetizers
Easy 3-ingredient cheese and pesto puff pastry appetizers served on skewers are perfect for a party. Start with frozen pastry dough, prepared pesto, and your favorite cheese. Serve the recipe at your next luncheon, cocktail party, or casual gathering.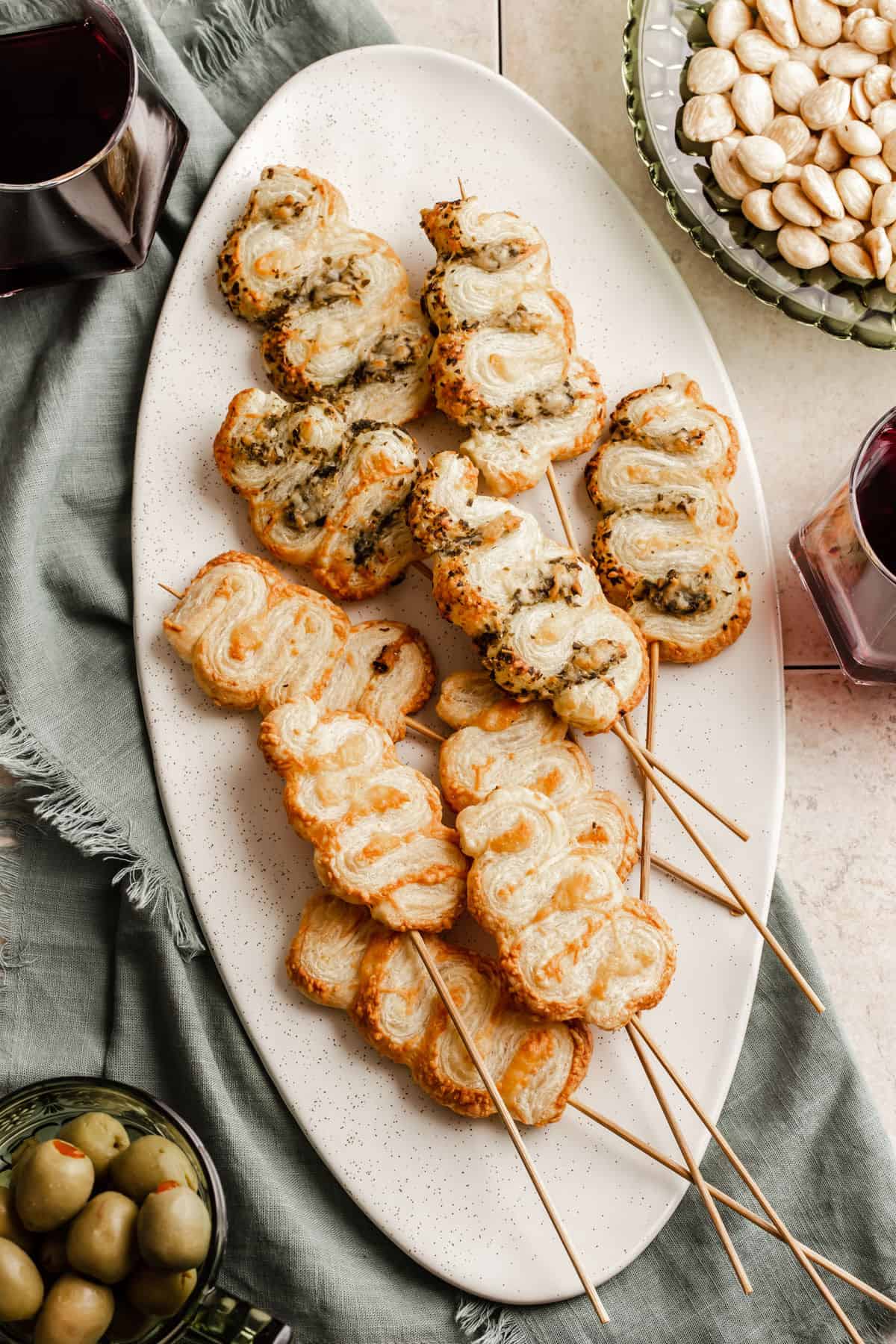 Puff Pastry Appetizer
Frozen puff pastry sheets is one of those party staple ingredients I keep in the freezer at all times. It makes great appetizer recipes and there's no reason to make it from scratch when you can find it at the grocery store!
It cooks up light and flaky and is a delicious base for so many other ingredients. In this case I made appetizer skewers that are cute displayed on a platter or standing upright in a glass.
The wood skewers make an easy handle and keeps hands clean. They can be served with a soup bar, with a chili bar, or with salad. It's really an all-purpose recipe.
How to Make Them
You'll need just 3 ingredients.
Frozen puff pastry sheets. Packages come with 2 sheets inside. You can use both and double the recipe, or seal the package securely and keep frozen until ready to use the other sheet.
Shredded cheese. I use parmesan for its salty nutty flavor, but you can also use Romano, Mozzarella, Gruyere, white cheddar, or Asiago.
Prepared pesto. Using jarred pesto sauce makes this recipe quick and simple. When using it, try to drain off excess oil that gathers on top as it sits. I like using Classico brand because it's not overly garlicky, but another good choice is Delallo.
Step 1. Start by thawing the dough according to package directions. Sprinkle a work surface with cheese and unfold the pastry onto it. Brush the pastry sheet with water as you unfold so the cheese adheres to the pastry.
Step 2. Use a rolling pin to smooth out the seams, stretch the pastry slightly, and to help press the cheese into the pastry. Spread half of the pastry with pesto and sprinkle the entire thing with the remaining cheese.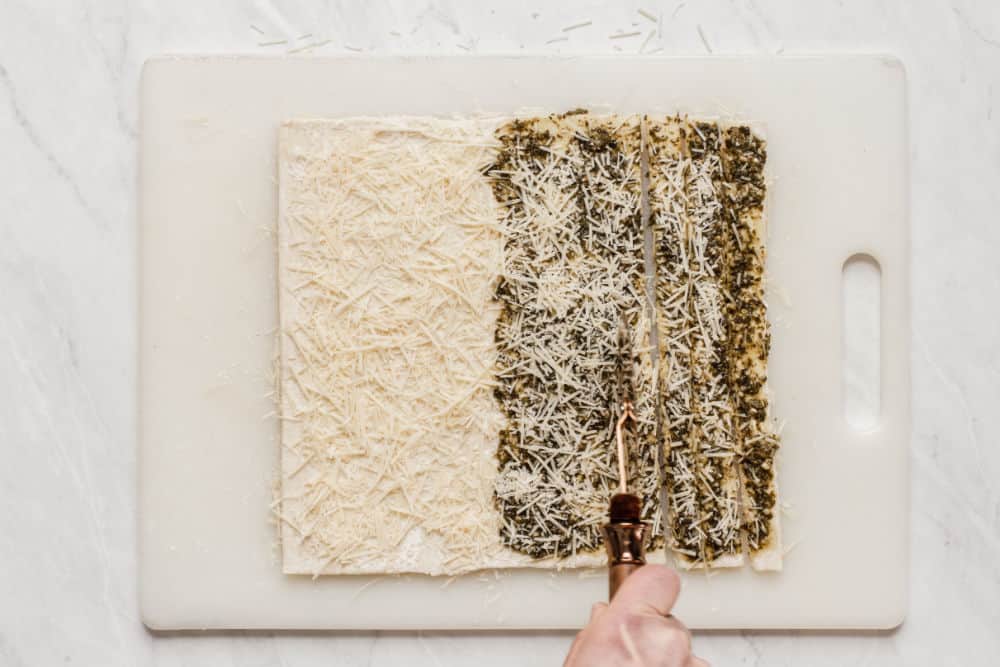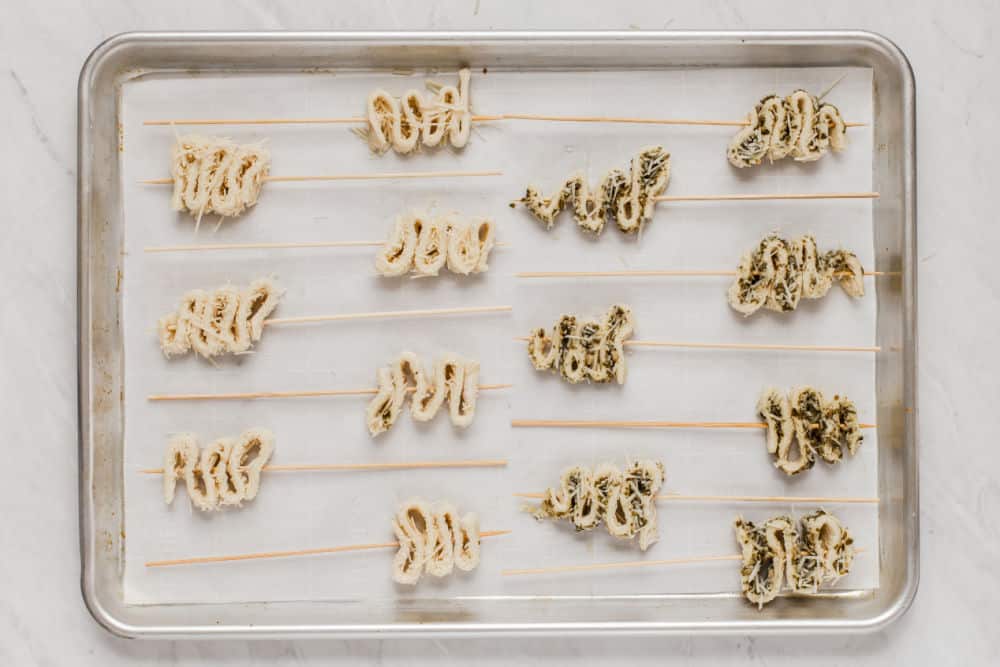 Step 3. Use a pizza cutter to roll over the puff pastry and cut 1/2-inch strips. You should get about 16 to 18 strips if you stretched the dough out a bit.
Step 4. Thread the puff pastry strips accordion-style onto the skewers. Place them on a baking sheets lined with parchment paper and bake.
Variations & Substitutions
Sprinkle some dried Italian seasoning on top of the cheese side for extra flavor.
Use sun-dried tomato pesto as an alternative to the traditional pesto.
Spread a light layer of Boursin cheese as a base before adding the shredded cheese.
Instead of using one type of cheese, use a mix of shredded cheeses like half Parmesan and half Mozzarella.
Use both puff pastry sheets from the package and dedicate one sheet to the cheese skewers and one sheet to the pesto skewers.
If you don't want to put them on skewers you can roll them up into pinwheels or twist them into sticks.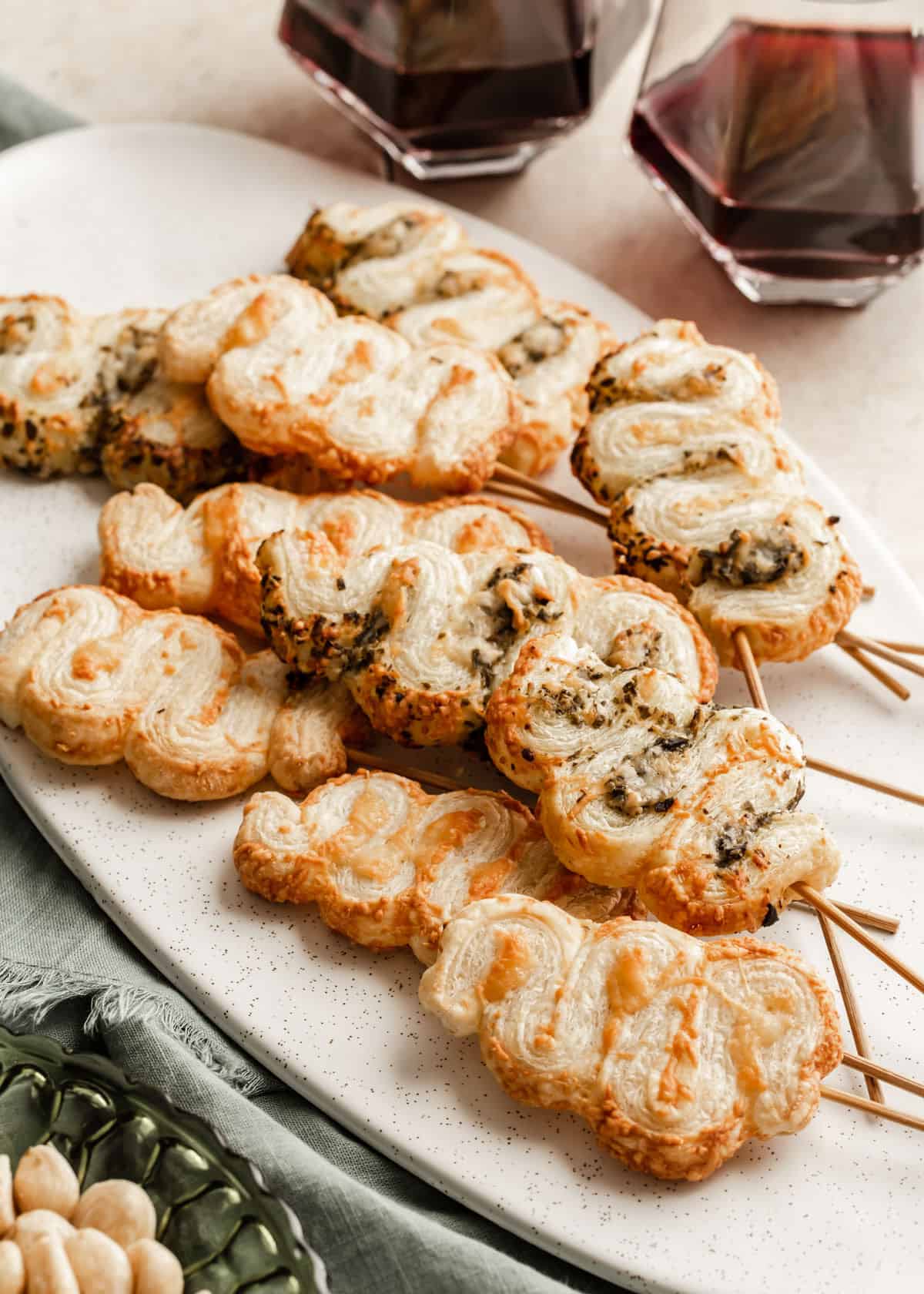 Storage
Cover any leftovers tightly with aluminum foil, or in an air tight container, and keep in the fridge for up to 5 days.
Reheat in the microwave for 15 seconds for a soft version, or in the oven at 350 degrees for 5 minutes to re-fresh their crunch.
EXPERT TIP: Assemble these ahead of time and refrigerate until ready to bake. You can put them in the oven right before guests arrive so they're ready to eat in 20 minutes.
More Recipes with Puff Pastry
There's almost no end to the ideas you can come up with using puff pastry sheets. Here are some of my favorites.
I hope you'll head out and grab the three ingredients for these cheese and pesto puff pastry appetizers. They're yummy for all occasions.
If you like this post, PIN, Share, or sign up for our Newsletter at the top of the page. And don't forget to follow CAH on Instagram or Facebook. Cheers!
Cheese & Pesto Puff Pastry Appetizers
Three simple and convenient ingredients come together for cheese and pesto puff pastry appetizers. Make them ahead and bake just before guests arrive.
Ingredients
1 sheet frozen Puff Pastry, thawed according to package directions
½ cup shredded Parmesan cheese
¼ cup prepared pesto
18 wooden skewers (8-inch)
Instructions
Heat the oven to 400° F.
Sprinkle a work surface with 2 tablespoons of cheese. Place the pastry sheet on the cheese layer, brushing pastry with water as you unfold it.
Lightly press the puff pastry onto the cheese so it adheres to it. Use a rolling pin to do this and to help smooth out the seams.
Spread pesto on one half of the pastry, and brush the other half with water.
Sprinkle the entire sheet with the remaining cheese and press it lightly into the surface.
Cut the pastry sheet into ½-inch strips (about 18). Thread the pastry strips accordion-style onto the skewers and place them on a parchment lined baking sheet. Refrigerate remaining skewers until ready to bake.
Bake for 15 minutes or until the pastries are golden brown. Let the pastries cool on wire racks for 2 minutes.