Ham and Cheese Pinwheels with Puff Pastry
Easy ham and cheese pinwheels with puff pastry is a make-ahead party appetizer that's also a crowd favorite! Deli meat and shredded Parmesan are rolled up in pastry sheets and baked to perfection. You can make them ahead and freeze so they're ready to cook when you're ready to entertain. Serve at room temperature for girls night in, cocktail parties, and even brunch!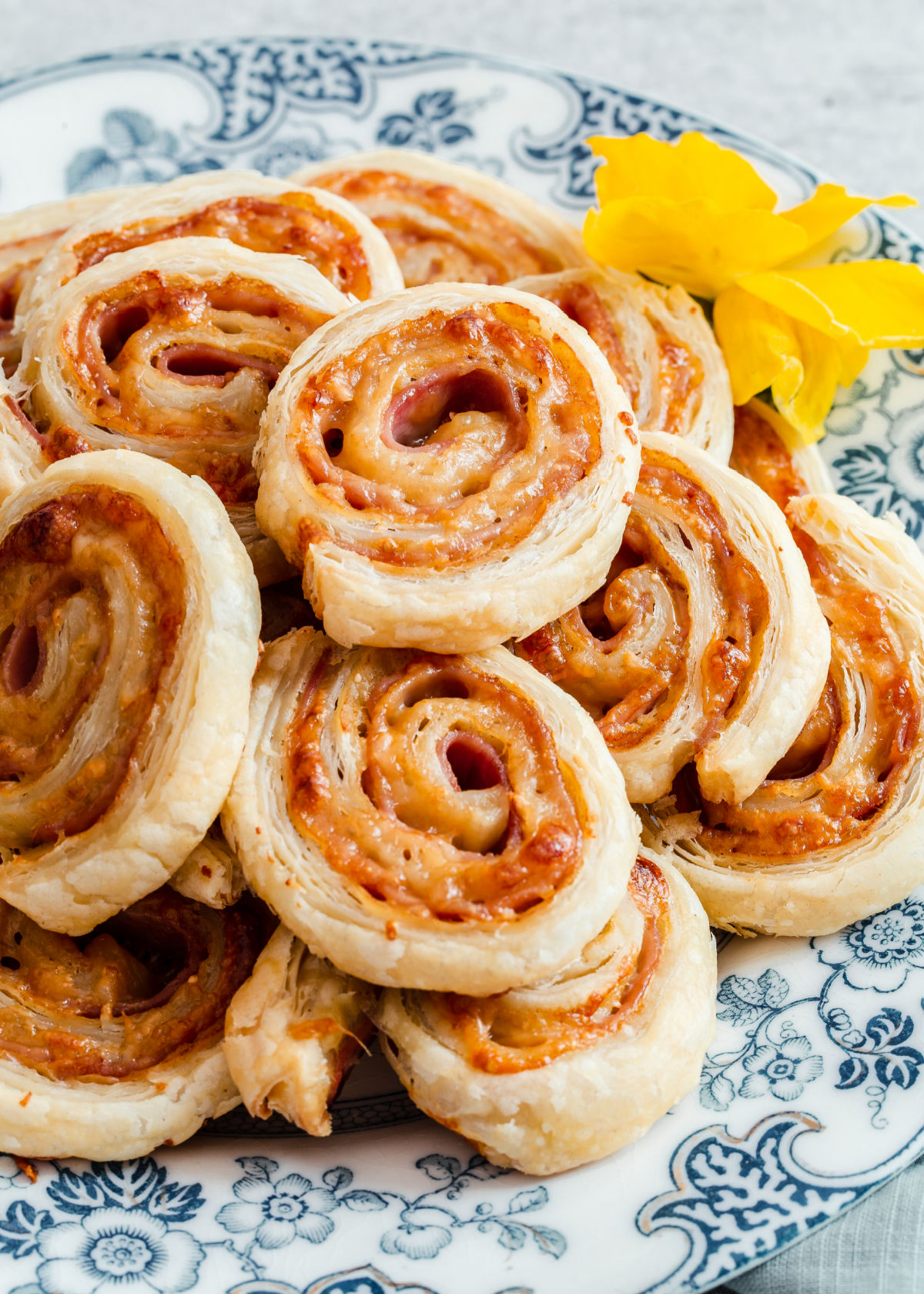 There's one thing I've noticed about some of my favorite appetizers. They mostly require "assembly" as opposed to a steadfast recipe. Case in point, my favorite bacon appetizers recipes, and these quick & easy cheese appetizers.
Ham and cheese puff pastry pinwheels are no different. They're one of the best appetizer recipes you'll go to again and again!
Easy Party Food
Here are some reason you'll love this recipe for entertaining.
The combination of ham, Parmesan cheese, Dijon mustard, and puff pastry is a tried and true recipe and always a crowd-pleaser. It's so simple yet so delicious!
It makes a lot of appetizers for little time investment. Keep the ingredients on hand so you can make them on the fly.
They're delicious when they're warm but you can serve them at room temperature too.
Make them ahead of time and freeze. Then bake them when you're ready.
The ingredients are simple, inexpensive, and easy to find. That's a good thing when guests keep coming back for more!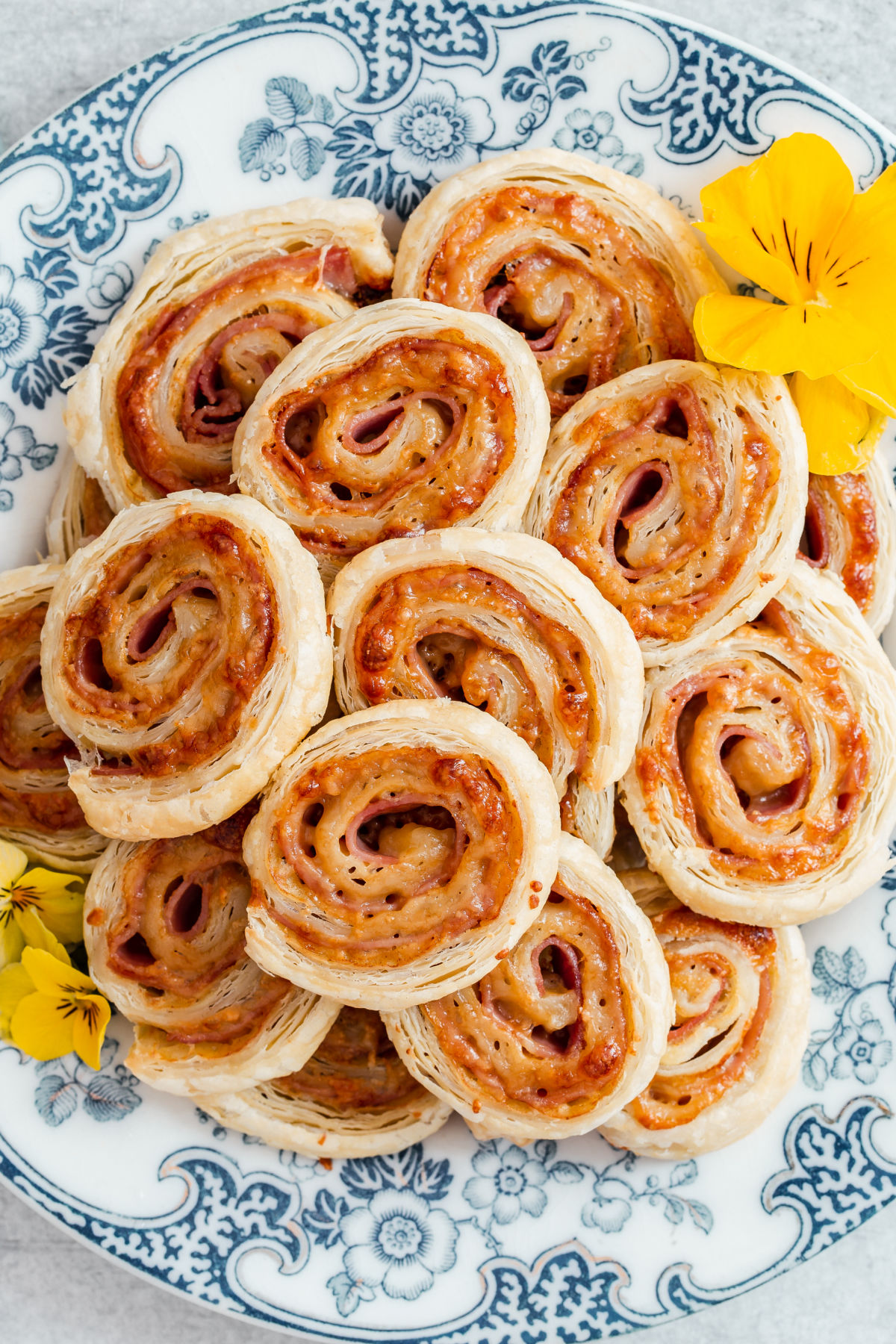 When to Serve
Baked ham and cheese roll-ups have been part of my cocktail party menu for two decades.
It's the perfect party appetizer for ladies night in.
They're fancy enough for Christmas and holiday parties, but rustic enough for a game day party.
Take them tailgating or on picnics. They hold up well to travel and you don't have to keep them cold.
Add them to a breakfast bar buffet or brunch party. They can be served at room temperature, making them hassle free.
Even kids love them so add them to a play date or child's party.
If you love the taste and convenience of puff pastry dough you should definitely try a dessert option. These chocolate filled pastry rolls are delicious!
HOSTESS TIP: Always keep some basic frozen ingredients on hand for last minute preparation, including puff pastry, phyllo cups, and nuts.
4 Ingredients
Puff Pastry. Why make it from scratch when you can find it in most any grocery store in the freezer section? There are two sheets rolled up in each package. Let it thaw overnight in the refrigerator or on the counter for about 30 minutes or until softened. Make sure to thaw it before you unroll it or it can crack and break apart. Puff pastry is buttery, light and tastes similar to a croissant or crescent roll. And it's easy and convenient to work with just as frozen pie dough is.
Dijon Mustard. Dijon mustard adds tons of flavor and goes great with deli meat and cheese. I often substitute with Sweet Hot mustard for extra zing.
Ham. Use boiled or baked ham so you don't get a lot of extra flavors competing with the other ingredients. I typically choose the rectangle slices because they fit so well on the puff pastry sheets. It's savory and salty and easy to find. Substitute with deli roasted chicken or turkey if you want, but no flavored varieties.
Cheese. Use shredded parmesan that you can buy in packages. It adds a delicious salty nutty flavor. White cheddar is also fabulous! Pepper Jack will add a spicy kick, or try asiago, Swiss or gruyere.
How to Make It
When you cook this easy appetizer in the oven, the pinwheels become golden and flaky, and the ham, cheese, and mustard combine into one delicious flavor bomb! Kind of like a toasted sandwich or panini.
Once the puff pastry has thawed, unfold one sheet onto a lightly floured work surface or cutting board. You can use a rolling pin to roll over to flatten the seams, help stretch it or to even out the rectangle shape.
Spread the dough with a layer of mustard. Top it with a single layer of ham and sprinkle the cheese all over it.
Start at the short end and roll the pastry into a log. Refrigerate or freeze it, seam side down, for about 15 to 20 minutes. This will firm it up again so it's easier to cut through. Repeat with the second puff pastry sheet.
Remove the log and cut it into slices about 1/2-inch think. Use a large sharp serrated knife to cut through easily. Line a baking sheet with parchment paper and place slices spiral side up. Bake as directed in recipe card.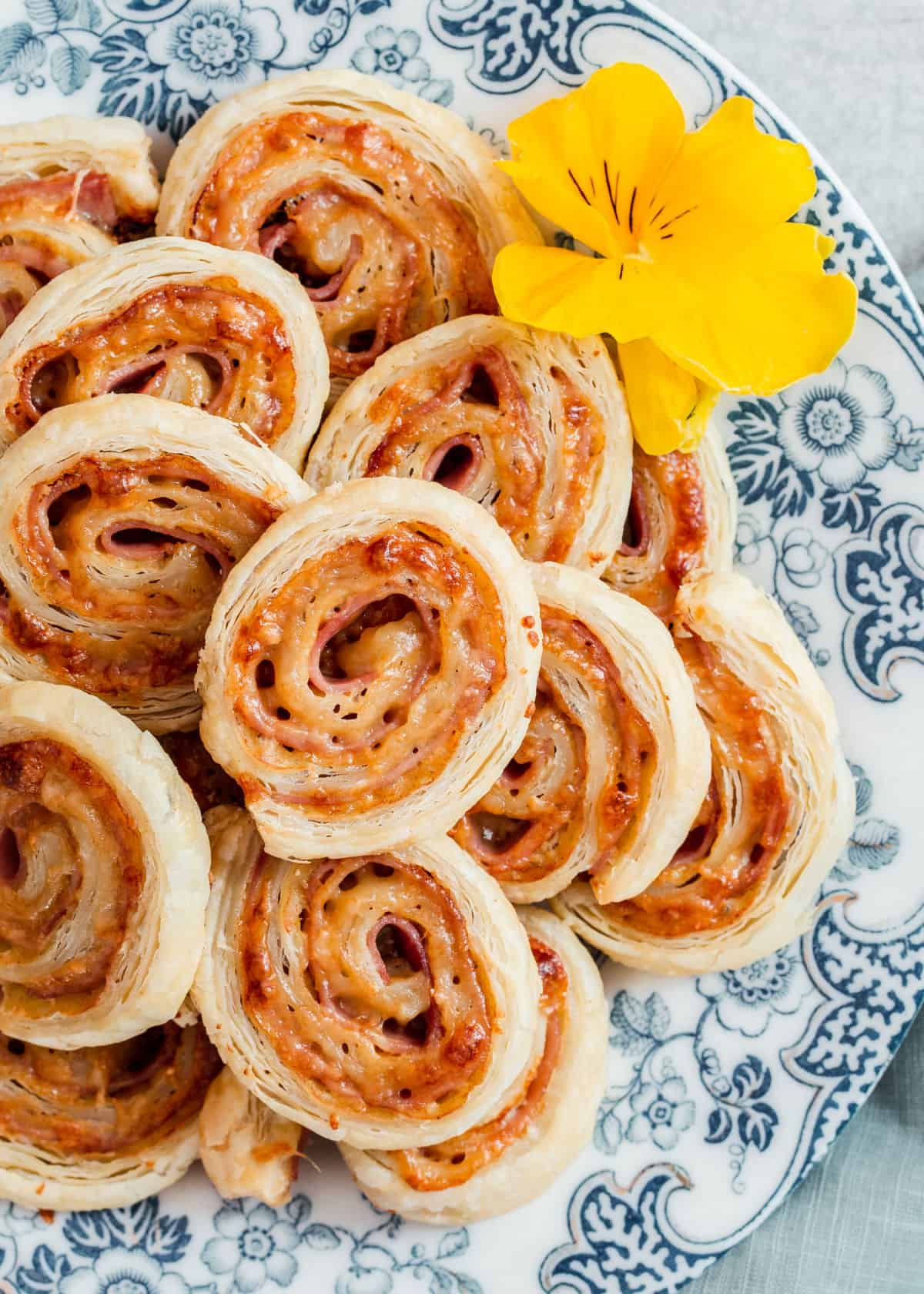 Storage
Store the cooked pinwheels in the refrigerator in an air tight container or wrapped in aluminum foil, for up to 4 days.
To reheat them, bake at 375 degrees F until warmed through so the crust can crisp up again.
PARTY TIP: Use one roll for now and freeze the other one for later for effortless entertaining.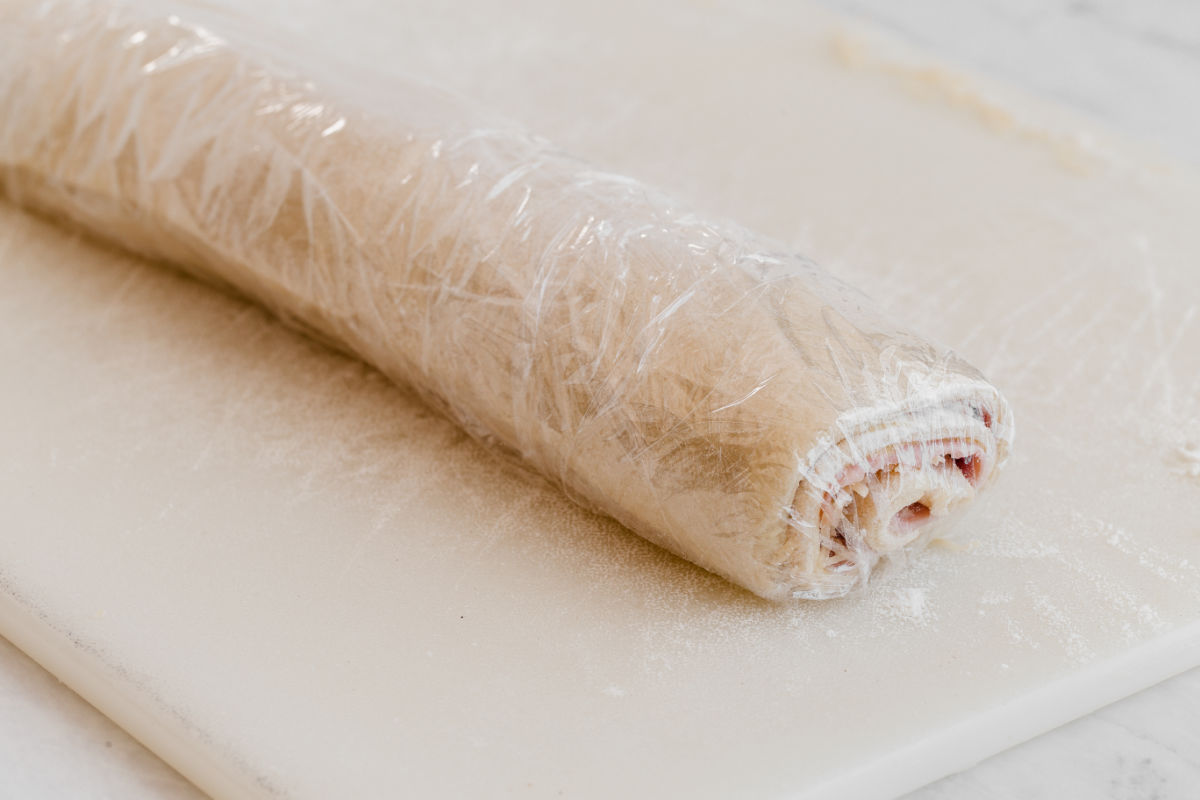 Make Ahead & Freeze
Since there are two puff pastry sheets in a package I often bake one now and freeze the other one for future gatherings.
After you've prepared the roll, cover it tightly with plastic wrap and freeze for up to 6 months. When you're ready to use it, set it on the counter so it can thaw. Check it after 15 minutes and when you can slice through the log but it's still firm in the middle, it's ready to bake and serve.
I don't love freezing the baked pinwheels because you can run the risk of over-cooking them when it's time to reheat. However, if you want to you can freeze them in a ziplock bag and reheat at 375 degrees F for about 5 to 10 minutes or until warmed through. Keep a close eye on them so they don't over cook!
Other Flavor Combinations
Puff pastry pinwheels are so delicious why not try some other flavor combos?
Pizza Pinwheels. Spread a thin layer of tomato paste and top with pepperoni or salami and mozzarella cheese.
Pesto Pinwheels. Top with pesto sauce and Parmesan cheese.
Beef Pinwheels. Swap the ham for thinly sliced roast beef and use cheddar cheese instead of the Parmesan.
Spinach Pinwheels. Top the pastry with a spinach and artichoke dip mixture.
Cheese Pinwheels. Keep it simple with a layer of cheese, similar to the puff pastry cheese skewers.
Sweet & Salty Pinwheels. Spread with softened brie, top with plum jam and crumbled blue cheese. Sprinkle with chopped pecans or slivered almonds and then roll up to cook.
More Easy Appetizers Recipes
Round out your party menu with these simple appetizers that are sure to please a crowd.
It's time to stock up on ingredients for ham and cheese pinwheels and make a batch for family and friends. I guarantee they'll be a hit!
If you like this post, PIN, Share, or sign up for our Newsletter at the top of the page. And don't forget to follow CAH on Instagram or Facebook. Cheers!
Ham & Cheese Pinwheels with Puff Pastry
Ham and cheese pinwheels with puff pastry has just 4 ingredients and is a crowd pleaser! They're an easy and delicious appetizer to make ahead and freeze too. Serve them for girls night in to brunch entertaining. Both adults and children love these!
Ingredients
2 sheets frozen puff pastry dough, thawed according to package
8 to 10 slices baked ham deli meat
1 1/2 cups shredded Parmesan cheese
Dijon mustard OR Sweet Hot mustard (I use whichever I have on hand)
Instructions
Roll out thawed pastry enough to flatten seams and stretch it slightly.
Spread a thin layer of mustard over dough; Place a single layer of ham; Top with shredded Parmesan.
Begin rolling up the dough starting at the short end.
Once your dough is rolled and you have a long log shape, wrap it in saran wrap, and place it into the refrigerator for about 20-30 minutes, or the freezer for 15 minutes before slicing.
Remove from refrigerator and remove saran wrap. Using a serrated knife (a large bread knife works best) begin slicing roll into 1/2 inch widths.
Place slices flat on baking sheet spiral side up, and bake at 375 degrees F for about 15 minutes, or until golden brown.
Remove from oven and serve.
Notes
To make these ahead for a later date, wrap the prepared pastry roll tightly with saran wrap and freeze. When ready to use remove from freezer and let them sit at room temperature for about 20 minutes or until you can cut the roll into slices. Bake as directed.