Chicken Salad in Puff Pastry Cups
Impress your guests with chicken salad in puff pastry cups. They're easy to make ahead and a real crowd pleaser! They're light yet satisfying and an ideal appetizer or main course for parties, showers and ladies luncheons.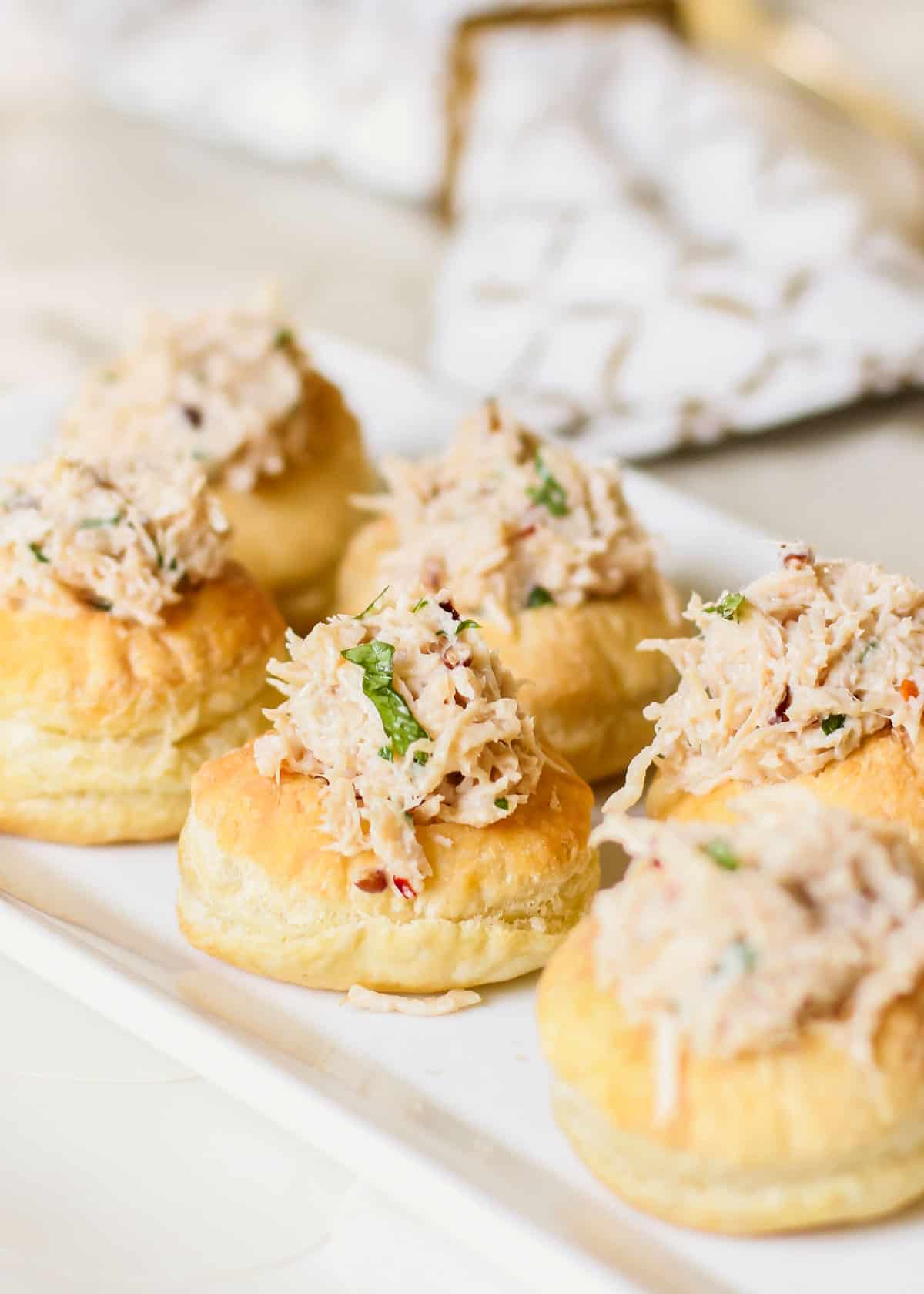 I'm showing you how to make "homemade" puff pastry cups, plus a scrumptious chicken salad filling. Serve them as a finger food appetizer or make them larger for a main dish.
While you can buy pre-cut puff pastry shells at the grocery store, I find the minis to be too small, and the large ones to be too big for most occasions. Plus, they're not always in stock when you need them.
It's better to make your own puff pastry cups from scratch using frozen puff pastry sheets!
Why You'll Love It
In a word, delicious! Add them to the menu at baby and bridal showers, or a bridesmaids luncheon.
They're easy to make ahead so hostess is stress-free. Perfect for cocktail parties.
It's versatile. Use the shells for other fillings, or use the chicken salad in other vessels.
You can customize it. Make them larger to serve as a main dish for a ladies luncheon, or smaller to serve as an appetizer.
The pretty presentation is so appetizing.
Ingredients & Substitutions
Puff pastry sheets: I typically use a package of Pepperidge Farms puff pastry sheets. There are 2 sheets per package. Let it thaw according to package directions before you unroll it to prevent cracking.
Flour: Use all-purpose flour to dust the surface when preparing the puff pastry sheets. This will prevent it from sticking to the worktop and rolling pin.
Sesame Chicken Salad
This is an Asian-style chicken salad that's a guest favorite!
Premium canned chicken breast. Use a 10-oz can of high quality chicken breast meat. Look for the large cans in the grocery store, or use freshly cooked chicken breast and shred it yourself. Do not use small cans of chicken, as they tend to have poor quality and taste.
Mayonnaise. Use your favorite brand, either light or regular. I like to use Duke's or Hellman's.
Honey. To add sweetness and balance to the Asian flavors.
Soy sauce. I always use reduced-sodium soy sauce to keep salt in check.
Sesame oil. This provides richness and depth to the flavorful filling.
Ground Cayenne pepper. Feel free to adjust the amount depending on your preference.
Cilantro. Select fresh cilantro and chop finely.
Sesame seeds. To garnish if desired.
Variations
Use the cups as a vessel for any of these filling ideas.
How to Make Puff Pastry Cups
To make cleanup easy and to prevent sticking, line a baking sheet with parchment paper.
Thaw the pastry according to the package directions, then unfold it on a floured surface. Use a rolling pin to roll the pastry slightly in all directions, making it thinner and larger.
Cut out large circles from the pastry using a cookie cutter or a glass rim.
Use a smaller cutter to press halfway into the center of each circle, creating an indentation. Place the circles on the prepared baking sheet and bake.
Remove from the oven and let them cool slightly. You should see the indented circles on top of the pastry cups. Use a paring knife to cut and lift off the tops. Scoop out some of the pastry inside to form a hollow cup.
Chicken Salad Filling
Mix all the ingredients for the filling, until well combined. Cover and chill for at least 2 hours, or over night.
When you're ready to serve, use a small scoop or spoon to add filling to pastry cups. Sprinkle on some sesame seeds, diced scallions or chopped herbs and enjoy!
Make Ahead & Storage
You can bake the puff pastries and store them in an airtight container at room temperature for up to two days.
Prepare the chicken salad and keep it covered in the fridge for up to three days. When you're ready to serve, give it a good stir since liquid can settle to the bottom as it sits, and fill the puff pastries.
Leftover chicken salad cups can be refrigerated in an airtight container for up to two days, however the inside of the shells will start to get soggy over time.
The puff pastry shells can be frozen after baking. Transfer them to a freezer bag or storage container and freeze for up to three months. Thaw and reheat in the oven to freshen them up.
Expert Party Tips
*Post contains affiliate links
Make the chicken salad at least 2 hours ahead so the flavors have time to marry.
These pastry cups are the perfect size for an appetizer for girls night in or cocktail parties.
For a luncheon, I suggest making enough for 2 ½ pastry cups per person, as some people may have a bigger or smaller appetite.
Use a mini scoop to fill the cups. It's a great size and so easy to use.
Sparkling wine or Riesling are excellent choices for wine pairing with this dish. To serve wine at a party, you should consider the following tips.
Do I need to cook puff pastry before adding the filling?
Yes, this will ensure that the pastry is crispy and prevent it from being soggy.
More Puff Pastry Recipes
If you love this chicken salad in puff pastry cups as much as I think you will, check out these other recipes using puff pastry.
If you like this post, PIN, Share, or sign up for our Newsletter at the top of the page. And don't forget to follow CAH on Instagram or Facebook. Cheers!
Chicken Salad in Puff Pastry Cups
Total Time:
2 hours
45 minutes
Easy and customizable puff pastry cups filled with a delicious sesame chicken salad. Perfect for appetizer parties, showers and ladies luncheons.
Ingredients
Puff Pastry Cups
1 package puff pastry sheets (2 sheets)
flour
rolling pin
1 larger, and 1 smaller biscuit cutters, or round glass
Sesame Chicken Salad
1 (10-oz can) premium chicken breast meat, finely chopped; or use fresh cooked chicken breast shredded and chopped
¼ cup mayonnaise, light or regular
2 teaspoons honey
1 teaspoon reduced sodium soy sauce
¼ teaspoon sesame oil
⅛ teaspoon ground Cayenne pepper
Fresh cilantro, finely chopped (about 1-2 Tablespoons to taste)
Garnish
Sesame seeds, sliced scallions, chopped cilantro or parsley
Instructions
Let the pastry thaw according to package directions, then unfold onto a floured surface.
Preheat the oven to 400 degrees F.
Using a rolling pin, roll over pastry dough to smooth out seams and to stretch it slightly in all directions.
Cut out a larger circle (about 2 ½ inches diameter) from the dough, using a cookie or biscuit cutter, or the rim of a glass.
Using the smaller cutter (about 1 ¼ to 1 ½ inches diameter), press into the center of the dough circle about half way through, but DO NOT press all the way through.
Place on a baking sheet lined with parchment paper and bake for 10-15 minutes, or until golden.
Remove from the oven and let cool to touch. You should see the circle indentation on the top of the pastry cup.
Use a paring knife to help cut and lift off the top. Scoop out pastry filling to form a "cup."
Meanwhile, in a medium bowl, combine all chicken salad ingredients until well mixed. Cover and chill for at least 2 hours, or over night.
Use a mini scoop to fill pastry cups with chicken salad or other filling and serve.