Gin and Ginger Liqueur Cocktail Martini recipe
Shake up this gin and ginger liqueur cocktail for your next party. This martini has a unique blend of flavors for a slightly sweet and spiced drink for a cocktail party, happy hour or pre-dinner sipping.
Pineapple Ginger Martini
It's been a while since I've used my ginger liqueur in a cocktail so I decided to shake up something new this week. I created this spin on a pineapple martini using gin and ginger liqueur for a warming spice note.
The result is this light and refreshing cocktail. It's sweet but not TOO sweet. And it gets a little effervescence from club soda added at the end.
This cocktail isn't too strong so you don't have to worry about it sneaking up on you. It would make a good signature party drink for a tropical theme party or a yellow or gold party.
I've traditionally used vodka as my clear liquor for mixing drinks, but I've recently discovered a penchant for gin instead. Of course, you can substitute the gin for vodka if you like!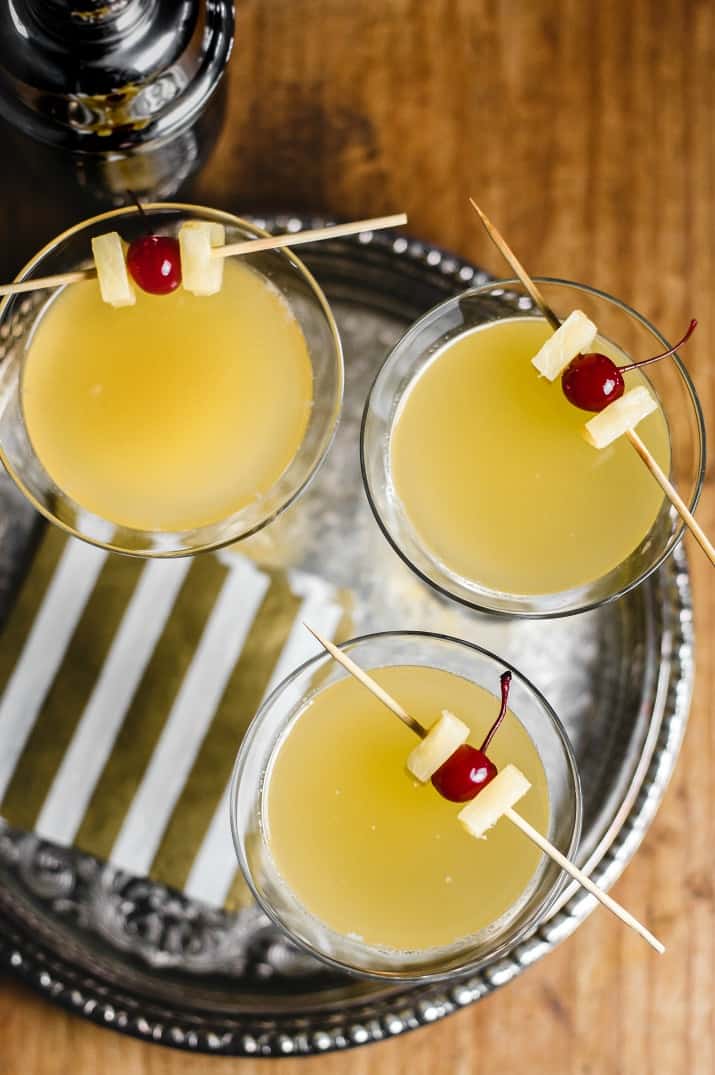 Gin and Domaine de Canton cocktail
If you haven't tried ginger flavored liqueur yet, the time is now! My brand of choice is Domaine de Canton. It's produced in France and I first noticed how pretty the bottle looks. Then I realized how tasty the liqueur is!
What does Domaine de Canton taste like?
The simple answer is of course, ginger. But that simple answer is not sufficient for this liqueur. While there are other brands available, I like this one because it has a very true raw ginger taste. In other words it doesn't taste fake.
It's also not quite as sweet as King's Ginger brand, which is a big plus for me. But be aware, a little goes a long way with ginger liqueur. It's bold and can overpower a drink if you pour too much.
Cocktails with Ginger Liqueur
If you're a fan of ginger liqueur like I am, check out these other recipes.
More Gin Cocktail Recipes
Here are some more cocktails made with gin. My favorite brands to use are The Botanist, Hendrick's, or Aviation, in that order.
If you want to make a large batch ahead of time you can convert the measures below into cups rather than ounces. That's what I always do when I want to serve it from a pitcher or pretty dispenser.
If you like this post, PIN, Share, or sign up for our Newsletter at the top of the page. And don't forget to follow CAH on Instagram or Facebook. Cheers!
Gin and Ginger Liqueur Cocktail Martini
A tasty gin cocktail with spicy ginger liqueur and pineapple juice. A delicious and easy party drink.
Ingredients
1 ounce gin
1 ounce ginger flavored liqueur
1 1/2 ounces pineapple juice
1 ounce club soda
2 dashes bitters
Instructions
Add ice to a cocktail shaker, and pour in gin, ginger liqueur, and pineapple juice.
Cover and shake for several seconds to mix.
Strain mixture into a martini glass and top off with club soda and bitters.
Garnish with pineapple chunks and a maraschino cherry on a skewer.