Bourbon and Lemonade Cocktail
This bourbon and lemonade cocktail is a refreshing drink with ginger liqueur for depth and sparkling mineral water for effervescence. The sweetness of the bourbon is balanced by the tartness of the lemonade and is a recipe you'll want to include in your summer parties all the way into fall tailgate season.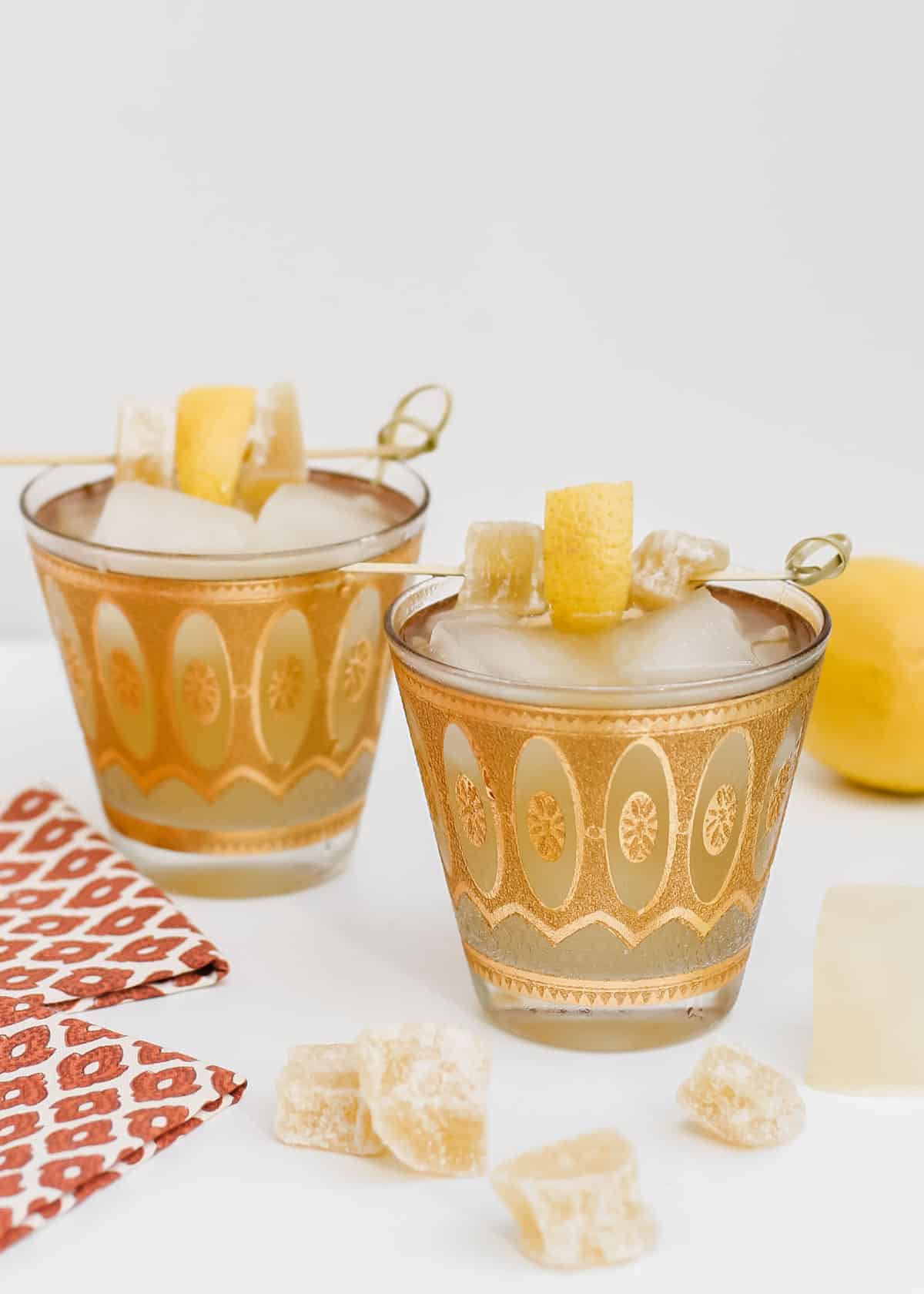 Why You'll Love It
Easy & Delicious. This delicious cocktail has just 4 ingredients and is easy to make as a signature party drink.
Depth of flavor. Lemonade and bourbon are tasty on their own, but to add more dimension to the drink I incorporated Domain de Canton, a ginger liqueur. That extra spice also makes this drink great for fall.
Refreshing. As if lemonade wasn't light and refreshing on its own, I add a splash of club soda to give it a little fizz and help balance out the sweetness.
When to Serve It
Serve this bourbon cocktail for happy hour, along with something salty like bacon appetizers. Nothing goes together quite like bourbon and bacon!
Set up a bourbon bar and make this a signature cocktail.
You can also include this as part of a lemonade bar for an adult version. Great idea for brunch too.
Add this to your summer menu for backyard bbq's and cookouts.
This is such a tasty drink for fall gatherings including a tailgating party or other game day party for adults.
Ingredients
Lemonade. Grab a bottle of prepared lemonade in the soda aisle. It's perfect for making cocktails with, and saves time.
Bourbon. I like to make this drink with 1 ounce of bourbon so it lets the lemonade come through more. However, if you want a sweeter cocktail go with 1 and a half ounces. We typically use a mid-range bourbon for large gatherings, but will use higher end for small groups. Jim Beam is always on our home bar, while Woodford Reserve, Crown Royal, Knob Creek and Maker's Mark are also in our liquor cabinet.
Ginger liqueur. Domain de Canton is my go-to brand for this. It's spicy ginger taste is intense so you a little goes a long way.
Sparkling Mineral Water. I love to use Pellegrino for cocktails, but you can also use club soda.
Garnish the drink with a small skewer of crystallized ginger and wedge of lemon. They make for a very cute and tasty garnish. The ginger is sweet like candy, but has a peppery bite to it.
More Bourbon Cocktails
For more bourbon based cocktails check out these delicious recipes.
If you like this post, PIN, Share, or sign up for our Newsletter at the top of the page. And don't forget to follow CAH on Instagram or Facebook. Cheers!
Bourbon and Lemonade Cocktail
The sweet refreshing taste of lemonade and bourbon get elevated with ginger liqueur and sparkling water. A terrific drink for summer parties and entertaining.
Ingredients
4 ounces lemonade
1 to 1 1/2 ounces bourbon
1/2 ounce ginger liqueur
1 1/2 ounces sparkling mineral water or club soda
Instructions
Combine the lemonade, bourbon and ginger liqueur in a glass with ice.
Top with sparkling water and enjoy.
Notes
Garnish with lemon and crystalized or candied ginger.