Best Whiskey Punch Recipe
The BEST whiskey punch recipe made with salted honey simple syrup and topped with drunken cherries! This sweet and sour party drink serves a crowd. Make it for holiday cocktail parties, game day parties, or birthday celebrations.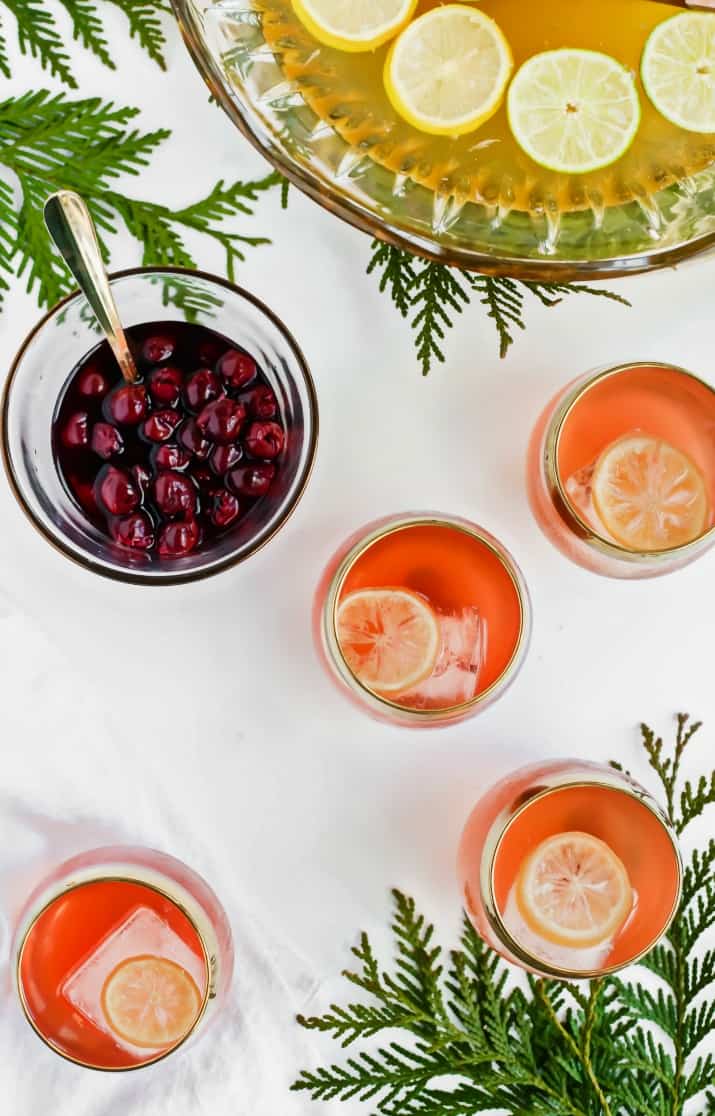 Whiskey Punch for Parties
If you try one new punch recipe this year, this is the one. This recipe has it all; a little sweet, a little citrus, and a cherry on top! This whiskey sour party punch is going to make you a star among your guests!
There are two secrets to the success of this punch. The salted honey simple syrup, and the liqueur-soaked cherries. Both add something special that make this recipe unique and delicious, and seriously the best party punch!
It all starts with homemade simple syrup that you'll want to add to everything! The drunken cherries on top give it extra style and a kiss of flavor and color.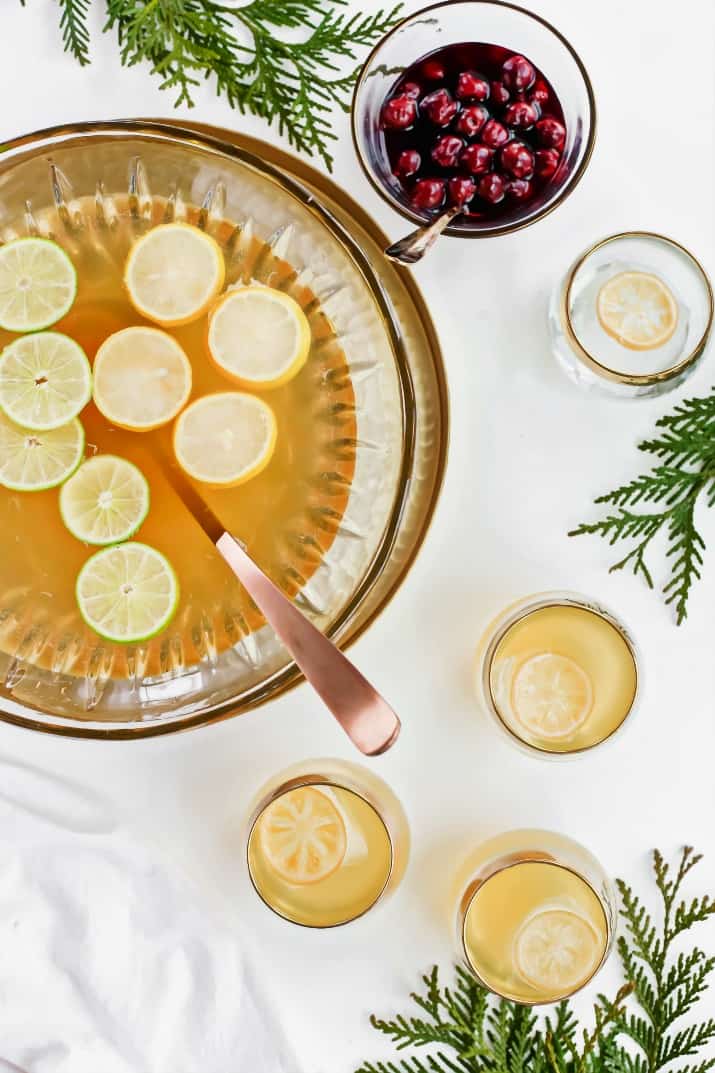 Whiskey Sour for a Crowd
This large batch party punch gives a modern twist to a classic cocktail, and serves a crowd. It goes well with savory appetizers at a cocktail party, or cheese and charcuterie parties.
Can I Substitute With Bourbon?
Yes, of course! It's just as tasty using bourbon instead of whiskey. You may get a slightly sweeter flavor depending on the bourbon you use.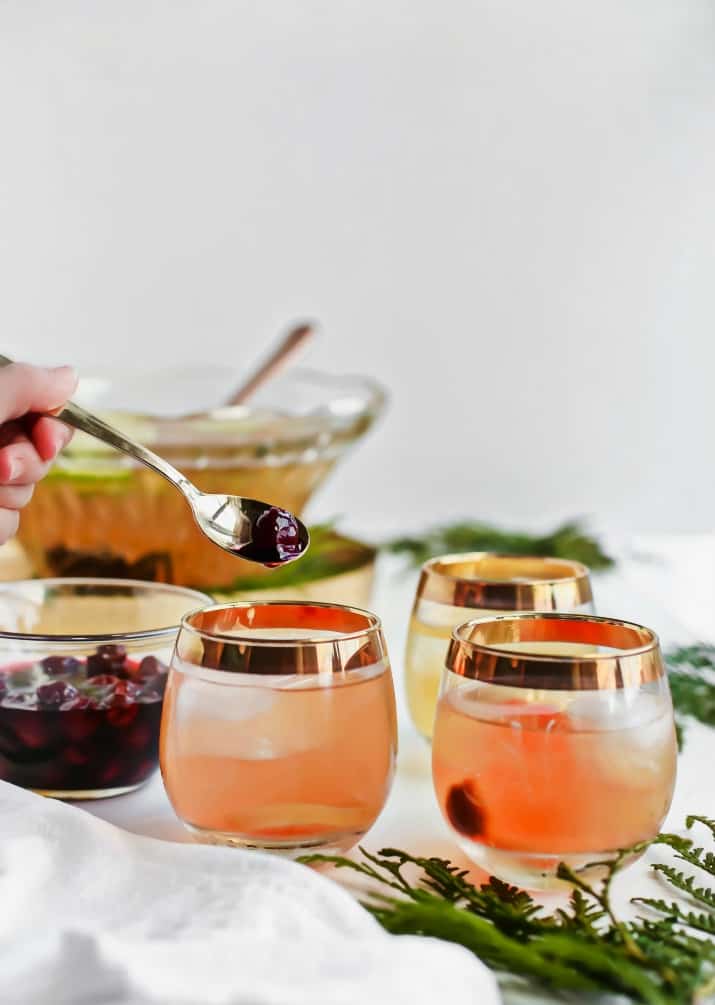 How to Make Drunken Cherries
If you've never had drunken cherries before, you're in for a treat! You'll add them into your glass to top off the punch. They add another layer of flavor and a nice red tint of color.
They're quick and easy to make but you do have to make them ahead. They need time to marinate and absorb the liqueur flavor. Make them at least 24 hours in advance, up to several days.
Keep them covered and refrigerated while they're marinating.
Use a jar of dark cherries in syrup. These may be labeled as Italian cherries in the store. Use 1 cup of the cherries and add 1/2 cup of orange liqueur.
HOSTESS TIP: You don't have to drain the cherries from their syrup per say, but you definitely want the cup measure to be full of cherries, not full of the syrup.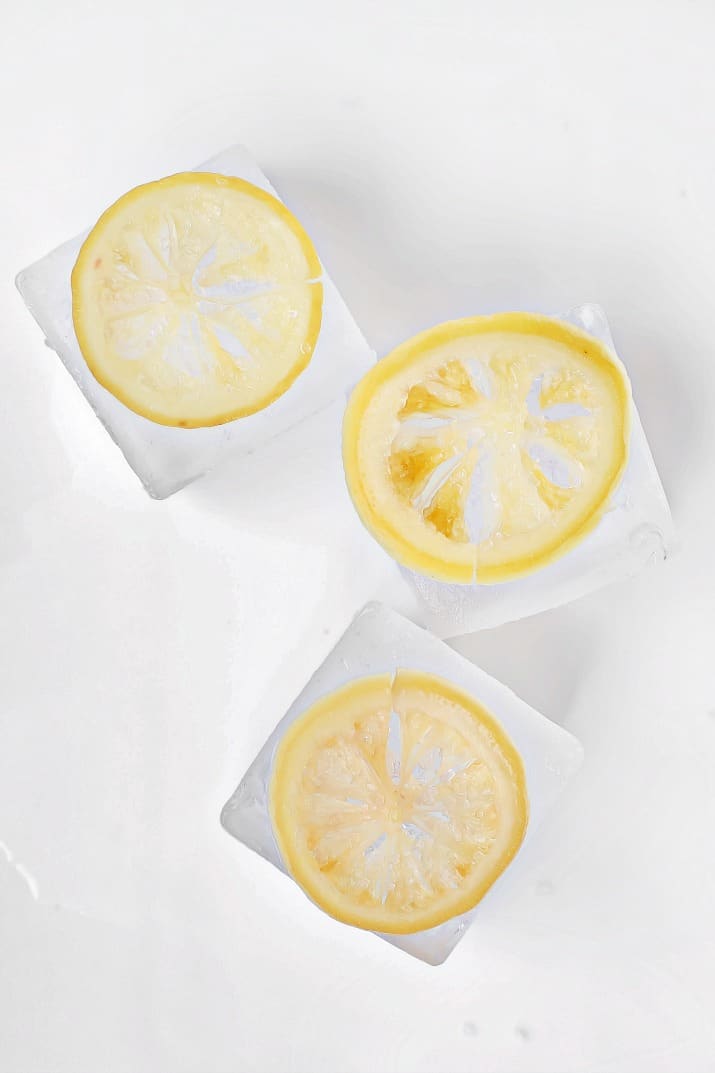 Salted Honey Simple Syrup
The real star of this recipe is the salted honey simple syrup. It adds just the right amount of sweetness with a hint of salt. You will want to add it to so many other drinks! It would be amazing in homemade lemonade.
Be sure to make this ahead, up to two weeks and refrigerate.
As with any simple syrup recipe you begin by combining the honey with water over medium high heat and bring to a boil.
Add in the salt and stir. Remove from heat and let it steep until salt dissolves.
Let cool completely and refrigerate until ready to use.
PARTY TIP: Float sliced lemons and limes in the punch bowl as a visual clue to what flavors are inside.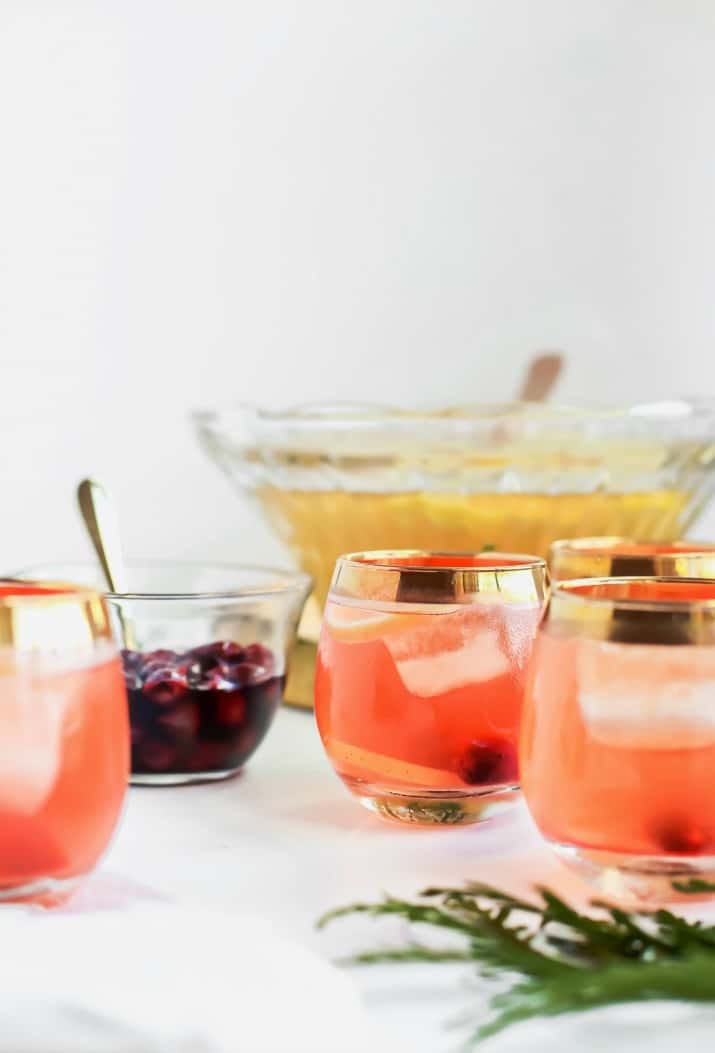 How to Serve Punch at a Party
If you don't have a punch bowl you can easily serve this from a pitcher. In fact I've found that serving punch from two pitchers works great for a party.
Keep one pitcher out on the bar to serve while the other is staying cold in the refrigerator.
You can easily adjust the flavor of this punch by adding a full 2-liter bottle of ginger ale. This will also increase the amount of punch you have in case you are trying to stretch it for a larger crowd.
Garnish your drinks with sweetened dried lemon slices. I find these at Trader Joe's. You can also just use fresh sliced lemons to garnish.
Freeze sliced lemons and limes in over-sized ice cubes and add to the punch to keep it chilled. The oversize ice will melt much slower.
More Party Punch Recipes
While this is certainly one of my favorite punch recipes to serve, here are some others you should check out.
If you like this post, PIN, Share, or sign up for our Newsletter at the top of the page. And don't forget to follow CAH on Instagram or Facebook. Cheers!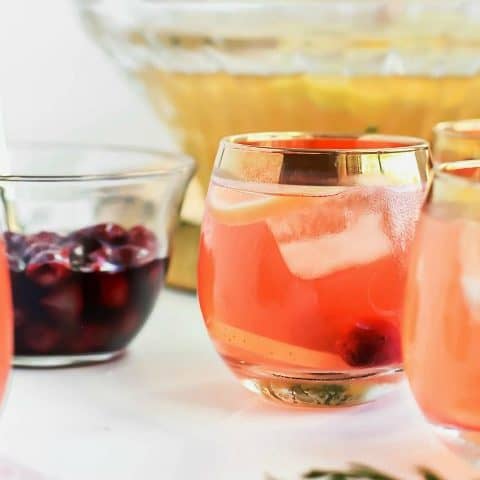 Best Whiskey Punch
This Whiskey Sour Punch is one of our best party punch recipes! It's slightly sweet, with a kiss of salt, & very unique. The salted honey simple syrup adds so much interesting flavor while the drunken cherries on top give it extra style!
Ingredients
1 cup salted honey simple syrup (recipe below)
1/2 cup lemon juice
1/2 cup lime juice
1 1/2 cups whiskey (or bourbon)
1-2 liters ginger ale (according to your taste)
Salted Honey Simple Syrup
1 cup water
1 cup honey
1 1/2 teaspoons sea salt
Drunken Cherries
1 cup dark cherries in syrup
1/2 cup orange liqueur
Instructions
In a punch bowl or pitcher combine simple syrup, lemon and lime juices, and whiskey. Refrigerate until ready to use.
Add ginger ale just before serving.
Pour in a glass and add 1 or 2 drunken cherries with syrup to the drink.
TO MAKE THE SALTED HONEY SIMPLE SYRUP
Bring the honey and water to a boil. Add salt and stir. Remove from heat and let cool.
Refrigerate before using, and for up to two weeks.
TO MAKE DRUNKEN CHERRIES
Place ingredients in a bowl and let soak for at least a day.