This Salted Honey Whiskey Sour Punch with Drunken Cherries is THE party recipe to try! This crowd pleasing punch recipe is sweet, lightly salted, & unique. The drunken cherries on top give it extra style!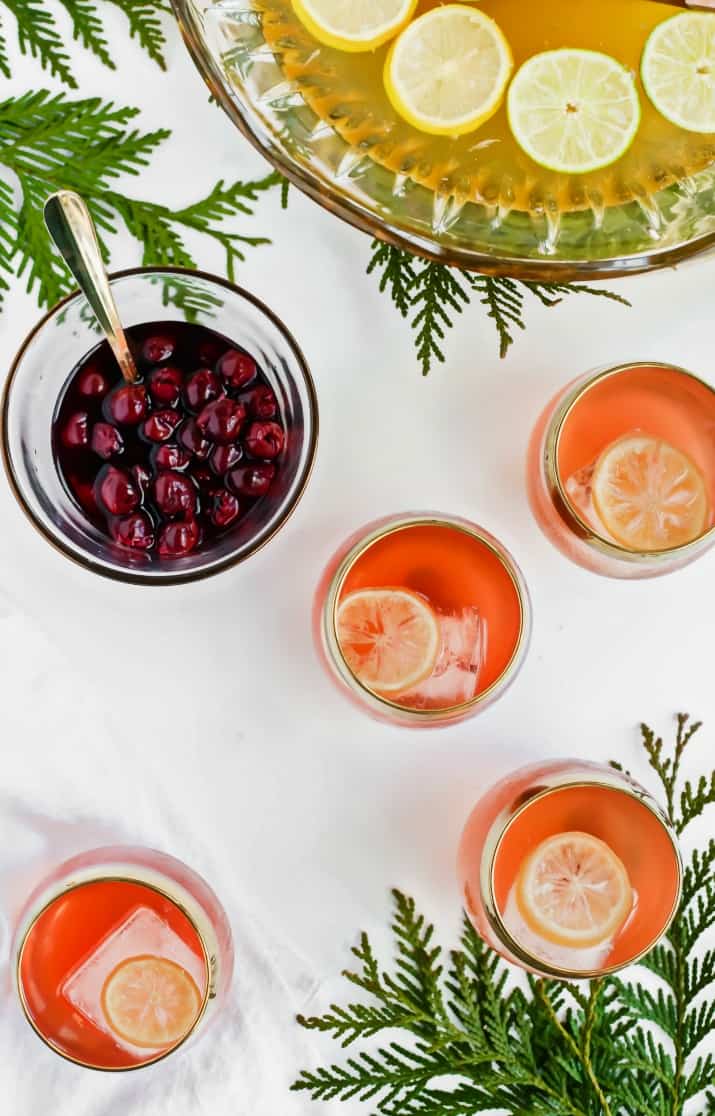 This Salted Honey Whiskey Sour Punch with Drunken Cherries party recipe is going to make you a star among your guests!
If you try one new punch recipe this year, this is the one! This recipe has it all. Sweet, salty, citrus, and a cherry on top.
I made this for a Christmas dinner party and it got rave reviews. It's a great festive holiday punch recipe, but it also bodes well for a big Game Day party or an Awards Viewing party.
There are two secrets to the success of this punch. The salted honey simple syrup, and the liqueur-soaked cherries. Both add something special that make this recipe unique.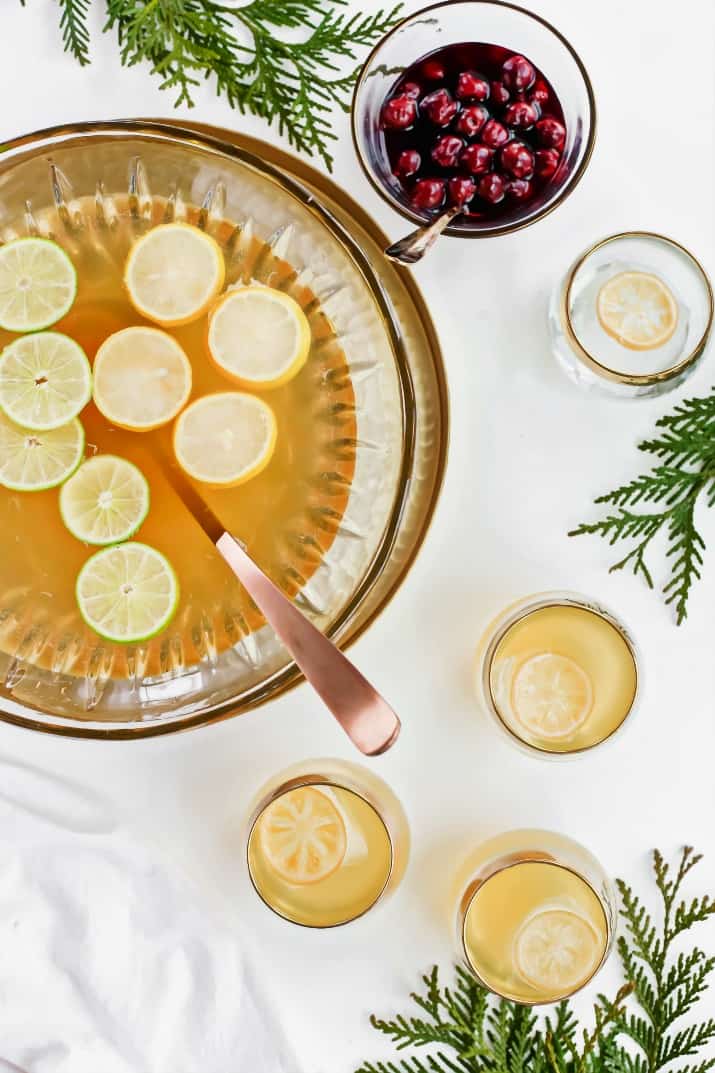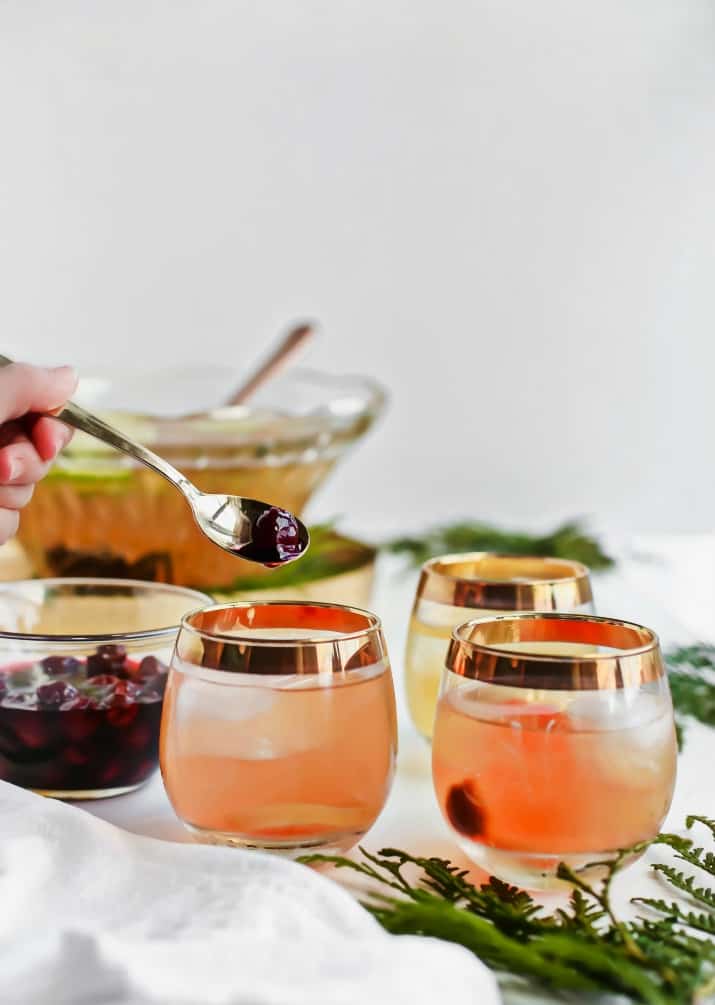 This party punch recipe gives a modern twist to a classic cocktail, and serves a crowd. 
The salted honey simple syrup give this punch an amazing flavor. It's so interesting and delicious, and complements the other flavors so well.
You can substitute bourbon in this punch recipe if you like.
That's right, it's just as tasty using bourbon instead of whiskey. You may get a slightly sweeter flavor depending on the bourbon you use.
You can easily adjust the flavor of this punch by adding a full 2-liter bottle of ginger ale.
This will also increase the amount of punch you have in case you are trying to stretch it for a larger crowd.
Garnish your drink with sweetened dried lemon slices.
I find these at Trader Joe's. You can also just use fresh sliced lemons to garnish. I like to float sliced lemons and limes in the punch bowl as a hint of what flavors are inside.
Freeze sliced lemons and limes in over sized ice cubes and add to the punch to keep it chilled.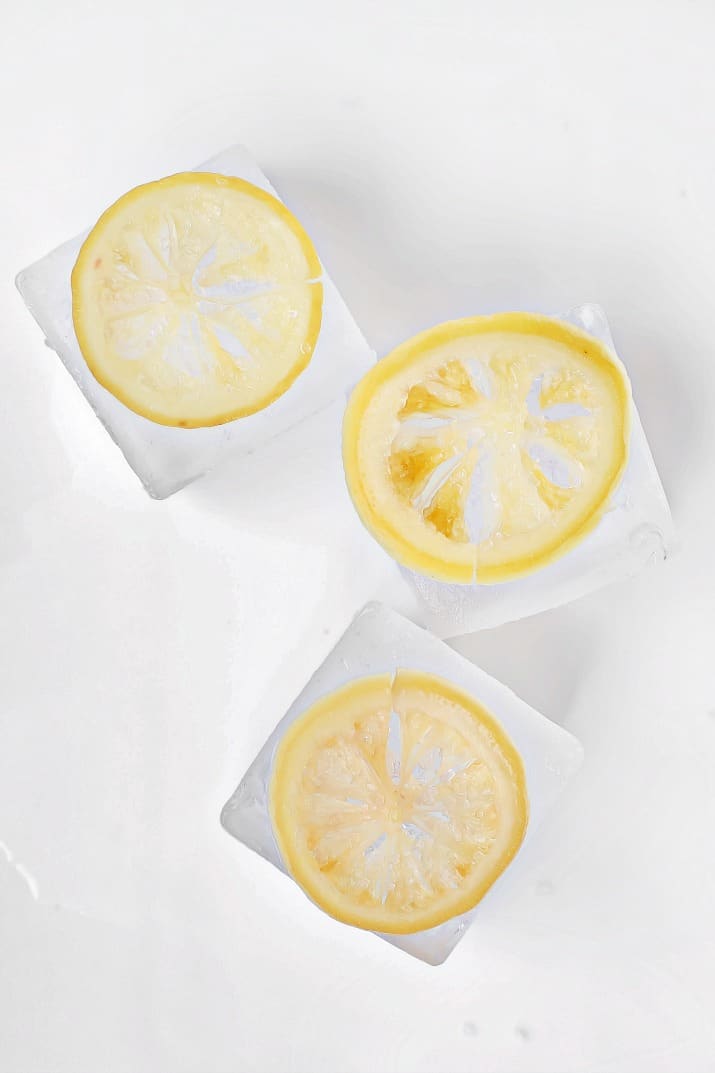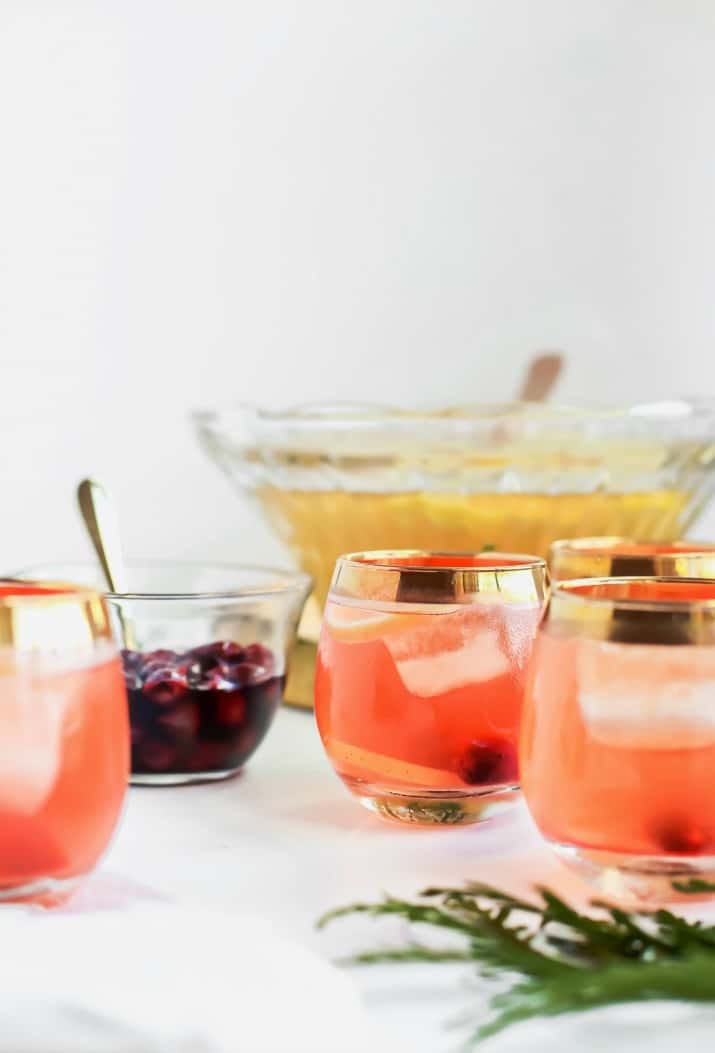 Salted Honey Whiskey Sour Punch Recipe with drunken cherries

1 cup salted honey simple syrup (recipe below)
1/2 cup lemon juice
1/2 cup lime juice
1 1/2 cups whiskey (or bourbon)
1-2 liters ginger ale (according to your taste)

In a punch bowl or pitcher combine simple syrup, lemon and lime juices, and whiskey. Refrigerate until ready to use.

Add ginger ale just before serving.

Pour in a glass and add 1 or 2 drunken cherries with syrup to the drink.

Salted Honey Simple Syrup

1 cup water
1 cup honey
1 1/2 teaspoons sea salt

Bring the honey and water to a boil. Add salt and stir. Remove from heat and let cool.

Refrigerate before using, and for up to two weeks.

Drunken Cherries

1 cup dark cherries in syrup
1/2 cup orange liqueur

Place ingredients in a bowl and let soak for at least a day.
---