3-Ingredient Champagne Party Punch for a Crowd
Make this champagne party punch for a crowd! This easy punch has only 3 ingredients and makes a big batch for showers, holiday parties, or brunch. This is perfect for an easy cocktail party where guests can serve themselves.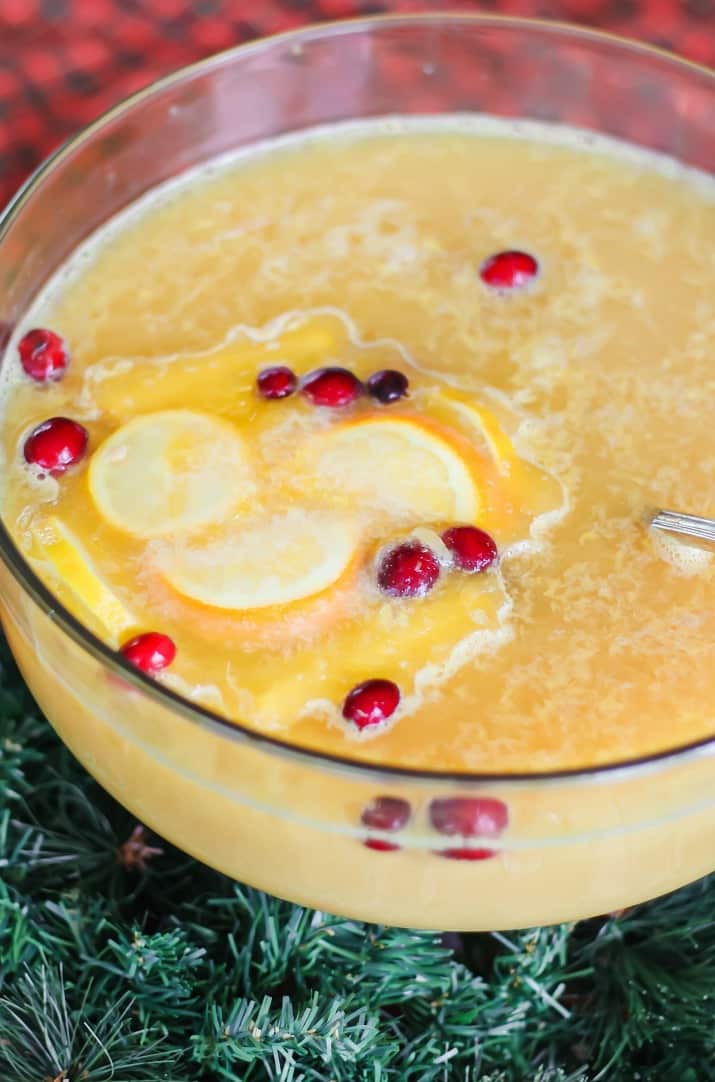 Large Batch Party Punch
The holidays are synonymous with entertaining and hosting parties. And this champagne party punch is one of my tried and true recipes for a crowd.
I've served this champagne based punch at showers, wedding receptions, and Christmas parties and it's always a hit! The bubbly makes is perfect for celebrations and festive occasions.
This party drink is almost like a mimosa as it has orange juice in it. But pink lemonade is added to make the flavor more complex. It makes a great punch for brunch!
It's super simple to make and you can prepare it ahead and keep it chilled until it's party time. You do want to hold off on adding the bubbly though, until ready to serve.
Punch Cocktails for a Crowd
This recipe is so easy and makes a lot. It starts with frozen juice concentrate and ends with 2 bottles of sparkling wine.
You'll add water to the juice concentrate which automatically increases serving amounts. All in all you get about 18 servings based on a 6-ounce serving size.
PARTY TIP: Remember to always add sparkling or carbonated beverages just before serving, so they don't go flat. And keep them chilled before you add them in.
Use a punch bowl to serve from, and add a large ladle for easy scooping.
More Punch Recipes
Here are some more of our favorite party punch recipes to try.
Sparkling wine punch variations
You can use any sparkling wine for this recipe. Champagne is used as a blanket term and is typically more expensive. Prosecco and Cava are both good substitutes and are cost efficient.
Need even more punch? Use three cans of juice concentrate + water, and three bottles of sparkling wine.
Want to make a non-alcohol version? Just substitute the sparkling wine for sparkling apple or white grape juice, OR ginger ale.
How do you make champagne punch?
Start by thawing the cans of frozen juice concentrate in the refrigerator.
Use Brut or extra dry champagne or sparkling wine. Those terms mean it's less sweet and balances the fruit juices best.
Make sure you chill the bottles of sparkling wine.
Add both cans and the water to a large pitcher and stir to combine. Refrigerate until party time.
Pour the juice mixture into a punch bowl and top with the champagne when ready to serve.
How long does champagne punch last?
This punch will hold its effervescence for the duration of a party. If you have any leftover you can freeze it for about 6 months.
While it will lose its bubbly aspect during freezing, you can brighten it up with half a bottle of champagne if you want. Or, just drink as is. It's still a tasty cocktail.
How to serve champagne punch
This punch looks pretty served in a punch bowl topped with frozen cranberries. The contrast in color between the golden yellow punch and the red berries looks pretty!
Add a wreath or greenery around the base of the punch bowl if you're serving for a Christmas party.
Make a frozen juice ice ring to keep it cold without diluting the taste as it melts.
How to make an ice mold for punch
I suggest you remove the frozen mold well in advance of the party. Keep it in the freezer until ready to serve. That way you're not struggling with time and ice ring removal right before the party starts.
I use a fluted cake mold or a bundt cake pan to get a nice size ice ring. The one I used here was from the fluted pan and has jagged edges as a result.
Pour in orange flavored drink, orange juice or pink lemonade. Leave at least an inch of space at the top because liquid expands when it freezes.
Add in sliced oranges, lemons, and cranberries, and freeze for 24 hours.
Remove the mold from the freezer and let it sit at room temperature for about 15 minutes or until it's loosened enough to pop out of the mold.
Turn the mold upside down on top of a clean dish towel to pop it out of the pan. The dish towel will keep it from sliding onto the floor *just in case.
Keep the mold on a plate in the freezer until ready to add to the punch.
Put the ice ring in the empty punch bowl and gently pour the punch over it.
Champagne Party Punch Recipe
This easy champagne party punch serves a crowd. It's great for Christmas parties and you can use Prosecco, sparkling wine, or Cava to make it.
Ingredients
1 - 12 oz. can frozen orange juice concentrate, thawed + 1 can of water
1 - 12 oz. can frozen pink lemonade concentrate, thawed + 1 can of water
2 bottles Brut or Dry sparkling wine
Instructions
In a punch bowl combine juice concentrate and water.
Add sparkling wine just before serving.

Notes
Make the mixture ahead of time WITHOUT the sparkling wine. Keep chilled in a large pitcher in the refrigerator until party time. When ready, pour mixture into punch bowl or drink dispenser and top with chilled sparkling wine.