How to Write Simple Thank You Notes
Do you need a guide to writing Thank You notes? Follow my simple template for writing thank you cards for any occasion. This proven formula is quick and sweet. Use it for baby and bridal shower gifts, graduation, birthdays, and wedding events. You'll never have writer's block again!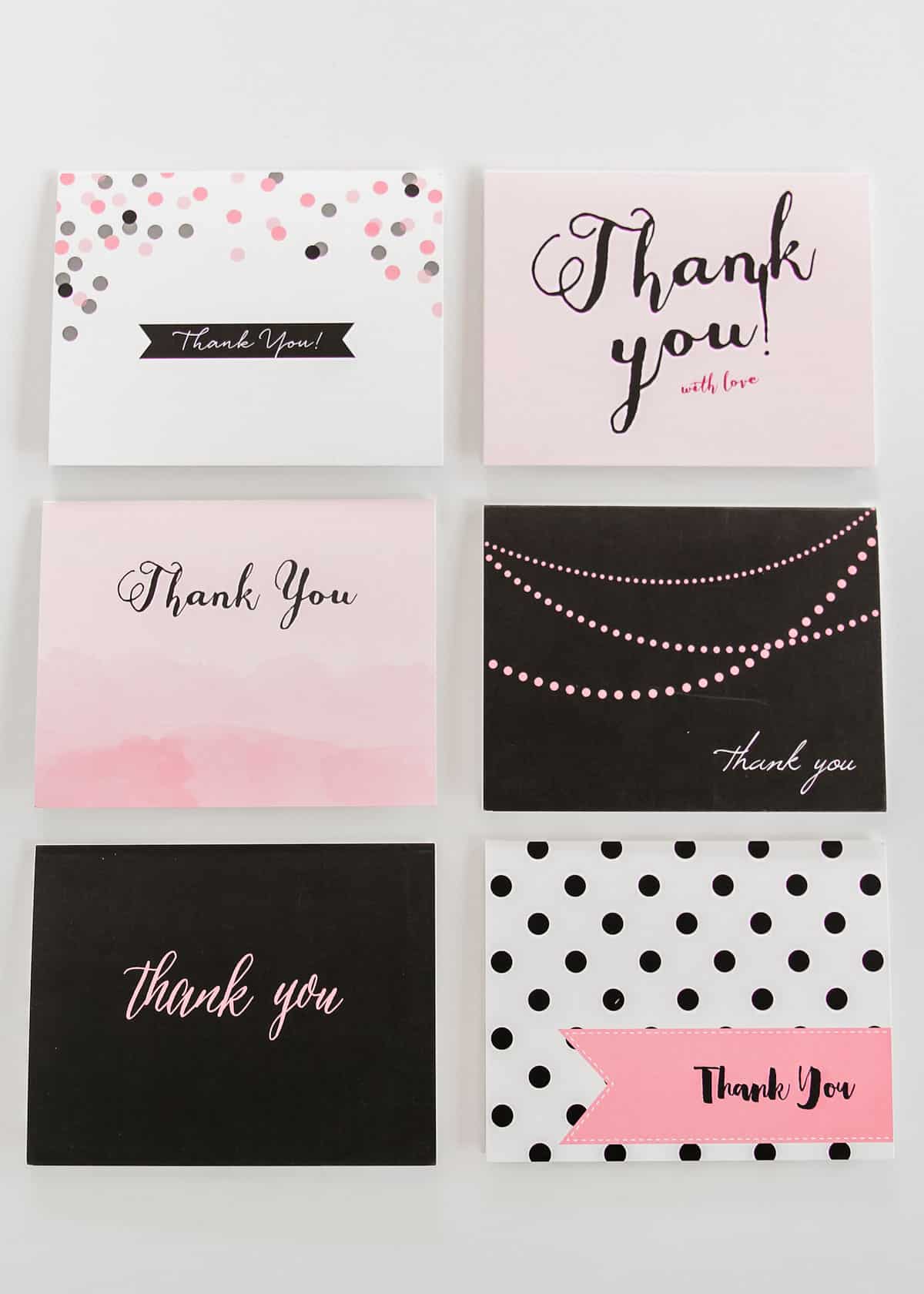 Writing thank you notes can seem difficult to do, especially in bulk! Although you FEEL the gratitude, it can be difficult to put into words, or it seems too short, or you don't know how to transition your thoughts, etc.
This is when it's a good idea to have some pro tips and a writing guide or template to work from. It will keep you on track and you can personalize it to each recipient.
When To Write a Thank You Note
It's important to write a heartfelt thank you note whenever you receive a gift for any occasion, large or small.
Try to be as timely as possible. For most occasions it's a good rule of thumb to send a thank you within 2 weeks, and sooner is always better.
For wedding gifts, three months is a good timeline; not a year as is a popular belief.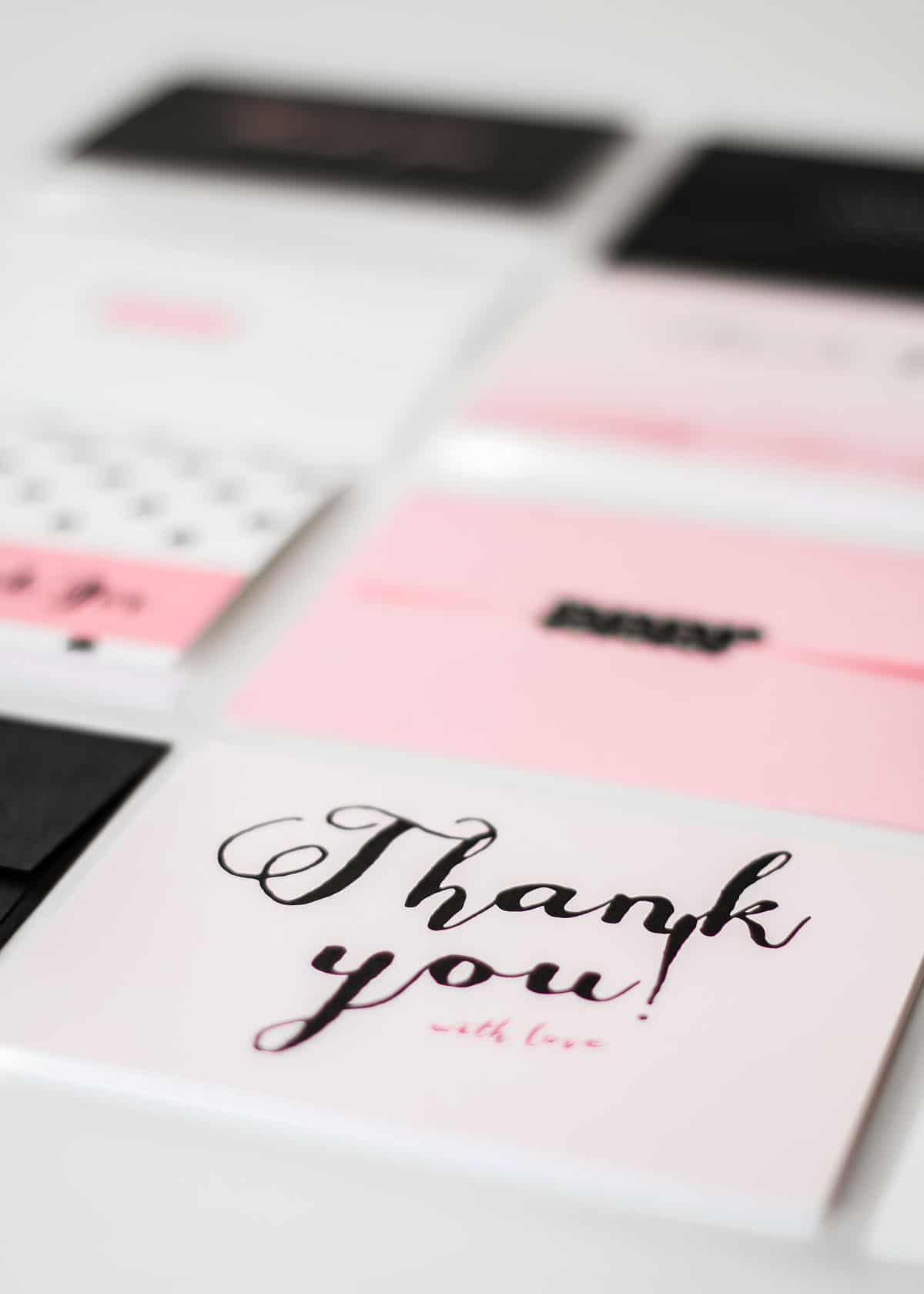 What Should I Write in a Thank You Note?
There are a few basic points to keep in mind when writing thank you cards.
Mention the gift.
Mention what the gift was for or how you received the gift (baby shower, via mail, during lunch together, etc).
Mention how you will use the gift.
Mention the person's generosity, and your appreciation.
Mention how much their thoughtfulness meant to you.
example: Thank you for the beautiful baby blanket(1) you gave me over lunch last week(2). It was such a thoughtful gift that we will cherish for years to come(4). We can't wait to wrap baby James in it(3)! We're so blessed to have friends like you in our lives(5). Thanks again. Love, Taylor.
The important thing is to speak from the heart and express real gratitude. The same formula applies to acts of kindness too.
example: Thank you so much for helping me with my move last week! I know it's no small sacrifice to give up your Saturday to help me out like that, and I truly appreciate it. The time and labor you provided made it possible for me to get settled into my new place, and I couldn't have done it without you! So grateful to have a friend like you! Love, Sarah.
Sweet & Simple Writing Template
I've put together a thank you note cheat sheet below. You can use this as your guide and fill in the blanks. Just write this special note inside one of the Thank You cards and you're all set!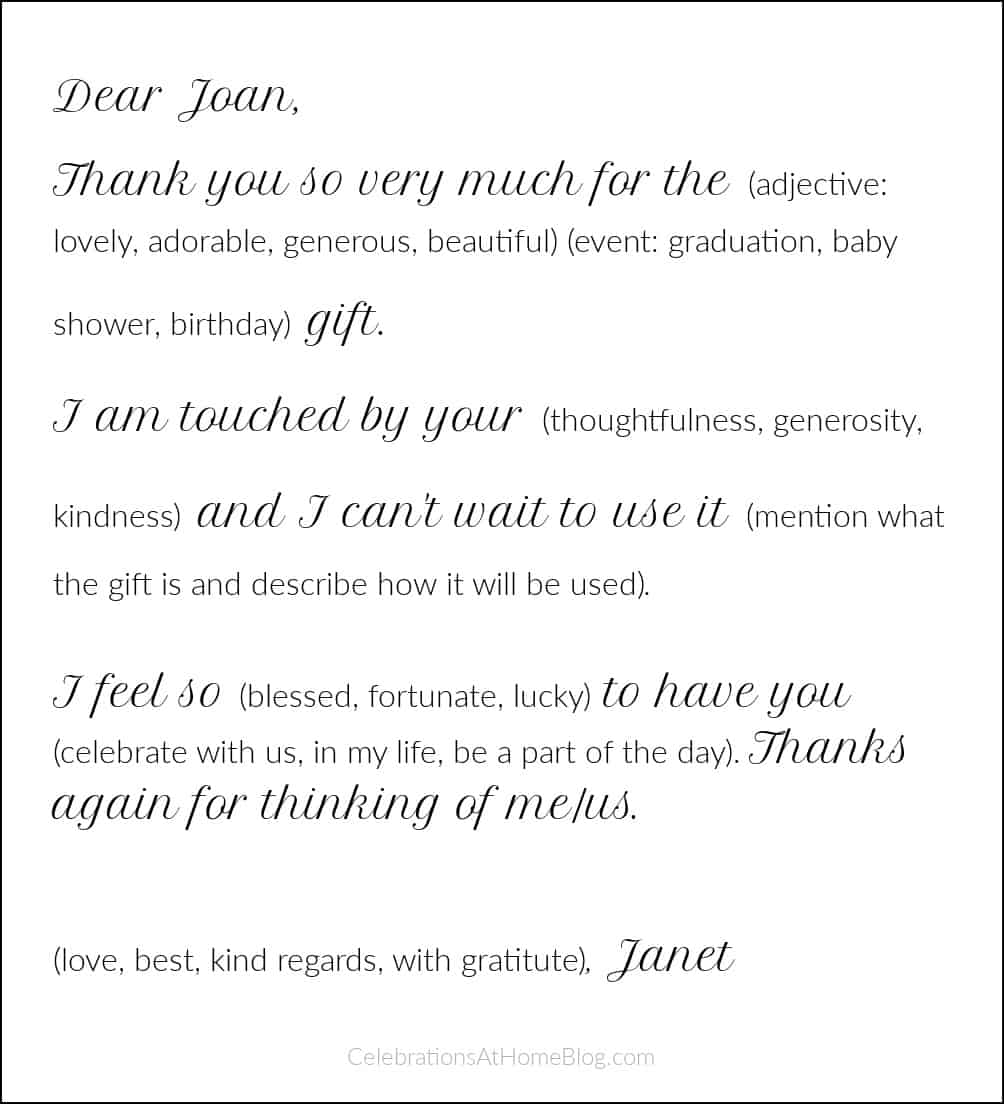 Doesn't this make it so much easier to write thank you notes? I've been using this method for years and it's been such a life saver when my brain doesn't want to function at the end of the day.
If you need cards at the last minute, here's a cool site where you can choose a theme, customize, and print Thank You cards at home, for FREE.
If you like this post, PIN, Share, or sign up for our Newsletter at the top of the page. And don't forget to follow CAH on Instagram or Facebook. Cheers!