Easy Spooky Halloween Sandwiches (Tombstones)
Easy Halloween sandwiches are perfect for a party buffet because they're shaped like a tombstone! Simply fill them with this egg salad and curry chicken salad recipe or other filling, and serve them on a bed of greens to look like a graveyard.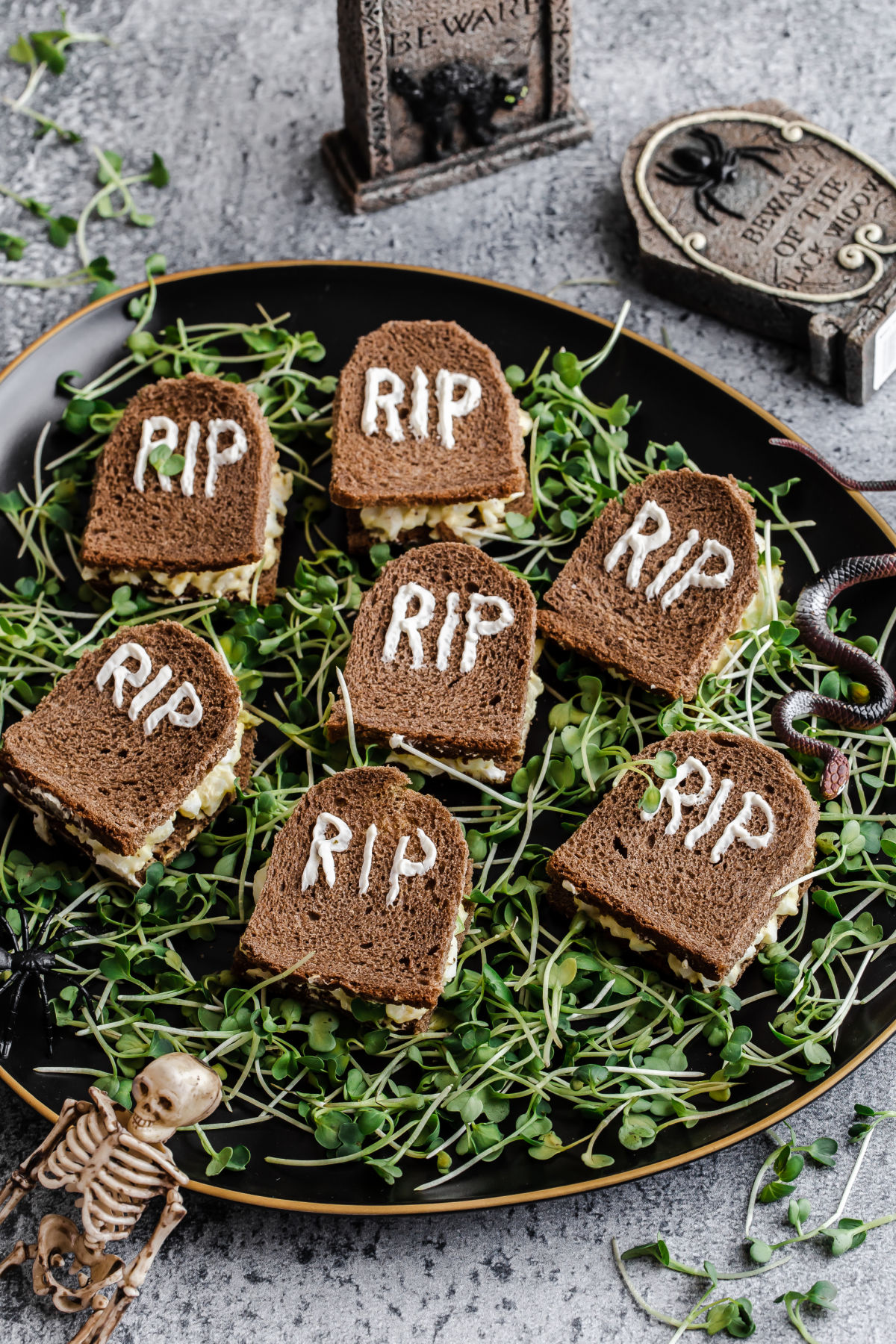 Tombstone Sandwiches
These small sandwiches are a great food for adult Halloween parties or a family-friendly pumpkin carving party. They help fill up your guests, both young and old.
Small Pumpernickel bread slices are filled with a savory filling of egg salad and curry chicken salad. But you could substitute our sesame chicken salad, tuna salad, or any of our tea sandwich fillings.
Why You'll Love Them
These are great to add to your party buffet because they're a little healthier than all that sugary candy or dessert.
They're simple and easy to make.
They're versatile! Use different fillings including ham and cheese slices.
They're super cute for a food buffet!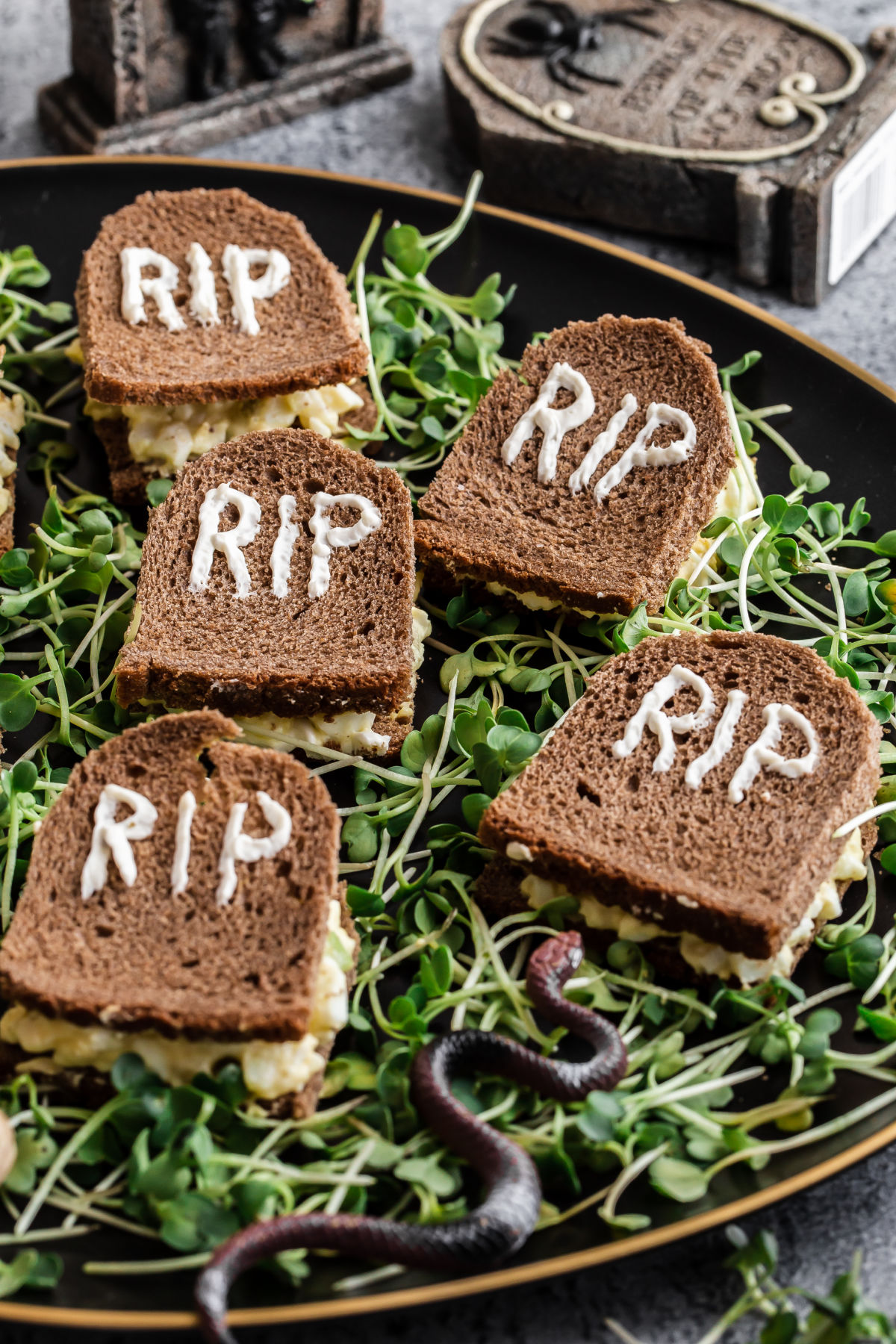 What You Need
If you want to make this with 3 ingredients you can simply purchase prepared egg salad or chicken salad from the deli. However, if you want to make the salad fillings from scratch then you'll need the ingredients for that. See the full list in recipe card below.
Party-size Pumpernickel bread. This is sold in a long clear package. The size is perfect for party sandwiches and it's already sliced thin.
Egg Salad. You can purchase a pint from the deli or use my recipe.
Chicken Salad. Use my curry chicken salad recipe in the card below, or purchase it from the grocery store.
Cream Cheese. Use whipped cream cheese because it's easier to work with for this recipe. You're only using it for the lettering on the bread.
Piping bag. If you have a reusable piping bag, use it with small tip. Otherwise you can use a plastic sandwich or snack bag and snip off a small hole at the bottom corner.
How To Make Them
Cut the bread slices into the shape of a tombstone by trimming the edges and rounding the top two corners. A sharp serrated knife works best for this.
Then spread the filling onto the bread, add the top layer of bread, and write 'RIP' with the cream cheese.
Make-Ahead
Make the sandwiches a few hours ahead. Cover them with a damp (not wet) paper towel and store them in an air tight container in the refrigerator until ready to serve.
They can sit out for a couple of hours but the bread will begin to dry out over time.
More Halloween Party Food
Here are some more sweet and savory Halloween themed food ideas to add to the mix.
If you like this post, PIN, Share, or sign up for our Newsletter at the top of the page. And don't forget to follow CAH on Instagram or Facebook. Cheers!
Halloween Sandwiches
Serve Halloween sandwiches shaped like tombstones for a spooky appetizer or party food. Fill the mini sandwiches with this egg salad recipe, along with chicken salad or pimento cheese spread too.
Ingredients
64 slices Pumpernickel bread, party size
2 cups Prepared egg salad
1/4 cup Whipped cream cheese at room temperature
Egg Salad Filling
4 hard boiled eggs
1/4 cup mayonnaise
1 teaspoon Dijon mustard
1 Tablespoon sweet pickle relish
2 to 3 Tablespoons chopped celery
1/3 teaspoon salt
1 pinch onion powder
1 pinch black pepper
Curry Chicken Salad Filling
1 1/2 cups shredded or chopped chicken
3/4 cup mayonnaise (or more if needed)
1/2 teaspoon curry powder
1/4 cup dried cranberries
1/3 cup celery, diced
1/3 cup slivered almonds, lightly toasted
Instructions
Peel and finely chop eggs and add to a medium size bowl. Add remaining salad ingredients and mix well to combine.
Chop chicken very finely or put it in a food processor and pulse 3-4 times until minced. In a bowl, combine chicken and mayonnaise, and mix well. Add curry and continue to mix.
Fold in remaining ingredients.
Spread fillings onto bread and top with another piece of bread.
Use a serrated knife to trim edges in the shape of a tombstone. Cut the top corners in a rounded fashion.
Add cream cheese to a piping bag with a small tip, or a Ziplock bag with a small hole cut at the corner.
Write "RIP" on to the top of the bread and arrange on a bed of microgreens for Halloween display.
Notes
Use chicken salad, pimento cheese, or tuna salad too!