Fun Halloween Themed Food
Halloween themed food is easy to create because it's all about the presentation. Turn simple recipes into sweet treats and savory snacks that are perfect for a kids costume party, a pre-trick-or-treat outing, or a Halloween party for all ages.
Halloween Party Food
Create a Halloween food buffet that's fun for a costume party or pre trick-or-treat supper. Some recurring themes are mummy's, witches, coffins, and monsters.
Once they have a few savory snacks, let them indulge in Halloween themed desserts. I've provided a list of my favorite recipes that appeal to the "little goblins" as well as the "groan ups." You can add in some Halloween cocktails for the adults to sip on.
*Post contains affiliate links. I earn commission from Amazon purchases.
Party Table Decor
Set up a fun party table for the kids to help themselves to non sugary treats like mummy dogs, mini mummy pizzas, mummy mouths, and snack mix. Or, let them indulge in a Halloween dessert table with witch fingers, mini graveyard puddings, and coffin cake.
They can wash it all down with a simple green punch (green fruit juice + ginger ale) served in these science flasks.
Grab some reusable plastic Halloween plates that you can use year after year. They're chic enough for kids or adult parties.
Set the table with themed serving dishes and napkins wrapped with plastic vampire teeth for a whimsical touch.
Party Tips
Add candy eyeballs to sweet treats, and use capers or sliced olives to make eyeballs for savory snacks.
Remember, ANY food can be turned into a themed dish simply by giving it a fun name.
Monster Mouths
These monster mouth apples look creepy but taste yummy! They also add a healthy boost from protein and fruit. Here's what you need.
Green apples
Peanut butter
Peanuts
Cut the apple in half down the middle of the stem. Remove seeds and sit apple down on the flat side.
Carefully cut a "V" shape into the apple on the rounded side to create the "mouth".
Spread the cut area with peanut butter and insert peanuts around the outside of the "mouth" to form "teeth."
Mini Mummy Pizzas
Mini mummy pizzas are the perfect size for little goblin hands! You'll need 4 simple ingredients.
English Muffins
Pizza Sauce
White cheddar cheese slices
Sliced black olives
Cut English muffins in half and spread each side with pizza sauce. Cut strips of cheese using a pizza cutter or knife and begin placing on top of sauce in a criss cross and diagonal pattern.
Place two sliced olive pieces for eyes. Place on baking sheet and cook at 350 degrees until cheese is melted
Mummy Dogs
Another tried and true item for kids is hot dogs. Turn them into "mummy" dogs for Halloween with these 3 ingredients.
Hot dogs
Thin refrigerated pizza dough
Mustard or jar of capers
Start by rolling out the pizza crust on a flat surface. Use a pizza cutter and cut out thin strips of dough.
Begin wrapping the hot dog from the bottom or top making sure to leave some spaces open and to overlap some areas also. You may need two strips of dough per hot dog.
Place wrapped dogs on a baking sheet and bake at 400 degrees or according to pizza dough directions, for about 10-12 minutes or until dough is golden.
After removing the hot dogs from the oven, use a mustard squirt bottle or capers to make eyes for your mummy. Serve with extra ketchup or mustard if you like.
Halloween Spinach Dip
Here's something that the grownup will love. Serve Lipton spinach dip in a Halloween bread bowl shaped like a coffin. This is a fun presentation with a make-ahead dip that's a classic party pleasing recipe.
Tombstone Sandwiches
These simple Halloween sandwiches look and taste great. Serve two kinds of fillings to please multiple palates.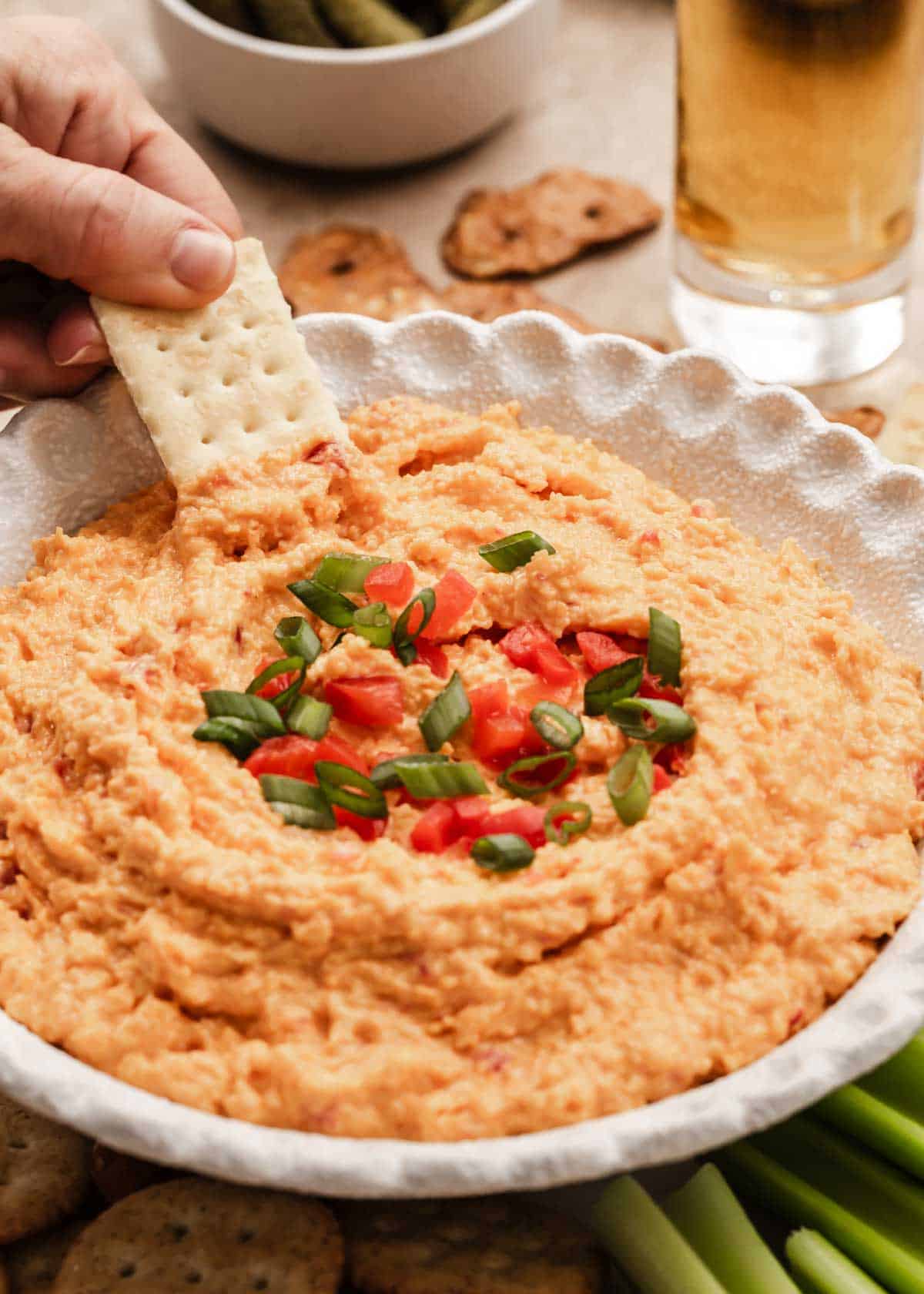 Pimento Cheese Spread
The orange color of this pimento cheese makes it a good option for Halloween. It's easy to make and tastes delicious too!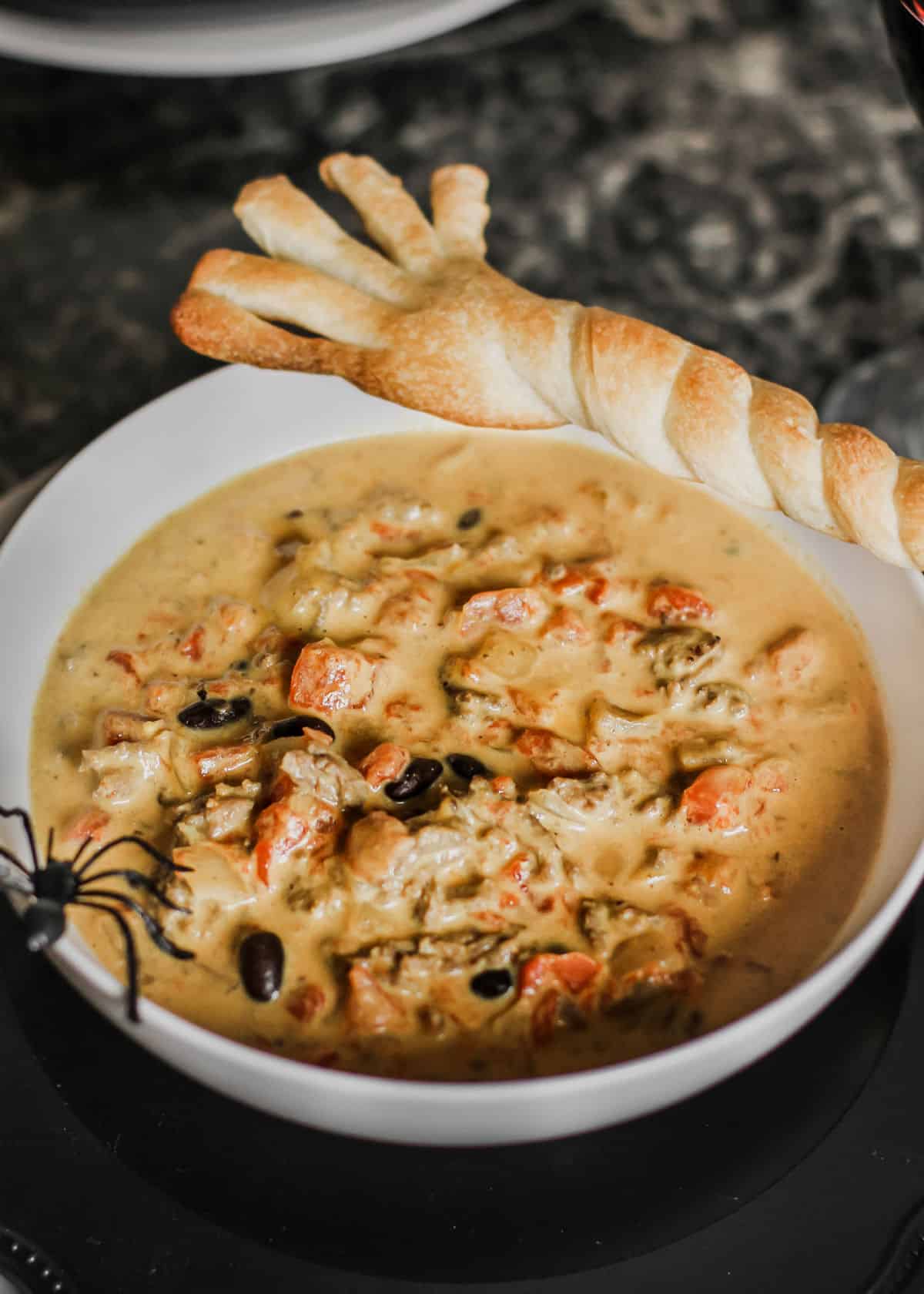 Halloween Chili
Hearty and cheesy, this Halloween chili is scrumptious! The orange color makes it ideal for the season, and the recipe is indulgent and satisfying with ground beef, black beans, Velveeta, and tomatoes.
When I make it I serve it with refrigerated bread dough shaped into witches brooms or bones. It's so worth the extra effort!
Sweet & Salty Snack Mix
Just 2 simple ingredients combine to make this candy corn snack mix that everyone loves. It tastes like a Pay Day candy bar!
I love to have this around all season long, and serve it for Thanksgiving too.
No-Bake Trail Mix
Serve this easy no-cook cat themed trail mix. It's perfect for a Black Cat party or witches themed party. The shapes and flavors are delicious together and will make you think of kitty kibble treats.
Witch Fingers
These witch finger cookies are a fantastic addition to any party, especially a witch themed dinner party for ladies night. It starts with my easy shortbread cookie recipe.
Follow my tips for making the best witch shaped fingers that look creepy but taste delicious!
Halloween Dirt Cakes
Make these individual Halloween dirt pudding cakes ahead so they're ready to eat when you are. You can make it more interactive by letting guests decorate them with their own candy toppings.
No-Bake Halloween Cake
This easy Halloween cake is a creative no-bake dessert that starts with frozen pound cake. Cut and decorate it to look like a coffin and add a white chocolate or candy skeleton inside.
It's perfect for children's parties or a black themed Halloween dinner party.
Pumpkin Shaped Cheese Ball
Looking for a fun appetizer for fall parties like Halloween and Thanksgiving? Serve this tasty cheese ball recipe below, that looks like a pumpkin!
Serving Suggestions
Serve it with a variety of dippers, and add fresh or dried fruit on the side.
Celery sticks
Carrot sticks
Bell pepper sticks
Radish slices
Apple wedges
Water crackers
Ritz or Club crackers
Pretzels
Crunchy breadsticks
Breadstick bones
If you like this post, PIN, Share, or sign up for our Newsletter at the top of the page. And don't forget to follow CAH on Instagram or Facebook. Cheers!
Halloween Themed Cheese Ball
Total Time:
4 hours
15 minutes
Serve a Halloween themed snack with this pumpkin-shaped cheese ball.
Ingredients
2 (8-ounce) blocks extra-sharp Cheddar cheese, shredded
1 (8-ounce) package cream cheese (full fat), softened
1 (8-ounce) container chive-and-onion cream cheese, softened
2 teaspoons paprika
1/2 teaspoon ground red pepper
2 tablespoons Ranch seasoning packet
1 broccoli stalk or bell pepper stem
Instructions
Combine Cheddar cheese and the next 4 ingredients in a bowl until blended. Cover and chill for 4 hours or until the mixture is firm enough to be shaped.
Shape mixture into a ball to resemble a pumpkin. Smooth entire outer surface with a frosting spatula or table knife. Make vertical grooves in the ball, if desired, using fingertips.
Cut florets from broccoli stalk, and reserve for another use. Cut stalk to resemble a pumpkin stem, and press into the top of the cheese ball. Serve cheese ball with apple wedges.
Notes
Use an electric mixer or food processor to combine everything together more easily.
Prepare the recipe and wrap the cheese ball without the stalk, tightly in plastic wrap. Store in the refrigerator for up to 2 days. Attach stalk before serving.
Freeze cheese ball for up to 3 months.