Sweet & Salty Chex Mix Recipe
Easy sweet & salty Chex mix recipe is great for parties, tailgating, and picnics. It starts by making traditional muddy buddies using cereal, chocolate, peanut butter and powdered sugar. Then it gets upgraded with M&M's and salted peanuts for the perfect sweet and salty balance.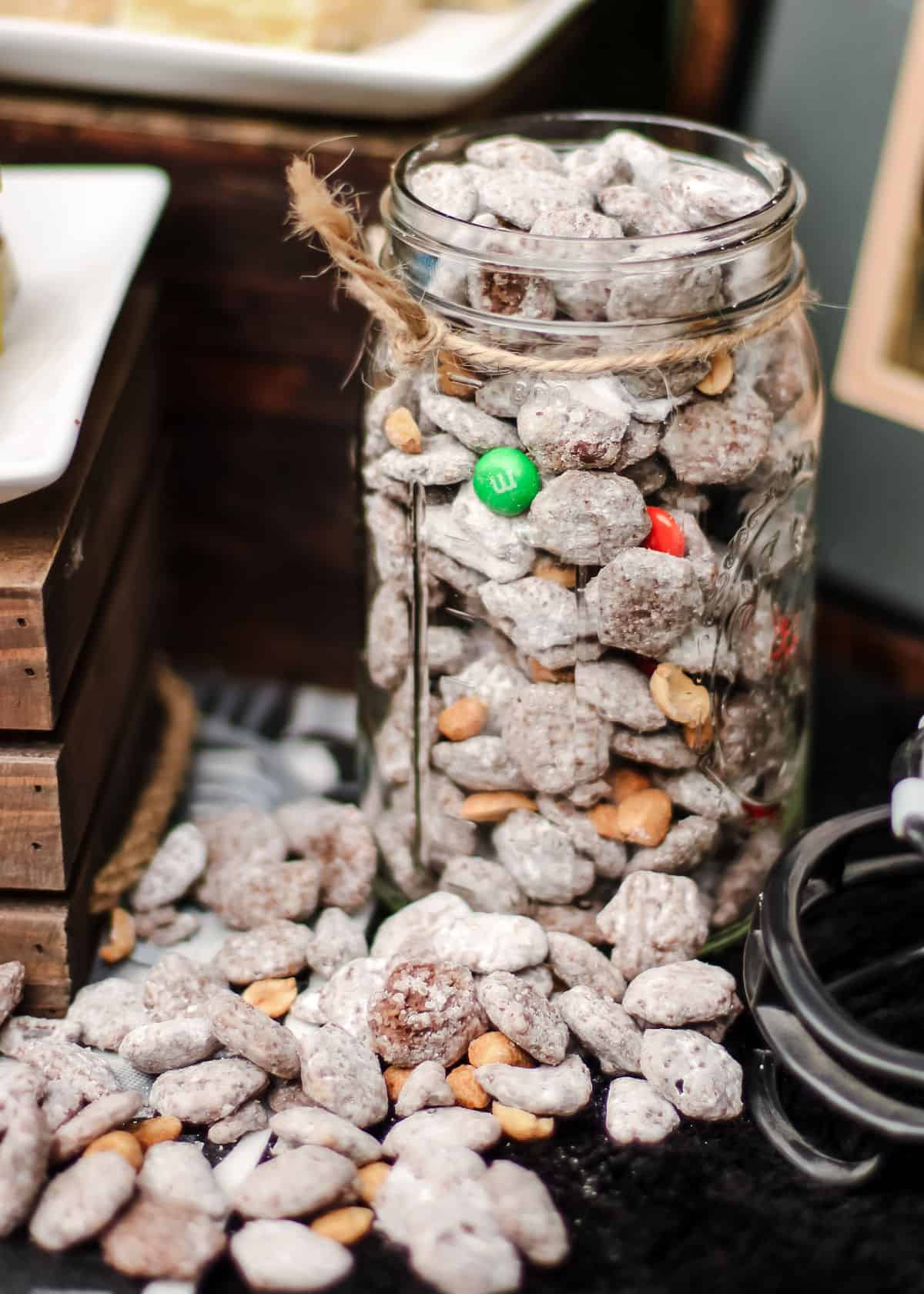 This fantastic party recipe takes the legendary Chex muddy buddies to the next level by adding chocolate candies and salted nuts. Whether you call it muddy buddies or puppy chow, you don't want to skip this party mix with sweet and salty add-ins!
Make-Ahead Party Snack
Sweet and salty is the perfect flavor combination as an appetizer snack or dessert snack. You can just keep grabbing and munching on it all day long!
This recipe is ideal for gatherings because you make it ahead and it travels well. Store and serve it in a large mason jar for an on-the-go tailgate menu.
Ideal snack for sports fans. You can buy the M&M candies in team colors to show your team spirit! Serve it for a tailgating party, game day or Super Bowl parties.
It all starts with a base recipe that you're probably already familiar with. Muddy Buddies!
PARTY TIP: Kids love this snack mix too! Add some to their lunch box, make it for their birthday parties, or bag some up for take home party favors.
How to Make It
Follow my ingredient notes here and see the complete recipe in the card at the bottom.
Cereal. You can use either Chex cereal squares or Crispix hexagonal cereal. The difference is the shape but also, Crispix is a corn and rice blend, while Chex has individual flavors of corn, rice, or wheat. Crispix is also slightly thicker and heartier so it stands up well to the chocolate coating.
Semi-sweet Chocolate. There's plenty of sweetness in this recipe so make sure to use semi-sweet chocolate chips. It has less sugar. You could use dark chocolate as long as it's not been sweetened too much.
Peanut Butter. Use creamy, not crunchy, so it melts and blends easily with the chocolate, and coats the cereal evenly.
Powdered sugar. Also known as confectioner's sugar.
Sea Salt. This adds a touch of saltiness and helps balance the sweet ingredients.
Salted Peanuts. You can use whichever you like, whether it's lightly salted or regular. You don't want to use unsalted peanuts here. You can also choose dry roasted or cocktail style nuts which are a little oilier to the touch.
M&M's. M&M's are universally loved and available, but you could also substitute with Sixlets cany coated chocolates, or even large chocolate chips.
5 Simple Steps
Melt chocolate and peanut butter together.
Add in cereal and mix
Shake with powdered sugar to coat.
Chill to set.
Toss in candies and peanuts and serve.
Storage
Keep sweet and salty snack mix in an airtight container for up to 2 weeks. No need to refrigerate.
Freeze
Prepare the puppy chow mix WITHOUT the add-ins and freeze for up to 3 months. When you're ready to entertain, let it thaw at room temperature, toss in the candy and nuts, and serve.
Substitutions & Party Ideas
Here are some great ways you can customize the mix to any occasion.
Substitute the M&M's with another bite-size treat like mini Reese's cups, jumbo chocolate chips, peanut butter chips, or mini candy bars like Snickers or KitKat.
Substitute the peanuts with pecans, cashews, or pretzels.
Make it for a boy baby sip & see shower using blue candies, a baby girl shower using pink candies, or a neutral shower using yellow or green candies.
Use candies in team colors for game day parties for college or high school.
Make it a fall mix by adding candy corn or pumpkins, or orange and yellow M&M's.
Turn it into a Christmas party snack by adding red and green M&M's.
PARTY TIP: Use 1 or 2 single colors of M&M's to coordinate with your party's color scheme or seasonal celebration.
If you like this post, PIN, Share, or sign up for our Newsletter at the top of the page. And don't forget to follow CAH on Instagram or Facebook. Cheers!
Sweet & Salty Chex Mix recipe
Additional Time:
30 minutes
Dress up Chex cereal or Crispix with a classic muddy buddies mixture with M&M's and peanuts for added flavor. It's perfect for parties, tailgating, or picnics.
Ingredients
2 cups semi-sweet chocolate chips
1/4 cup peanut butter
6 cups Chex or Crispix cereal
1 cup powdered sugar
Sea Salt
1 cup dry roasted peanuts, lightly salted
1/4 cup M&M's
Instructions
Using the double boiler method, add about 1-inch of water to a medium saucepan. Place a large bowl on top of the pot and add chocolate chips and peanut butter.
Turn heat to low and let the chocolate melt, stirring often to help it along and to combine it with the peanut butter.
Once fully melted and combined, remove from heat and gently fold in cereal and coat well.
Place powdered sugar in a 2 gallon zip lock bag or clean paper bag, and add cereal mixture. Let out the air from the bag and zip closed. Massage and toss bag until cereal is well covered with sugar.
Transfer mixture to a sheet pan and spread out. Sprinkle a light amount of sea salt all over. I like to use the sea salt grinders available from the store.
Place mixture in the refrigerator for about 30 minutes to help set up.
Add peanuts and M&M's, and combine. Place into a serving bowl or storage container.