Easy ladies luncheon ideas for hosting your friends, moms, or brides! Create a pretty table setting with a lunch menu, dessert and festive drinks. This party is great for Mothers day, baby or bridal showers, and birthday celebrations.
When to Host a Ladies Lunch Party
A ladies lunch is a great opportunity to get together with some best friends to eat light fare, drink some bubbly, indulge in sweet treats, and have great conversation together.
Think of these ideas in terms of a Galentine's Party with your besties.
Host in celebration of warm weather and seasonal events. A beautiful spring ladies luncheon is just the thing when you have spring fever.
These ideas are perfect for a Mother's day brunch where you can celebrate with your own family or with your mom friends.
Treat a bride and her wedding party to a bridesmaid luncheon with a modern tea party vibe.
If you're part of a church group or local committee, this can be a great way to meet up and organize or share ideas.
This is a great idea for weekend entertaining for no other reason than to catch up with friends.
Menu for a Ladies Luncheon
When you're hosting lunch for the ladies you want it to be rather light but full of flavor. This easy menu does just that.
Easy Starters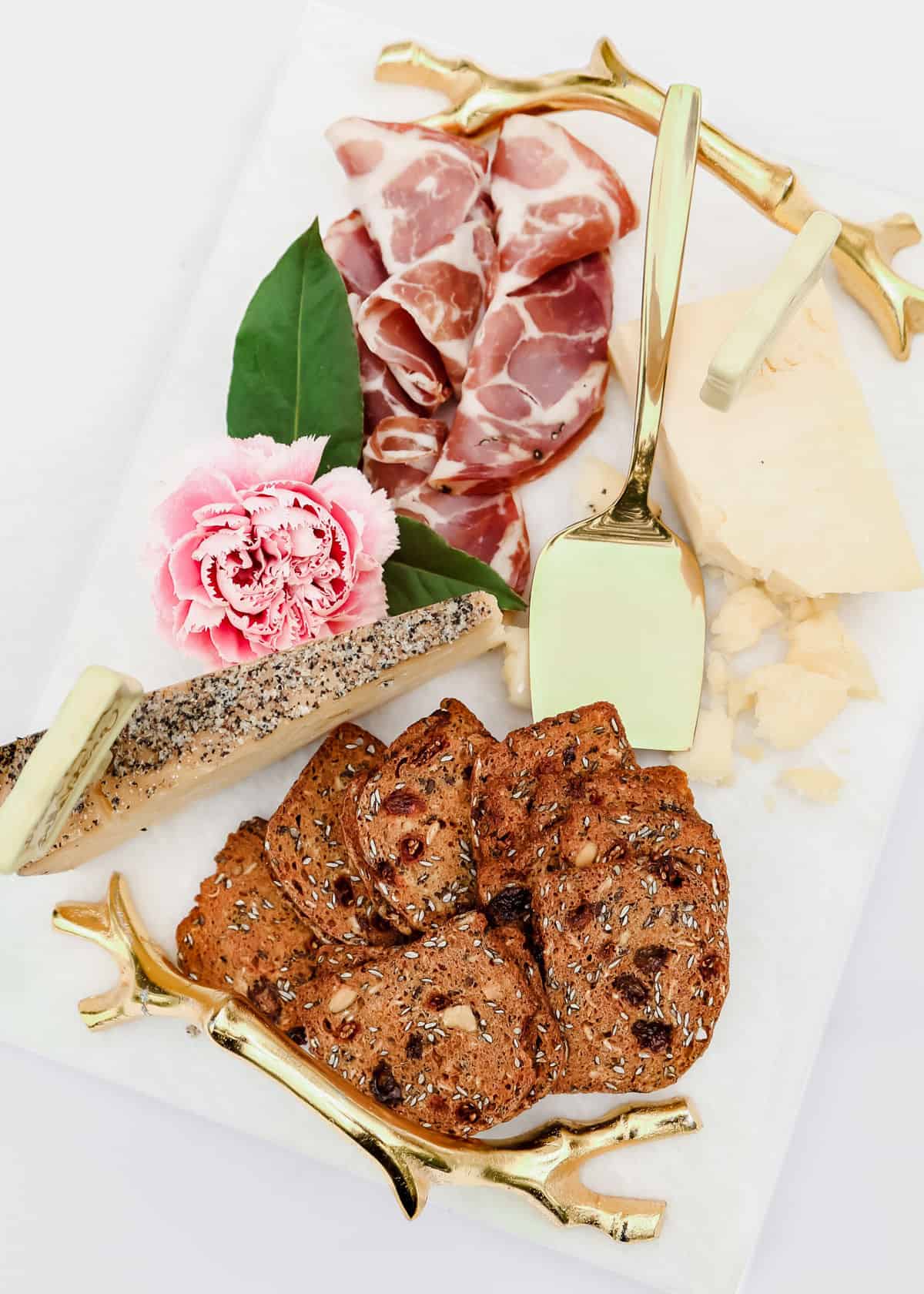 Start with a simple cheese plate to complement the meal or put together a more abundant charcuterie board. It's easy to go bigger if you need to, but a couple of cheeses, good quality meat, and some tasty artisan crackers will do just fine.
One of my favorite dishes to serve for the gals is this roasted grape salad. It's something that's a bit unique with the roasted grapes, and it will definitely be a winner!
Another terrific option that looks as good as it tastes is this strawberry spinach salad served in a bread bowl. Check out more appetizer salads for other options.
Light Entrees
I've served these honey chicken salad cups at many showers and luncheons over the years. And the reason is because they're easy to make and so delicious. I've served them in mini pastry cups here but you can also use phyllo cups or make croissant sandwiches.
Not to be outdone, this sesame chicken salad in puff pastry cups is equally delicious. It has a light Asian style flavor that everyone loves.
Cold Mains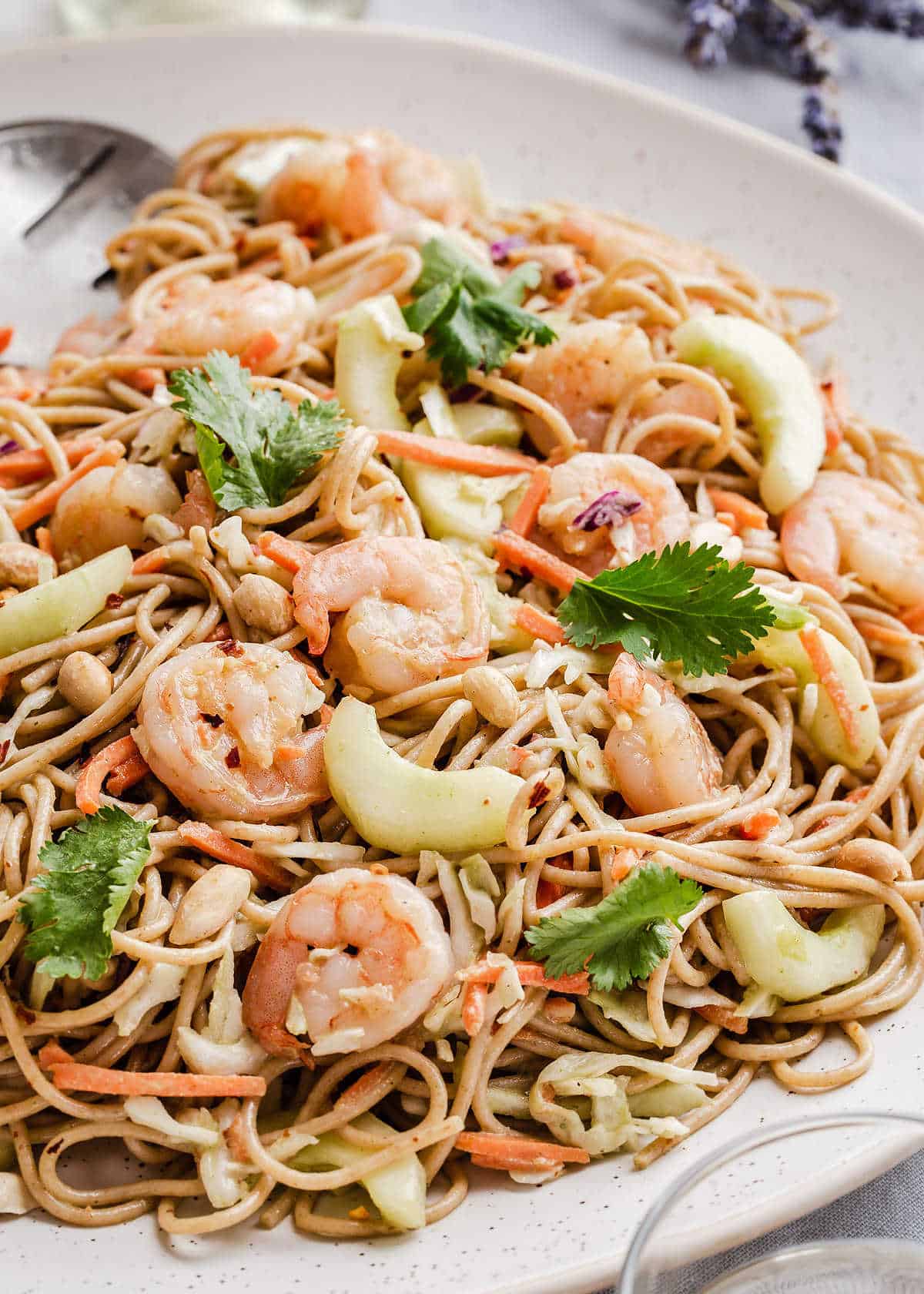 If you want a heartier entrée, my crunchy chicken salad with peanut dressing is a fantastic choice. It's got so much texture and flavor in one dish, plus it's a mix of sweet and savory.
Or, prepare this cold Thai noodle salad and add shrimp, chicken or edamame to suit your taste.
Hot Dishes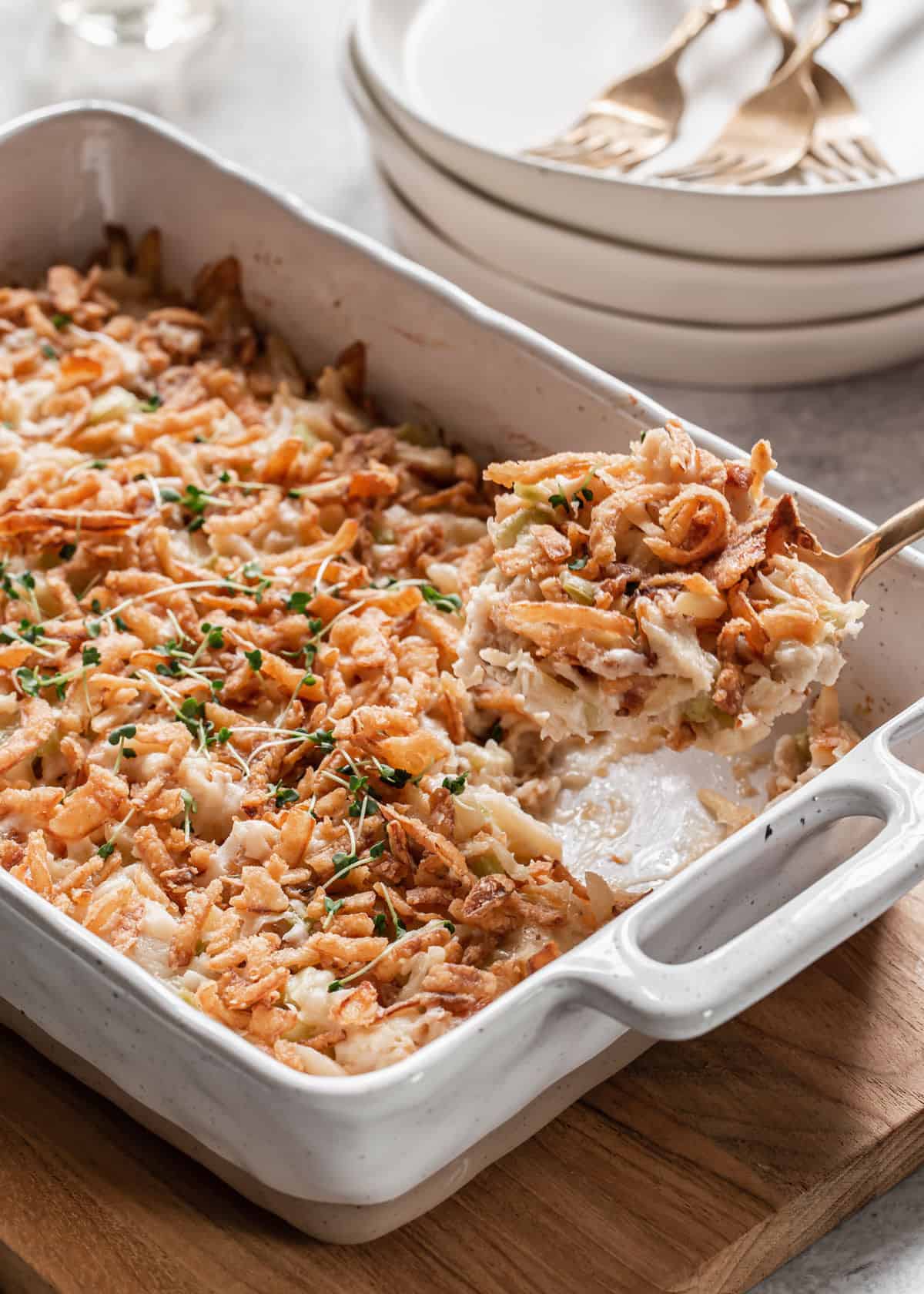 You may want to serve a hot main dish instead of a cold one. This hot chicken salad is my go-to dish that's easy to prepare ahead and then bake it just before guests arrive.
Or, you can cook this Mexican pasta bake which is always a crowd pleaser. It's hearty and flavorful as it combines the best of both Italian and Mexican ingredients.
Other great pasta dishes are this classic baked spaghetti or this easy layered penne pasta bake.
PRO TIP: Double these casserole recipes for a larger group. They're easy to prep ahead and bake when you're ready.
Round out the table with a basket of bread and dipping oil. Get a loaf of French, Italian or sour dough from the bakery section of the grocery store.
Make-Ahead Sides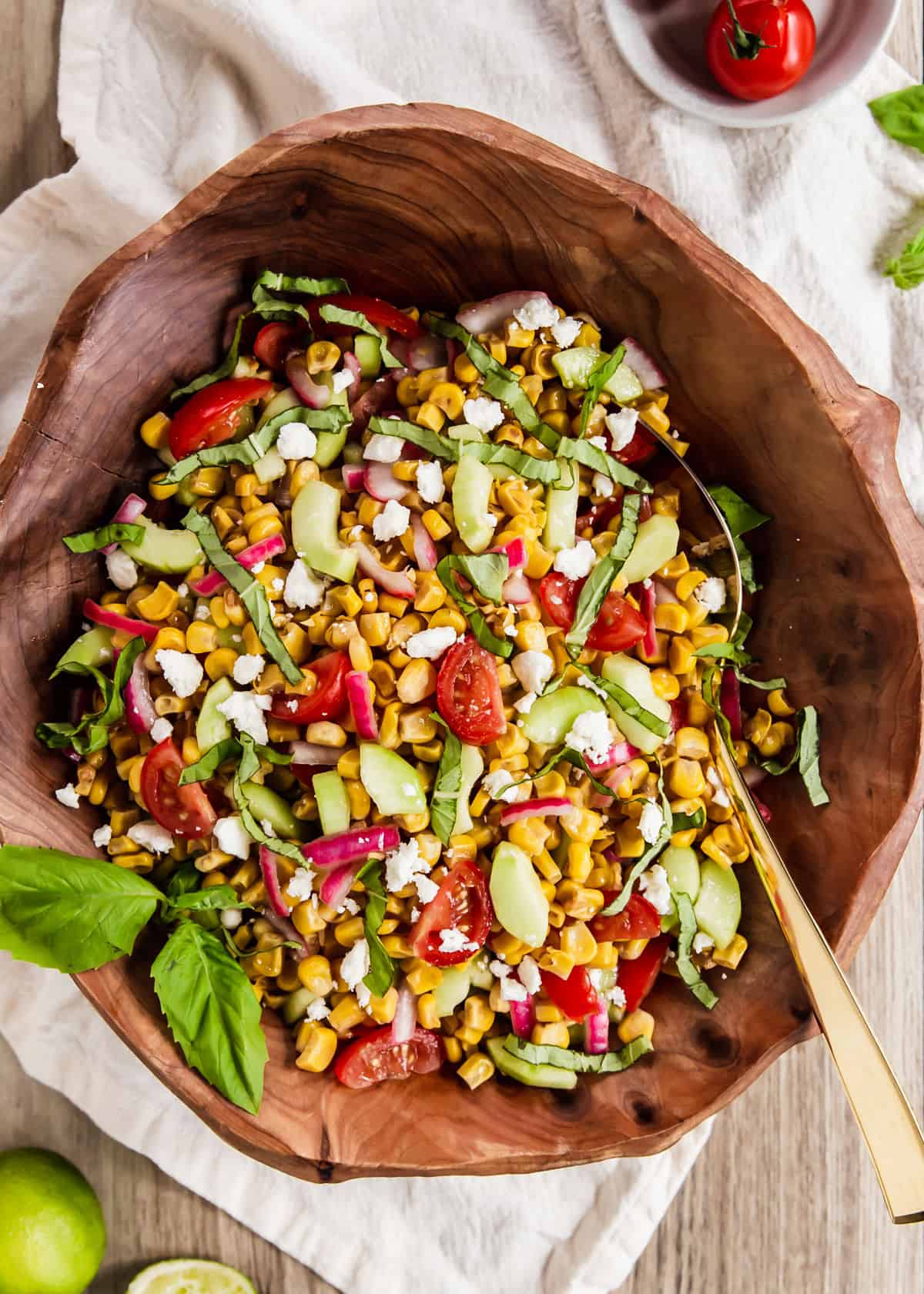 Add one or two more side dish items like my savory & sweet broccoli salad. It's full of fresh broccoli, sweet raisins, savory tomatoes and crunchy chow mein noodles.
Or serve this delicious corn salad with cucumbers, tomatoes and fresh basil. You're going to want to keep things light because what comes next is total indulgence!
If you want to serve something hot, simple roasted carrots with cumin goes with everything. And my favorite broccoli casserole is terrific alternative to green bean casserole.
Ladies Luncheon Tablescape
Layer beautiful coordinating plates for each place setting. I like to mix classic with vintage. Start with a white dinner plates as a base and build upward with vintage depression glass salad plates, and modern striped dessert plates.
Top the dishes with a party favor. In this case, a small drawstring bag filled with flavor infused artisan sugar shapes. Find lots of options by searching on Etsy.
Complete the place setting with a mini vase filled with a small flower bundle. It's another thing guests can take home as a favor.
Add a mixed floral centerpiece to decorate the table, and add a mini vase at each place setting. She can take the mini vase home as a party favor.
Serve champagne cocktails in vintage coupe glasses. Add cute sugar charms hanging on the side. Just drop it into prosecco for added flavor.
EXPERT TIP: Keep the table setting minimal and serve the food family-style. This makes a party feel more intimate and cozy.
Dessert
Save the best for last with a sweet mini dessert table. Keep the main lunch menu light so there's room for sweets.
Pop a bottle of bubbly and serve it with donut holes, macarons, and chocolate dipped Oreos or homemade Oreos truffles.
The donut tower is a beautiful centerpiece. Make it by inserting toothpicks into a foam craft cone (wrap it with saran wrap first). Start at the bottom and work your way around and up the cone. Then slide the donuts onto the toothpicks. Use small flowers and mint sprigs to fill gaps.
Take this idea even further with a donut toppings bar.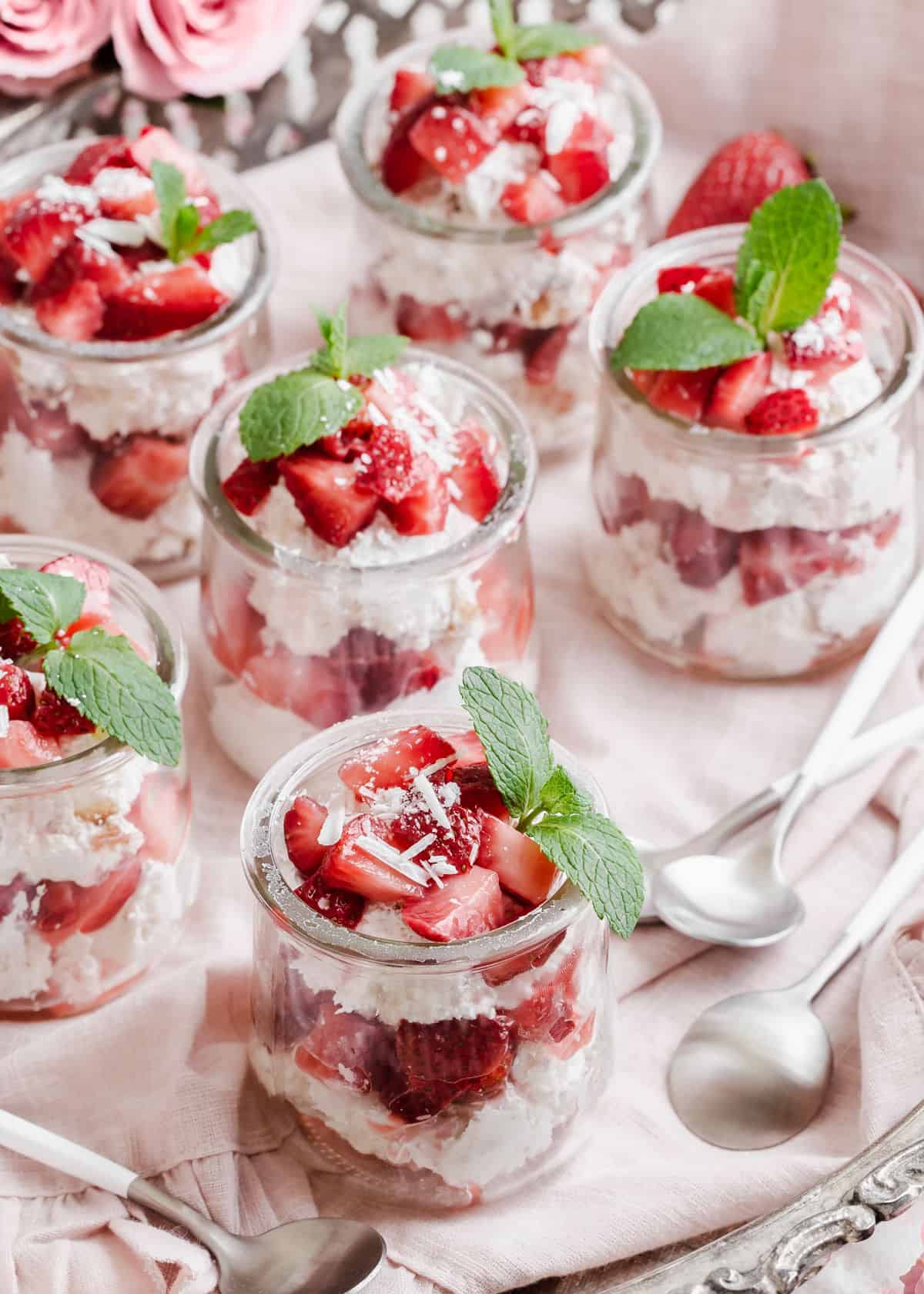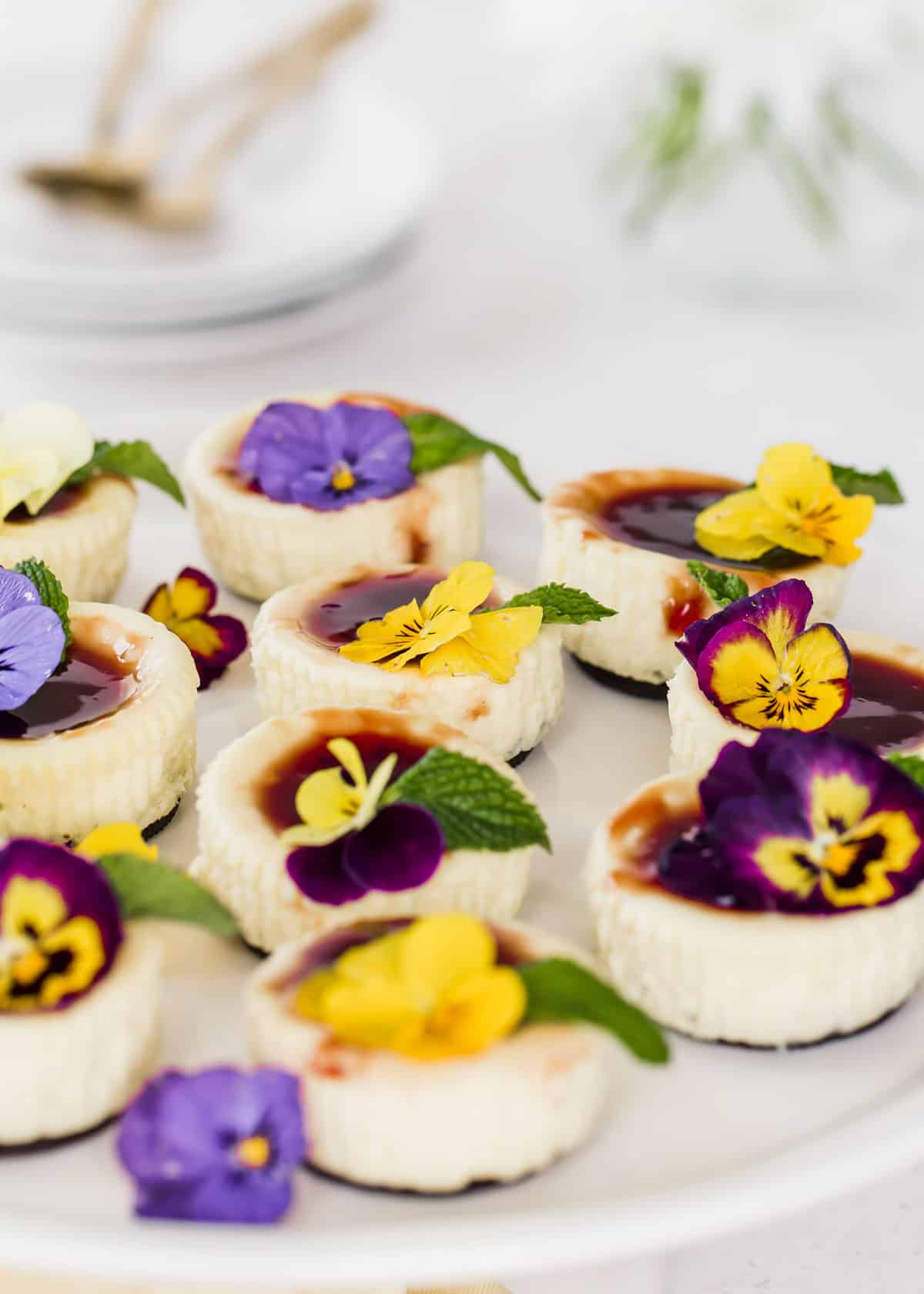 Easy make-ahead angel cake strawberry shortcakes are the perfect dessert for a ladies luncheon. They're made with cake, Cool Whip, and fresh strawberries.
Another great dessert to make ahead is mini cheesecakes topped with a simple jam sauce. These can be baked the day before and kept refrigerated until ready to serve.
Flowers can play a big role in the décor of a ladies lunch part. They can reflect the season and the occasion. Use fresh blooms to help decorate the donut tower, to garnish ice cubes, and to garnish the sparkling wine. Remember to never ingest toxic or non-edible flowers.
I hope you're inspired and ready to host a ladies luncheon. With tasty food, plenty of wine, and good friends, you'll be able to pull this off without a hitch!
More Ideas for the Ladies
If you like this post, PIN, Share, or sign up for our Newsletter at the top of the page. And don't forget to follow CAH on Instagram or Facebook. Cheers!