Italian Sausage Appetizers in Mini Pie Crust
Easy Italian sausage appetizers are perfect for a casual party or an at-home brunch. Seasoned sausage served in mini pie pastry cups make this bite sized recipe delicious for entertaining.
Italian Sausage Appetizers
These sausage appetizers are easy to make because you use simple ingredients like refrigerated pie crust, pre-seasoned meat, and ready-to-go bread crumbs. The pasta sauce adds moisture as well as more Italian flavor to the mixture.
The recipe is a terrific football party food or an easy appetizer for girls night in.
They're also a yummy finger food or heavy hors d'oeuvres that's hearty and satisfying when served with drinks.
Making these in mini pie crusts makes them heartier. There's an equal balance between meat filling and crust, but if you want them a little lighter you can use frozen phyllo cups instead.
Ingredients
Italian seasoned breakfast sausage. Using Italian sausage means you don't have to add extra spices to the mixture. Plus it's a great starting point if you want to serve these for an Italian theme dinner.
Bread crumbs. Plain or Italian seasoned bread crumbs work great.
Grated Parmesan cheese. It's a kitchen staple for most people. Use it in this recipe to add flavor to the mixture.
Pasta sauce. I've been cooking with Prego® for years but you can use your favorite variety. I suggest a simple marinara sauce.
Egg. This will help to bind all the filling ingredients together.
Dry Onion flakes. Using dry onion flakes cooked in with the meat saves time and energy. You don't have to worry about chopping onions.
Refrigerated Pie Dough. You need the rolls, not the frozen crusts that are already in a baking dish.
Garnish. Fresh basil, red pepper flakes, and a block of Parmesan shredded over the top of these sausage cups adds a delicious finishing touch.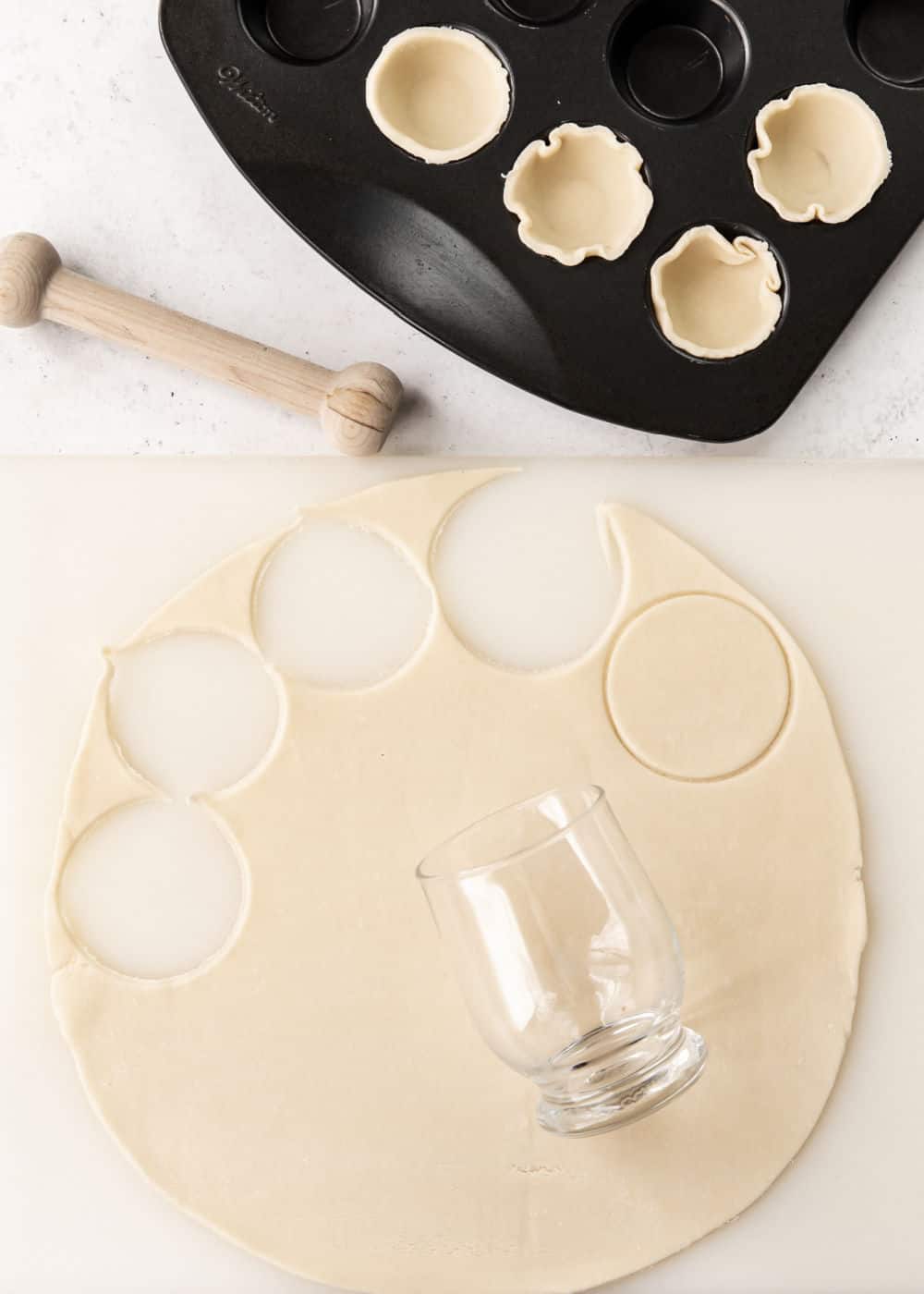 How to Make Mini Pie Shells
Start with a roll of refrigerated pie dough and unroll it on a flat surface.
Use a rolling pin to stretch it out a little bit, if needed.
Use a biscuit cutter or the rim of a small glass to cut out circles about 3 inches in diameter.
Place the circles of dough in a mini muffin pan and press them down so they create a mini pie shell.
Fill or pre-bake as directed.
Can I make these ahead?
You can make the filling a day ahead and refrigerate covered over night. The pie shells are best prepared at the time you're ready to bake.
Can I freeze them?
After these have been cooked you can cool completely and freeze. Wrap them tightly with aluminum foil and freeze up to 2 months.
When ready to use, thaw them in the refrigerator, unwrap them, and place in a single layer on a baking sheet or back into the mini muffin tins. Cover loosely with foil so they don't over-brown. Heat at 350 degrees for 10-15 minutes or until heated through.
More Heavy Hors D'oeuvres
Heavy hors d'oeuvres are often served warm, but there are cold and room temperature items you can add as well. Here are some of our tried and true heavy appetizers.
Top the sausage cups with extra marinara sauce for extra flavor.
More sausage appetizers
You can find all the ingredients for these Italian sausage appetizers at the grocery store. They're a good option for brunch too!
If you liked this post, please pin it and share with others, or leave me a sweet comment below. Don't forget to follow me on Instagram and Facebook, too. Cheers!
Easy Italian Sausage Appetizers Cups recipe
Italian sausage and refrigerated pie pastry come together to create delicious bite size finger food for a party.
Ingredients
8 ounces Italian seasoned breakfast sausage
1 teaspoon dry onion flakes
1/2 cup bread crumbs
1/4 cup grated parmesan cheese
1 large egg lightly beaten
1 cup pasta marinara sauce, plus extra for topping
1 package (two rolls) refrigerated pie crust
4 ounce freshly shredded Parmesan for topping
Instructions
Preheat oven to 425 degrees.
Break up and cook sausage and onion flakes in a skillet over medium-low heat. Stir as needed until cooked through.
Remove sausage mixture and drain on paper towel.
In a large bowl combine sausage, bread crumbs, grated Parmesan, and egg. Add Prego+ sauce and mix well.
Meanwhile, roll out pie crust as directed on package. Use a biscuit cutter or small glass to cut out circles 2 1/2 inches in diameter.
Gently place pie dough circles into mini muffin tins.
Fill with a scoop of sausage mixture and top with freshly shredded Parmesan.
Bake for 8 to 10 minutes or until crust is lightly browned.
Serve warm with Prego+ sauce on the side for topping.

Notes
To make this recipe even easier, use frozen phyllo mini shells instead of the pie crust.