Easy Broccoli Casserole (with French's Fried Onions)
This easy broccoli casserole recipe is a crowd-pleaser that you can make in less than an hour. It combines cream of mushroom soup, cheese and French's fried onions for a delicious side dish perfect for holiday meals, ladies luncheons, or family gatherings.
Broccoli Casserole with French Fried Onions
When it comes to a delicious side dish, I know you're going to love this broccoli bake! It's one of those great recipes that's always a hit at holiday gatherings and potluck parties, and it's a delicious alternative to green bean casserole.
It's a great addition to meals for any occasion, whether it's a cozy family dinner or a festive celebration. 
Why You'll Love It
This easy side dish is one of my go-to recipes for comfort food. It's rich, creamy and cheesy in every bite.
It's a crowd favorite on the holiday table.
It's quick and simple to prepare. No need to chop fresh broccoli florets; just use frozen.
This dish is ideal for holiday gatherings like Easter brunch, Thanksgiving or Friendsgiving, and Christmas dinner.
It can be made ahead of time and baked when guests arrive.
Simple Ingredients & Substitutions
Frozen chopped broccoli. Not all frozen broccoli is the same! I've tried different versions and the BEST product for this recipe is the chopped broccoli that's sold in those little square boxes. It's chopped small so it's the perfect size for mixing and eating. Let it thaw in the fridge overnight, or heat it according to package directions.
Eggs. Use large eggs lightly beaten so they integrate easily into the mixture.
Cream of Mushroom soup. I don't recommend using low sodium for this but if you do, add about a half teaspoon of salt to the recipe. You can sub with cream of chicken condensed soup, too.
Dried onion flakes. This pantry staple adds flavor without having to chop onions. Substitute with about ¾ teaspoon onion powder.
Mayonnaise. Use regular mayo for rich creamy flavor. If you really want to use light mayo that's fine too.
Sharp cheddar cheese. Get a block and shred it yourself. It has more flavor, melts better, and you actually get more volume! An 8-ounce block gives you more cheese than an 8-ounce package of pre-shredded.
French's fried onions. Use a large can so you have enough to mix into the casserole and to top it at the end.
Additions & Variations
This recipe can be adapted to your taste in a variety of ways.
If you want to make your casserole a main dish, add some protein like cooked chicken, turkey, or ham to the broccoli mixture.
Try other cheeses for variety, including parmesan or gruyere.
For a crispy topping alternative, sprinkle some crushed crackers (Ritz crackers), panko, or breadcrumbs over the casserole before baking.
How to Make It
In a large bowl, combine broccoli with the rest of the ingredients, saving some crunchy onions for topping, until well combined.
Stir in 1 cup of fried onions and spread the mixture evenly in a large baking dish.
Bake uncovered for 35 to 40 minutes or until bubbly.
Sprinkle the remaining onions on top and bake for another 5 minutes or until golden.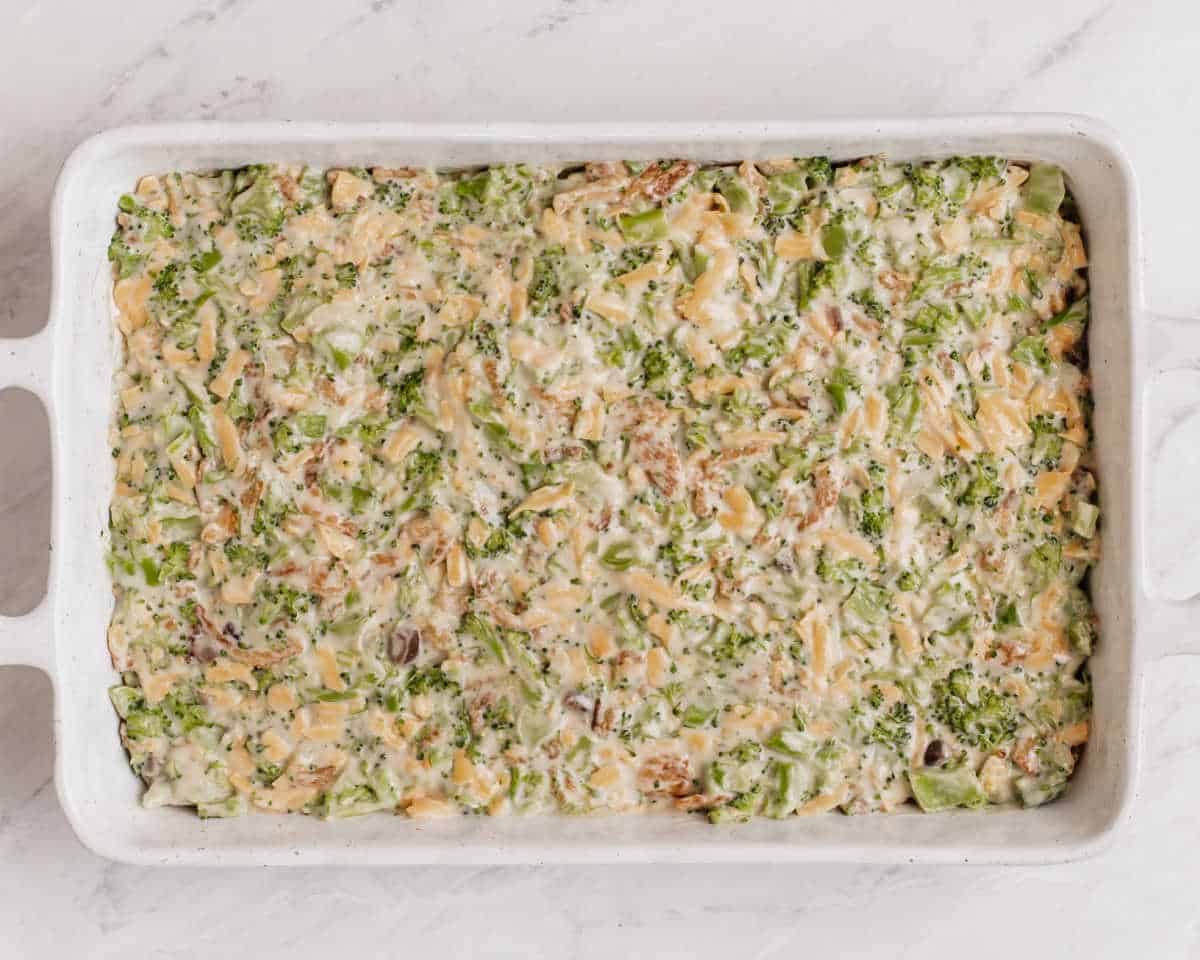 Expert Tips
Thaw the broccoli completely before putting it in the oven, and drain excess water. This will insure it cooks evenly.
Use a 9 x 11-inch baking dish.
Prepare the casserole ahead of time, cover with plastic wrap or aluminum foil and refrigerate for up to a day. Then bake it when your guests arrive.
This casserole is perfect for cheese lovers. Make a second casserole dish for large crowds.
Storage
Store leftovers tightly covered with plastic wrap, foil or an airtight container, and refrigerate for up to 3 days. Once you're ready to reheat the casserole, let it sit on the counter and come to room temperature then bake or dish it into a plate and reheat in the microwave.
To freeze the casserole, let it cool down completely, cover it with plastic wrap or foil and freeze for up to three months. Thaw in the refrigerator overnight, then bake or reheat.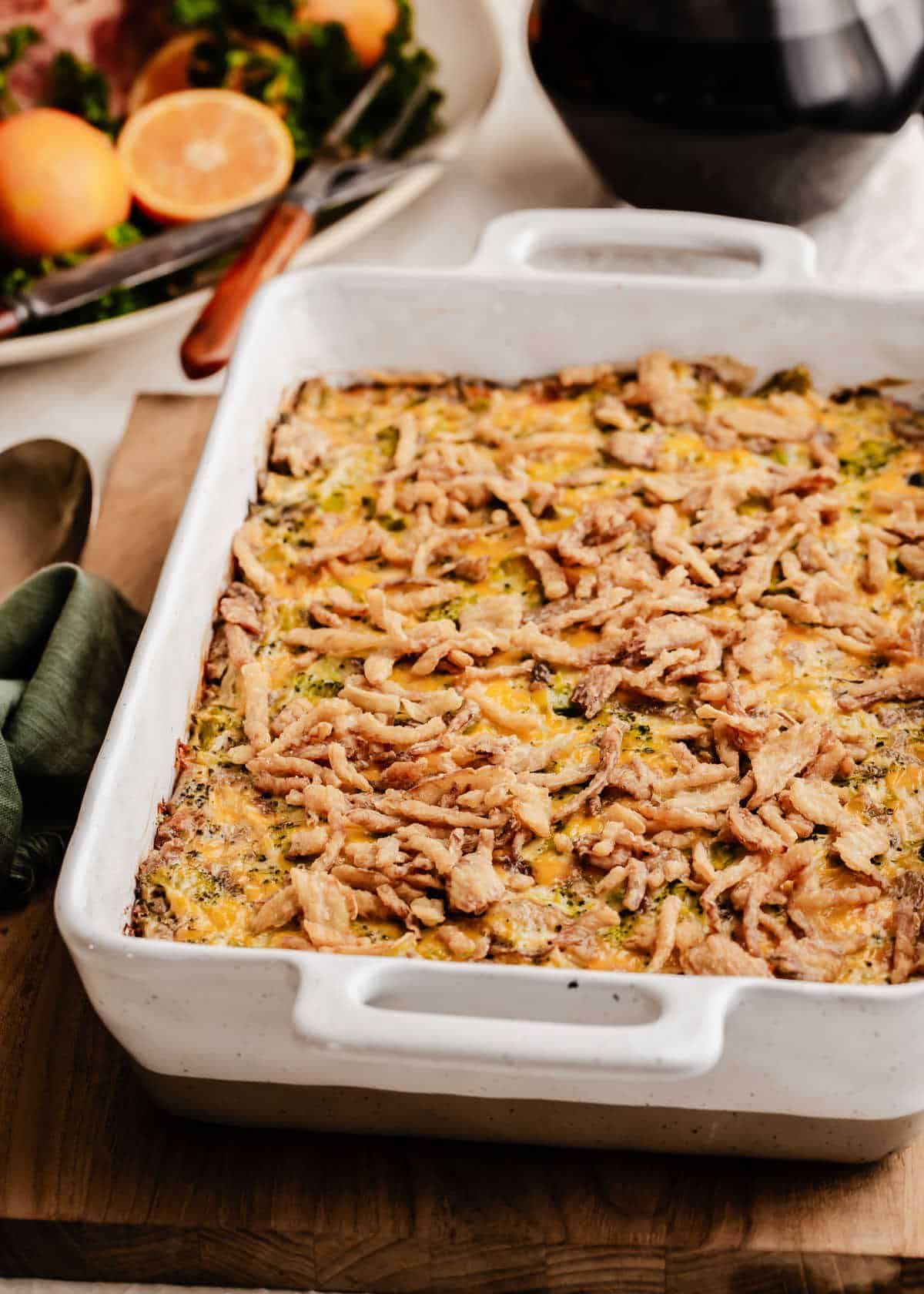 Serving Suggestions
This comforting side dish is the perfect addition to any menu or holiday buffet. Serve this creamy casserole with these main dishes and sides.
Other Casserole Side Dishes
Favorite Broccoli Recipes
Whether you like fresh or cooked broccoli, here are some other favorite recipes to try.
Trust me, once you try this easy broccoli casserole you may never go back to green bean casserole again! Add it to your dinner table the next time you have guests.
If you like this post, PIN, Share, or sign up for our Newsletter at the top of the page. And don't forget to follow CAH on Instagram or Facebook. Cheers!
Easy Broccoli Casserole
Easy broccoli casserole is a comfort food side dish and perfect for holiday meals or family dinners. Start with frozen chopped broccoli and top it with crunchy fried onions!
Ingredients
2 (10-ounce) boxes frozen Chopped broccoli, thawed
2 eggs, beater
1 (10.5-ounce) can Cream of Mushroom soup
8-ounce block sharp cheddar cheese, shredded
¾ cup mayonnaise
2 teaspoons dried onion flakes
1 teaspoon soy sauce
1 cup of French's fried onions, PLUS ½ cup for topping
Instructions
Preheat oven to 350 degrees F.
Combine first 7 ingredients together in a large bowl.
Mix in 1 cup of fried onions and transfer to a large baking dish.
Bake uncovered for 35 to 40 minutes. Top with remaining onions and cook 5 more minutes.