Broccoli Crunch Salad Without Mayonnaise
Easy broccoli crunch salad is a classic party side dish and this recipe is made without mayo or bacon so it's naturally vegan and ideal for outdoor parties. What it does have is a sweet and savory combination of fresh vegetables, raisins, and crunchy chow mein noodles and sunflower seeds. Round out any meal with this tried and true summer side dish recipe.
This broccoli salad is made with a simple oil and vinegar dressing. It has a balance of sweet and salty flavors, and a delicious crisp texture from crunchy noodles and sunflower seeds.
Easy Side Dish for Entertaining
I've been making this delicious recipe for so long I don't even remember who I got it from. I know it's good though, and a little different from others I've seen.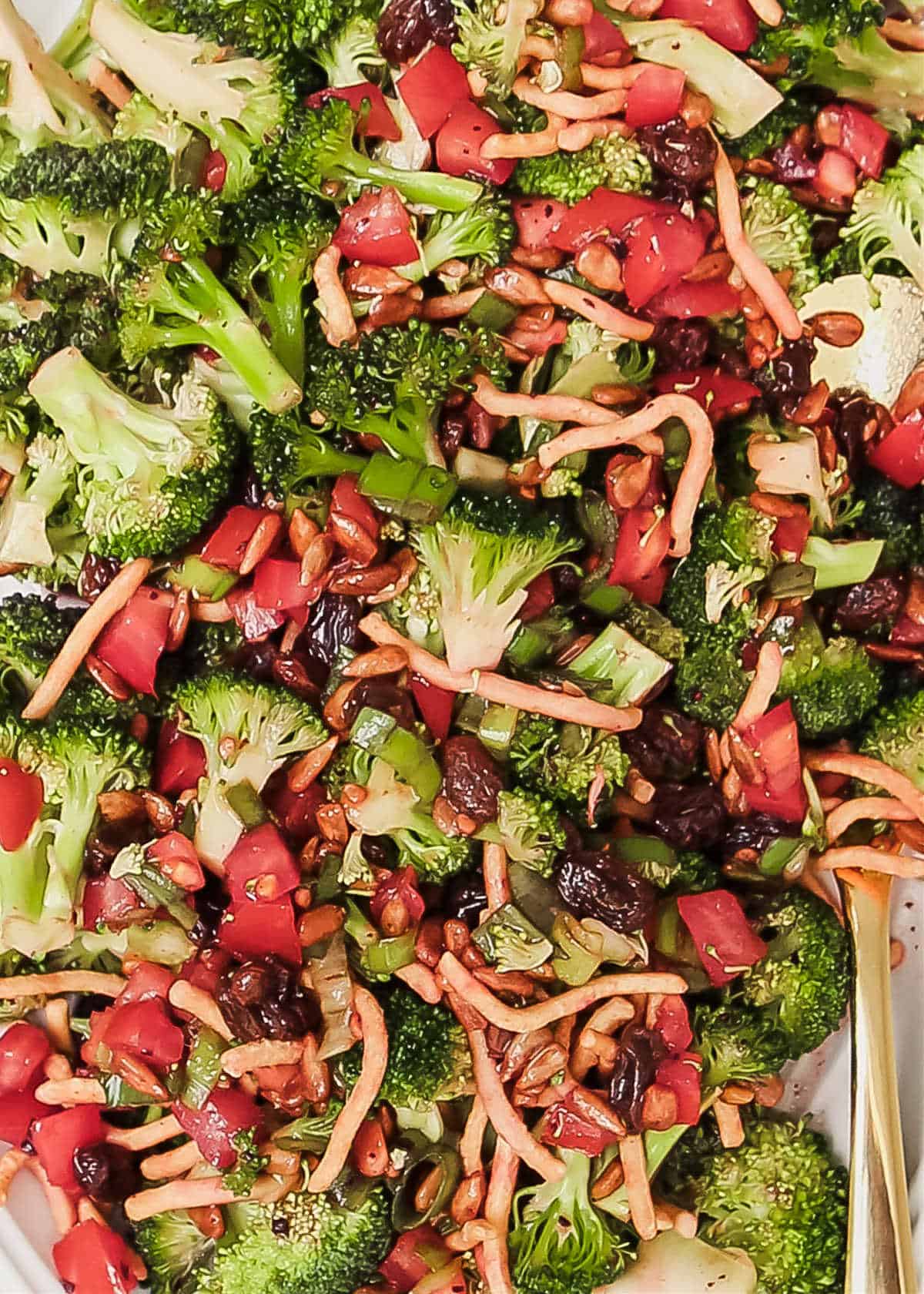 Ingredients
This broccoli salad is made easier by combining fresh ingredients with prepared dressing.
Fresh broccoli. I like to use the spears and not the stems. Buy a bag of fresh florets that are ready to use or simply cut them from about 2 heads of broccoli.
Tomatoes. Roma tomatoes are great for this recipe because they're flavorful and easy to dice. Or you can use vine-ripened or beefsteak tomatoes.
Raisins. Use regular raisins or golden raisins for this.
Green onions. This gives you mild onion flavor without the sharpness of diced red onion.
Sunflower Seeds. I like to use lightly salted seeds for that salty flavor.
Crunchy Chow Mein noodles. Find these in the Asian or Chinese food section of the grocery store.
Oil & Vinegar dressing. I like to use Newman's Own Olive Oil & Vinegar dressing or you can make your own vinaigrette from scratch.
Sugar
Tips & Variations
Use dried cranberries or white raisins instead of the dark ones. I don't recommend dried cherries because they're a little too tart for this salad.
Experiment with grapes or chopped apple as a substitute for the raisins.
Substitute pepitas or pistachios for the sunflower seeds. Slivered almonds, chopped walnuts or pecans would be great too. Make sure to toast them lightly to bring out the full flavor and aroma.
Add cooked and crumbled bacon for a salty boost of flavor.
If you love cheese, add some shredded cheddar or try crumbled blue cheese.
The marinating in the refrigerator gives the broccoli time to soften slightly, as well as helps plump up the raisins. The addition of the tomatoes is unexpected but gives that nice acidity and a savory component.
How to Make It
Combine the salad ingredients EXCEPT chow mein noodles and seeds.
Mix the dressing and sugar together and pour over the salad. Toss to coat well, then cover and refrigerate for at least 2 hours and overnight is even better.
When ready to serve, sprinkle the crunchy noodles on top and toss lightly.
My favorite part of this dish is the salty, crunchy aspect from the seeds and the chow mein noodles. Such a great combo for flavor and texture!
Storage
Make it for a party up to a day ahead and store it in the refrigerator in an air tight container. But DO NOT add the crispy Chow Mein noodles and seeds until ready to serve.
Cover and refrigerate leftovers for about 4 days. Give it a good stir before serving.
Can broccoli salad be made ahead?
Yes, you definitely need to make this ahead and let the flavors meld together. But don't add the crunchy noodles until ready to serve or they'll turn to mush!
Make this the night before, if you're serving it for a luncheon.
Make it in the morning if you're serving it for a late afternoon or evening cookout or meal.
Serving Suggestions
Serve this side dish with the best juicy burgers recipe or alongside this bbq brushed plank grilled salmon for a great casual meal.
Add it to your hot dog roast menu for graduation parties or family gatherings.
Include it with slow cooker bbq beef sandwiches for game day parties.
More Recipes with Broccoli
Try these other great side dishes that use broccoli as a key ingredient.
Next time you need a fresh side dish, give this broccoli crunch salad without mayonnaise a try. It's sure to be a crowd pleaser!
If you like this post, PIN, Share, or sign up for our Newsletter at the top of the page. And don't forget to follow CAH on Instagram or Facebook. Cheers!
Broccoli Salad - No Mayo recipe
This broccoli crunch salad has sweet and savory components for a twist on the classic recipe. Crunchy toppings give it added texture and a touch of salt. You will love the combination!
Ingredients
6 cups fresh broccoli spears
1/4 cup diced green onion
2 Roma tomatoes, diced
1/3 cup raisins
Crunchy Chinese chow mein noodles
sunflower seeds
Dressing
1/2 cup Newman's Own Olive Oil & Vinegar dressing
1 Tablespoon sugar
Instructions
In a large bowl add broccoli, green onion, tomatoes, and raisins. Whisk together the dressing & sugar and pour over salad; stir to combine.
Cover and refrigerate for at least 2 hours or over night.
When ready to serve, add crunchy noodles and sunflower seeds and give it a quick mix.
Notes
A prepared Raspberry Vinaigrette dressing is also great on this salad!