Slow Cooker BBQ Beef Sandwiches
Slow cooker bbq beef sandwiches recipe is easy and delicious for backyard cookouts, fathers day, or tailgating. Just add everything to the crockpot to get tender shredded beef in a homemade barbecue sauce that you can put on mini Hawaiian party rolls or hamburger buns.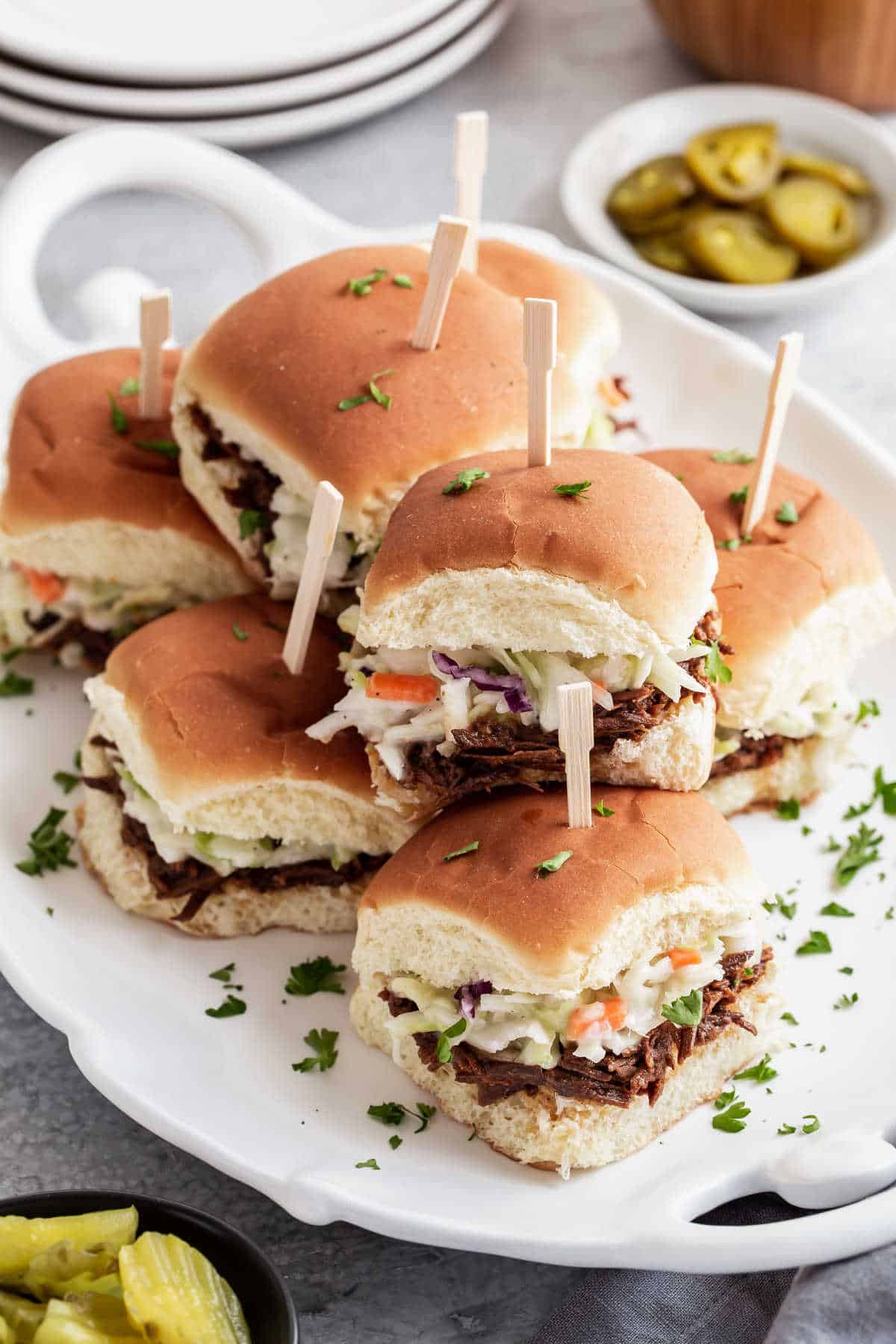 This simple recipe starts with a beef roast, salt & pepper, and six pantry ingredients that make an amazing bbq sauce from scratch. You can put it together in about 10 minutes so it's super simple for parties.
After slow roasting for hours you'll get tender juicy pulled beef that's perfect for sandwiches. Top the meat with slaw to make party sliders, or pile it on hamburger buns for a full meal.
It makes enough for a smaller gathering of 8 people. You can double the recipe and use up to 5-pounds of beef roast for a bigger party of 16 or more.
Easy Crockpot Sandwiches for Parties
Most people use the slow cooker in fall and winter months, but it's a godsend in the hot summertime too. You can cook for a crowd without being tied to the grill or heating up the kitchen with the oven.
What Goes With BBQ Beef Sandwiches?
The list is practically endless when it comes to side dishes and accompaniments. You can always start with a party cheese board, vegetable cups, or kettle chips for an appetizer party.
For a cookout where the sandwiches are the main course you can try french fries or some of these side dish recipes.
Go here for more summer side dish recipes.
What Cut of Beef is Best to Use?
Some good choices are bottom round, rump roast, chuck roast and brisket. Use a boneless roast and look for good fat marbling running throughout. Cut off any outside fat.
Tougher cuts of meat do well in the crockpot because they cook low and slow, which tenderizes it without making it dry. The result is fork-tender meat!
BBQ Sauce Ingredients
French Onion Soup. You only need about 5 ounces for a 2 pound roast. Use canned soup, such as Campbell's, and use half of the can. It adds liquid and tons of flavor.
Ketchup. This is one of the key ingredients in making homemade barbecue sauce.
Light brown sugar. Make sure to measure it "packed" in the measuring cup, which means it's pressed down tightly.
Lemon juice. You can use bottled lemon juice for this to make it easy, but if you have fresh lemons on hand you can squeeze one or two to get the amount of juice you need.
A-1 sauce. Steak sauce is a delicious complement to the beef and adds richness to the barbecue sauce.
Worcestershire sauce. This is another classic ingredient to pair with beef. It adds complexity with a combination of savory, tangy, and spicy.
Salt & pepper. Simple kosher or sea salt, and ground black pepper will work for this.
For Sandwiches
Hawaiian party rolls. Mini party rolls work well for appetizer style gatherings, and you can estimate 2 rolls per guest. But you can also use hamburger buns like onion rolls, sesame buns, brioche buns, or hoagie rolls, for dinner parties and sit-down meals.
Slaw. Buy it premade in the deli section or make your own using the recipe in the card below.
How to Make Crockpot BBQ Beef
This is a dump-and-go recipe!
You simply add the meat to the crockpot, pour sauce ingredients over top, give it a quick mix with a spoon, cover and cook.
When it's done, shred the beef using 2 forks. You can serve it right from the crock or transfer it to a serving dish.
Sandwich Toppings
I'm a bit of a purist when it comes to these. I like them with little more than homemade slaw on top, but here are some tasty additions you can also add to the sandwiches.
Cole slaw
Dill pickle chips
Pickled jalapeno
Caramelized onions
Pickled onions
Sautéed peppers & onions
Cheddar cheese slice
Expert Tips
Make it a day ahead and refrigerate over night in an air tight container. The next day, any excess fat will have floated to the top and hardened. You can skim off the fat with a spoon and then reheat the meat for the party.
I like to shred the beef before the final hour of cooking so that all that bbq flavor can penetrate the shredded meat.
Because this makes saucy barbecue beef you can use a slotted spoon to drain off excess liquid. I even give it a little squeeze using the back of a spoon to help it along if needed.
Add a slice of cheddar cheese as the base layer for party sliders to help keep the sauce from seeping into the bread.
You can spread a thin layer of softened butter to the bottom half of the Hawaiian rolls to help create a barrier between the meat and bread. This can help stave off soggy bread for a while but if they sit for too long they will become soggy on the bottom half.
If using full size buns you can lightly toast them before making the sandwiches.
Serve this bbq shredded beef recipe on top of rice for a quick and tasty dinner.
Cook chicken or pork in the slow cooker with the same bbq sauce ingredients for a variation on the recipe.
If you like this post, PIN, Share, or sign up for our Newsletter at the top of the page. And don't forget to follow CAH on Instagram or Facebook. Cheers!
Slow Cooker BBQ Beef Sandwiches
Yield:
15 mini sandwiches
Total Time:
6 hours
15 minutes
Crockpot beef cooked in easy homemade barbecue sauce makes delicious party sandwiches. Serve with yummy slaw on Hawaiian rolls or hamburger buns.
Ingredients
2 pounds Beef Roast - Bottom Round roast, Rump roast, Chuck roast, or Brisket with visible fat trimmed
1 teaspoon salt
1/2 of a can (10.5 ounce) French Onion Soup
1/2 cup ketchup
1/4 cup light brown sugar, firmly packed
2 Tablespoons lemon juice
1 1/2 Tablespoons A-1 sauce
1/2 teaspoon Worcestershire sauce
1/4 teaspoon ground black pepper
15 Party Rolls or 8 Hamburger buns
Slaw
4 cups packaged slaw mix
1/2 cup mayonnaise
2 Tablespoons sugar
1 teaspoon vinegar - white-wine vinegar or apple cider vinegar
1/2 teaspoon salt
1/8 teaspoon ground black pepper
Instructions
Trim visible fat from roast and place in slow cooker.
Pour bbq sauce ingredients over beef, and combine a little using a spoon.
Cover and cook on high for 2 hours. Turn to low and cook for 4 more hours.
When done, shred beef using 2 forks.
Meanwhile, mix all slaw ingredients together. Cover and refrigerate for at least 3 hours, or overnight so it can soften and flavors can blend.
Serve on buns with slaw.