Mini Club Sandwiches for Parties
Mini club sandwiches are an ideal party appetizer. They're a classic mix of ingredients like deli chicken, cheese, and bacon. Make them ahead and serve cold for easy entertaining.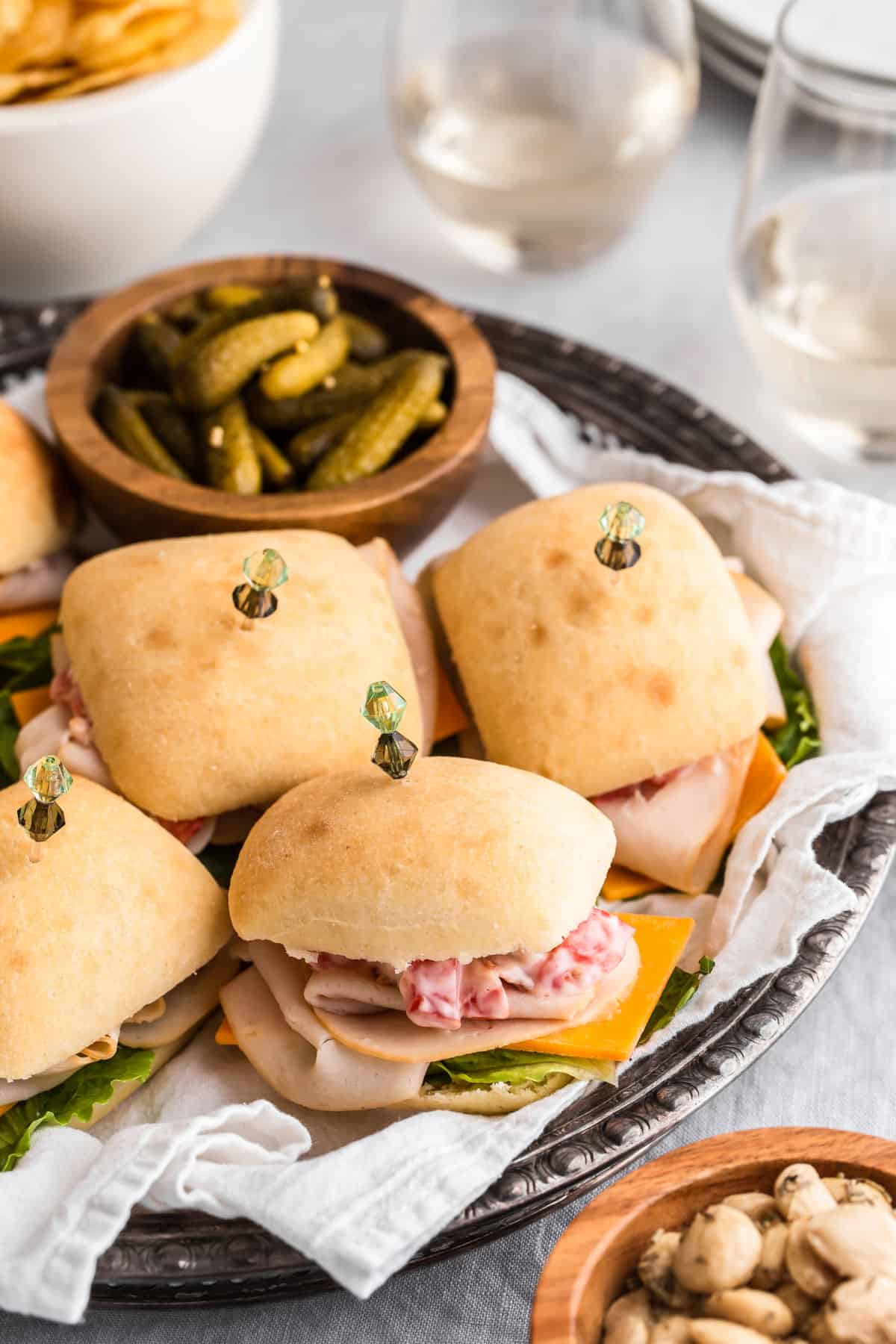 I think it's been established that mini food is just about the best food around! These yummy little club sandwiches are dainty enough for the ladies, but also hearty enough for the men.
They're like a mini BLT with deli chicken or turkey, and cheese added. And the sauce that goes on top is so flavorful!
When to serve them
Mini club sliders are a great addition to appetizers for girls night in, as well as a pairing for a soup dinner party. And you can include them in any of these gatherings too.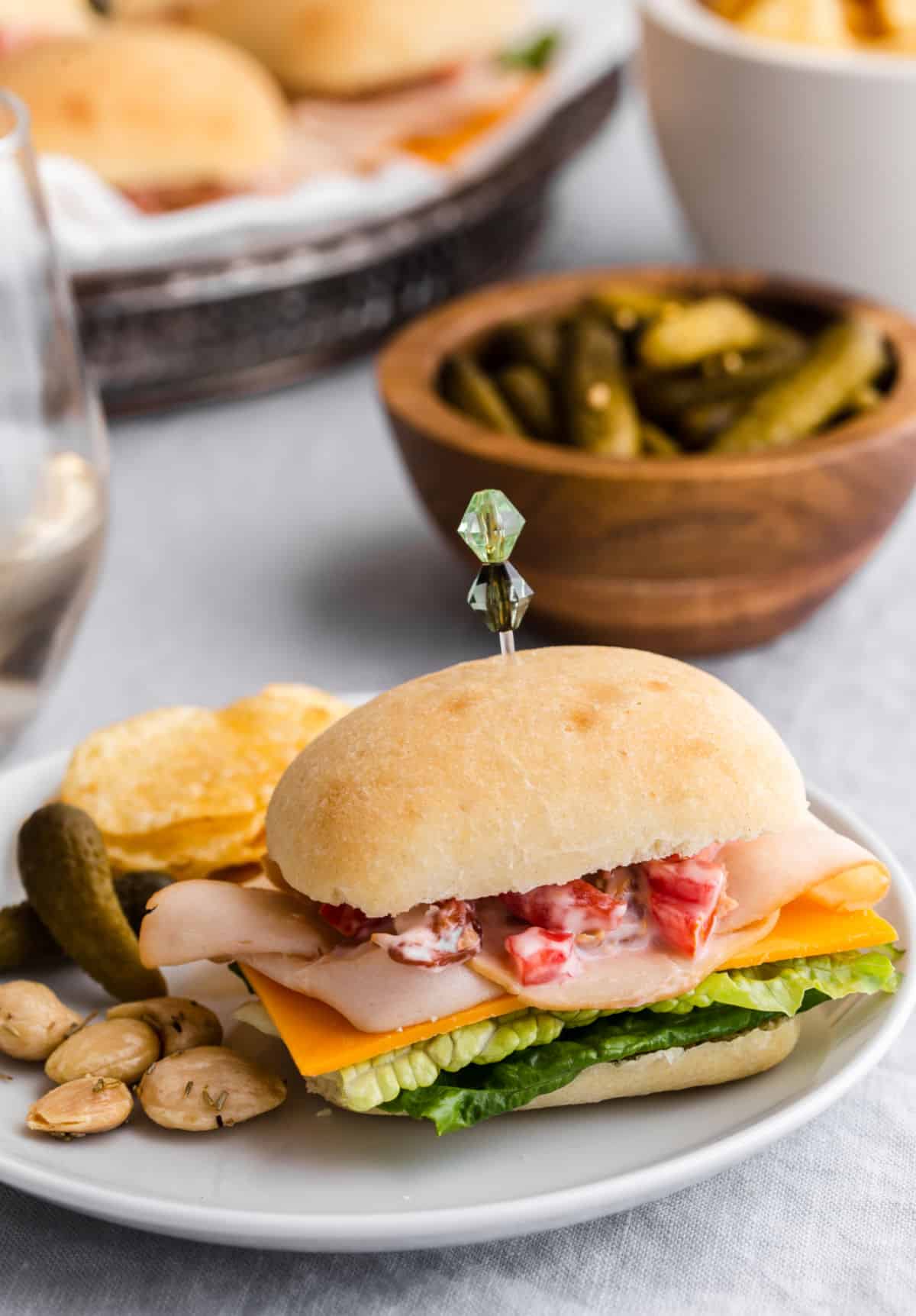 Ingredients & substitutions
These start with a club sandwich dressing that adds moisture and flavor. And you make it with just 3 ingredients.
Tomato. I like to use Roma tomatoes or vine ripened tomatoes for this. Roma tomatoes are more "meaty" so you get less liquid when slicing, however vine ripened are simply delicious. Either way, you'll dice them for use in the sandwich spread.
Bacon. You can pre-cook bacon slices early in the day so it's ready to use. Then you will crumble it up for the mayonnaise spread.
Mayonnaise. Use your favorite brand and you can use Light versions if you want. My go-to brands are Hellman's Light or Duke's.
Dinner rolls. I use Sister Schubert's frozen Dinner Yeast Rolls. They are the perfect single serving size for sandwiches. Just heat them according to the package directions. I also brush on a little melted butter to the top before heating. You can also substitute with sweet Hawaiian rolls if you want.
Cheddar cheese slices. Use thick sliced sharp cheddar for this. Cut each slice in half so they fit the rolls without too much hanging over. If you want more variety you can substitute with swiss cheese or gouda slices.
Deli-style chicken. Thinly sliced deli meat is what you need for mini club sandwiches. I don't recommend getting the flavored varieties. Stick to the simple "baked" or "rotisserie" chicken breast flavors. Or substitute with deli sliced turkey. You'll use about 2 slices per sandwich.
Lettuce leaves. Romaine is my go-to lettuce for these because it's sturdy and holds up well. The leaves are large too, so you can get a good layer of lettuce using fewer leaves. You can tear these to the size of the sandwiches and layer on 2 or 3 pieces.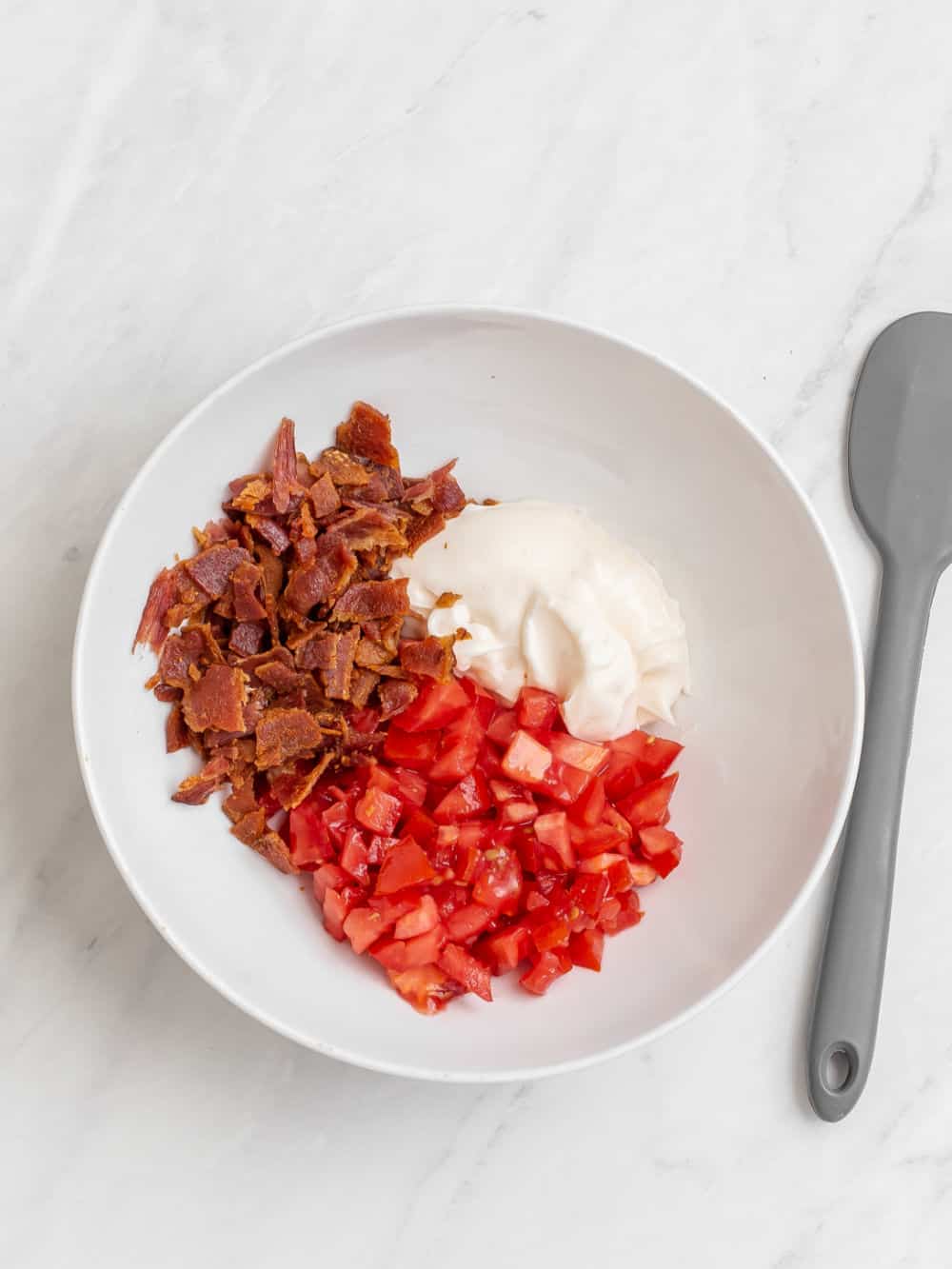 How to make them
First, combine the mayonnaise with the cooked crumbled bacon and diced tomato. Cover and refrigerate until ready to use.
You can heat the rolls and prep the other ingredients while the mayonnaise topping is chilling.
After rolls have been heated through and cooled, you can cut them in half, sandwich style.
Layer each sandwich with lettuce, cheese, and chicken, then top with the mayonnaise spread.
Replace the roll's top and add a decorative pick to hold it all together.
Serve immediately or cover and chill until ready to serve.
PARTY TIP: Lay the deli meat onto the sandwich in a freeform style so they fit the bread and add a thick layer.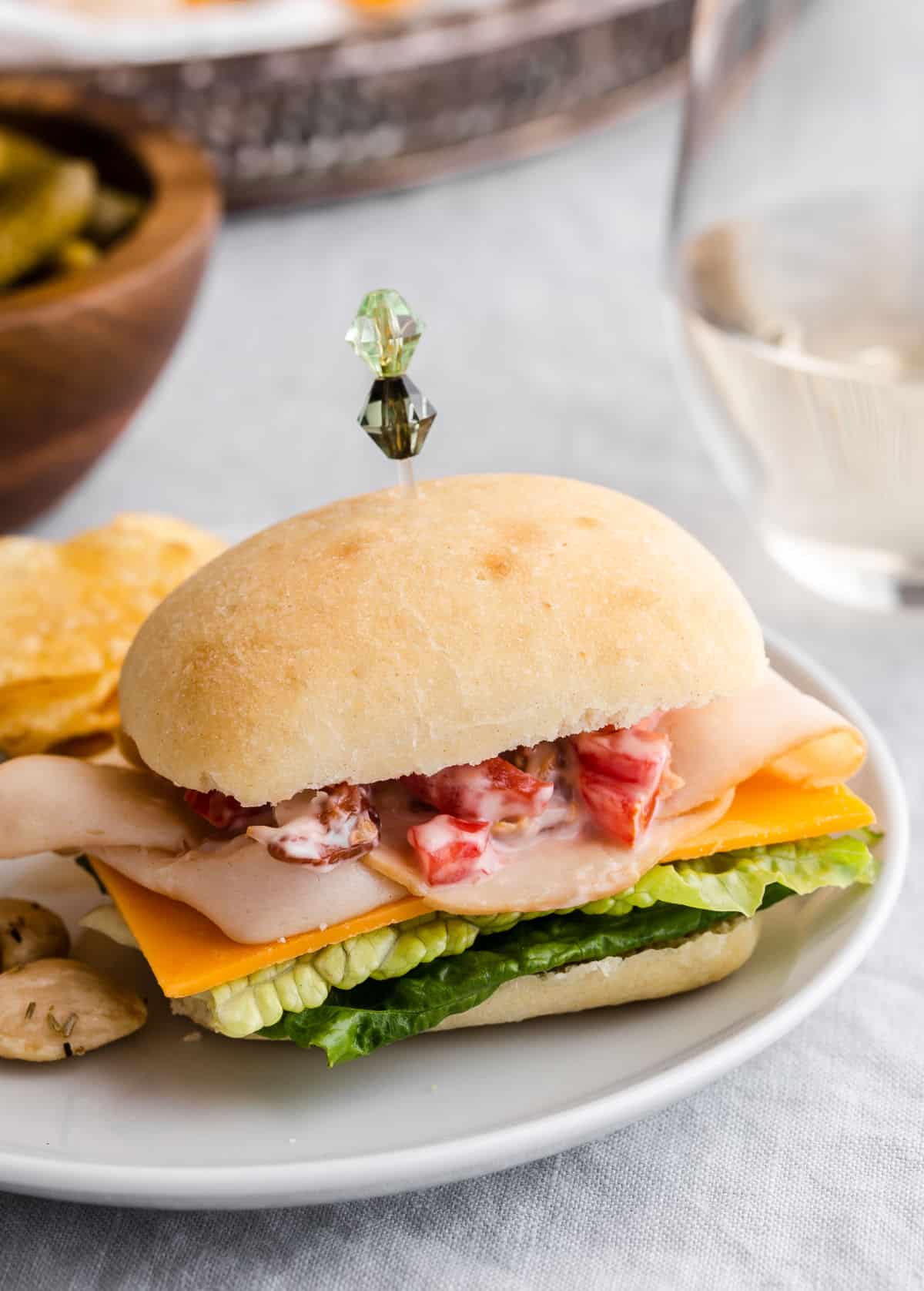 More mini sandwich ideas
Party sandwiches always add sustenance to a food buffet. Here are some more recipes to try.
Make these delicious mini club sandwiches for your next party or to help round out a luncheon menu. And you can always serve them with chips, pickles, or soup.
If you like this post, PIN, Share, or sign up for our Newsletter at the top of the page. And don't forget to follow CAH on Instagram or Facebook. Cheers!
Mini Club Sandwiches recipe
Deli meat, cheese, and a delicious tomato bacon sauce make these mini club sliders delicious and easy for any party or gathering.
Ingredients
Spread
2 tomatoes, chopped
8 slices bacon, cooked and crumbled
1/2 cup mayonnaise
Sandwiches
12 frozen dinner rolls, heated, cooled, and sliced in half.
6 slices cheddar cheese, cut in half
2 - 9-ounce packages thin sliced deli chicken or turkey
8-10 lettuce leaves, torn in half
Instructions
In a medium size bowl combine tomatoes, bacon, and mayonnaise. Set aside or cover and refrigerate until ready to use.
Build sandwich by layering bottom half of each dinner roll with lettuce, cheese, and deli meat.
Top with a dollop of mayonnaise spread and replace top.
Use decorative picks to hold sandwiches together for serving.