Best Soup Bar Ideas for a Party
The BEST soup bar party ideas for setting up a food table, how to serve soup at a buffet, what to serve with it, and recipes to try. Add this to your ladies luncheons and showers, game day parties, or fall and winter entertaining at home.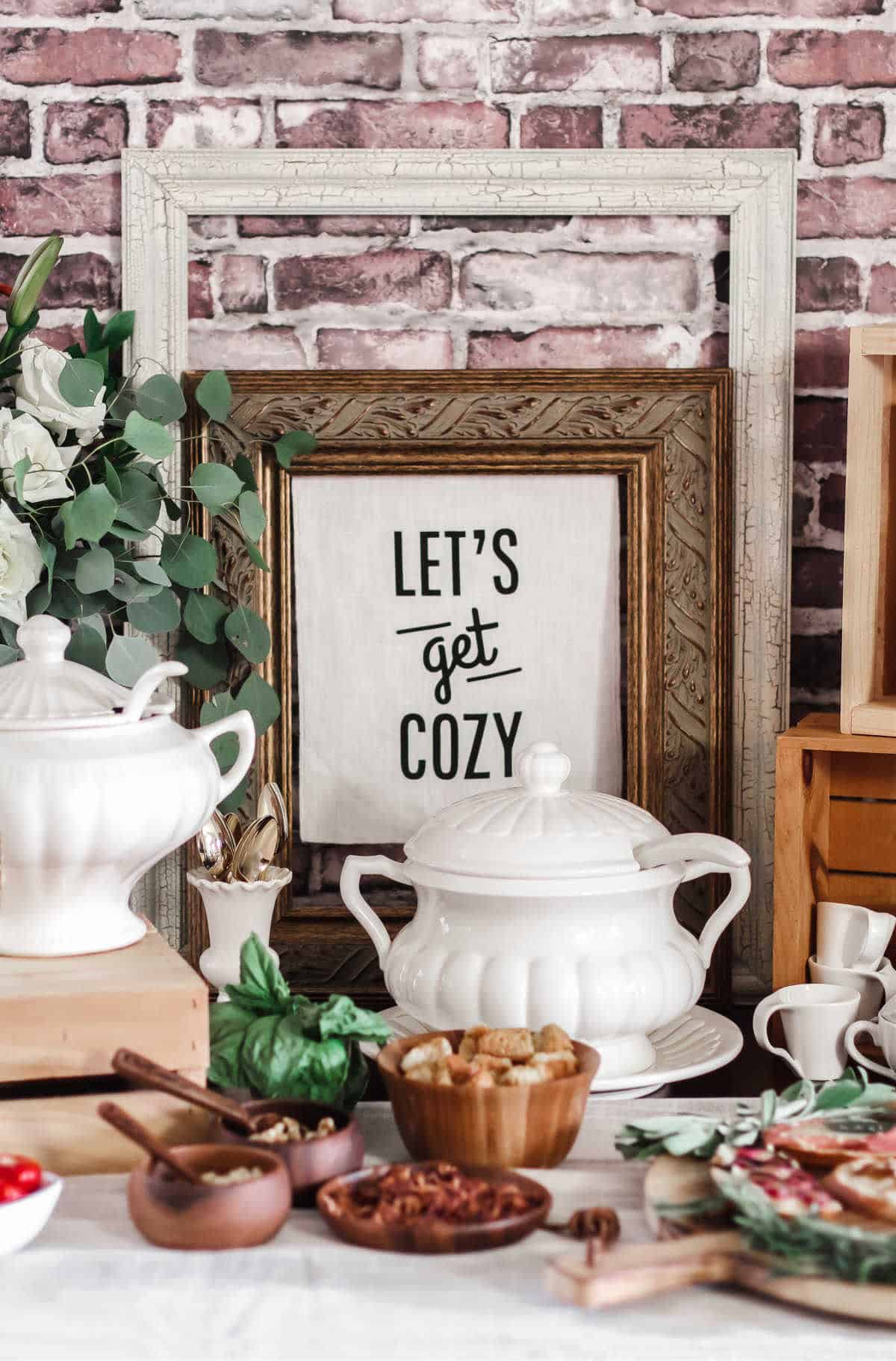 I love turning simple classic ideas, like a soup and sandwich luncheon, into something stylish and updated for home entertaining.
When I created my chili bar I never dreamed it would get such a tremendous response. It's been the gift that keeps on giving, as readers flock to it year after year. I certainly hope you'll find just as much inspiration in the soup bar I've designed.
Soup Bar Party Ideas
A soup bar is the perfect party theme for fall with a variety of soups to choose from and delicious accompaniments. It's also a great food bar for a ladies luncheon, or winter theme dinner party idea.
For starters, this soup buffet idea would be fantastic for a game day party, a casual baby or bridal shower luncheon, movie or game night, or any casual get-together with friends or family. Remember, you don't always need a "reason" to throw a party!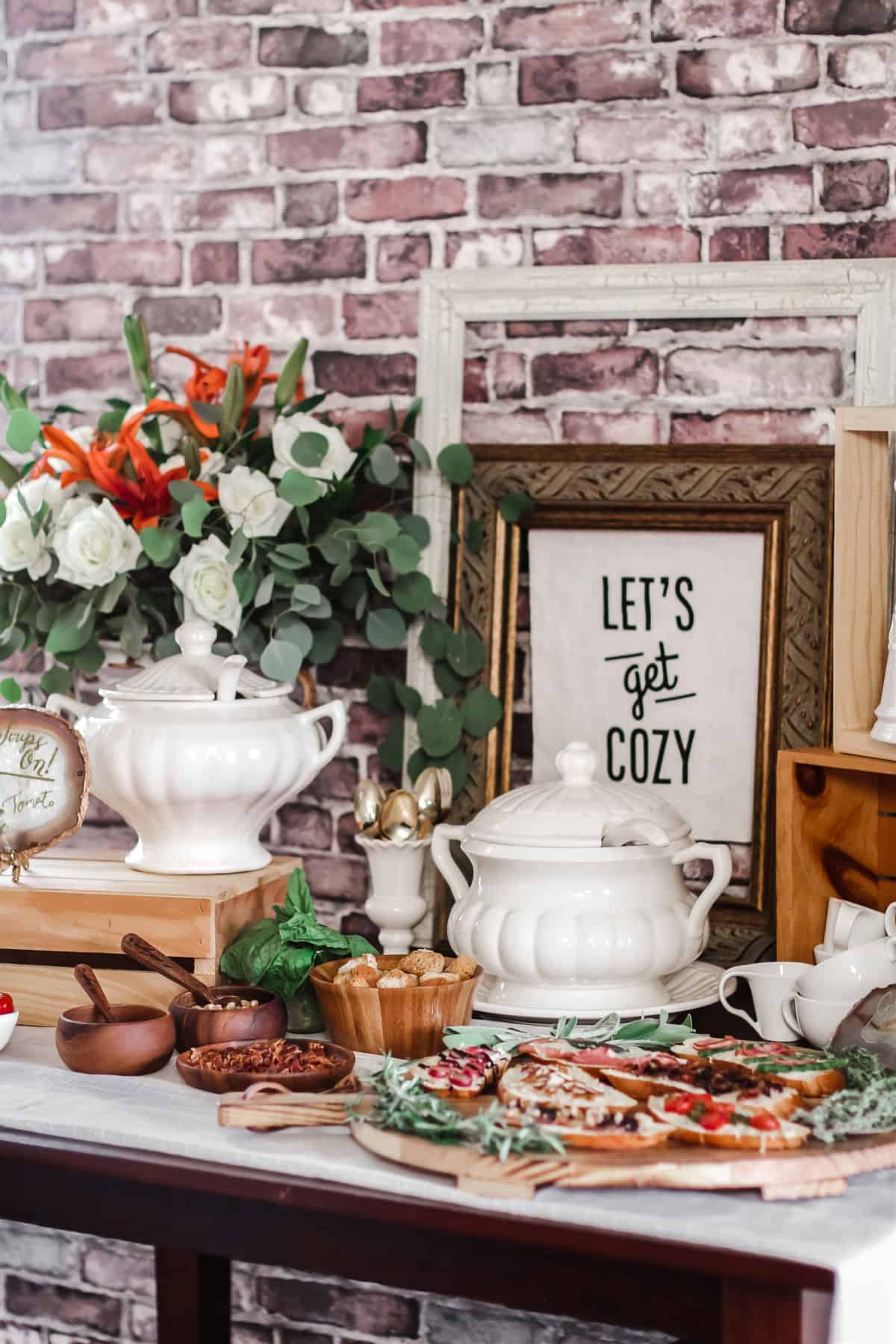 This food bar pairs smooth flavorful soups with a delicious variety of open-face grilled cheese tartines. The tartines are an updated take on the classic grilled cheese sandwich, and I highly recommend them.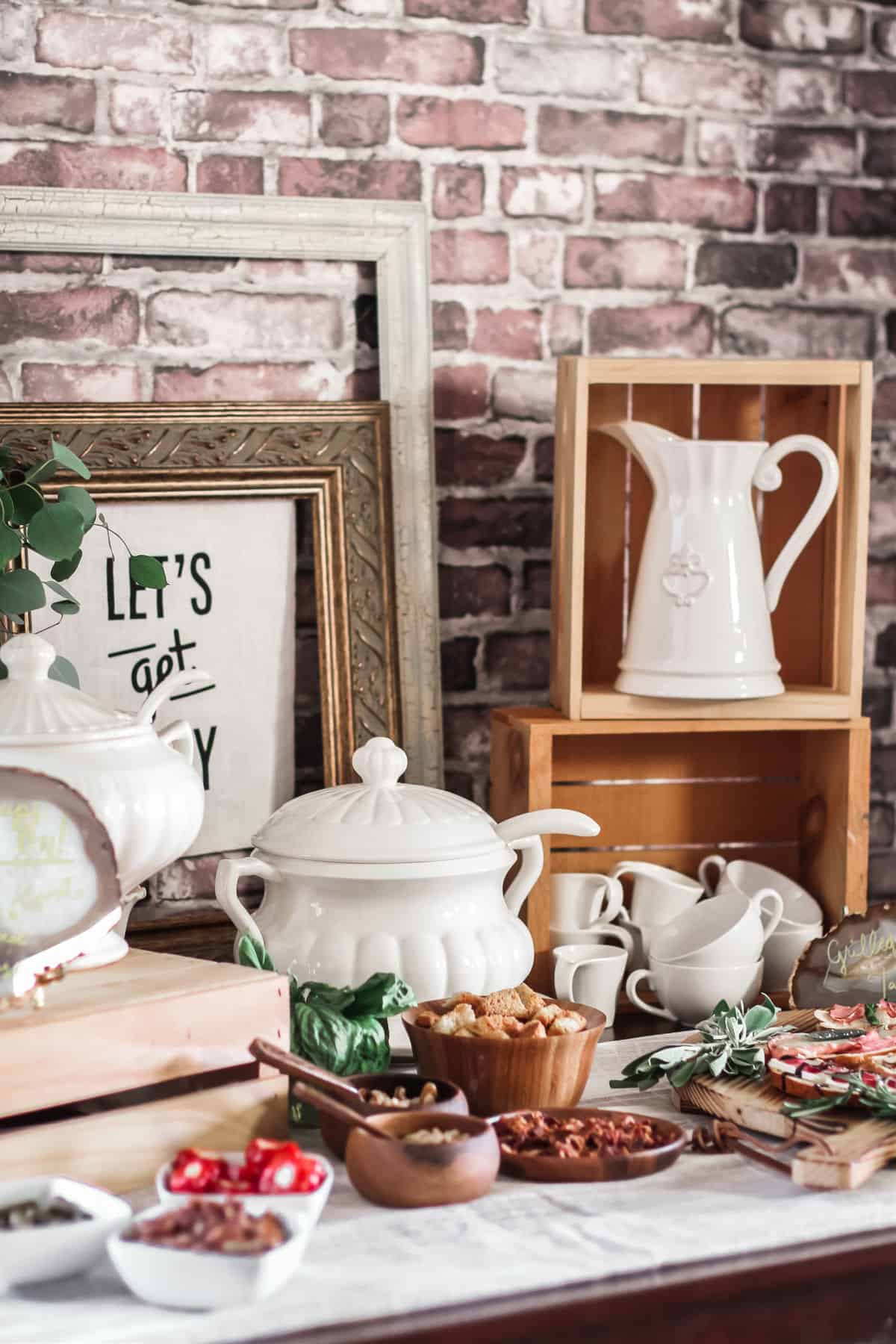 How to Set Up a Soup Bar
Follow these tips for setting up a stylish soup party. And if you want to host a sit down dinner, check out these gorgeous soup dinner party ideas.
Use small crates or boxes as risers, and add some empty frames for interest. I placed my "get cozy" banner inside one of the frames, and I think it provides the perfect sentiment for this "cozy" winter party bar.
Use a large cutting board to serve tasty grilled tartines, hot cheese & bacon canapes, or other finger foods.
Add a sign to show what soups are on the menu. The agate slabs from my fall tabletop design turned out to be a unique and interesting base to write the menu on. Just use a glass marker to write with and then wipe it away later with soap and water. Prop them up using mini picture easels.
Add some table decoration with empty frames, signs, and seasonal flowers.
Add small bowls and dishes filled with small nibbles and soup garnishes.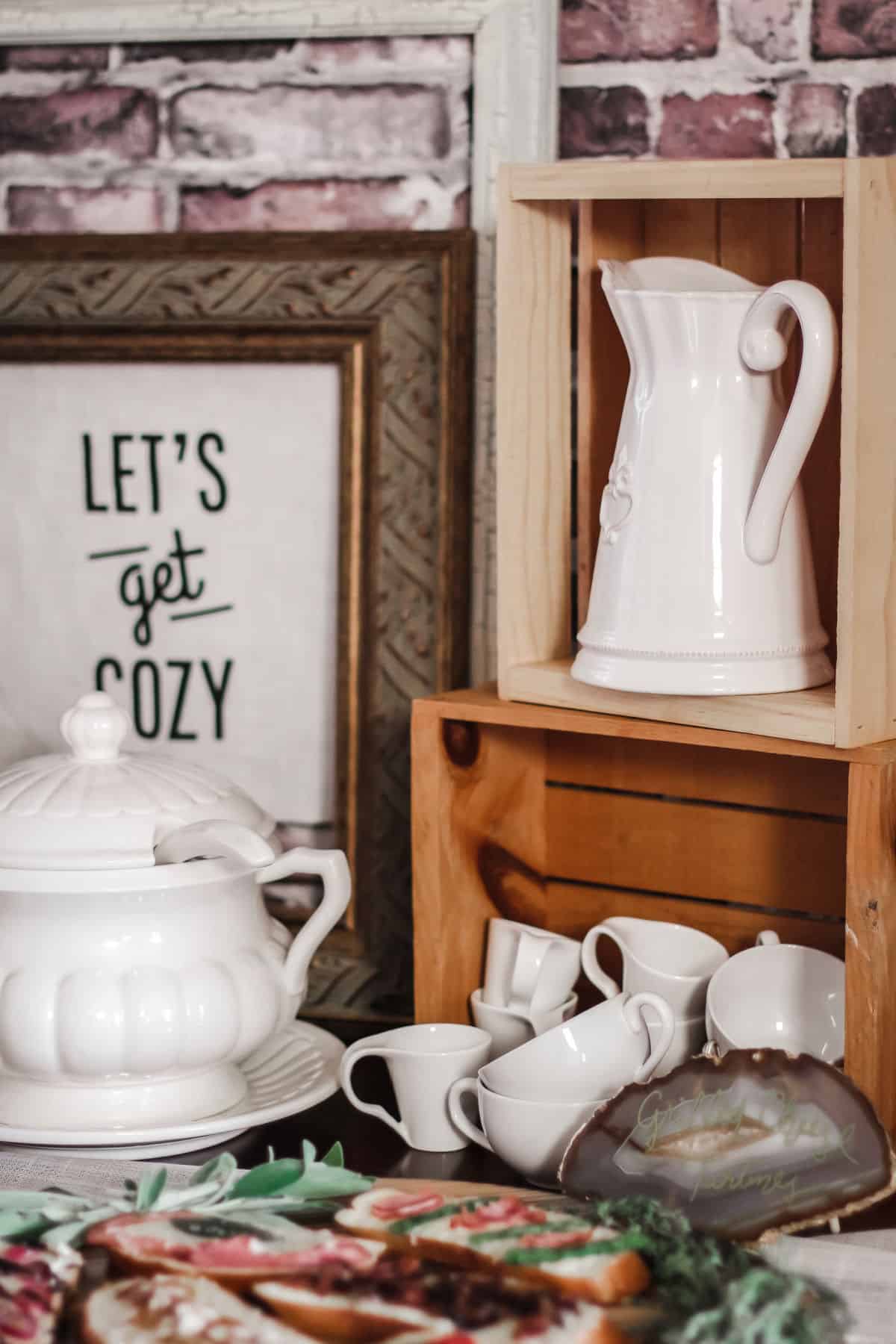 PARTY TIP: Use vintage soup tureens, and pitchers to serve soup from. You can find inexpensive ones at thrift stores.
Use a large wood cutting board to serve the grilled cheese tartines.
Smooth Soup Recipes
I suggest serving at least three different soups for the buffet.
Smooth soups go well with the robust flavors of the tartines. Plus, they give you the opportunity to provide tasty garnishes and toppings like croutons, pine nuts, crumbled bacon, and fresh basil.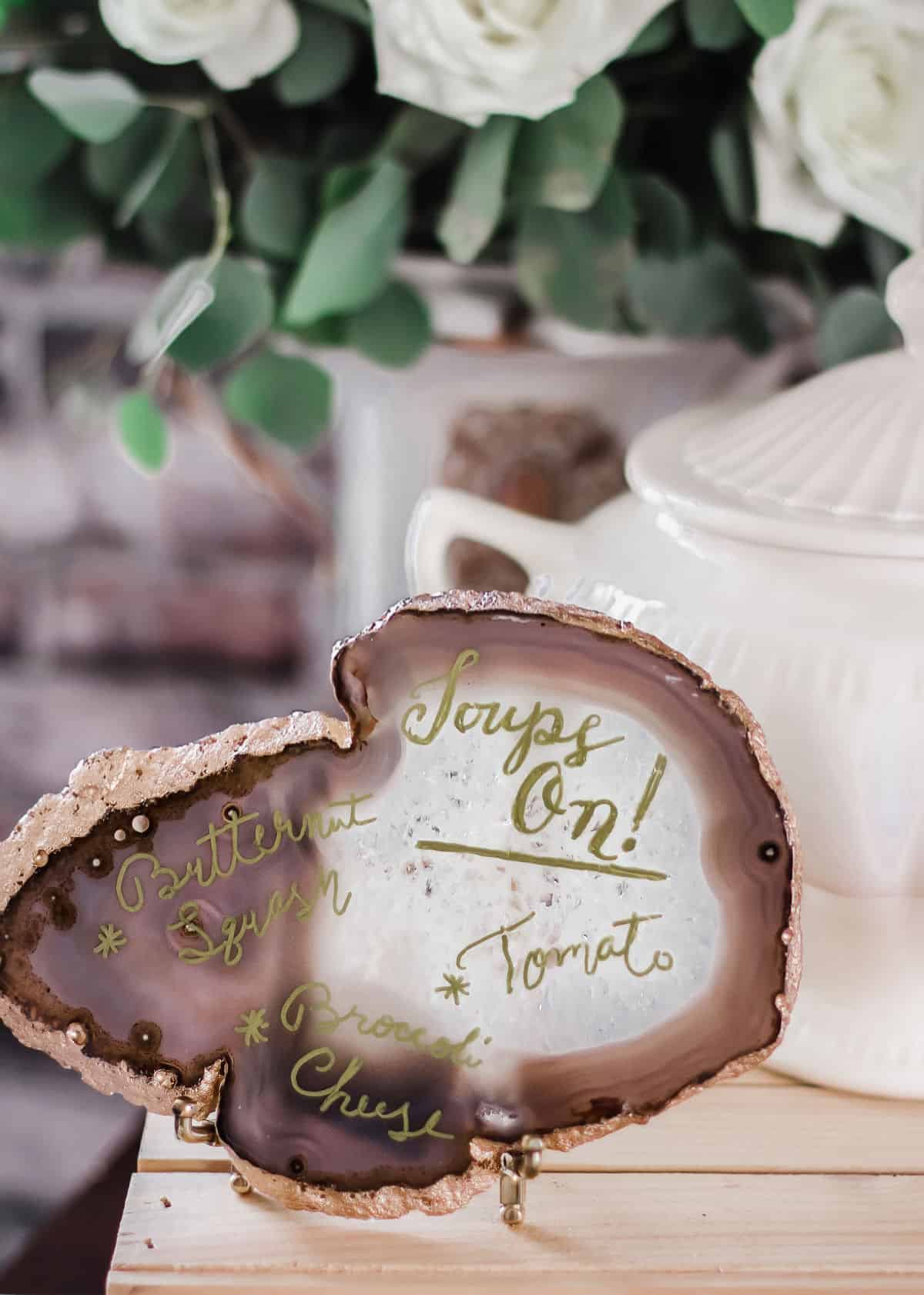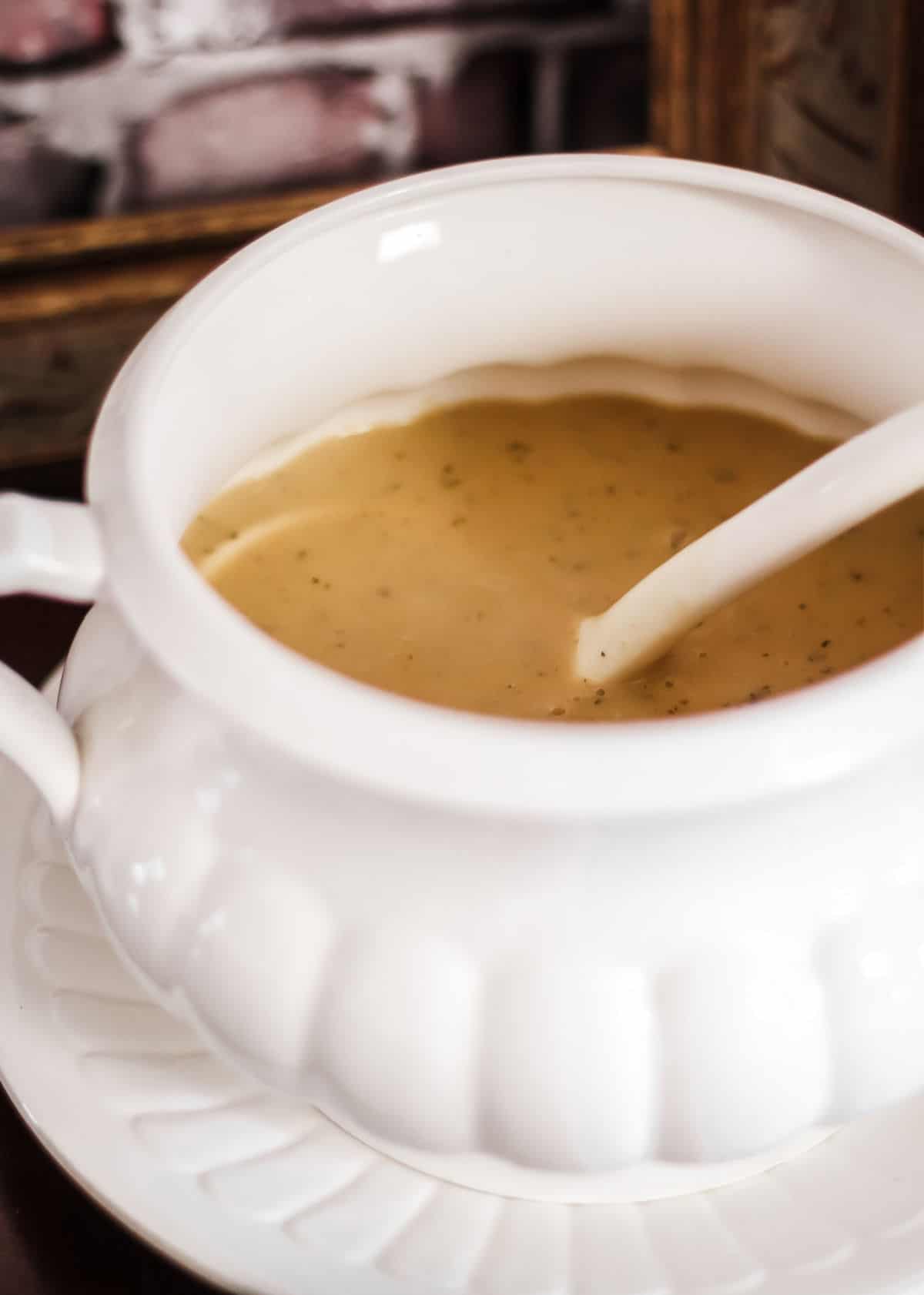 PARTY TIP: You can buy prepared soup from your favorite eatery, make soup from a packaged mix, make it homemade, or any combination of these. The idea is to provide a VARIETY of flavors!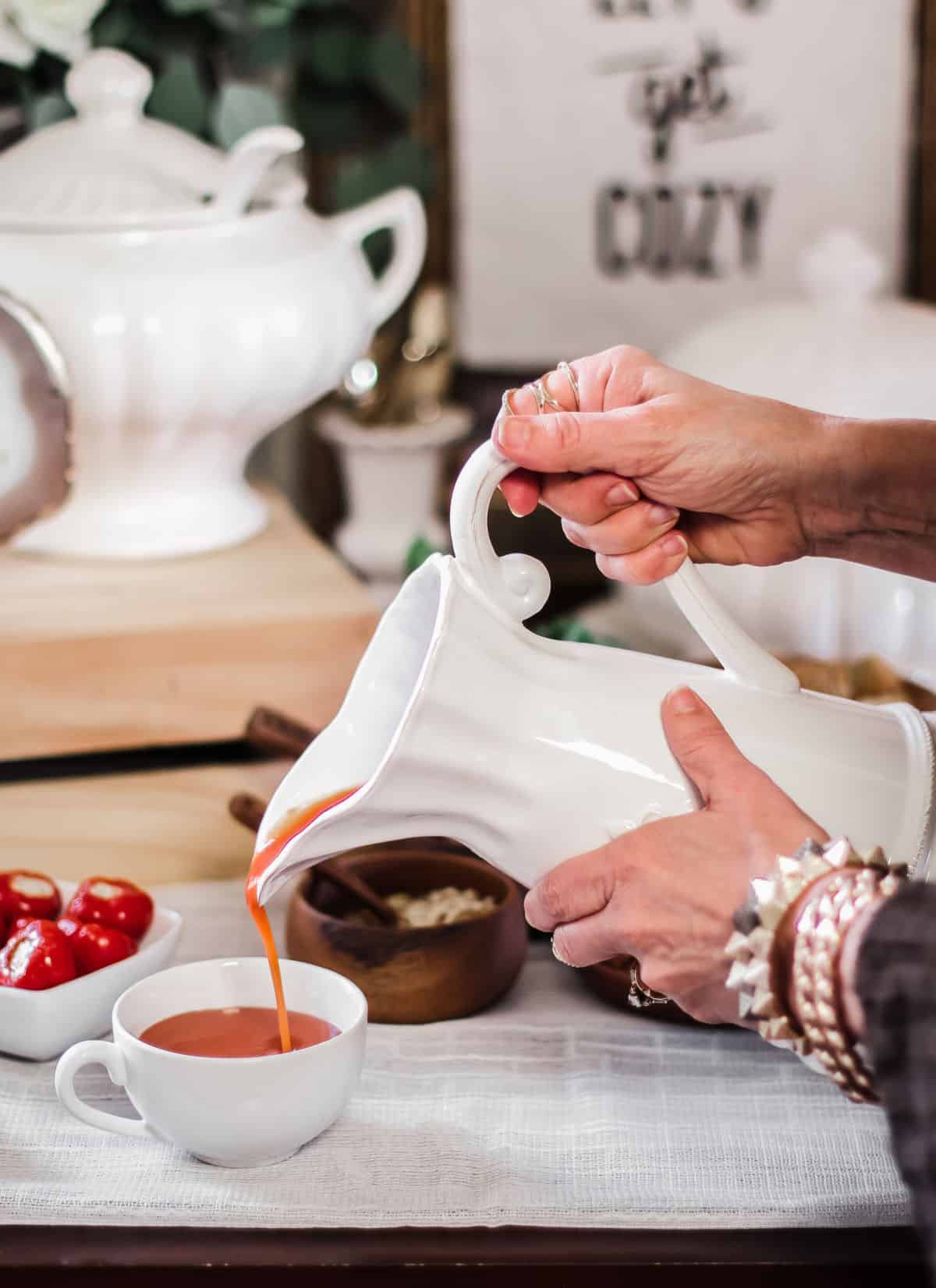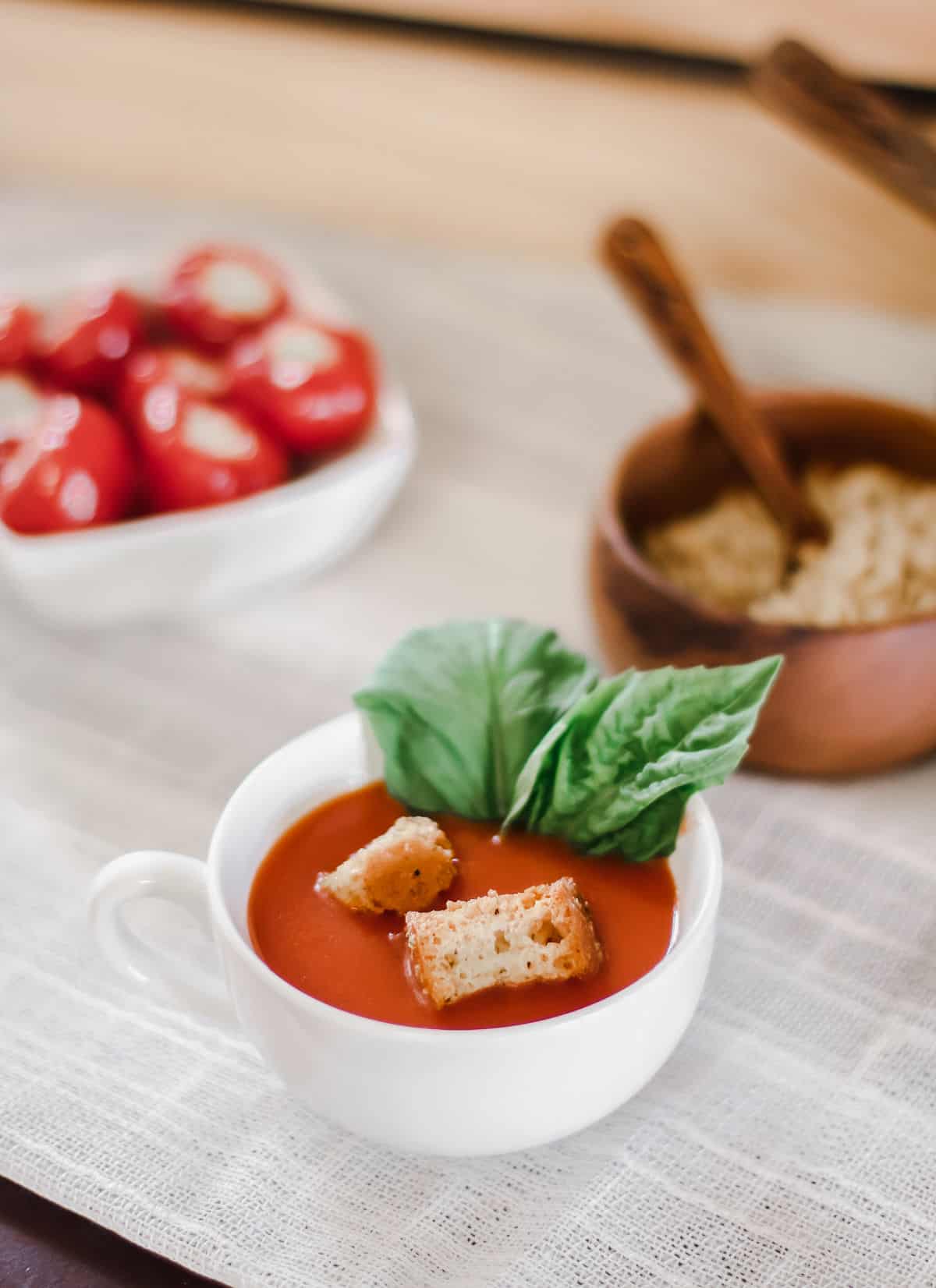 Heartier Soup Recipes
You can serve chunkier hearty soups, stews and chilis instead of the smooth ones, or do a combination of both. Here are some recipes to add.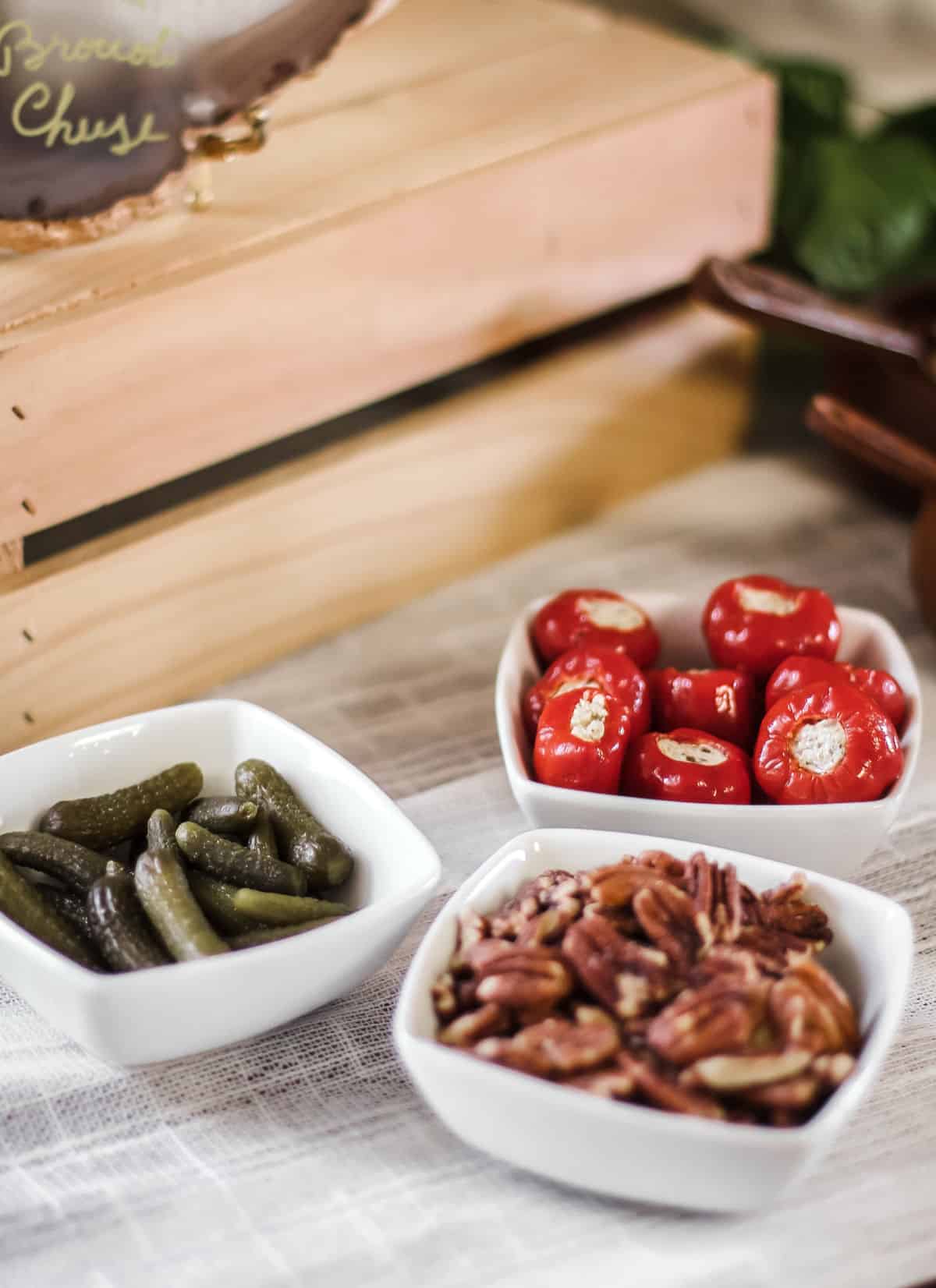 How to Serve Soup at a Buffet
*Contains affiliate links
Use vintage soup tureens, and pitchers to serve soup from. A pitcher is an easy drip-free way to pour smooth soup into a mug or bowl.
Serve the soups in a variety of demitasse, espresso, or tea cups. These are great because they have handles so guests can pick it up and sip it, or use a spoon and scoop it.
If your party is too big to use real dishes and your guests will be standing a lot, use disposable coffee cups that have the corrugated sleeve to hold on to. I like this style or these.
If you'll be seated with a crowd you can use disposable bowls. I like these biodegradable ones that also look nice.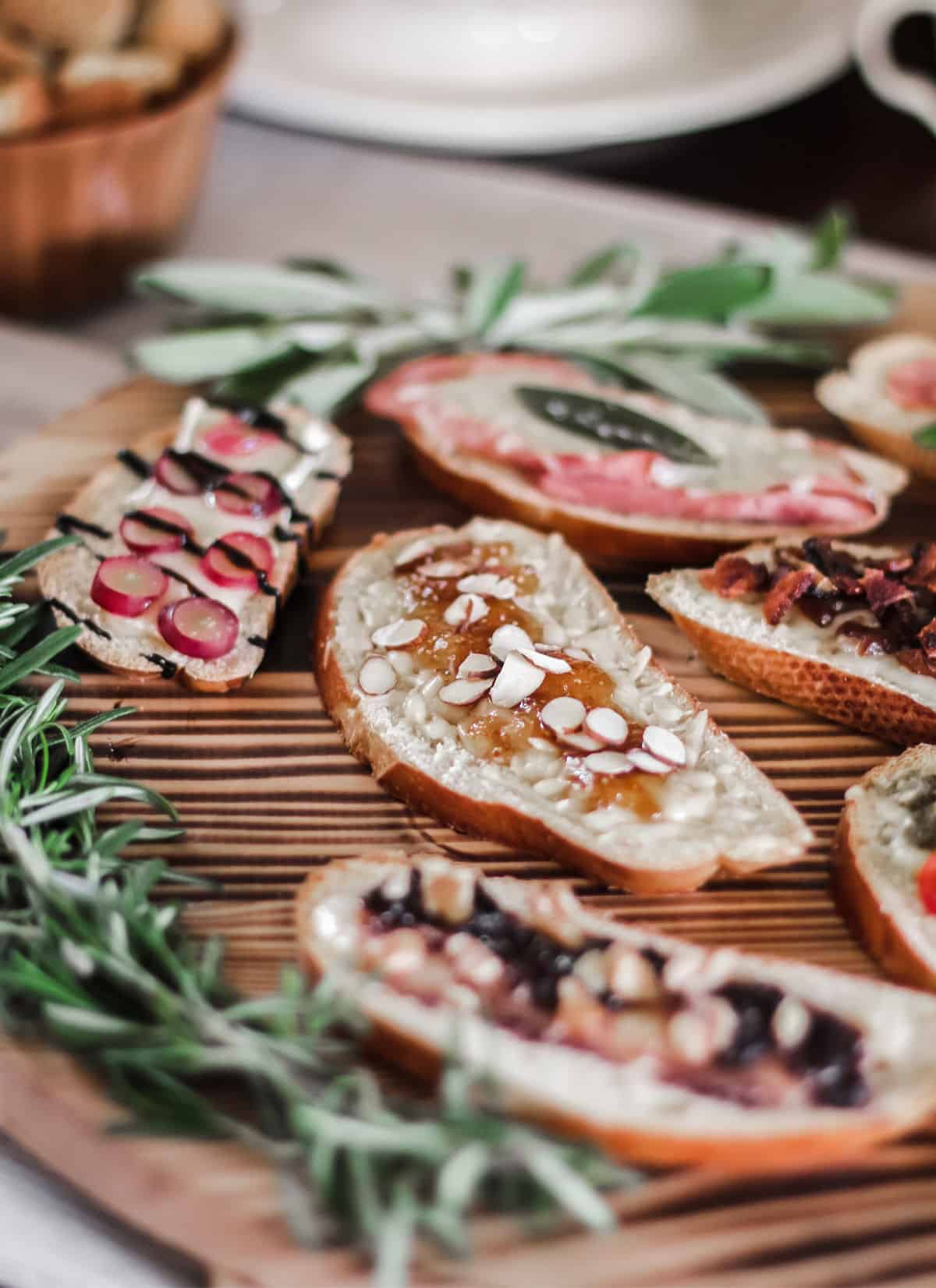 What to Serve With Soup
While soup and salads, or soup and sandwiches are classic combinations, you can also find some great pairings in my appetizers list.
I hope you're inspired to set up your own soup bar for parties and entertaining. I think your guests would love the variety, as well as the novelty of the idea.
If you like this post, PIN, Share, or sign up for our Newsletter at the top of the page. And don't forget to follow CAH on Instagram or Facebook. Cheers!