Ground Turkey Soup with Vegetables
Ground turkey soup with frozen vegetables is easy to make in a slow cooker. This recipe is loaded with healthy ingredients like mixed veggies, beans, diced tomatoes, and canned broth. It makes a hearty low carb meal for a soup bar or dinner party.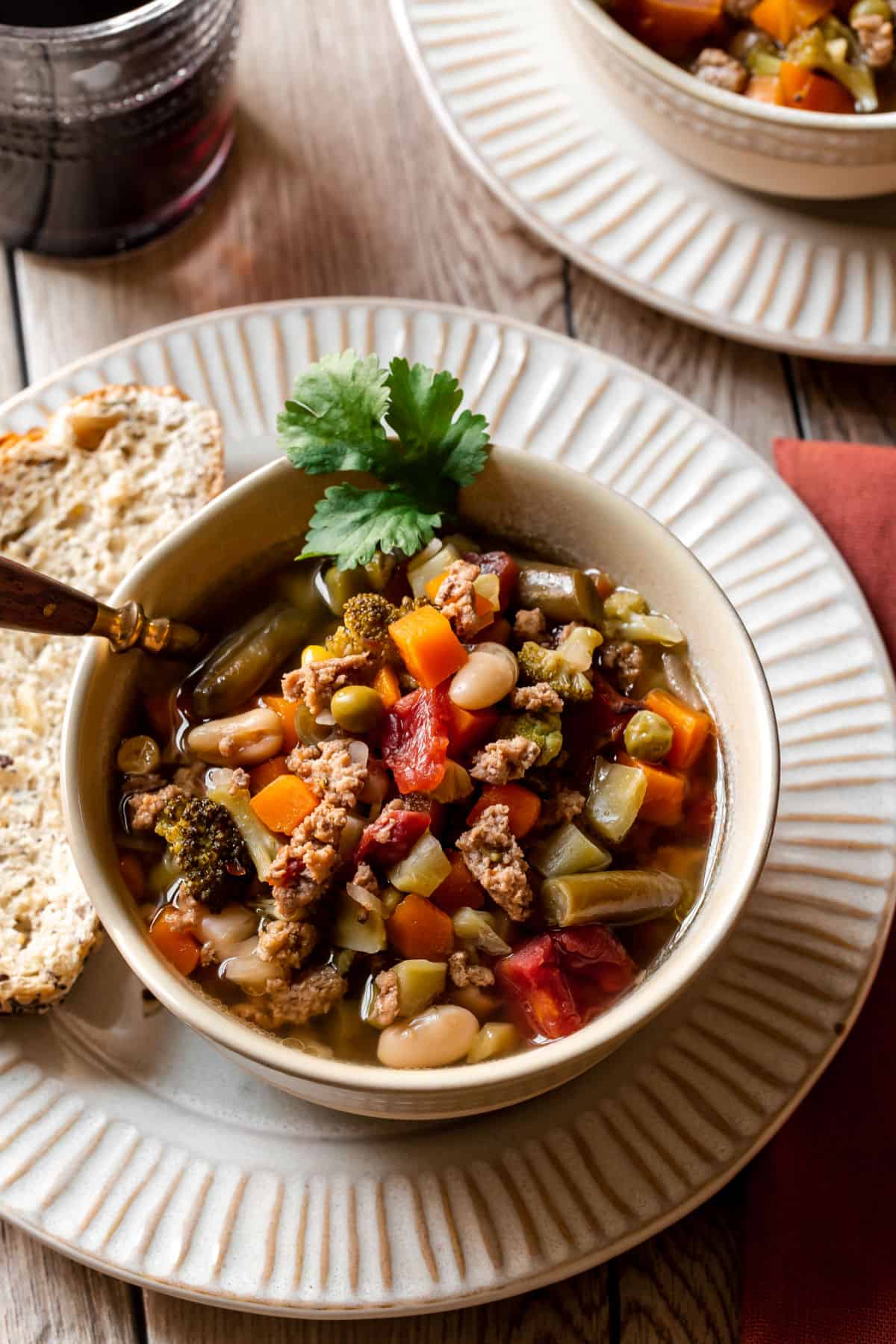 Easy Soup in the Crock Pot
Who doesn't love a big pot of hot soup or stew when it's cold outside? This recipe is one of our favorites to make in the winter, or after the holidays because it's loaded with healthy ingredients. It sort of helps to reset the body after all the indulging!
You'll love it because you can prep it and forget about it until time to eat. It combines ground turkey meat with frozen vegetables in a liquid stock, and an onion seasoning pack gives it lots of flavor.
When to Serve It
Prepare this yummy soup in the slow cooker and serve it on a soup bar.
Make it the entrée for a soup dinner party and serve with warm crusty bread, a delicious salad, and a glass of wine.
Host a casual winter dinner party with this tasty soup as the main course.
Put this in the slow cooker in the morning when you have overnight guests staying with you during holidays.
Serve it for a ladies luncheon.
Take it to a potluck party, a sick friend, or a new mother.
How to Make It
All you need is a few simple ingredients including some pantry and freezer staples.
Ground turkey. Pre-cook and crumble the meat. If yours renders a significant amount of fat, drain it before adding to the slow cooker.
Vegetable broth. You can certainly use chicken broth or bone broth instead, if you like.
Diced tomatoes. I like to use the fire roasted tomatoes but you can also use the regular diced tomatoes. Make sure to add the juice too!
Onion soup seasoning packet. These mixes are so great to have on hand for adding flavor to any soup, stew, or chili. We typically use Lipton or Knorr brands.
Frozen vegetables. The best mix for this is the green beans, carrots, & corn blend that's readily available in the freezer section.
White beans. Also known as cannellini beans or northern beans. Drain them through a mesh strainer and give them a good rinse to get rid of the sodium from canning. You could also use chickpeas instead.
Combine all the ingredients in a slow cooker and cook on low for 8-10 hours, or high for 5-6 hours. Sometimes I start the cooking on high for 2 hours and then turn to low when it starts bubbling and boiling, and let it cook for about 4 more hours.
How Can I Thicken my Soup?
This recipe is pretty well balanced, but if you want to add something to it try rice, lentils, small pasta, cubed potatoes, or grains like barley or pearl couscous.
How Do You Add Flavor to Turkey Soup?
Seasoning packets in the soup mix aisle give you lots of seasoning in one easy package. Cartons or cans of broth also have a lot of flavor.
More Soup Recipes
Here are more simple soups and stew recipes to add to your table when you're hosting friends or family.
If you like this post, PIN, Share, or sign up for our Newsletter at the top of the page. And don't forget to follow CAH on Instagram or Facebook. Cheers!
Ground Turkey Soup with Frozen Vegetables
Total Time:
5 hours
15 minutes
Simple ingredients and easy to prepare in the slow cooker, this ground turkey soup with frozen vegetables is a flavorful and satisfying meal.
Ingredients
20 ounces ground turkey, crumbled and cooked
1 can (14.5 ounce) vegetable broth
2 cups water
1 can (15 ounce) diced Fire Roasted tomatoes with juice
1 packet (1 ounce) onion soup mix
16-ounce bag frozen mixed vegetables (green beans, carrots, & corn blend)
1 can (15 ounce) white beans, drained and rinsed
Instructions
Add all ingredients to slow cooker and give a quick stir to combine.
Cook on low for 6 to 8 hours, or high for 5 hours.