A Rooftop Wine + Food Pairing Party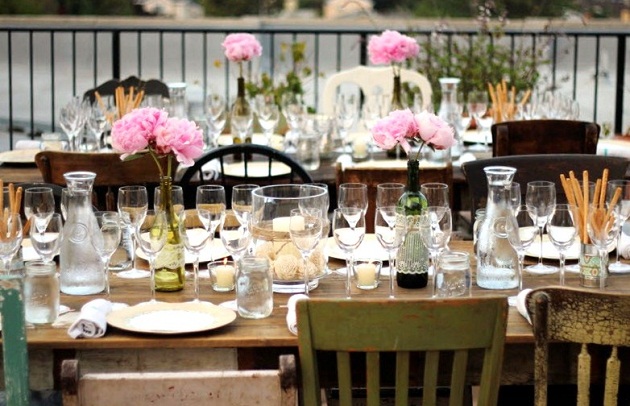 I am literally swooning over this rooftop wine & food pairing party sent in by Cristina of Le Partie Sugar, who hosted the evening to celebrate food and wine and friends. It took place on her rooftop in LA and includes vintage furniture, 4 wines paired with farmer's market food, dessert, and a guest bottle swap. Read on for all the beautiful details told by Cristina…
"
I threw a Wine Tasting Party featuring Central Coast Wine and California Fare. Living in LA, my husband and I love taking a 2-hour drive to Central Coast CA to visit the wineries in Santa Ynez, Paso Robles and Los Olivos – and wanted to share some of our favorite wines with 20 of our dearest friends.
As a kick-off to summer, the party was held on our rooftop overlooking the city. I rented vintage furniture pieces to give the night a shabby-chic feel, like we were eating al fresco in the middle of a vineyard. I carried the vintage theme into all my paper goods: the Tasting Menu Cards on each place setting, the Wine Coasters labeling each wine, the Dessert and Appetizer Cards, the Party Favors and more. Each place setting had four wine glasses, a mason jar for water, and French herringbone tea cloths for napkins. Peonies filled old wine bottles that I decorated with vintage lace, and re-covered soup cans contained the Sea Salt Grissini. Small globe lights hung overhead providing a beautiful night glow as the sun went down. I also had a basket filled with blankets and pashminas for the guests to wrap up in as the temperature cooled down.
Guests arrived at 7:30pm and were greeted with some sparkling wine and a cheese, dried fruit and nut platter. I had a small lounge area set up so guests could chat, eat and drink easily."
Cristina continues with food details, "

The tasting portion of the evening started at 8:30pm, where guests tried 4 different wines paired with 4 fresh, farmer's market dishes*.
 The 1st pairing was a

Viognier

paired with Grilled Nectarines, Burrata, Toasted Hazelnuts and garnished with mint.

The 2nd pairing was a Rosé paired with Homemade Pizza, Fresh Basil Pesto, Goat Cheese and Caramelized Onions.

The 3rd pairing was a Pinot Noir paired with Salmon topped with Lime Butter Sauce and Sautéed Asparagus.

The final pairing was a Syrah paired with Grilled Flank Steak and a Spicy Pepper and Watermelon Salad.
As if that wasn't enough food, there a dessert table filled with mini delights: Red Velvet Mini Cupcakes, Mini Dark Chocolate Chip Cookies with Sea Salt, Brownie Bites and not-so-mini Rice Crispie Treats.
On the invite I asked each guest to bring one of their favorite bottles (under $25) for the Bottle Swap – so each guest went home with someone else's favorite to try. As the party favor, I packaged my favorite wine gadget (Haley's 5-in-1 corker) for each guest to take home with their bottle from the Bottle Swap. It was a fabulous night of good friends, food and conversation!"
Wow, I am super impressed and want to BE at that party! The details are so lovely and elegant, and Cristina did all the baking, decorating, menu prep, and paper designs herself. She did hire a caterer to do some last minute prep & serving for the 4 food & wine pairings, however. A nice touch so you can mingle with your guests instead of working in the kitchen.
This is a great reminder that you don't always need a special occasion to throw a fabulous party.  Although it would be fantastic for a milestone birthday or engagement party.
Thanks for sharing Cristina. Cheers!