Our Wine Tasting Tour in Tuscany
On our trip to Florence we booked a Wine Tasting Tour in Tuscany and had the best experience! It was a day full of fun, relaxation, food, and wine. I'm sharing our trip details here!
As I mentioned in my first post about our 5 days in Florence, we did an amazing wine tasting tour in the Tuscan countryside. This was at the top of our list of things to do and I was thrilled to partner with TripAdvisor to plan our excursion.
The truth is, if it hadn't been for TripAdvisor I wouldn't have know where to begin in booking our wine tour. The site makes it easy to search for what you're interested in, gives a nice detailed description, has reviews and photos from people who have gone before you, AND lets you book it right there. I can't say enough about how helpful it was!
We decided to book the Chianti Wine Tour which included tastings at two wineries along with lunch, a visit to the medieval town of San Gimignano (home of the 'Worlds Best Gelato' winner), and a stop at Michelangelo Square where you get the best views of Florence.
A trip to Florence isn't complete without a day wine tasting tour in Tuscany!
Our wine tasting tour in Tuscany began at 9:30 in the morning as we all met at a central location to board the van. The total group size was about 16 people divided among two vans. The drivers/tour guides spoke English perfectly, and were absolutely delightful!
Our first stop about 30 minutes outside of Florence was Fattoria Poggio Alloro which consists of the vineyards, a working farm, and a Bed & Breakfast. We were treated to a tour of the vines and their unique breed of Chianina cattle. The cows are a beautiful white color and are known for their high quality of meat that's high in protein and low in fat and cholesterol. Tuscany is knows for its Florentine steak and these are raised with the highest standards.
With a stunning view of San Gimignano on the horizon, we sat outside for the wine tasting accompanied by cheese, bread, and olive oil. While this IS Chianti territory, it's also known for its Vernaccia. Vernaccia is a white wine made from Vernaccia grapes that are grown in and around the town of San Gimignano. I was a fan! It's not too sweet, not too dry, but juuust riiiight.
We also tasted a couple of reds and some Lemoncello. Chianti DOCG & Tuscan Reds are made with the primary grape of Italy – the Sangiovese. There are very strict guidelines that producers must follow in order to get the DOCG label as it's the highest classification there is.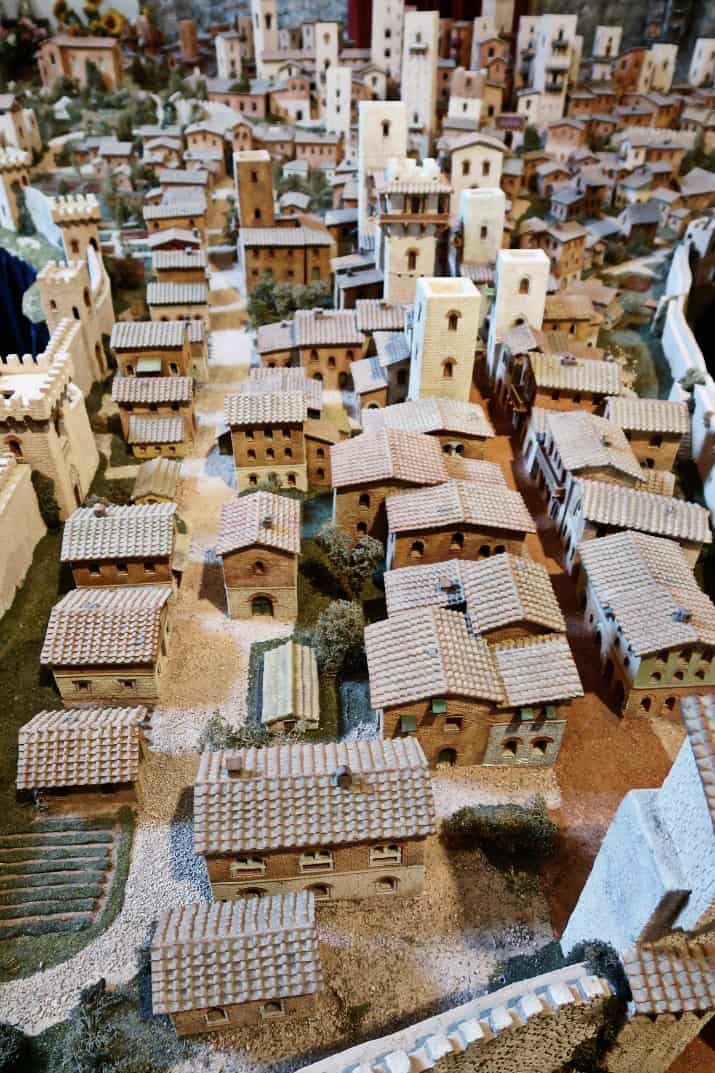 Our Wine Tasting tour in Tuscany included two wineries, the town of San Gimignano, and a stop at Michelangelo Square.
Before heading to our second winery we stopped to visit the town of San Gimignano. It's an ancient, walled town with 13 medieval towers. Oh, and it also happens to be home to the Gelato World Champion! I would have loved to spend more time there but after getting a quick guided tour and our gelato it was time to get back in the van for our wine and lunch pairing.
Our second wine tour was at Tenuta Torciano Winery. This stop was different from the first in that there was no tour of the grounds but we had a 4-course lunch with about 9 different wine pairings/tastings. It was pretty fantastic!
Lunch consisted of cheese & charcuterie, a rustic white bean soup drizzled with their Pepper Olive Oil, lasagna bolognese, and biscotti with Vin Beato sweet dessert wine. These courses were paired with a variety of whites and reds.
As the day was coming to an end we headed back to the city with one last stop at Piazalle Michelangelo to see the best view of Florence. It was beautiful and I'm not sure I would have hiked up to the square otherwise.
We were dropped off at the same location we boarded in the morning, and the whole tour lasted about 8 hours. Since our tour was designated "English" speaking we were able to chat with the other participants easily and met people from Ireland, Australia, Germany, and even California and North Carolina!
Since we traveled with our teenage kids, we felt comfortable leaving them at the hotel during the day. The hotel has a rooftop swimming pool, a gym, and a restaurant, and Florence in general felt very safe.
I'm grateful to TripAdvisor for the chance to work with them and discover more of what they have to offer. Booking our wine tasting tour in Tuscany was effortless and everything I wanted and more! It really was one of the highlights of my trip!