Baked Scallop Appetizers Served In Shell
This easy baked scallops appetizer starts with fresh or frozen jumbo sea scallops so they're quick to make year round. They're sweet and tender with buttery breadcrumb and Parmesan cheese topping, all stuffed in a baking shell or seashells. Cook in the oven for an elegant dinner party appetizer, a tapas party, or a fancy cocktail party.
Elevate your party menu by adding a seafood appetizer to the list. My recipe has just 4 ingredients so the sweetness of the scallops really shines through and is complemented by the salty texture of the cheese and breadcrumb mixture.
Best Scallop Starters Recipe
Whether you're looking to impress someone for date night, entertaining for a special occasion, or you just want to treat yourself, this elegant hors d'oeuvres will do the trick!
Why You'll Love It
Easy! Sometimes working with seafood can seem intimidating but this scallop appetizer is basically foolproof.
Restaurant style. If you're looking to impress your guests, serve these! The taste is delectable and serving scallops in a shell gives them an upscale look that you'd find in a restaurant.
Simple. All you need are 4 ingredients, plus seashells. However, you can bake these in a dish if needed.
Serve a crowd. It's easy to double or triple the recipe to serve more people.
*Post contains affiliate links
Ingredients & Substitutions
Sea Scallops. These are large enough to serve as a single appetizer, unlike the tiny Bay Scallops. I used Jumbo sized scallops which took about 20 minutes to cook through. If you use some that are a bit smaller it might take about 15 minutes to bake in the oven.
Butter. Salted or unsalted will work. You'll use it in two steps so it will be divided in half and melted. You can melt it in the microwave in a small bowl, at 30-second increments. Place a microwave cover or paper towel over the bowl because sometimes the butter can pop and splatter while heating.
Grated Parmesan Cheese. This helps create the topping for the scallops and it's so good for adding a salty, nutty flavor. You can also use Asiago cheese, finely grated.
Bread Crumbs. Use plain or Italian seasoned breadcrumbs. It's going to create a delicious texture and flavor to these appetizers once it's bake to a golden brown.
Garnish. Once cooked, finish the dish with a sprinkling of fresh chopped parsley and add lemon wedges so guests can squeeze fresh juice onto their portion.
How to Make It
Get shells for baking here, or use some you've collected from the beach. Here's how to bake scallops in the shell.
Rinse the scallops and gently pat them dry with paper towels.
Place each one into a shell, or in a baking dish if you're not using shells. If you have a lot of scallops you can do a mix of both. Sprinkle on a little salt and pepper to taste, if desired.
Combine cheese and breadcrumbs in a small bowl. Pour melted butter over mixture and stir until well integrated.
Top each scallop with about a teaspoon of the breadcrumb mixture and add a small drizzle of melted butter to the base of each one, inside the shell. If you want to make lemon butter, squeeze a wedge of lemon into the melted butter before adding to the shells.
Bake in the oven for about 20 minutes, depending on their size.
Remove the scallops from the oven and garnish with fresh chopped parsley before serving.
Storage
Store completely cooled leftovers in the fridge within two hours of baking. Place them in an airtight container in the refrigerator for up to two days.
Reheat in the oven at 325º F for 5 to 10 minutes.
Make Ahead
Prep these ahead for a party by assembling them all the way up to the cooking step. Refrigerate until guests arrive and then pop them in the oven to cook. You may need to add 5 minutes to the baking time if they're really cold. Serve warm.
Expert Tips
I recommend buying scallops that are ready to cook, NOT scallops that are in their shell. It will save you so much time and labor.
You can use frozen scallops for this recipe but make sure you thaw them in the fridge overnight. They should be fully thawed so they cook evenly. You can also use fresh scallops.
Rinse the scallops under cold running water and dry thoroughly with a paper towel before using.
Make these without the shell. Just place the scallops in a lightly greased baking dish and proceed as directed.
Add more or less of the breaded topping to suit your taste.
If your breaded topping starts to get too dark, lay a sheet of aluminum foil over top to keep it from further browning.
Here's how tell if your scallops are done; keep these tips in mind. Raw scallops have a transparent or clear look to them, while cooked ones are more opaque and white. When cooked through, they shouldn't feel too firm; that's a sign they've been overcooked and will be tough and chewy.
Use a digital thermometer for most accurate reading on doneness. Scallops should be 145º F in the center.
Serving Suggestions & Party Tips
Present the scallops in shells on a bed of rock salt and sprinkled with finely chopped parsley. Add some lemon wedges so guests can squeeze it on themselves.
Serve the shells with mini spoons or forks.
These are a terrific appetizer for salmon, or added to fettuccini alfredo.
Bake these in a dish and serve as an entrée for dinner. Add some fresh fruit salsa on the side.
Pair these buttery scallops with white wine like a light chardonnay, or champagne!
These scallops appetizers are baked and served right in a shell giving theme an elegant presentation for parties, plus they're simple to make.
More Seafood Appetizers
If you like this scallop appetizer recipe, try more seafood options.
If you like this post, PIN, Share, or sign up for our Newsletter at the top of the page. And don't forget to follow CAH on Instagram or Facebook. Cheers!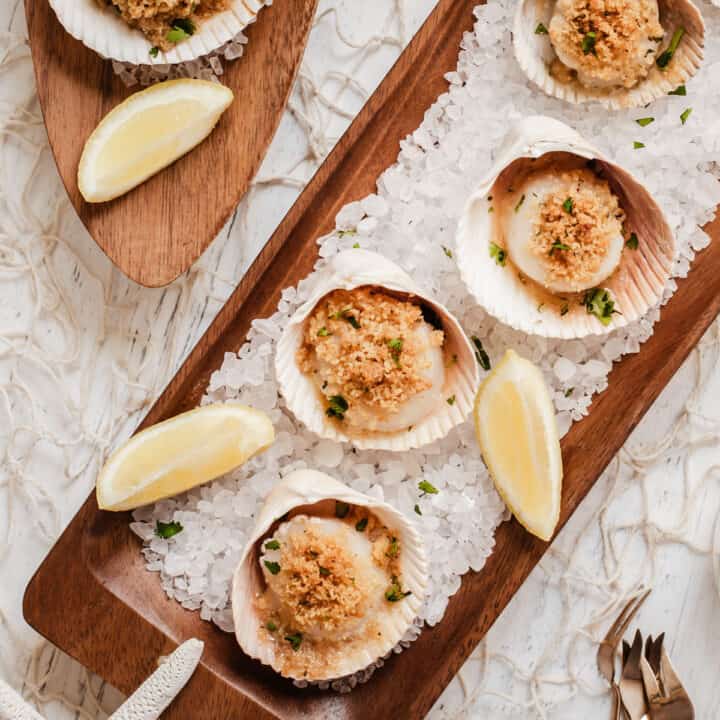 Baked Scallops Appetizers
Delicious breaded baked scallops appetizers are topped with a buttery mixture of breadcrumbs and Parmesan cheese. They're easy to make and are an impressive hors d'oeuvre for dinner parties and seafood feasts.
Ingredients
10 Jumbo Sea Scallops (about 12 ounces), fresh or fully thawed from frozen
¼ cup grated Parmesan cheese
¼ cup Plain bread crumbs
4 tablespoons butter, divided and melted
Instructions
Preheat the oven to 400º F.
Rinse the scallops and pat dry with a paper towel. Place each scallop in a clean seashell and place them on a baking sheet.
In a small bowl combine bread crumbs, cheese and 2 tablespoons of melted butter.
Top each scallop with about a teaspoon of the crumb mixture, and pour remaining 2 tablespoons of melted butter into shells to surround the scallops.
Cook for about 20 minutes or until the internal temperature is 145 degrees F. Serve warm.
Notes
Instead of cooking in the shells, you can place the scallops in a baking dish using butter to lightly coat the bottom before placing the scallops.