Easy Smoked Salmon Appetizer Bites
These smoked salmon appetizer bites are a fabulous finger food for parties. Lox-style salmon sits atop a cream cheese sauce with capers on a potato base. They're quick and easy to make, served at room temperature and can be made ahead. Serve them at fancy cocktail parties or ladies luncheons.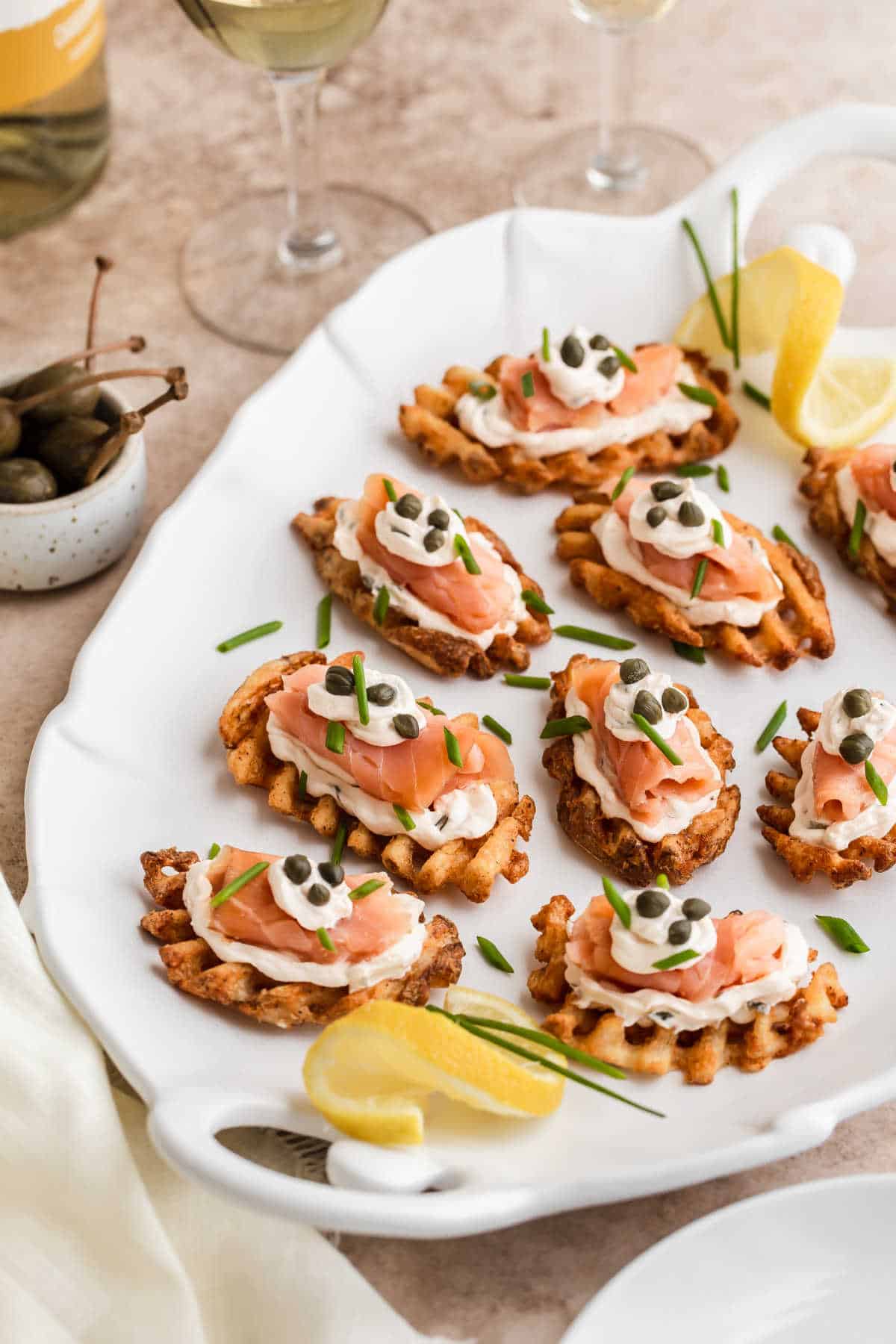 Smoked Salmon Appetizers
If you like smoked salmon you're going to love these tasty appetizers! This recipe is a delicious combination of cold smoked salmon, seasoned chive cream cheese, and potatoes in the form of waffle fries.
I think any time you add seafood to a party, it's a little more elegant. And smoked salmon appetizer bites are right at home on a table filled with easy hors d'oeuvres.
These bites are similar to a crostini only we're using a potato base instead of bread. That makes them gluten free!
When to Serve
Why should you make this finger food recipe? Besides the fact that they're delicious, here are 6 great reasons.
Ingredients
Smoked salmon. Use a lox-style salmon rather than flaky-style. You're going to roll up small slices to set on top of the spread. I find packages at Aldi for a good price in the refrigerated meat section.
Chive flavored cream cheese. This is the base of the creamy spread and the chives add loads of flavor to start with. Let the tub sit out at room temperature for at least 30 minutes to soften and make it easy to work with.
Lemon juice. Use the juice from a fresh squeezed lemon for the best flavor. Since these salmon bites use so few ingredients, each one needs to be the best it can be. Let the lemon sit at room temperature for at least 30 minutes so it's easier to extract the juice.
Tabasco sauce. This is brand specific and gives the cream cheese a little zing that's not over powering.
Capers. Make sure you get brined capers and not caper berries. You'll top each appetizer with a few capers to add a burst of salty flavor. It's one of salmons favorite partners!
Frozen waffle fries. Using waffle fries from the frozen food section makes these super simple to make. Plus, those little crevices and texture add so much flavor! I've made them before using russet potatoes, slicing and frying them myself. But the frozen waffle potatoes hold up on the serving platter and taste better!
You'll find different sized waffle fries in the bag which means some of the finger foods will be smaller than others. People can choose a one-bite snack or a 2-3 bite option.
Pro Tips
Make the sauce ahead and then assemble the appetizers up to an hour before serving.
Garnish with capers and chives or dill for a pretty presentation.
You'll use lox-style smoked salmon and roll up small slivers to fit on top of the potato bites.
You can use a piping bag to add the cream cheese mixture, or simply add a dollop with a small spoon. Either way it acts as an adhesive to hold the salmon on to the waffle fries.
Add another small dollop of the cream cheese on top of the salmon to help adhere the caper and herb garnish.
Don't have piping bags on hand? No problem. Just use a plastic sandwich bag, fill it with the cream cheese mixture, work it down to one corner and snip off the corner about 1/4 inch. Squeeze from the top down to pipe on the lemon-chive cream cheese.
PARTY TIP: Pair these with a white wine like Sauvignon Blanc.
More Cocktail Party Food
Here are some other hors d'oeuvres to add to a cocktail party or holiday party menu.
If you like these smoked salmon appetizer bites, PIN, Share, or sign up for our Newsletter at the top of the page. And don't forget to follow CAH on Instagram or Facebook. Cheers!
Easy Smoked Salmon Appetizers
Additional Time:
25 minutes
Ingredients
30 frozen waffle fries
8 ounces Smoked Salmon (Lox)
Cream Sauce
8 ounces cream cheese with chives, softened at room temperature
1 teaspoon fresh lemon juice
2 teaspoons Tabasco sauce
Garnish
1/4 cup capers
Fresh chives or dill
Instructions
Preheat oven and cook frozen waffle potatoes according to package directions. When done, let cool.
Combine cream cheese, lemon juice, and Tabasco sauce in a small bowl.
Using a piping bag or small spoon, add cream cheese mixture on top of cooled potato slice and top with a slice of rolled salmon.
Add another tiny dollop of cream cheese on top of salmon and garnish with capers and cut chives.
Serve at room temperature.