Create a Mothers Day Brunch Table & Menu with these ideas and tips. This beautiful spring tablescape hosts mix and match china for a tea party style brunch setting. I'm sharing a delicious and easy brunch menu that you can prepare to celebrate your mom friends or for your own mom.
Mother's Day Brunch Table and Menu
What do you think of when you think about celebrating Mother's Day? My mind immediately goes to pretty floral china and a brunch menu with mimosas! That's why I decided to create this gorgeous mothers day tablescape and menu plan.
For this Mother's day brunch table I used my collection of vintage china mixed with modern pieces for an eclectic, feminine table setting. The result is this lovely table that's perfect for a late morning brunch or for a tea party. For more ways to turn this into a tea party check out these 20 tips for entertaining with tea.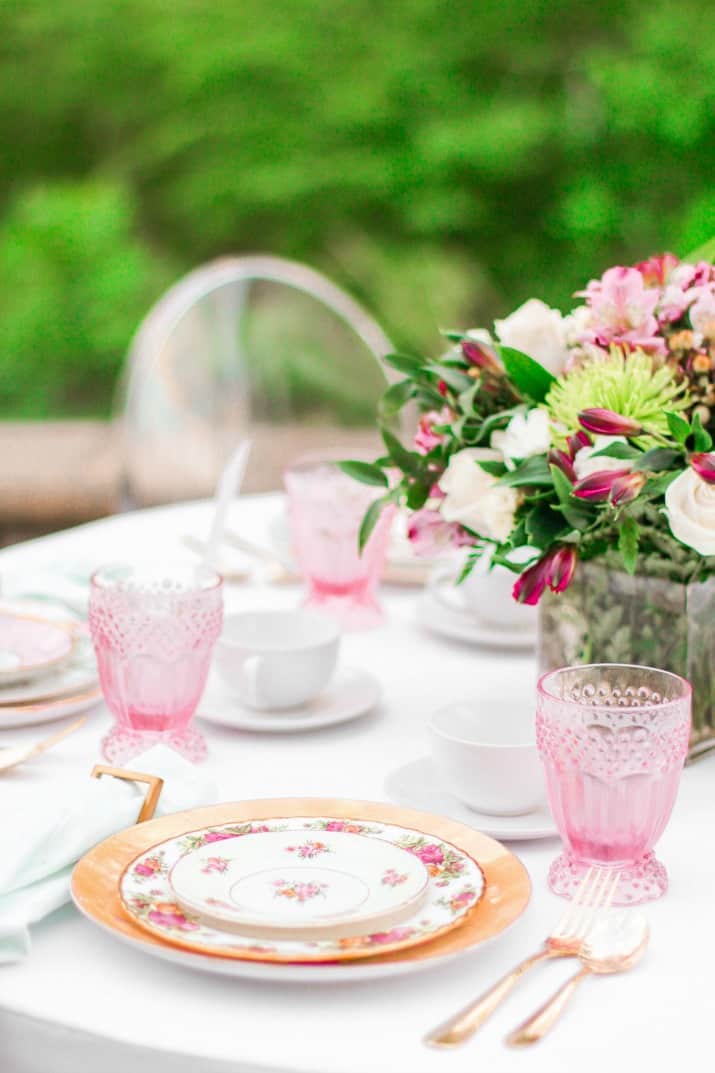 Mother's Day brunch Menu
Mothers Day Tablescape tips and ideas
I love layering dishware and using different designs that complement one another. The secrets to achieving the right look are simple: follow a specific theme and color. Here, I've used similar colors and a floral motif, as well as hints of gold. You can see the details in each of the place settings, and how they all work together. While most of the pieces are vintage, I've inserted some new finds into the mix as well. They were found at HomeGoods on various outings.
The glassware is also a mix of old and new. The pretty pink glasses are vintage, while the tea cups and saucers are modern.
The flower arrangement centerpiece is full and lush and picks up the colors in the dishes, making the table a cohesive design. Add even more floral detail with this Mother's day printable card. These are beautiful and you can print one out for each of your mom friends, or print a single one for your mother.
Don't have enough matching napkins to go around? Improvise! While this setting was for 5, I had only 4 of the matching blue and white napkins I wanted to use. So to continue the mix and match composition of the table, I used a piece of fabric that has a similar color and style and layered it over a solid cream color napkin. It totally works!
Provide a little side table for a special bottle of champagne. It's a celebration of mom after all!
Get more tablescape inspiration from this beautiful brunch for Mother's day.
Don't forget the gifts and a card, and lots of hugs and kisses for mom! Cheers.