Goat Cheese & Roasted Red Pepper Quiche
Delicious goat cheese and red pepper quiche is ideal for brunch parties and ladies luncheons. Vegetables and two kinds of cheese are loaded into refrigerator pie dough and baked to perfection.
This recipe is great for entertaining because it packs a lot of flavor without a lot of work. That's because of its key ingredients, tangy goat cheese and roasted red peppers.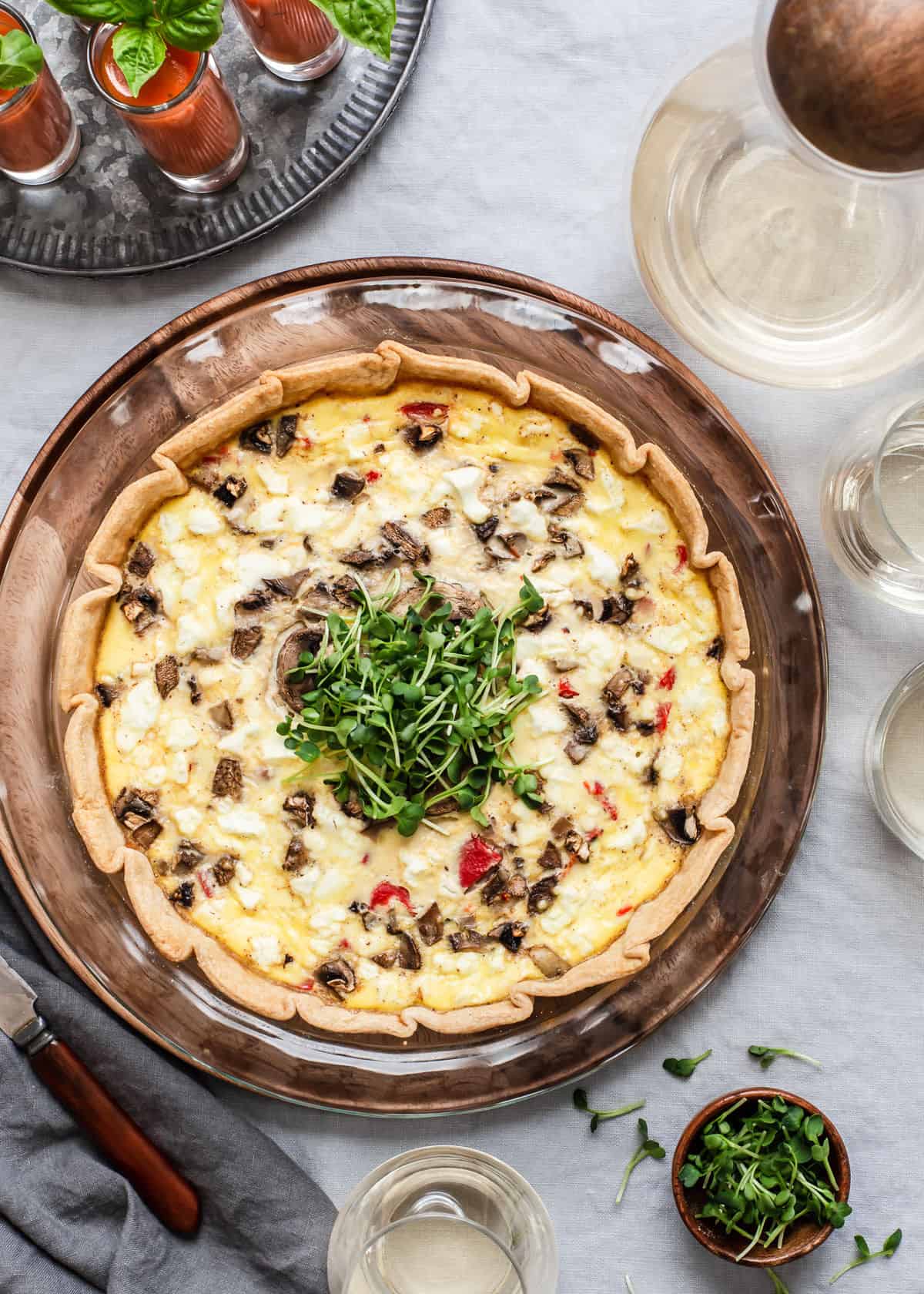 As with most quiches, this tastes terrific for a brunch party, or a ladies luncheon whether you're hosting at home or going to a potluck.
I served it at this baby shower sip and see to rave reviews! And it's a terrific idea for Mother's day brunch.
Make it for Easter brunch and Christmas brunch for family and friends, and serve it on a breakfast buffet table.
Why You'll Love It
Versatile. Make it for breakfast, lunch or dinner. Change up the vegetables inside.
Easy. Quiche is a notoriously easy dish to make and it's practically fool proof.
Make Ahead. Cook it the night before you need to serve it for a brunch party.
Delicious! Two cheeses, tasty vegetables and great texture hits all the right note.
Vegetarian. It's tasty enough for everyone but vegetarians will love this meatless dish.
Ingredients & Substitutions
Refrigerated Pie Crust. Use a deep dish dough for a regular quiche. Crimp or fold the edges for a rustic presentation.
Eggs. Use "large" eggs and let them sit at room temperature for a bit before using. It makes them easier to crack.
Heavy Cream. Using cream makes this quiche creamy and decadent. You could substitute with milk or half-and-half, too.
Cheese. I use 2 types of cheese for this veggie quiche. Parmesan adds a layer of salty, nutty flavor, while goats cheese adds the distinct gourmet taste we love. You can substitute the parmesan with white cheddar, asiago or gruyere if you like.
Roasted Red Peppers. These have a tremendous amount of flavor but they're packed in liquid. Make sure to pat the slices dry with a paper towel, before slicing and using in the recipe.
Mushrooms. I use fresh mushrooms and give them a rough chop. You could also substitute with canned or jarred sliced mushrooms. Make sure to drain them and pat dry before adding.
Spices. You'll need salt, white pepper and nutmeg for this recipe. If you don't have nutmeg you can leave them out, but it does bump up the flavor nicely.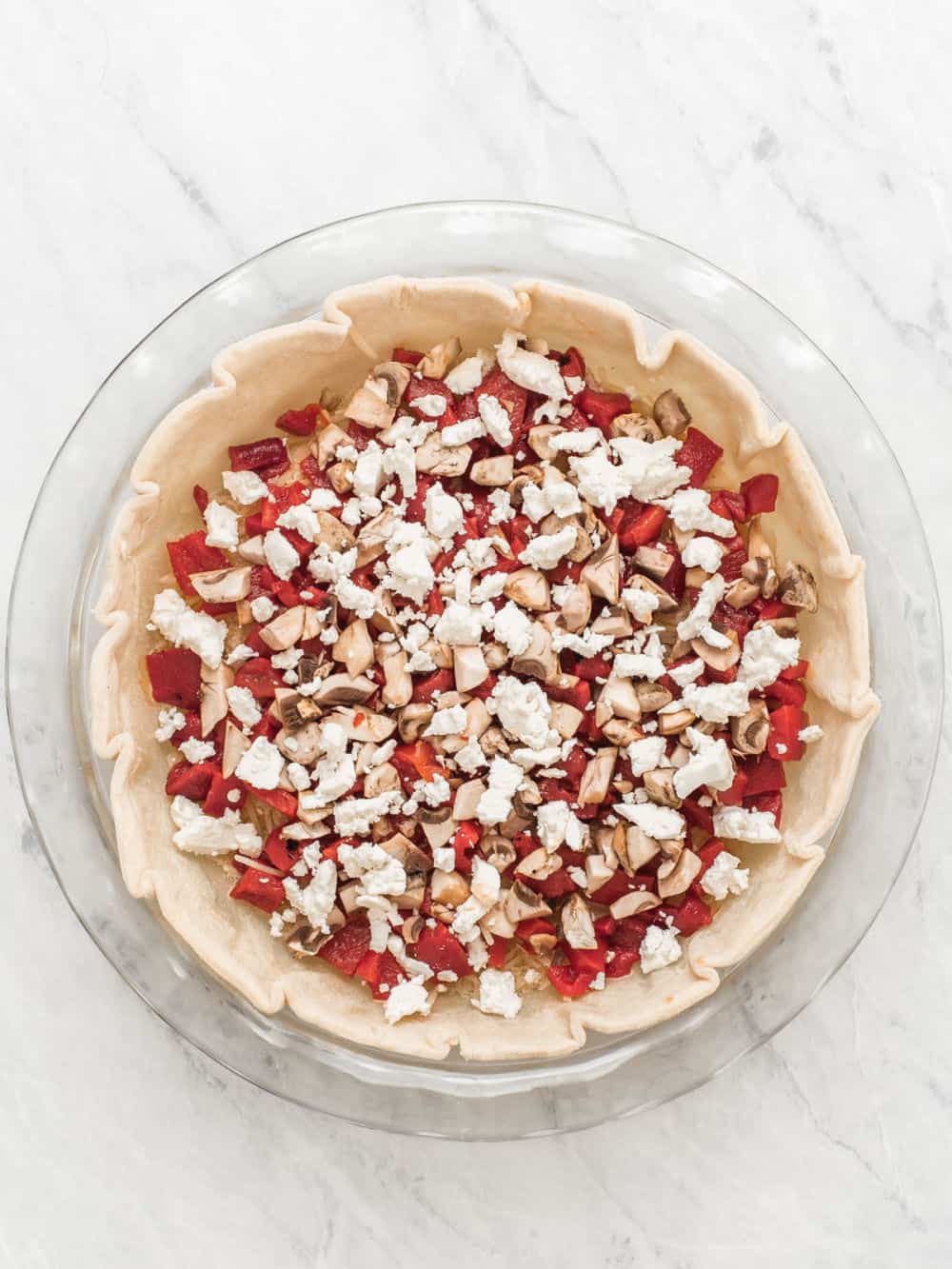 How to Make It
Prepare the crust (see blind baking below)
Mix the custard ingredients together in a medium size bowl.
Assemble the quiche in layers. Add the parmesan cheese on the bottom, then top it with the vegetables and goat cheese. 
Pour in the egg mixture and bake until the center is slightly jiggly. It will set fully as it cools.
EXPERT TIP: Place the crust on a sheet pan and then add the ingredients to it. That way you can easily transfer it to the oven without spilling, and the pan will catch any overflow while cooking.
How to Know When It's Done
The outer portion should be set while the center is barely jiggly. It will fully set in the middle as it sits and cools for about 10 to 15 minutes.
You can insert a toothpick or knife about 1-inch from the center and it should come out clean.
Blind Bake the Crust
Blind baking the quiche crust gives it a crusty base so the liquid filling doesn't make it soft and soggy.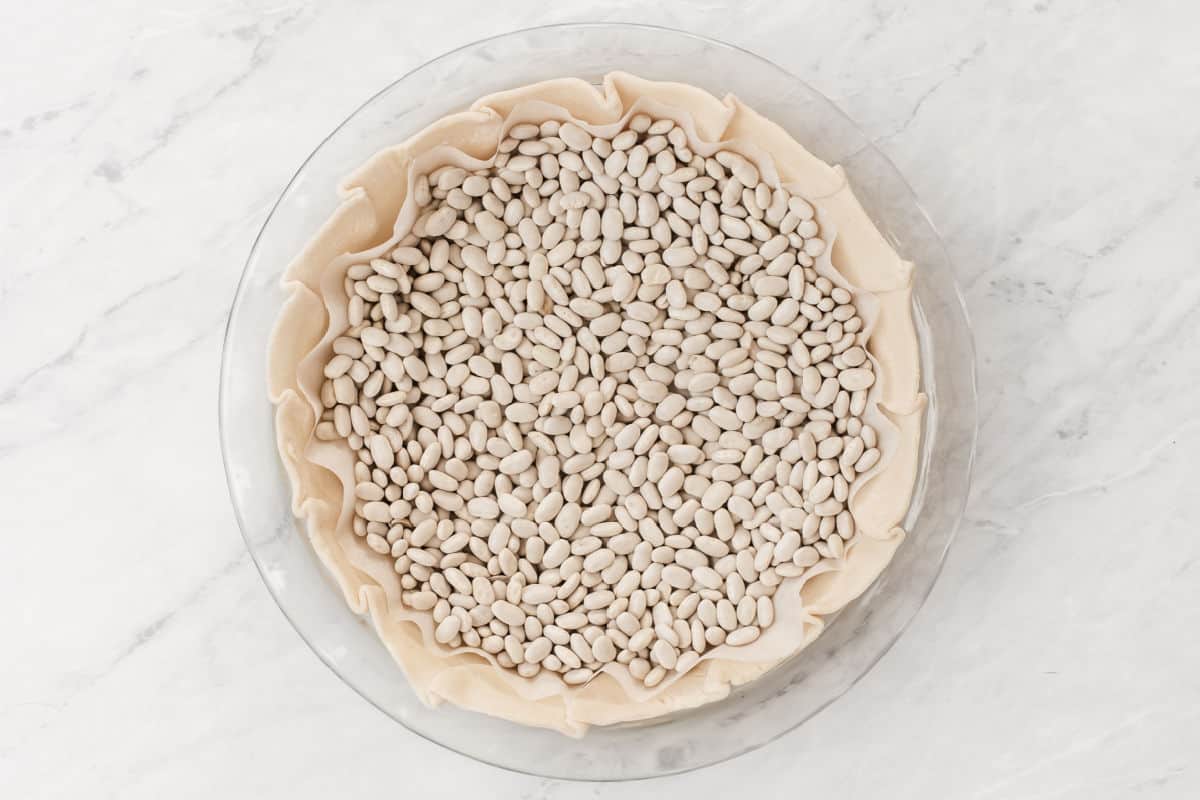 Add pie dough to a pie dish and place a layer of parchment paper on top.
Add a layer of pie weights, dry beans, lentils or rice to weigh it down and keep it from puffing up.
Bake for about 5 to 10 minutes, or until the dough starts to look dry.
Make-Ahead
For a brunch party or breakfast, make this up to 1 day ahead and store covered in the fridge. Bake it fully and let it cool completely before refrigerating overnight. 
You can also blind bake your crust, prep your filling, and store them separately in the fridge. Then assemble and bake when you're ready so it's nice and fresh from the oven.
Storing & Freezing
Let the quiche cool completely and cover it tightly with aluminum foil or plastic wrap. It will stay fresh in the fridge for 3-4 days.
To reheat, let it sit at room temperature for at least 30 minutes. Cover with foil and heat at 325 degrees F for about 15 minutes.
Freeze it for up to 2 months and defrost in the fridge overnight before reheating.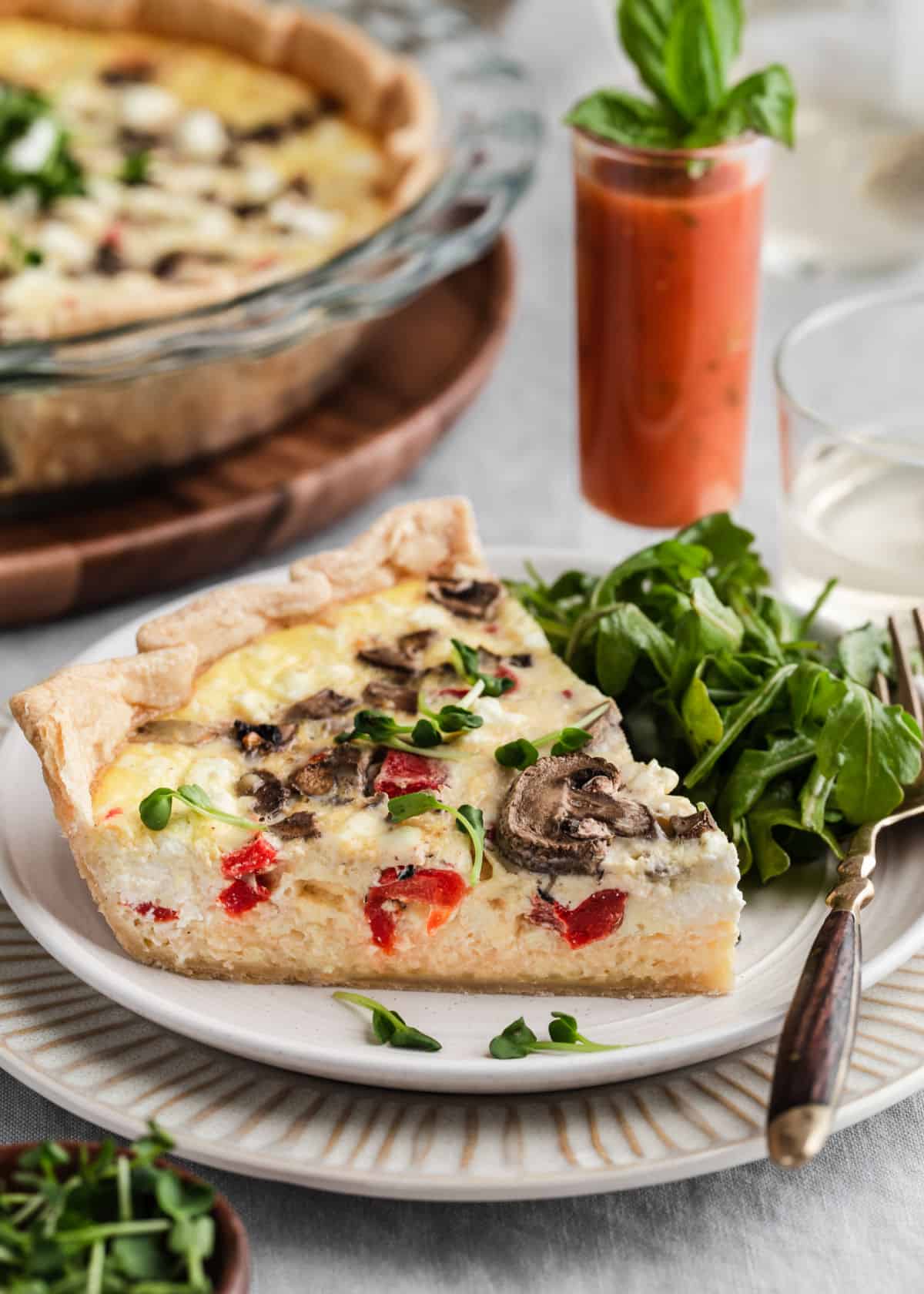 More Quiche Recipes
Here are some other quiche ideas for brunch entertaining.
Serve two quiches when you have guests. Make this one for vegetarians, and make an easy chicken quiche for meat lovers.
Make crustless mini onion quiche in ramekins for cute individual servings.
Serving Suggestions
If you like this post, PIN, Share, or sign up for our Newsletter at the top of the page. And don't forget to follow CAH on Instagram or Facebook. Cheers!
Goat Cheese and Red Pepper Quiche recipe
Additional Time:
10 minutes
Total Time:
1 hour
10 minutes
Serve a delicious brunch starting with this roasted red pepper and goat cheese quiche. It's a great vegetarian option and is easy to make for entertaining.
Ingredients
1 deep dish refrigerated pie dough (or frozen pie shell and let it thaw for 15-20 minutes)
4 eggs
1 cup heavy cream
1 cup chopped roasted red peppers (from a jar, drained and patted dry)
1/2 cup fresh chopped mushrooms
3-4 ounces goat cheese
1 to 1 1/2 cup shredded Parmesan cheese
1/2 teaspoon salt
1/4 teaspoon nutmeg
1/8 teaspoon white pepper
Instructions
Preheat oven to 350° F.
Using a fork, poke the bottom and sides of crust and pre-bake for 5 minutes. Remove and set aside.
Sprinkle Parmesan cheese, red pepper, and mushrooms into bottom of pie shell. Top with crumbled goat cheese.
Combine cream, beaten eggs, salt, pepper and nutmeg in small bowl until blended. Pour into pie shell.
Bake for 20 minutes; remove from oven and cover edges of crust with aluminum foil to prevent over-browning.
Put back into oven and continue to cook 20-25 minutes or until center looks firm and doesn't jiggle any longer.
Cool for 5-10 minutes on wire rack before serving.
Notes
Bake quiche on baking sheet to catch spills or overflow during cooking.
You can substitute Gruyere or white cheddar cheese for the Parmesan, or use a combination of these together. I've done both and it all tastes great!