Easy White Chocolate Martini (3 Ingredients)
This white chocolate martini is creamy and delicious because it's made with Godiva white chocolate liqueur, Baileys Irish Cream, and topped with half and half. Just 3 simple ingredients create this decadent drink that tastes like dessert in a glass.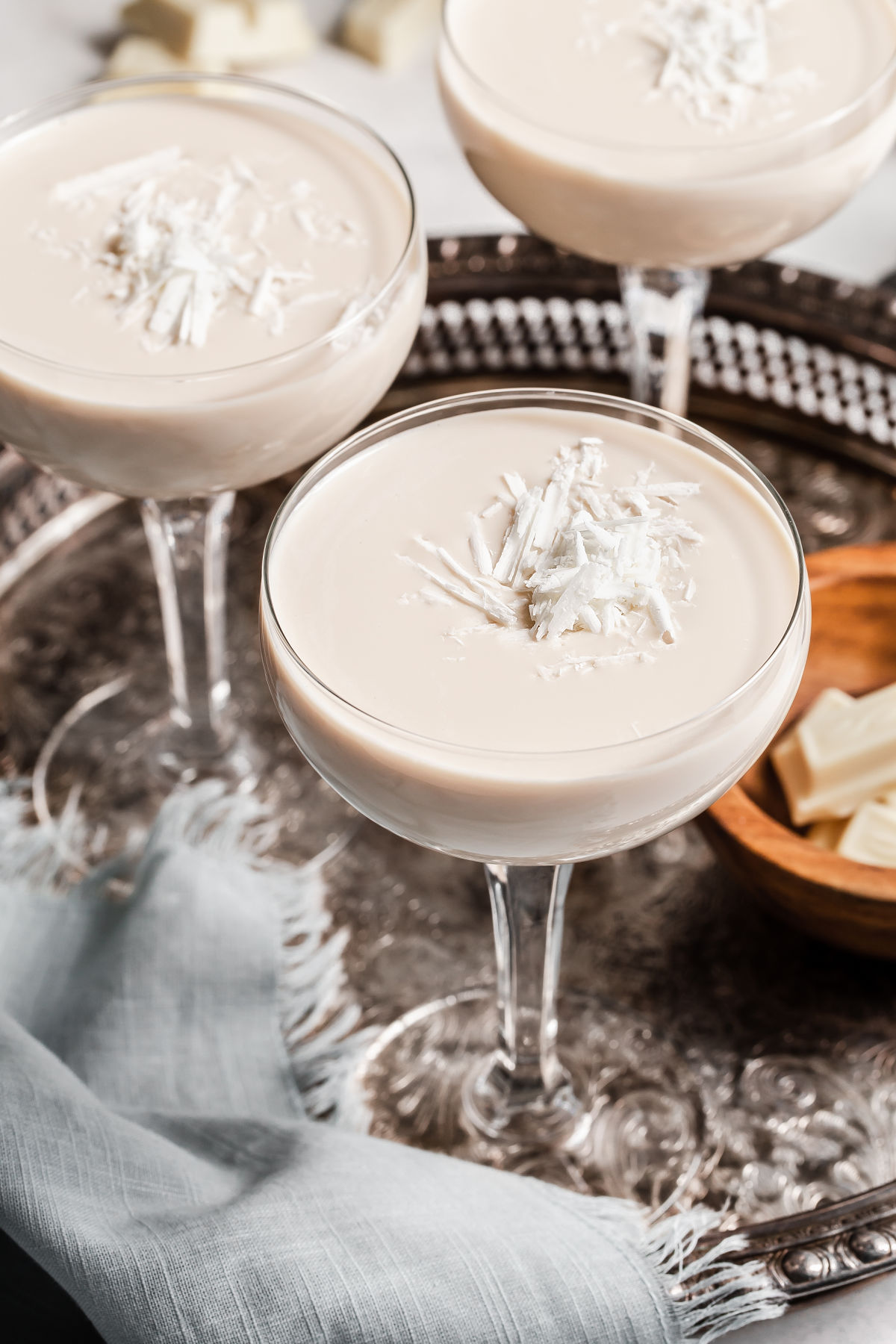 Godiva white chocolate martini
If you're looking for an easy white chocolate liqueur cocktail, this recipe will satisfy your sweet tooth whether you mix it up for happy hour or after dinner drinks.
Make this a signature cocktail for a party and give it a cute name like a white chocolatini. Serve it ice cold along with appetizers or desserts.
When to serve it
Because this drink is rich and creamy, you may not need more than 2 or 3 per person. I find the cream to be a bit filling, in a good way! You can sip on it without feeling too buzzed, making it a great drink to start the night.
I love to sip on one for happy hour or pre-dinner hors d'oeuvres.
It's a nice complement to your dinner party menu ideas.
You could serve it in small shot glasses on a dessert table.
Add it to a winter themed, or white Christmas cocktail party.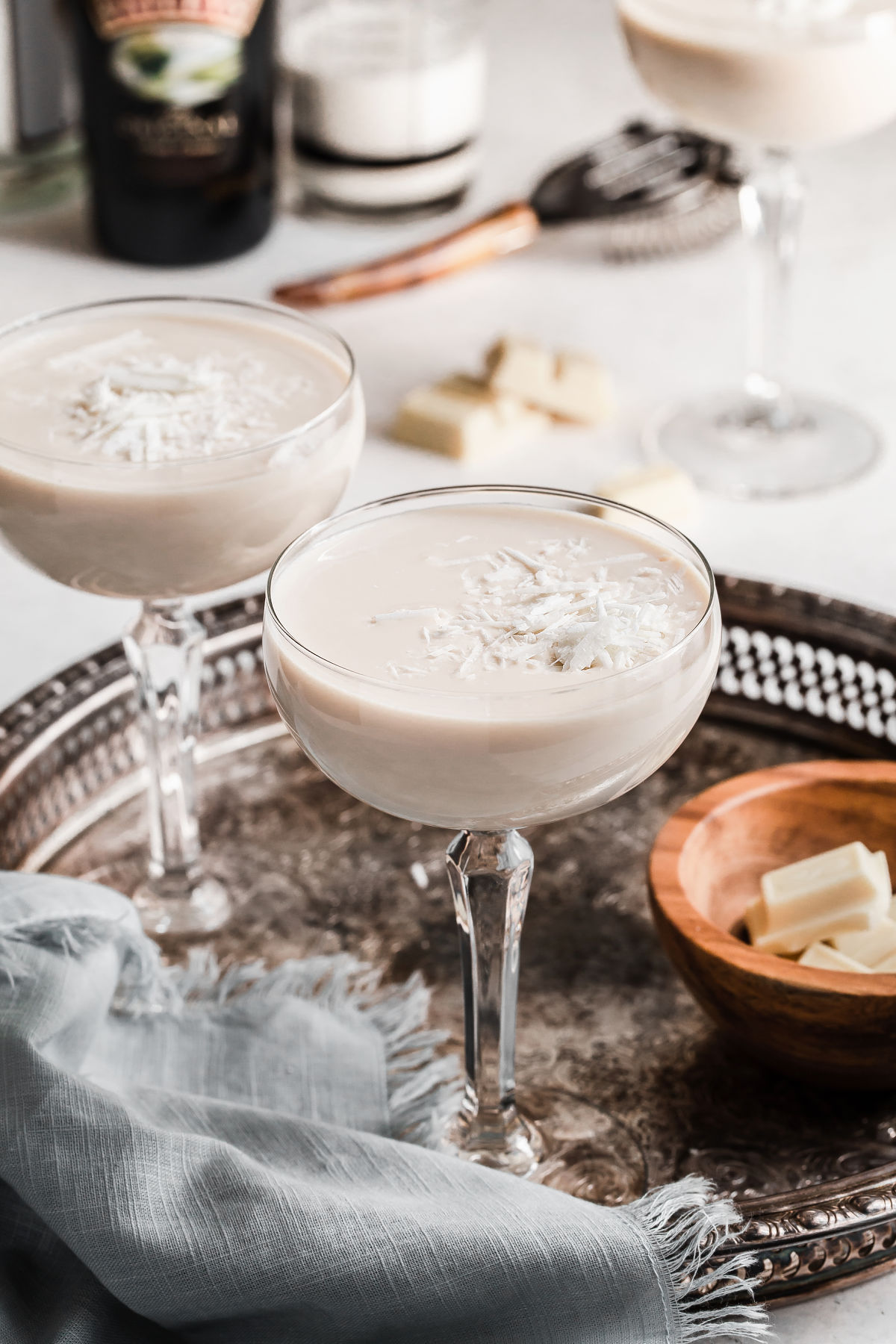 How to make white chocolate martini with Baileys
All you need to make this drink are these 3 ingredients, some ice, and a cocktail shaker.
Godiva White Chocolate liqueur – you could also experiment with Godiva milk chocolate or dark chocolate liqueurs.
Baileys Irish Cream – Baileys is the OG of Irish Cream, created in Ireland. It's flavored with cream, cocoa, and Irish whiskey so it's perfect in this cocktail.
Half and Half – you can also substitute with milk, but the half and half makes it really creamy and delicious.
Add all three ingredients into a cocktail shaker with ice. Replace the lid and shake vigorously for a few seconds. Strain into martini glasses or coupe glasses, and serve.
PARTY TIP: Add white chocolate shavings as a yummy garnish. Other options are a chocolate rimmed glass, a raspberry or strawberry on the side of the glass, or you can make some DIY chocolate garnishes to dress up your cocktail and make it even sweeter!
Alcohol FAQ's
What is Godiva white chocolate liqueur?
It's a sweet liqueur with the flavors of white chocolate and Madagascar vanilla. It's 30 proof, meaning it has a 15% alcohol content.
Can you drink Godiva chocolate liqueur straight?
You sure can! I recommend you keep it chilled in the refrigerator or serve it on the rocks so it's ice cold.
How do you store white chocolate liqueur?
Manufacturers suggest keeping it in a cool dark place, and it should last up to 18 months after opening. Refrigeration isn't necessary but you may feel more comfortable keeping it there after it's been opened.
Do I need to refrigerate Irish Cream?
Manufacturers recommend you store it in a cool place, but say refrigeration isn't necessary due to the preservative quality of alcohol. Shelf life recommendations range from 6 months to 2 years after opening. Personally, I like to keep it in the refrigerator after it's been opened just to be safe.
What else do you drink with Irish Cream?
You can combine it with lots of other flavors to create yummy cocktails. It's great for hot or iced coffee drinks. Add it to hot chocolate for a grownup version. It's a key ingredient in a Mudslide. Mix it with Kahlua over ice, butterscotch schnapps, or simply serve it by itself on the rocks.
More creamy cocktail recipes
If you like your dessert served up in a glass then you may also enjoy these sweet, creamy, and delicious cocktails:
If you like this post, PIN, Share, or sign up for our Newsletter at the top of the page. And don't forget to follow CAH on Instagram or Facebook. Cheers!
White Chocolate Martini Cocktail
A decadent dessert drink combines Godiva liqueur, Baileys Irish cream, and half and half for a delicious cocktail or after dinner drink.
Ingredients
3 ounces Irish Cream liqueur
3 ounces White chocolate liqueur
4-6 ounces Half and Half
Instructions
Add ice to a cocktail shaker and pour in all 3 ingredients. Replace lid securely.
Shake vigorously for about 5 seconds, and strain into 2 coupe or martini glasses.
Garnish with shaved white chocolate if desired.