Peach Theme Outdoor Party
You're invited to my peach themed outdoor party just in time for summer entertaining! These are great ideas for a garden party or a Georgia peach theme for a birthday or bridal shower. Easy party ideas include a themed table setting, menu, and a peach sangria bar. Grab a drink and lets party!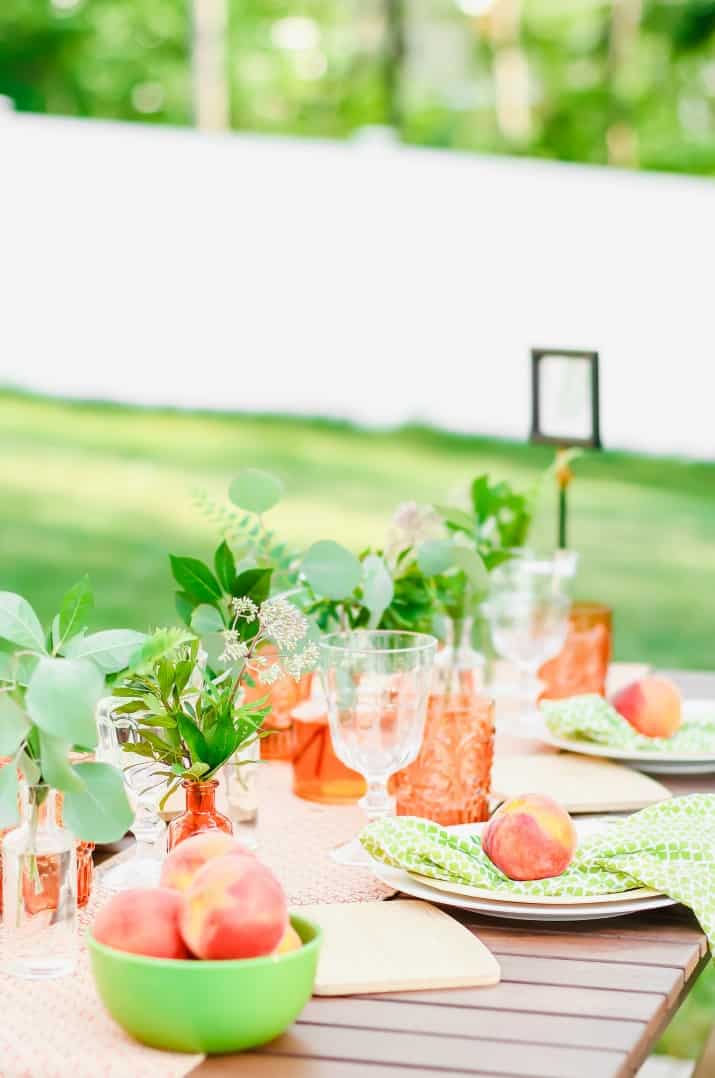 Garden Party ideas
This garden party theme is peaches and botanical, and includes some FREE printables to help you decorate. I brought out all the orange, peach, mint, and green colors together for a cohesive look for entertaining. This garden party is perfect for the ladies who lunch, or to celebrate a special occasion like birthdays and showers.
It's a good idea to create multiple spaces for an outdoor party. We set up on the patio but you can set up right on the lawn or on a large deck. Separate the space into a lounge area, a welcome bar with signature cocktail, and a dining space.
Let's start with our peach and botanical themed tablescape.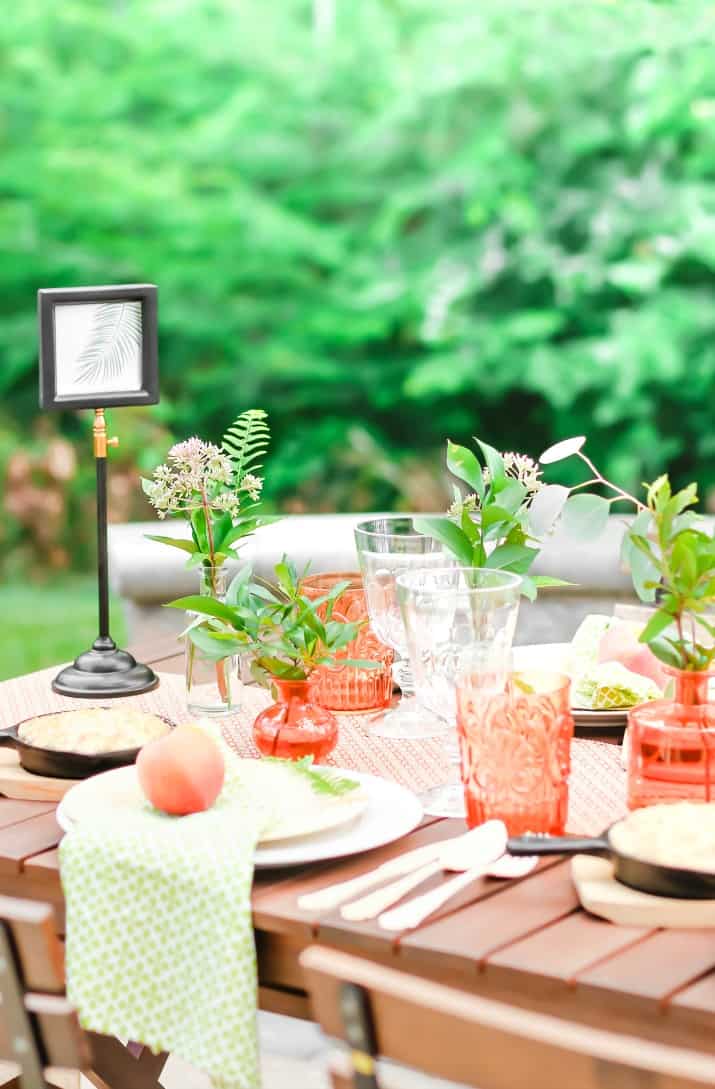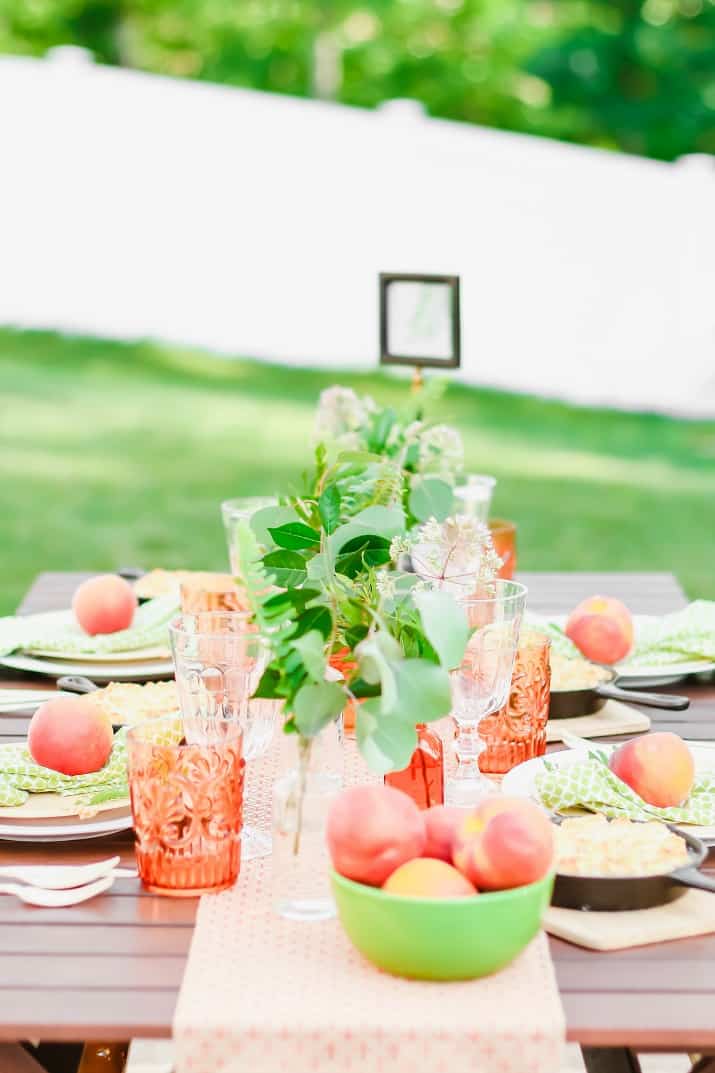 Tablescape Decoration
As usual, my favorite part of a garden party is setting the table for dining. This one couldn't be easier or more budget friendly!
Foraged plant stems and ferns are placed into small vases for a low centerpiece.
A bag of peaches is put to good use. Put a single peach at each place setting, and collect the rest in a bowl at the end of the table.
Bring an indoor dressing table outside, and turn it into a bar service. Put peach-hued alstroemaria in a vase with silver dollar eucalyptus, and place it inside one of the drawers.
My favorite decorative piece for this party is the vintage-style garden gate adorned with plant clippings and printed botanical sketches. So easy to do and you can download FREE printable botanical cards to print and use. You can print multiples and use them as place cards at each place setting too.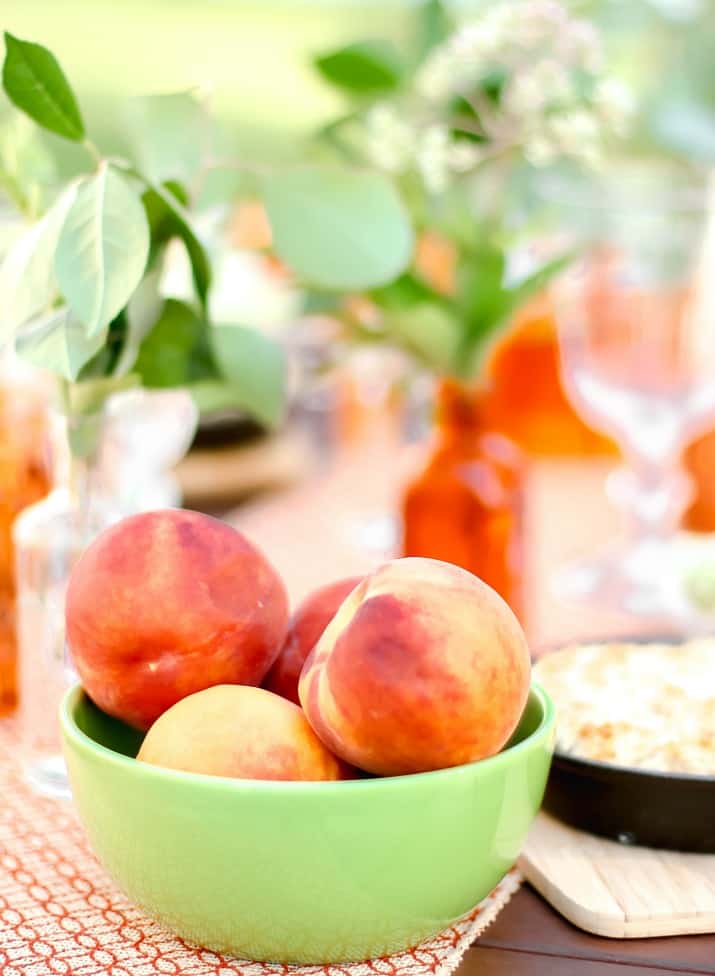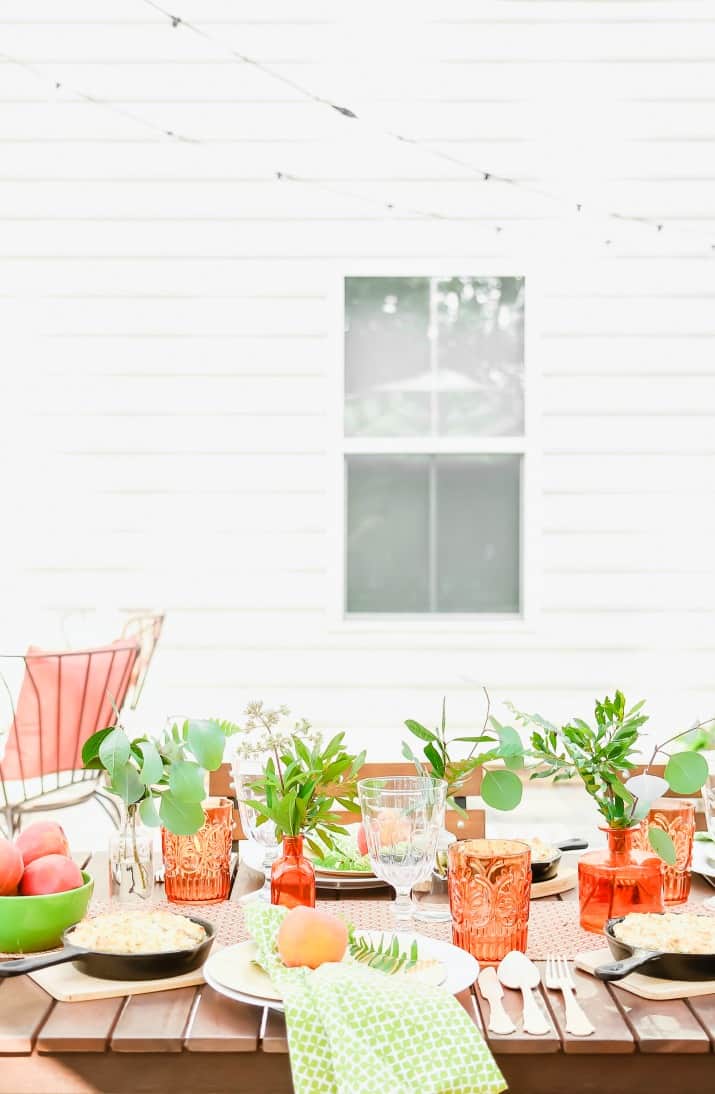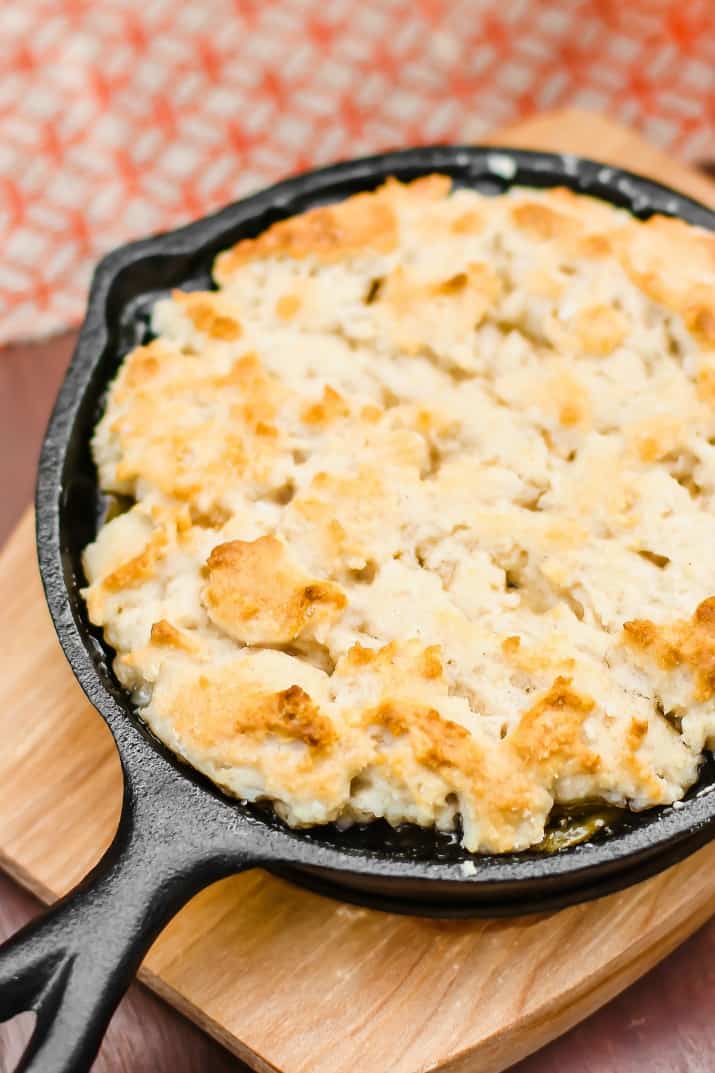 Peach Theme Menu
Add a few peach flavors to the menu. Otherwise, peach and green colored food will work well for this menu.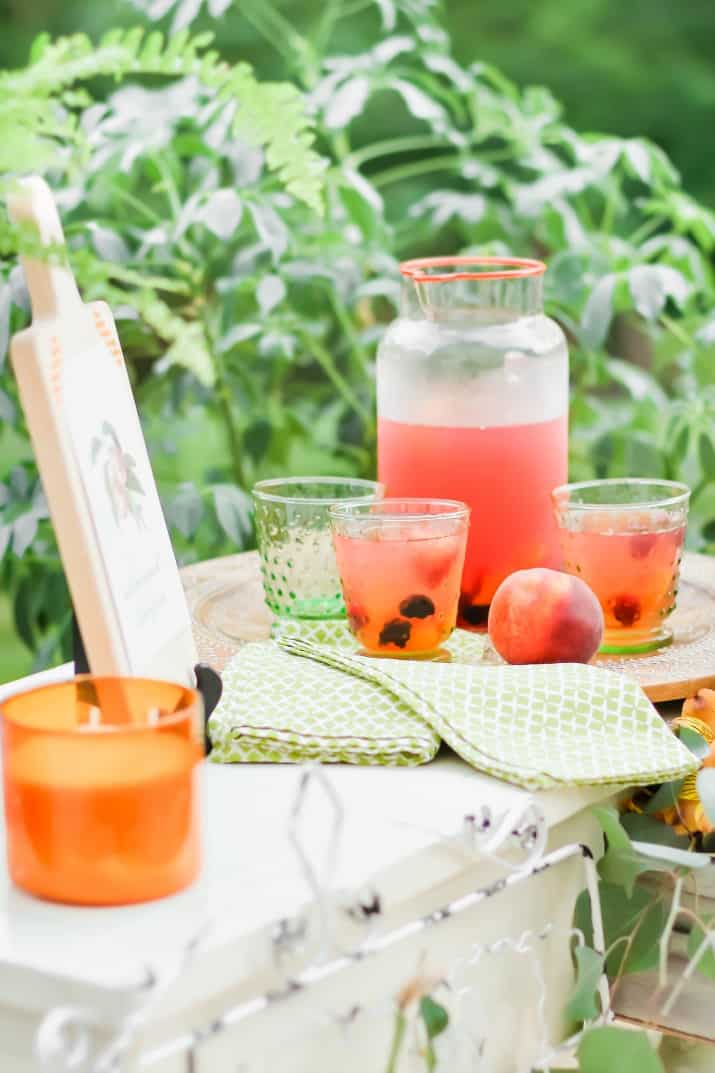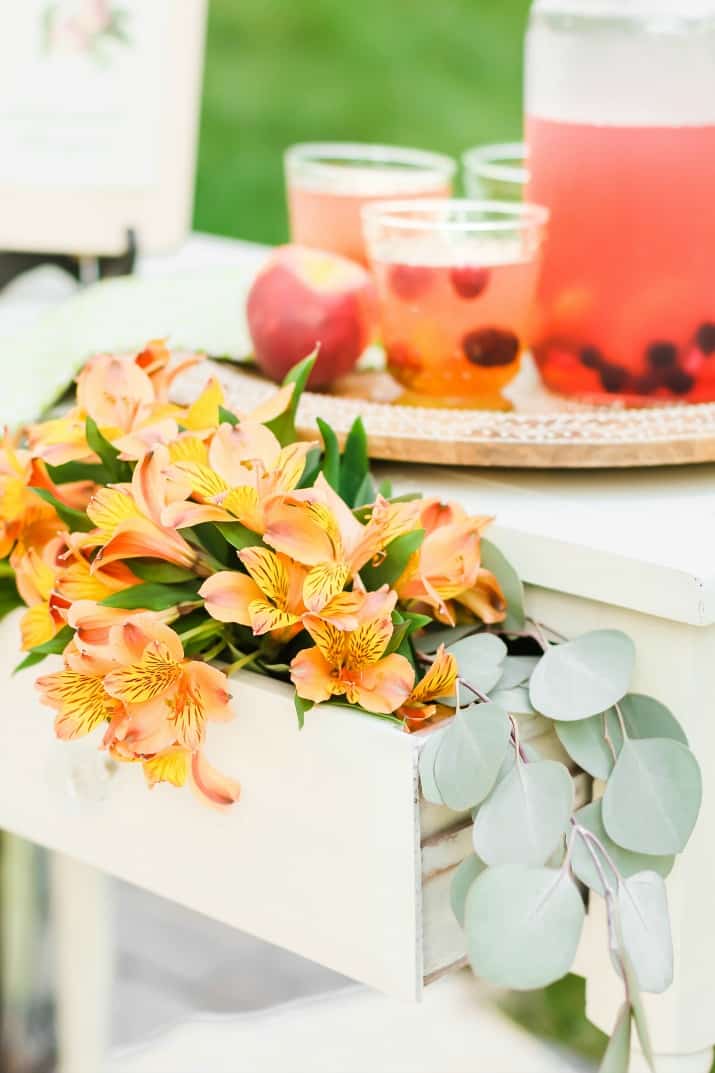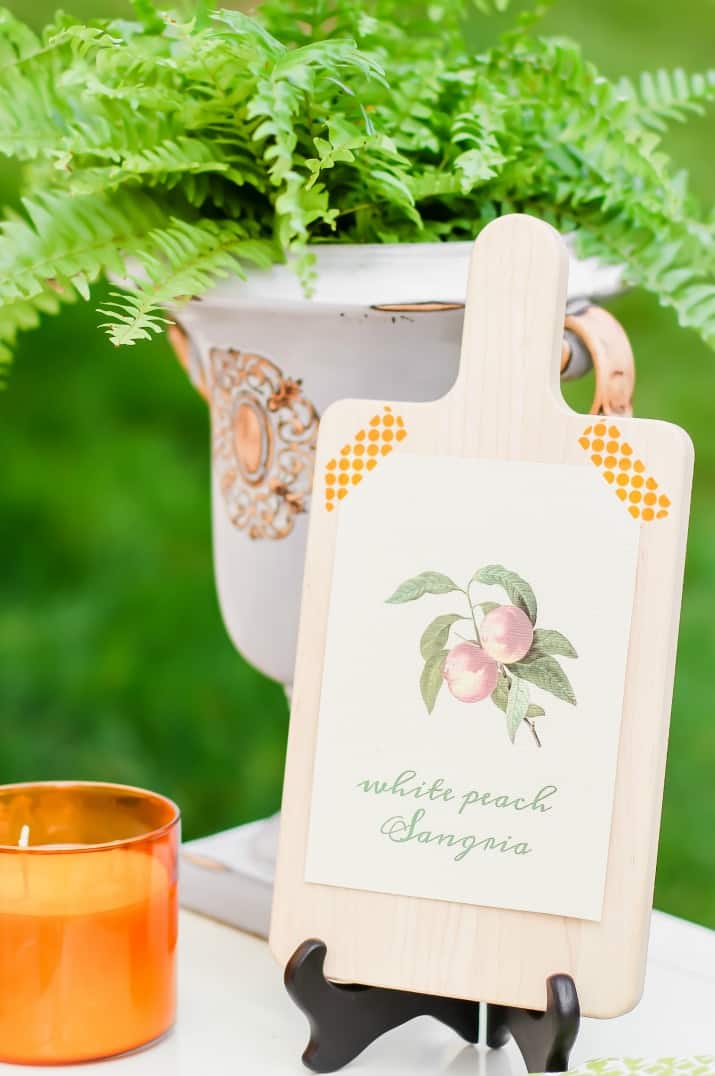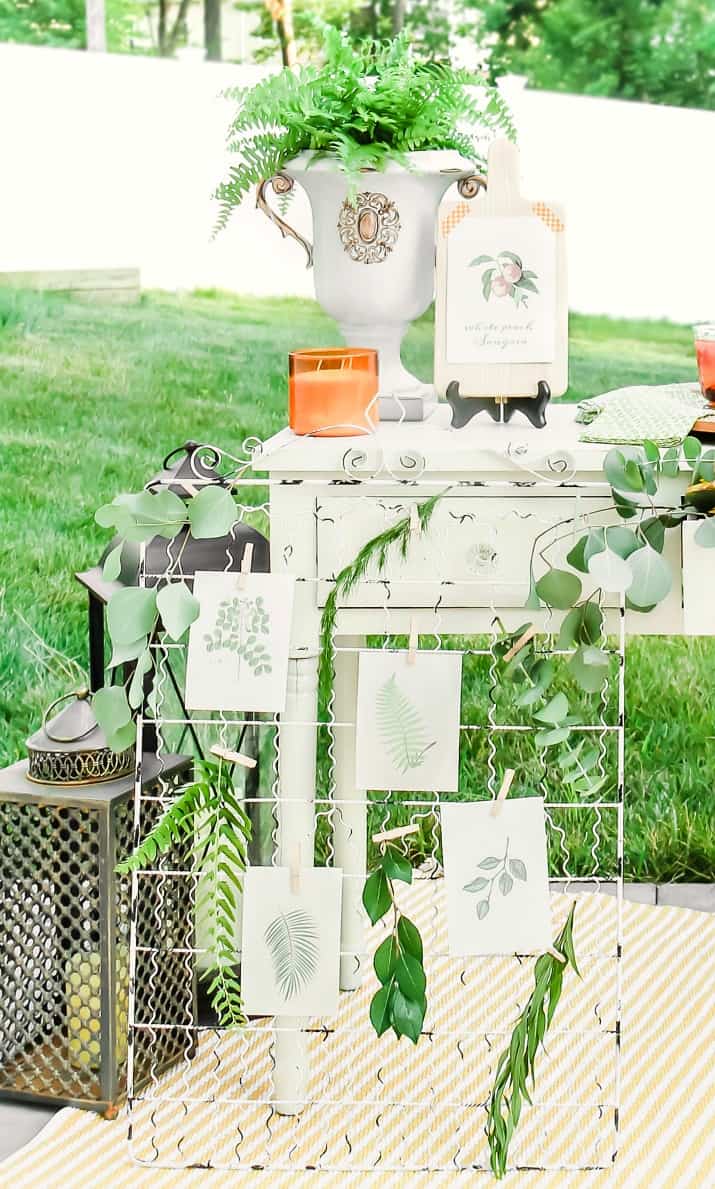 More Peach Drinks to Try
If the sangria doesn't suit you try one of these peach flavored drinks instead.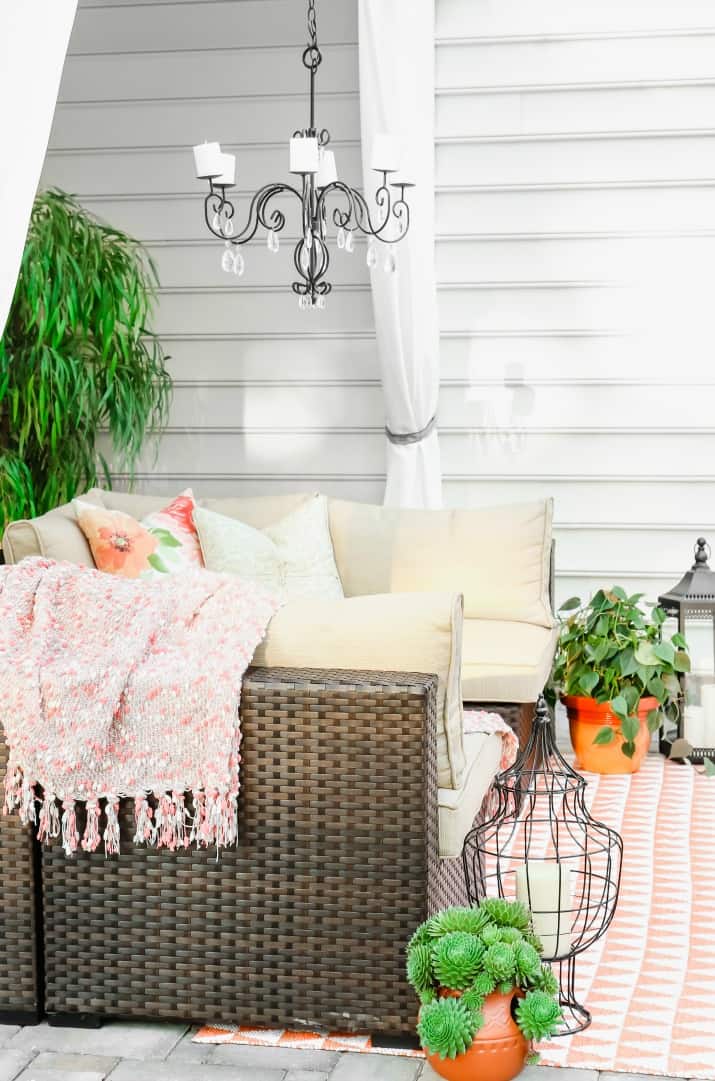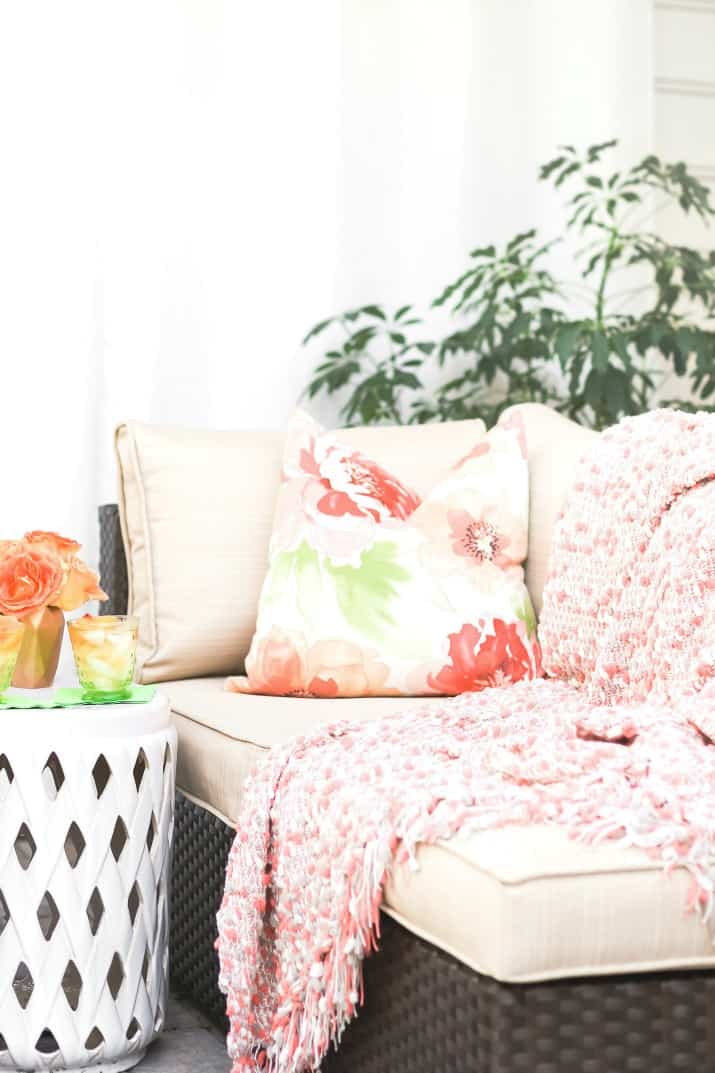 Party Décor for Outside
I've had a great time rearranging my patio decor each time I design a party outside. Having the sectional seating has given me so many different looks. You can use it as a full sofa, or split it up into multiple seating areas for guys night outside. This time I fashioned it into two settees for a comfy conversation lounge.
Invest in some all-weather curtains to soften and frame deck beams and other hardscapes. I also use them to cover the sliding glass door to the basement. It's an unexpected touch that makes the seating area more attractive and cozy.
If you happen to have a sturdy structure you can hang from, by all means hang a candle chandelier outside. It adds a charming touch to an outdoor space.
Layer indoor/outdoor rugs all over the patio. Not only do they give visual interest, they help define the different spaces.
Colorful flower pots are beautiful in an outdoor space, but would clash with this two-toned color scheme. Instead, use green plants to bring life into the space.
This space is all ready for a dinner party or luncheon with friends, or even a birthday or bridal shower celebration. It's summertime and the living is easy!
If you like this post, PIN, Share, or sign up for our Newsletter at the top of the page. And don't forget to follow CAH on Instagram or Facebook. Cheers!