This 4-tier orange layer cake recipe is pretty and delicious! Serve it for an orange or citrus theme party, or with any of these summer entertaining ideas. I made it for this bright and cheerful dinner party using the color of the fruit as inspiration. This tablescape and dessert recipe is perfect for a summer soiree!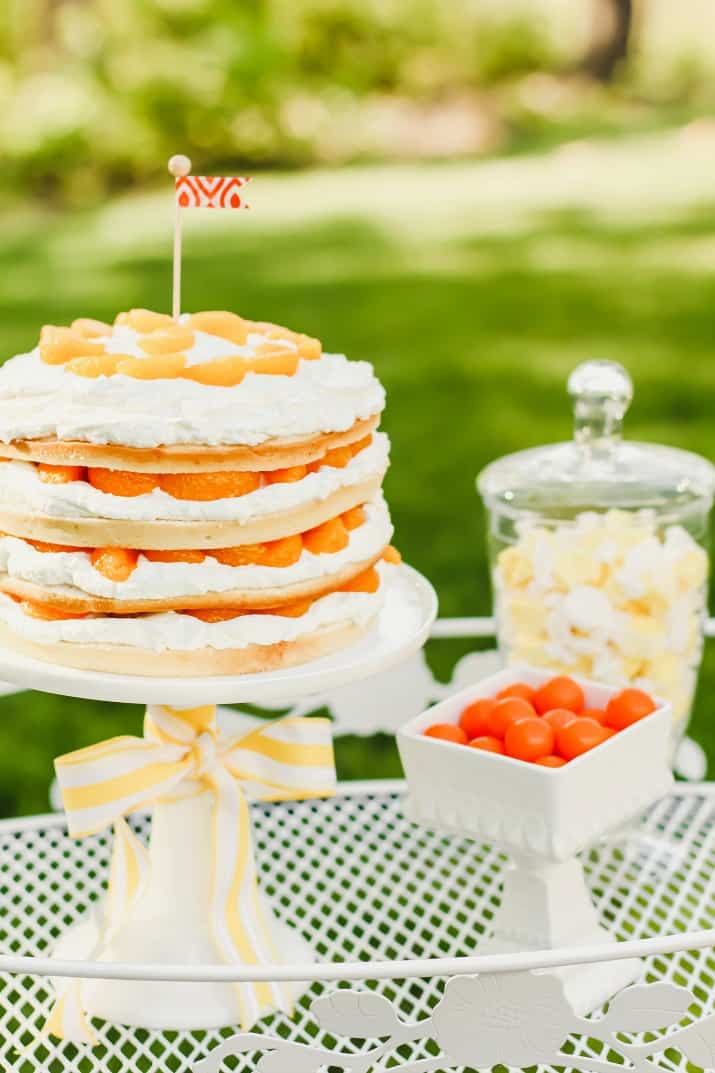 Serve this orange layer cake for Summer Entertaining to coordinate with an orange table setting
I'm thrilled with how today's summer party turned out and I'm excited to share it with you! Not only did I create a bright orange and white table setting for summer entertaining, I developed a cake recipe that matches the party. I was inspired by a recent shopping trip where orange and yellow really caught my eye.
This party design is simple but elegant and would work well for a bridal shower, a birthday celebration, mother's day, or any celebratory luncheon. I love finding inspiration in nature. Just check out this peach & botanical garden party.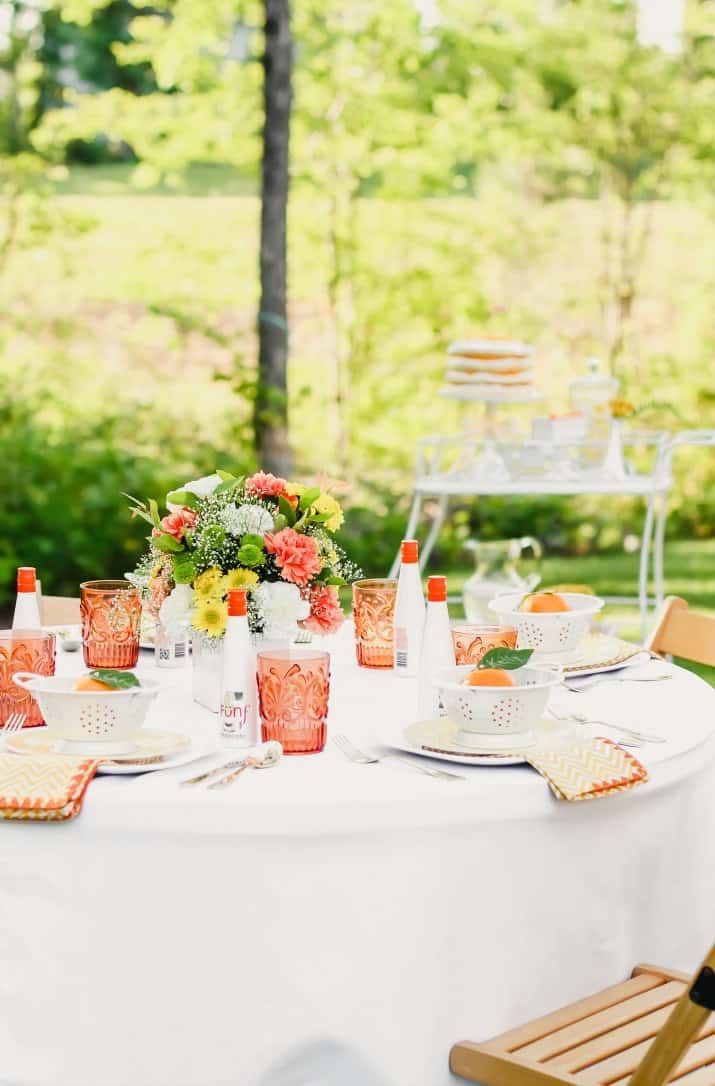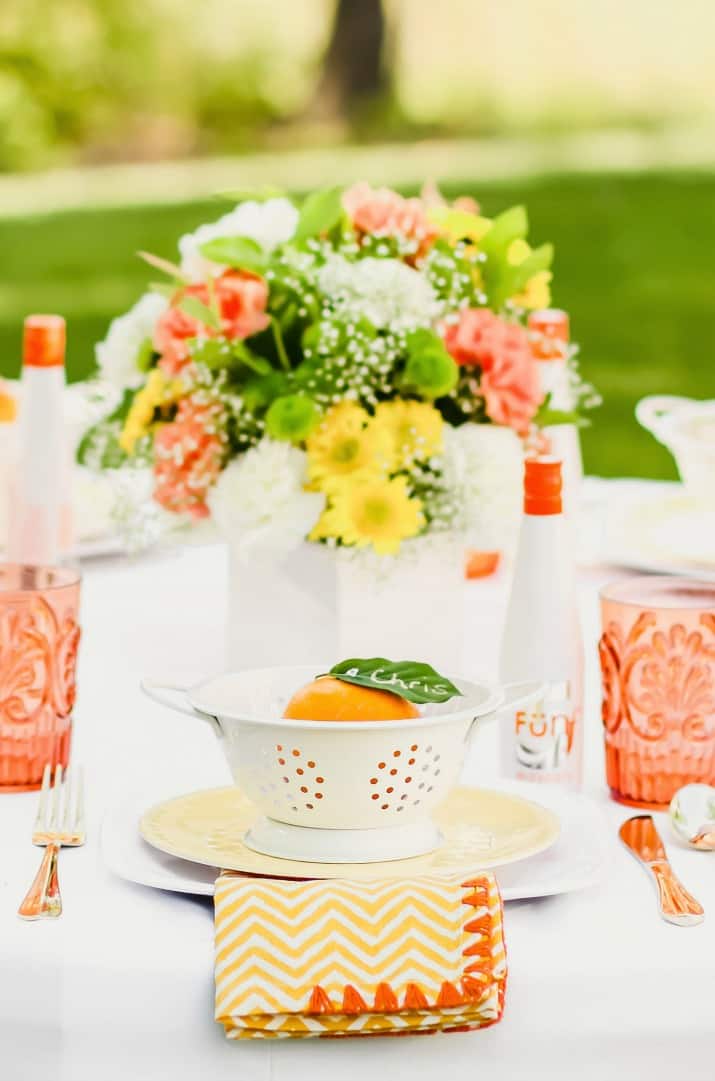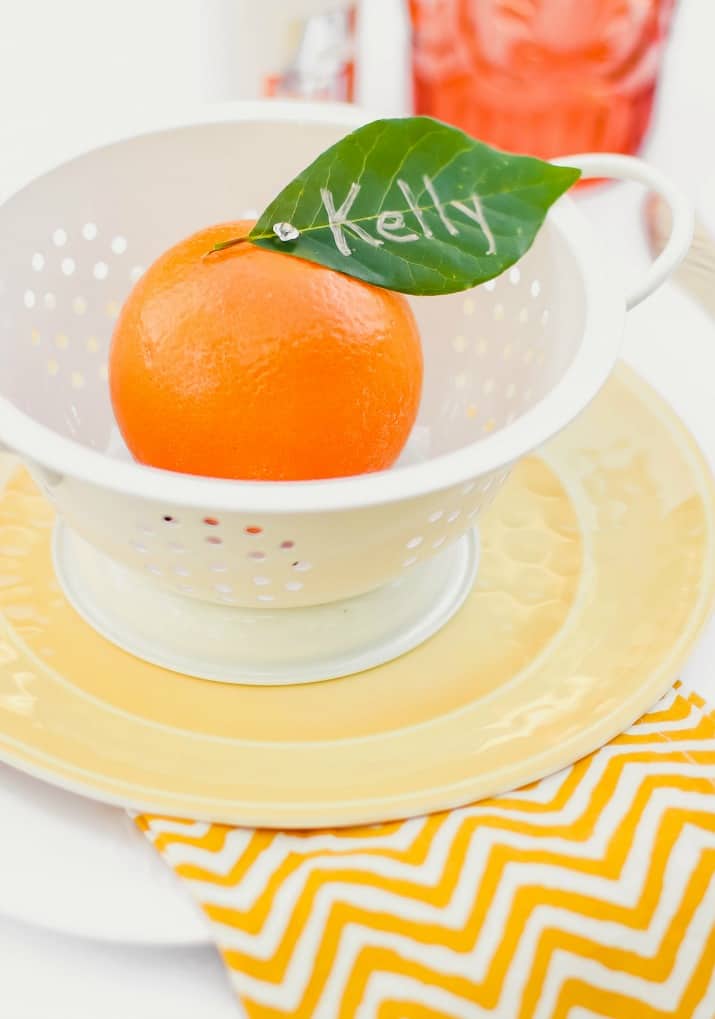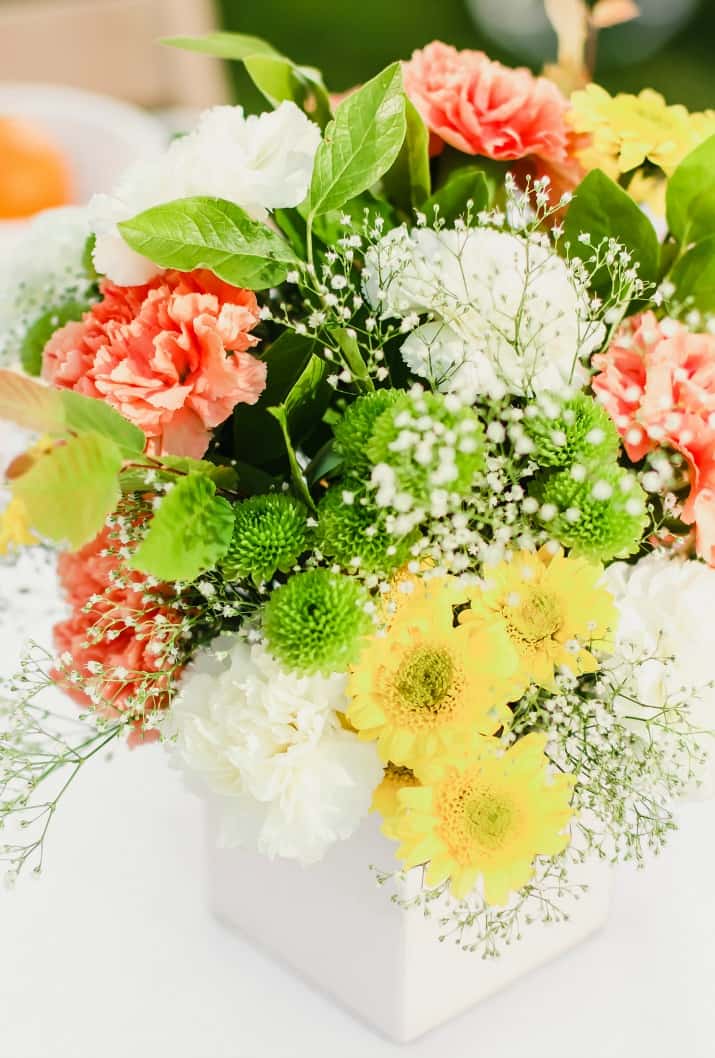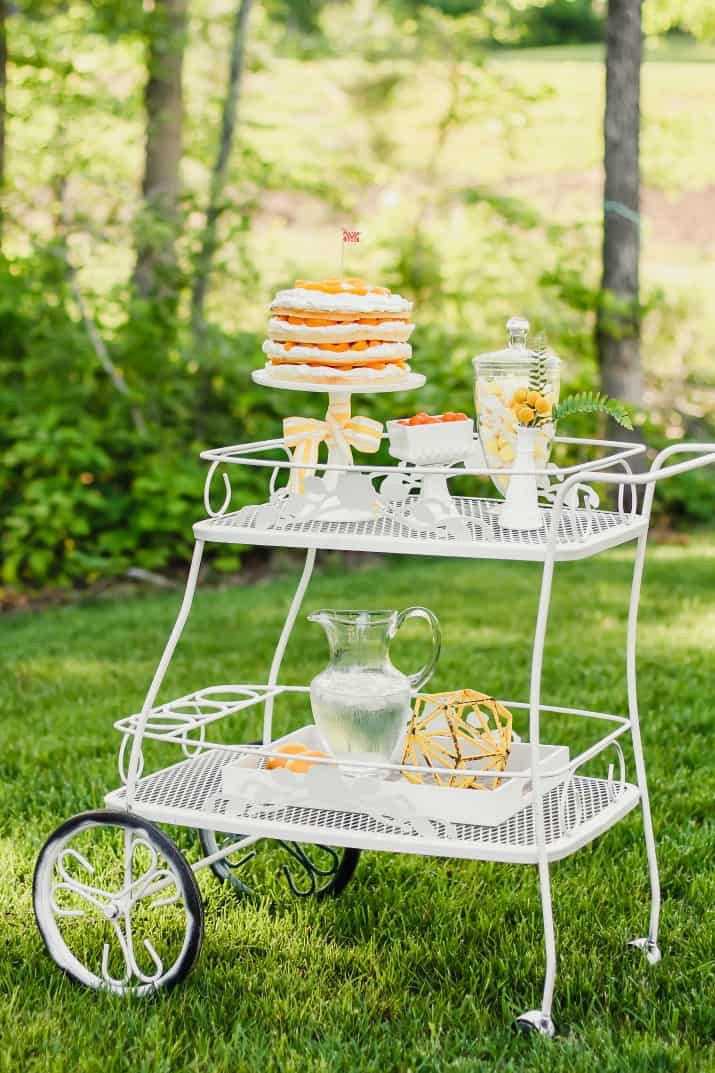 This orange table setting is lovely for summer entertaining
I recently made a shopping trip to World Market where I picked up some great summer party supplies. Among them were the orange cups, chevron napkins, white mini colanders, and individual bottles of Moscato wine. These were the starting point to my design which led me to the orange layer cake recipe below.
I layered those items with my trusty white plates and some yellow salad/dessert plates I picked up at Target. A centerpiece of orange and yellow flowers brought everything together beautifully. I added some extra greenery from the back yard to make the centerpiece arrangement even more lush.
Add mini white colanders to place settings for an interesting and unexpected element. Guests can take them home as a party favors. Include a large navel orange inside and turn it into a place card. Just write guest's names on real leaves with a gold marker and pin the leaf on to the orange. Use a large decorative straight pin to make these truly gorgeous!
Utilize a garden bar cart to hold dessert, and a few decorative items. Use whole lemons, oranges, candies, and fresh flowers to pull in the colors of orange and yellow.
Serve food that complements the color theme
This orange layer cake is the perfect summer dessert recipe for entertaining
If you like strawberry shortcake then you'll love this twist made with oranges. This cake recipe is easy to make and it's all from scratch. I don't bake cakes from scratch that often but I do like to do it for special occasions.
One thing notable about this cake is that it's dense like pound cake so a heavy icing wouldn't do here. The whipped cream is the perfect balance and fresh whipped cream is so easy to make and tastes delicious!
The oranges bring in a freshness much the same way that strawberries do for strawberry shortcake. The presentation is also a winner. The four layers are tall and impressive. Definitely a centerpiece for your dessert table.
NOTE: You're going to want to let your stand mixer do all the work on this recipe.
4 Layer Orange Cake Recipe
This orange layer cake is a showstopping dessert for entertaining. Layers of homemade cake, light whipped cream, and mandarin oranges make this perfect for summer parties.
Ingredients
CAKE
2 cups sugar
1 cup unsalted butter
4 eggs
1 Tablespoon orange extract
1 Tablespoon almond extract
3 cups all purpose flour
3 1/2 teaspoons baking powder
1 1/2 cup Silk Original Coconutmilk
CREAM LAYER
1 quart Heavy whipping cream
1 cup powdered sugar
4 15-oz cans mandarin oranges packed in light syrup
Instructions
Preheat oven to 350 degrees, and prepare 2 9-inch baking pans with cooking spray and dusting of flour.
Using an electric mixer, cream together butter and sugar until well combined – about 8 minutes. Add eggs, one at a time, mixing well after each one.

Stir in orange and almond extracts.

Combine flour and baking powder and sift. Slowly add in flour mixture to creamed mixture while mixing – about 1/2 cup at a time. Combine well each time before adding the next 1/2 cup.

Finally, add in Coconut Milk and mix well until batter is smooth. Pour batter into prepared pans.

Bake 25-30 minutes or until toothpick inserted into the middle comes out clean.
Let cakes cool on wire rack for about 10 minutes before removing from pans. Let cool completely.
Put bowl and whisk attachment in the refrigerator for 30 minutes to get chilled.

Pour cold whipping cream into mixing bowl, add sugar and whip together until fluffy firm peaks form – about 5 minutes.

Meanwhile, open cans of mandarin oranges and drain syrup, reserving about 1 cup.

Assemble the cake:
Cut each layer of cake through the middle, crosswise.
Add base layer to your cake stand and poke tiny holes all over the top of the cake layer using the end of a chop stick.

Use a ladle or spoon to drizzle mandarin orange syrup all over the cake layer.
Make sure to save enough for each cake layer.
Spread a layer of whipped cream on top of cake and top with a layer of orange slices. Repeat layering process with remaining ingredients.

Chill until ready to serve.