Best Classic Potato Salad (with Bacon)
This classic potato salad is amazing! Small red potatoes are coated with a creamy dressing, along with hard boiled eggs, bacon and lots of texture. This traditional recipe is a crowd-pleasing favorite for parties and potlucks!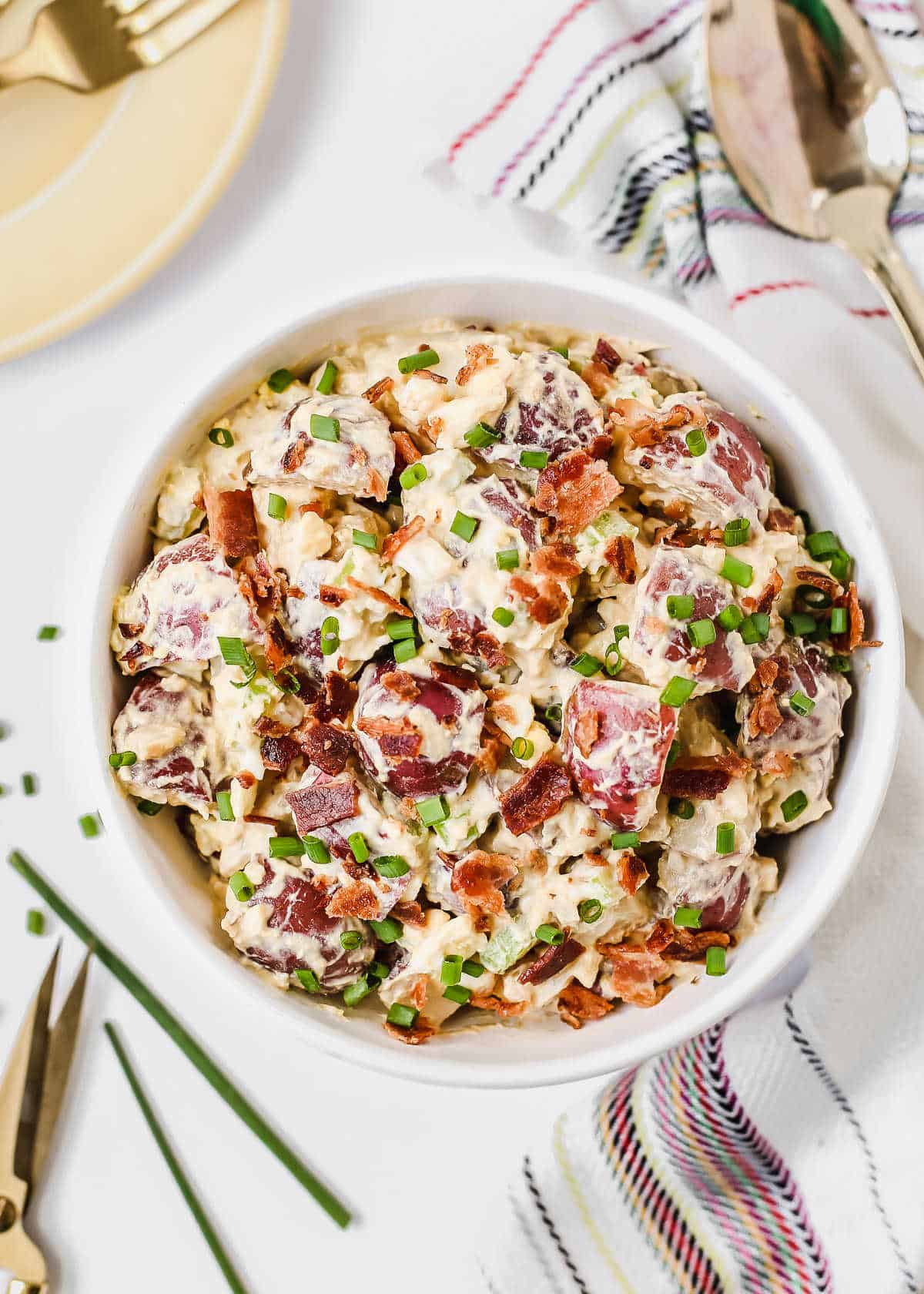 Why You'll Love It
I've been making this potato salad with eggs and crumbled bacon for over a decade, to rave reviews! It's classic with a few ingredient "upgrades" that I know you're going to love.
It's a tried and true recipe I reach for time and time again, similar to my creamy pasta salad or deviled eggs with bacon.
Best Potato Salad Ever!
I'm not sure I can properly convey how delicious this old fashioned potato salad is, but I guarantee it will be a winner on the menu. The flavor has depth while the tender potatoes and eggs are balanced with crunchy diced vegetables.
There's also some ingredients like balsamic vinegar and chipotle mustard, that take it to the next level. Seriously, it's so good!
When to Serve It
Here are some occasions that you'll want to add this side dish recipe to your meal.
PARTY TIP: Make potato salad a day ahead to save time and so the flavors can fully develop. It should be made AT LEAST 2 hours ahead, regardless.
Key Ingredient Notes
Potatoes. This recipe calls for small red potatoes. They're easy to cook and you don't have to peel them because the skins is thin and tender and very tasty. For summer holidays you can use a colorful trio of red, white and blue potatoes.
Vinegar. Balsamic vinegar is used here and is a little different than what you may be used to but trust me, it works! Apple cider vinegar is a more traditional choice which you can use as a substitute if you want, but the balsamic adds a sweet tanginess.
Mustard. Here's another ingredient that gets a twist. Use chipotle mustard for a spicy zing. I've also used Sriracha mustard with success. The flavor is more complex than yellow or Dijon mustard, and of course you could use either of those as a substitute.
Dressing. My creamy blend uses both mayonnaise and sour cream. The combination is a little lighter than using all mayo, and more flavorful than using all sour cream. It's perfectly balanced.
Hard Boiled Eggs. Buy them already cooked and peeled in the refrigerator section of the grocery store if you want to save time and effort. Or you can cook and peel them several days ahead and refrigerate until ready to use.
Boil Potatoes for Potato Salad
Using small red potatoes saves you from having to cut them before cooking. There's also no need to peel them! The skin is soft and thin and adds flavor to the salad.
Place potatoes in a stock pot and cover them with water. Heat on high to bring water to a boil and then lower the heat to medium so potatoes cook at a low steady boil.
Cook for about 15 or 20 minutes and check for doneness by piercing the center of a potato with a fork. It should be soft in the middle but firm enough so it doesn't fall apart.
Drain and cool potatoes so you can handle them. Cut them into halves or fourths depending on the size, and then proceed with the recipe.
How to Make It
There are only 4 easy steps to making this dish.
Cook the potatoes.
Toss in seasonings and diced vegetables.
Mix the creamy dressing ingredients together and pour over potato mixture. Gently stir or fold in the dressing to coat everything.
Cover and refrigerate for at least 2 hours, but longer is better. Make it the night ahead!
Serving Suggestions
Here are some great main entrees to pair with classic potato salad.
If you like this post, PIN, Share, or sign up for our Newsletter at the top of the page. And don't forget to follow CAH on Instagram or Facebook. Cheers!
Classic Potato Salad Recipe
Total Time:
2 hours
35 minutes
Make this classic potato salad recipe your go-to summer side dish! With unique ingredients like balsamic vinegar and chipotle mustard, it hits the spot for potlucks and backyard barbecues.
Ingredients
1 pound small red potatoes
1 Tablespoon Balsamic vinegar
1/4 cup chopped onion
1/3 cup celery, chopped
2 hard boiled eggs, chopped (I just crumble them with my hands)
Dressing
1/3 cup mayonnaise
1/3 cup sour cream
1 Tablespoon chipotle mustard
1/2 teaspoon salt
Topping
4 strips of bacon, cooked and crumbled
fresh chives
Instructions
Cook red potatoes: Place potatoes in a sauce pan and cover with water. Bring to a boil and cook for about 15-20 minutes or until tender. Drain and cool.
Cut potatoes into fourths, and sprinkle with balsamic vinegar, and mix carefully to coat. Add onions, celery, and eggs.
Combine the dressing ingredients together in a separate bowl, and fold into potato mixture. Cover and refrigerate for several hours; overnight is optimal.
Before serving, sprinkle snipped chives and bacon on top.
Notes
Try it with Sriracha mustard instead of chipotle mustard.
Use red, white and blue potatoes for a July 4th theme.