Moroccan Themed Party Ideas & Decorations
Moroccan theme party ideas, decorations, tablescape and food for a dinner party at home. Host this exotic theme for a birthday celebration for adults, or host an outdoor party in the garden for a bridal shower or engagement.
When to Use This Theme
This colorful theme party is fantastic to transport your guests to another location, even if only in spirit.
This adult theme party is perfect for a milestone birthday for someone turning 25, 30, 40, or 50. It can also be called and Arabian Nights theme, or Lawrence of Arabia theme.
It's great for couples to celebrate an anniversary at home with friends or family.
It would be so fun to host a bridal shower or bridesmaids luncheon and you could set it up like an indoor picnic.
Decoration Ideas
Decorating for your party can be such fun, especially if you like mixing and matching items. A Moroccan style party can seem formal with all that gold and silk, but it's also a bit eclectic with an old-world Bohemian vibe.
Here are some things you definitely want to incorporate.
Floor seating on the lawn with rugs, pillows and cushions to sit on.
Modern geometric patterns, sheepskin, or old world oriental style rugs work well.
Colorful fabrics such as saris, or geometric patterns and details including tassels.
Elegant luxury fabrics like silk, gold embroidery, or soft velvet.
Bright colors like pink, orange, yellow, blue, red, and green.
Lots of gold and brass details for props and décor.
Gold tone or brass Moroccan style lanterns, hanging lanterns, and candles.
Use an abundance of fabric draped across tables or layered over each other. Pull curtains or sheer mosquito netting back to reveal a lovely buffet table or seating area.
Set up a tent for an outside party and hang sheer fabric or curtains for an enclosed feel.
PRO TIP: Shop thrift stores for gold and brass decorations and props you can use. You'll be surprised at what you can discover!
Moroccan Inspired Tablescape
I absolutely loved pulling this table together in the backyard. Layering fabric and place settings is so easy anyone can do it!
Centerpiece
Place a tall flower arrangement at the end of the table so it doesn't interfere with conversation and guests view of each other.
Red roses are a lovely choice and they can be arranged in an old world style urn to complement the rest of the dining table décor.
If you don't have Moroccan lanterns, use a collection of brass candlesticks in different shapes and sizes to line down the center of the table. Candlesticks are great if you're using a narrow folding table.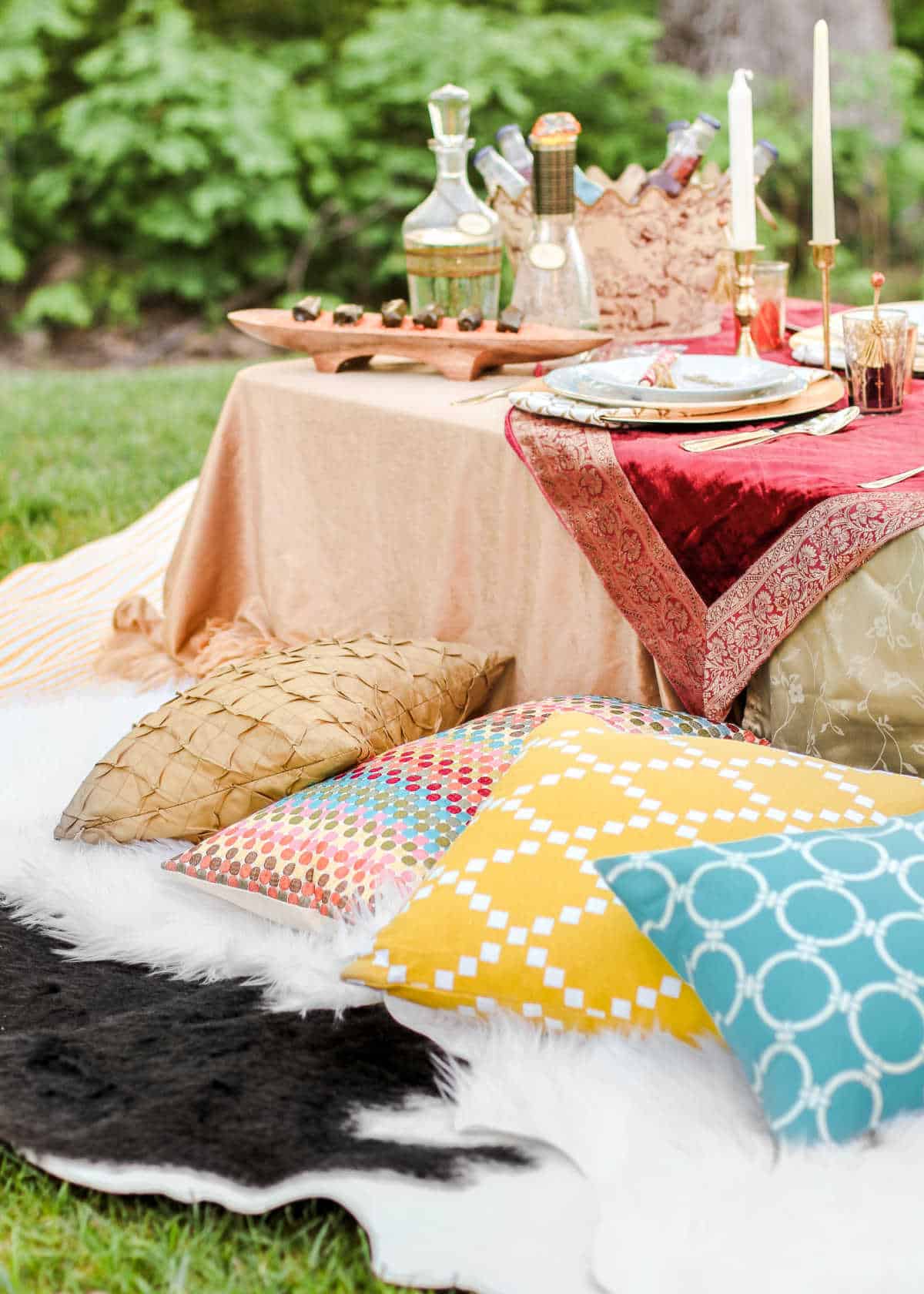 Floor Seating
One thing you "have" to have for a Moroccan inspired party is a low table with floor seating, or in this case lawn seating.
You don't have to be a DIY expert to create a makeshift low table. Simply place a large piece of plywood on two plastic storage boxes or crates of equal height. Add colorful, elegant throws to cover the table and hide what's underneath.
Scatter an array of rugs, faux rawhide, and colorful pillows to sit on.
Place Settings
Layer gold chargers with a colorful mix of vintage dinner plates. Look for plates that have a wide decorative band around the outside, and if it has gold accents then all the better!
Top the more ornate dishes with modern white salad plates and round out the setting with colorful and gilded Moroccan tea glasses.
Finishing Touches
Adding small details is one of my favorites things to do when setting a themed table. Here are 3 unexpected details for this table.
Add an Indian scroll to each place setting. Guests can either write a note for the guest of honor, OR the hostess can write a personal note to each guest. You can usually find these at World Market.
Use vintage salt cellars with tiny spoons to serve the salt and pepper in with.
Easy DIY tasseled drink stirrers. They're decorative and come in handy for stirring your cocktail.
PARTY TIP: Use pretty vintage carafes to hold liqueurs like vodka and gin, so guests can mix up a cocktail.
Theme Party Food
Eat small plates with your hands! Serve multiple mezze platters for intimate gatherings. Mezze is a selection of small dishes served with alcoholic drinks in the Near East.
Include some stuffed dates wrapped in bacon. If you're having a sit down dinner you can pass these around on a tray during cocktail time.
Add a signature drink like mint green tea.
Dinner Party Menu
Create your own menu or hire a private chef or caterer to celebrate a special event. Add Middle Eastern favorites and dishes with a Mediterranean influence.
Here's a sample menu that you can serve for 6 or 8 people.
Start with a first course of fig salad. Figs and halloumi cheese are popular in Middle Eastern countries.
Serve easy roasted carrots with cumin for a simple and delicious side dish.
A plated dinner with Curry Chicken over rice and served with bowls of toppings is fantastic!
Or you could serve lamb chops that are easy to prep ahead and cook when guests arrive.
Another good side dish to serve with lamb is wild rice with fruit and nuts.
PARTY TIP: Make or purchase a layered cake for dessert and decorate it yourself. Top it with kumquats, grapes and cherries. Add fresh sage leaves for greenery.
Set up a Bar
Set up a separate table where guests can grab a drink when they first arrive. It can also be a place to set down gifts and admire the cake.
Make decorative ice cubes with edible flowers frozen inside for a beautiful touch. It's easy to do but make sure your flowers are indeed edible! You can also use the large dried pieces from a good quality herbal tea blend. Here I used both to give the ice some diversity.
Provide a few liquors and let guest mix up a cocktail. Vodka and gin work well here, but rum would also be a nice addition. Just add 1 1/2 oz. spirits to 4 oz. of your flavored mixer of choice. Garnished with limes, fresh cherries, or mint leaves.
What to Wear
Encourage guests to follow a dress code and wear festive Moroccan themed attire. Anything with gold trim, bright colors, or all white outfits will work.
Kaftans
Saris
Gold body jewelry
White linen shirts and pants
Party Activities
Take the party to the next level with these fun activities!
Henna tattoos are a traditional art form in a Moroccan celebration, but be careful. Sometimes henna can rub off onto furniture or fabric.
Take a more practical approach for a home party and provide gold rub-on decals instead. They can be applied to the wrist or ankle without extra worry or expense. They're a fun novelty to indulge in for one night with the girls! Set up a tray of supplies and have each decal cut and ready to apply. Add a bowl of water with a sponge available to apply it to the skin.
Hire a belly dancer! This would be so much fun for a birthday celebration. And you could also have them give everyone a lesson on how to do a belly dance.
Rent a Hookah if you can. You might need to inquire about this through an event planning company.
Make a playlist of Bollywood music.
Party Favors
Send your guests home with something to remember the night by. Fill a small gift bag with useful items that have that exotic Middle Eastern aesthetic.
Add a small candle, a decorative emery board, and a fragrant soap wrapped in pretty paper. These items are chosen for their design and can be found at places like World Market, or online.
More Party Themes for Adults
If you like this Moroccan themed party, here are some more themes to try out. They all have a travel vibe so get your guest list ready!
If you like this post, PIN, Share, or sign up for our Newsletter at the top of the page. And don't forget to follow CAH on Instagram or Facebook. Cheers!