Lamb Chops with Goat Cheese Polenta is an amazing recipe for entertaining. Marinate the chops for up to a day ahead and serve them over this delicious goat cheese polenta. This is the perfect dish to celebrate spring and to include in our Easter entertaining series.
Lamb chops with goat cheese polenta is a great paring with rustic and Earthy flavor notes
If you've never made lamb chops before, then now is the time to do it! It's as easy to work with as beef and I've got the perfect entree recipe to get you started. I've teamed up with Moink for Easter entertaining ideas menu and tablescape to inspire your spring parties. And I've got a discount code for you to use to try it out yourself!
When I was in France for a month I ate a lot of lamb and it was amazing! It's served far less often here in the US but I urge you to put this recipe on your to-do list. There's a depth of flavor here that is unique and elevated.
Let me tell you about this fantastic dish. These lamb chops are marinated over night and they turn out SO tender and juicy. Serve them over a bed of polenta that's been flavored with goat cheese instead of the traditional Parmesan.
The entire dish is exceptional, and ideal for Easter dinner and spring entertaining. However, the style of the dish is comforting and hearty enough for fall and winter entertaining too. Serve this main course beside tasty vegetables like sauteed asparagus or marinated green bean salad.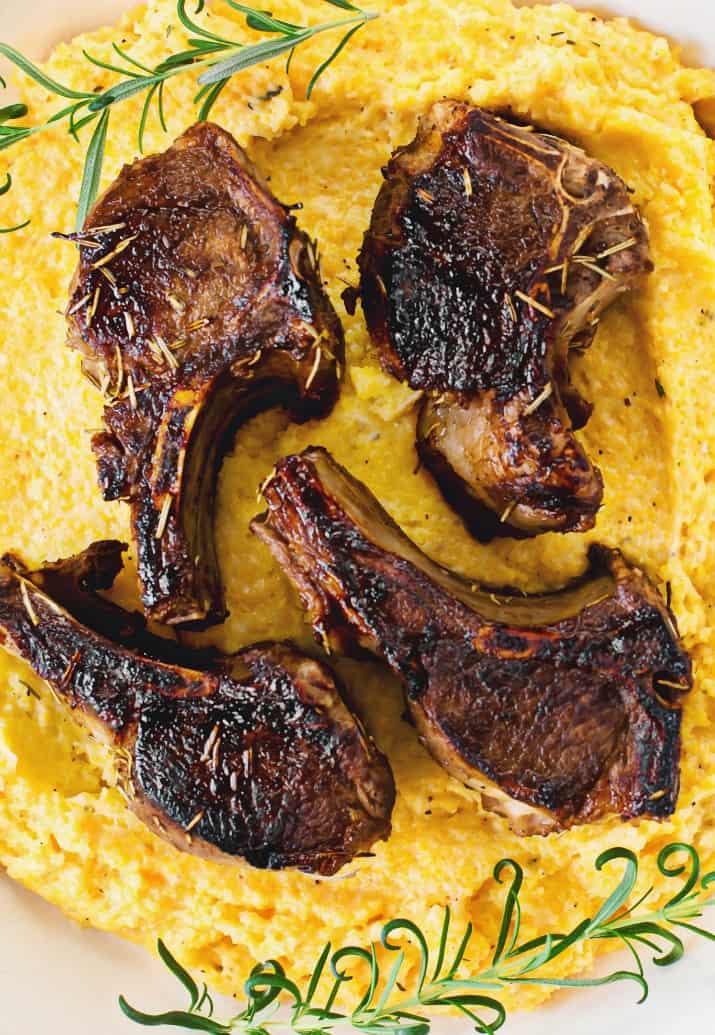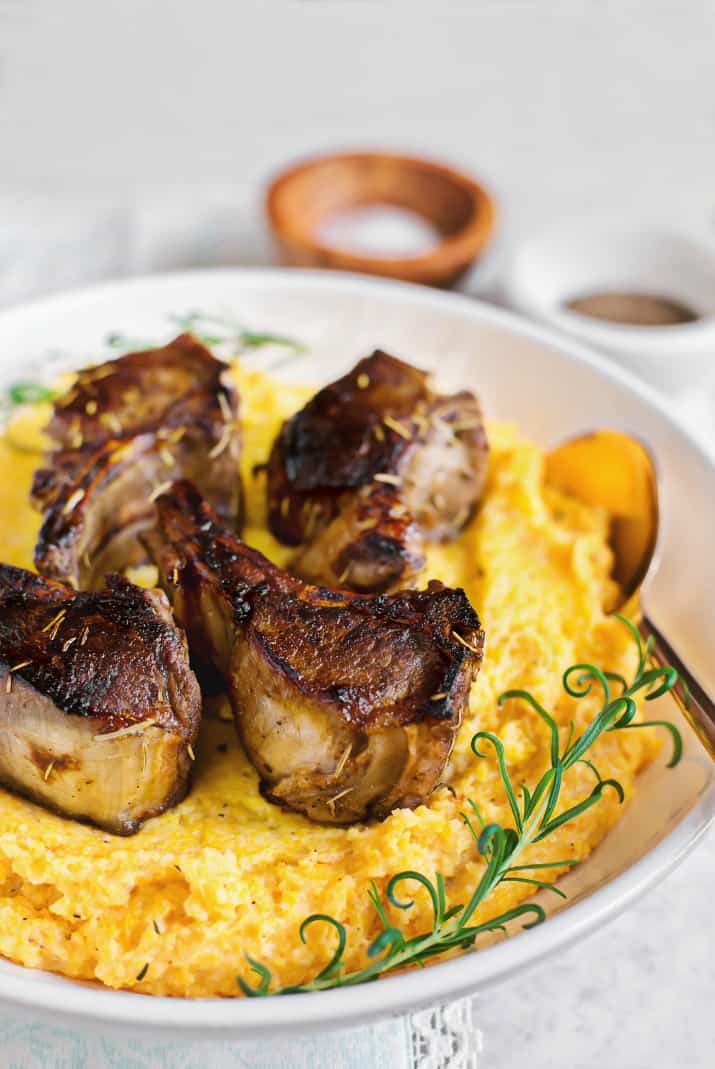 What do you pair with lamb?
I'm obsessed with getting my menus for entertaining just right. It's important to think about a well-rounded meal from a nutrition standpoint. It's also important to make sure flavors complement each other.
The robust flavor of lamb stands up well to bold herbs and spices like rosemary or curry. It's also great partnered with the richness of goat cheese. There's a certain rustic, earthy quality about all these ingredients that marry so well together.
In this dish I've taken those elements and combined them. The marinade for the lamb chops has rosemary in it while the polenta is seasoned with goat cheese and more rosemary. The result is a party in your mouth that's great to serve your guests!
Serve these easy roasted carrots on the side. They're an ideal side dish for lamb.
HOSTESS TIP: Substitute beef steaks or pork chops for the lamb if you like.
What you need to know about farm raised and ethically treated meat
Let me introduce you to the Moink delivery box. It's like Christmas for the carnivore, and perfect for diets like Paleo, Whole30, Keto, and 21 DSD.
Moink delivers meat you can feel good about and supports small farmers. The products are free of antibiotics, hormones, artificial colors, sugar, and nitrates/nitrites.

The beef and lamb are grass-fed, while the chicken, beef, lamb and pork are pasture-raised. And the fish is

wild-caught in Alaska.
Each box is easily customized and contains 13-16 pounds of meat. See boxes here. There's plenty of food for several family meals or for entertaining at home.
You can sign up for their newsletter to get special offers and latest news.
Use THIS LINK to get 20% off your first Moink box! SHIPPING IS ALWAYS FREE! The code is good for any

n

e

w

c

u

s

t

o

m

e

r

s

so feel free to share with your friends!
Lamb Chops with Goat Cheese Polenta
Lamb Chops with Goat Cheese Polenta is a delicious recipe for entertaining. Marinate the chops for up to a day ahead and serve them over delicious goat cheese polenta for a special rustic dinner party.
Ingredients
6 Moink lamb chops (mine were 2 inches thick)
1/2 cup low sodium soy sauce
1/2 cup cider vinegar
3 cloves garlic, minced
3 Tablespoons honey
2 teaspoons ground ginger
2 teaspoons dry rosemary
1/4 teaspoon dry mustard
1/4 teaspoon pepper
Goat Cheese Polenta
6 cups low sodium chicken broth
2 cups polenta
6 ounces goat cheese, sliced into 1-inch pieces
2 Tablespoons butter
1 teaspoons chopped fresh rosemary
1/2 teaspoon salt
1/4 teaspoon pepper
Instructions
For Lamb Chops:
Trim excess fat around lamb chops
In a medium bowl, whisk together soy sauce and remaining ingredients.
Place chops in a large zip lock bag and pour marinade over chops. Seal bag securely and massage marinade into meat.
Refrigerate at least 8 hours or over night.
Preheat oven to 350 degrees. Heat 2 tablespoons of cooking oil in an iron skillet over medium high heat.
Add chops and sear for 1 1/2 minutes on each side. Remove skillet and place in the oven.
Cook lamb chops for 5 minutes; turn over and cook for another 5 minutes for medium-rare.
For Polenta:
Bring chicken broth to a boil in a large pot over high heat. Whisk in the polenta in a steady stream, then DECREASE HEAT TO MEDIUM.

Cook polenta while stirring with a wooden spoon. Continue stirring for 10 minutes so polenta doesn't stick to the bottom of the saucepan.

Add the cheese and rosemary and stir for about 2 minutes or until cheese is almost fully melted. Stir in the butter until melted, and season with salt and pepper. Serve immediately with lamb chops on top.