Easy Nutella Puff Pastry (Rollups)
These Nutella puff pastry rollups are quick and easy to make with just 3 ingredients! They may be simple but the combination of chocolate hazelnut spread with almonds on flaky pastry is indulgent and delicious. Plus, they only take about 10 minutes to prep.
You and your guests will love this dessert recipe that's made with the classic Italian hazelnut cocoa spread, and the toasted almonds add a nutty crunch that balances the sweetness.
What You'll Love
Quick & Easy. You don't need to make any fancy shapes or designs with this recipe. Simply roll and bake!
Crowd Pleaser. Who doesn't love chocolate spread, nuts and pastry? And I think that baking Nutella brings out the best in its texture and flavor.
Make Ahead. You can prep these a day in advance and bake when ready, or freeze them. That makes them terrific for party planning!
Convenient. You can keep the 3 ingredients on hand to make these at a moments notice. The spread and nuts are pantry staples, and the puff pastry keeps in the freezer for months.
3 Ingredients
Puff Pastry. Grab a box of frozen puff pastry in the dessert section of the freezer aisle. It comes with 2 sheets to work with.
Nutella. This chocolate-hazelnut spread is so delicious and versatile, and works well in baking. You can use other brands if you like.
Almonds. I like to use sliced almonds but you can also use slivered almonds. Find small bags in the baking aisle, and lightly toast them before using to bring out their best flavor. You can substitute with chopped pecans too!
How To Make Them
Let the dough thaw according to package directions, on a lightly floured surface. Then roll it out. Use a rolling pin to stretch it out just a little, and to help smooth out the seams.
Cut the sheet into rectangles about 4-inches white and 5-inches long. Spread Nutella on each piece, and sprinkle with almonds.
Roll the dough into logs and place on a baking sheet lined with parchment paper and bake.
Tips
The puff pastry can really puff up when cooked. Although pricking them with a fork several times before baking may help to prevent that.
You can try making these with croissant dough also.
For added flavor you can sprinkle lightly with cinnamon sugar before baking, or powdered sugar after baking. To make cinnamon sugar just combine equal parts ground cinnamon and granulated sugar.
HOSTESS TIP: Roll these into pinwheel shapes as outlined in the ham & cheese pinwheel recipe. They will make smaller finger desserts for parties and entertaining.
Make Ahead
You can make the pastry rolls and freeze them for later. Prepare them as directed but do not cook them. Wrap the rolls tightly with plastic wrap and freeze for up to 3 months.
When you're ready to use them, let them sit at room temperature for about 15-20 minutes. Then bake as directed. See more on freezing Nutella here.
More Recipes with Puff Pastry
For more delicious snacks made with puff pastry check out these ideas.
If you like this post, PIN, Share, or sign up for our Newsletter at the top of the page. And don't forget to follow CAH on Instagram or Facebook. Cheers!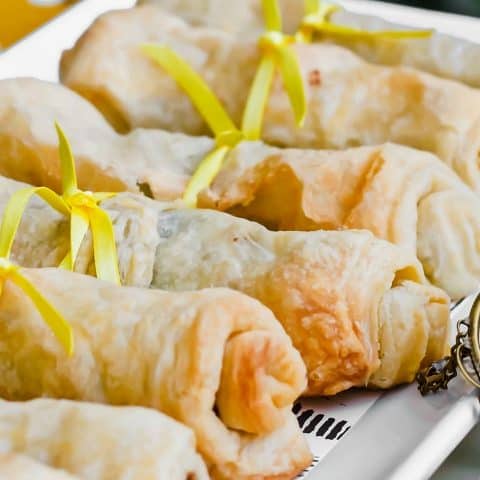 Nutella Puff Pastry recipe
Easy but indulgent, these puff pastry rolls are filled with Nutella and almonds for a delicious dessert anyone can make. Tie ribbon around them and serve as "diploma" rolls for graduation parties.
Ingredients
1 package puff pastry (2 sheets)
1 cup Nutella spread
1/2 cup Sliced Almonds, very lightly toasted
Instructions
Preheat oven to 400 degrees F.
Thaw or prepare dough as directed on package. Cut dough into rectangles about 4-5 inches wide, and as long as you want your "diplomas" to be; 5-6 inches should be good.
Spread Nutella on each rectangle of dough and sprinkle with almonds. Begin rolling the dough up, jelly roll style, and place on a baking sheet lined with parchment paper.
Bake for about 15 minutes, or until golden.
To display as "diplomas," tie ribbon or thin cording around each pastry roll and serve.
Notes
To add more sweetness, sprinkle the prepared rolled lightly with cinnamon-sugar before baking, or powdered sugar after baking.