Dinner party with mini cheese boards
This awesome Dinner Party with Mini Cheese Boards is one of my favorite home entertaining ideas! The table setting is gorgeous and unique and everyone gets their very own individual cheese board. This outdoor party is set on our small deck making it cozy and perfect for lingering into the night with carafes of Italian wine. See more beautiful dinner party ideas with this authentic Italian dinner party and start sending out invitations.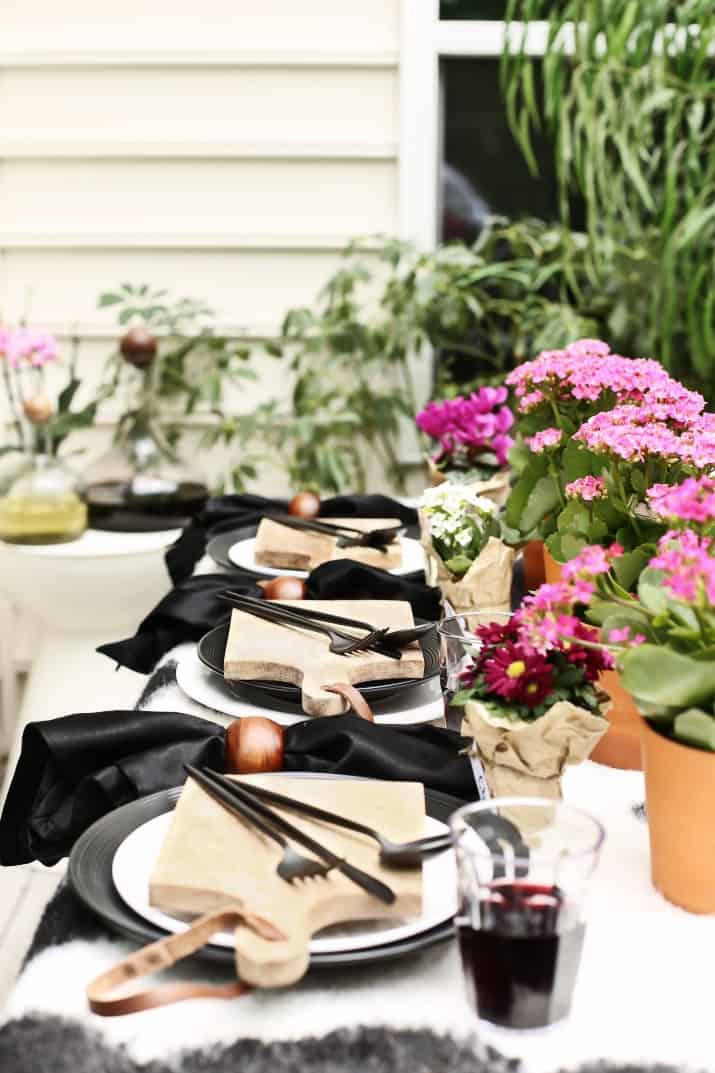 Create a chic dinner party with mini cheese boards
You guys, I've been so eager to share this outdoor party with mini cheese boards, because it's one I've been working on in my head for months! And setting up outside on the deck or patio makes this perfect for summer entertaining.
It came to life when I was selected to work with the Italian Trade Commision to share my love for Italian Wines. Over the next few months I'll be sharing some exciting ideas for entertaining that are inspired by the wines of Italy.
When my husband and I were in Rome years ago, obviously we drank plenty of wine. We both fell in love with Italian wines, especially the reds that have a medium body and go so well with food! It's really not surprising though, given the various regions and varietals, and traditions throughout the country. You may recall that we traveled back to Italy last summer. This time we spent 5 days in Florence, went on a wine tasting tour in Tuscany, and then on to Venice.
Now I want to spark your interest and motivation to wine & dine in style while enjoying a high-quality Italian wine. And for an extra party idea that's interactive, you might want to set up a balsamic vinegar tasting bar beforehand.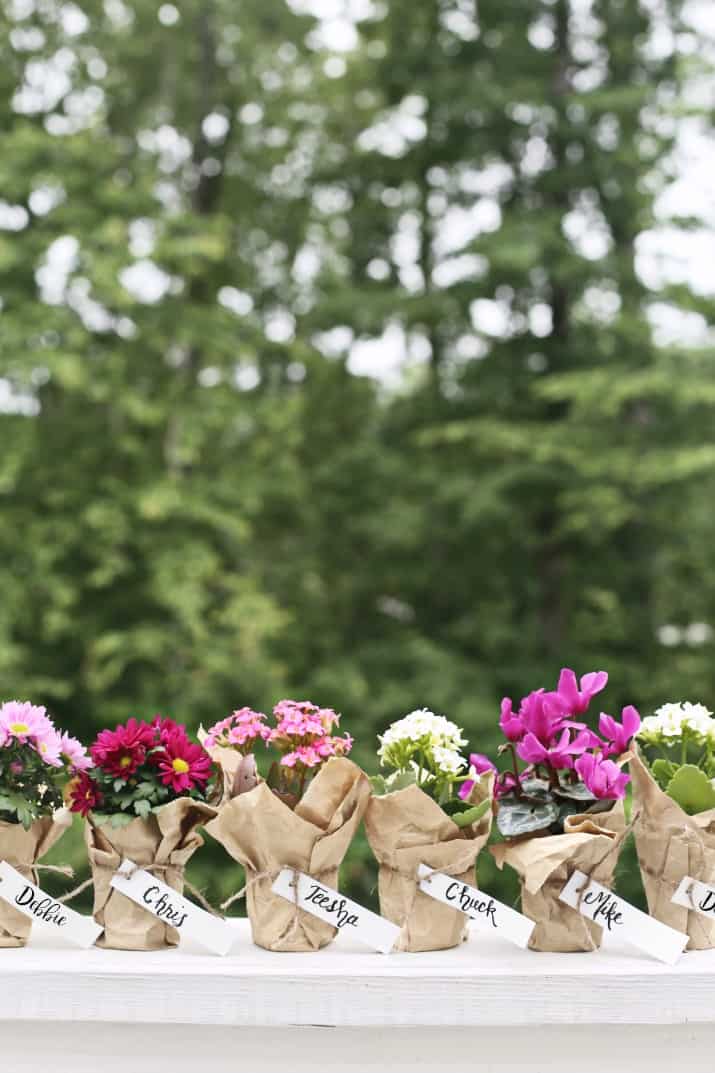 Follow these tips for this gorgeous dinner party with mini cheese boards
One of the keys to being stylish, whether in fashion or home entertaining, is knowing how to mix the "highs" and "lows" together for an elevated and individual style. This can mean anything from mixing vintage with couture, to combining sterling silver with burlap. For this party I took that concept less literally and more figuratively, to create a dinner party that's eclectic and inviting!
The idea is to create a setting that's intimate and casual but full of high-quality food and wine for a feeling of indulgence without the fuss.
I start by setting up a table on our small patio where you can't help but get cozy with one another. It feels private, secluded, and intimate, which encourages conversation.
Speaking of encouraging conversation, nothing is better than wine for that! Choose a few varieties of really GOOD Italian wine in order to pamper your guests. Serve both red and white to appeal to various courses and palates, and bring out the Prosecco for dessert. You can also serve it with charcuterie as it's a great palate cleanser to the rich meats.
Decant the wine so it can breathe. Serve in classic wine glasses to experience the full extent of the flavors and aromas in high-quality Italian wine. For the table though, I loved the casual feel of the tumbler glasses. That's what I love about party tablescapes and entertaining…you can get creative and break some rules!
When hosting a dinner party it's fun to break some old fashioned rules to make it more interesting.
For the table setting, I used my black & white rawhide rug as the table topper. It creates instant whimsy and is a conversation piece.
Layered black & white dishes and napkins pair so well with the mini wooden cheese boards and napkin rings at each place setting. The combination is not quite rustic, but the addition of natural elements like wood is warm and inviting.
Each place setting also gets a mini flower pot with the guest's name attached. It acts as a place card holder and a take home party favor that can be planted for the summer.
For the centerpiece, it doesn't get easier or more casual than potted flowers in terracotta pots lined down the middle of the table.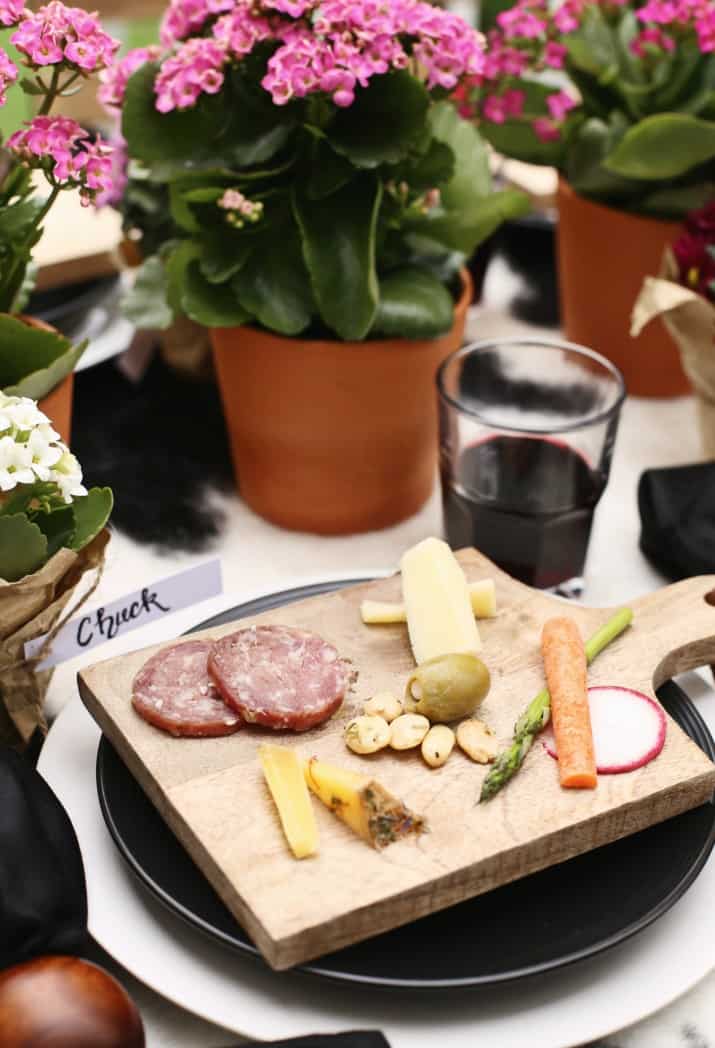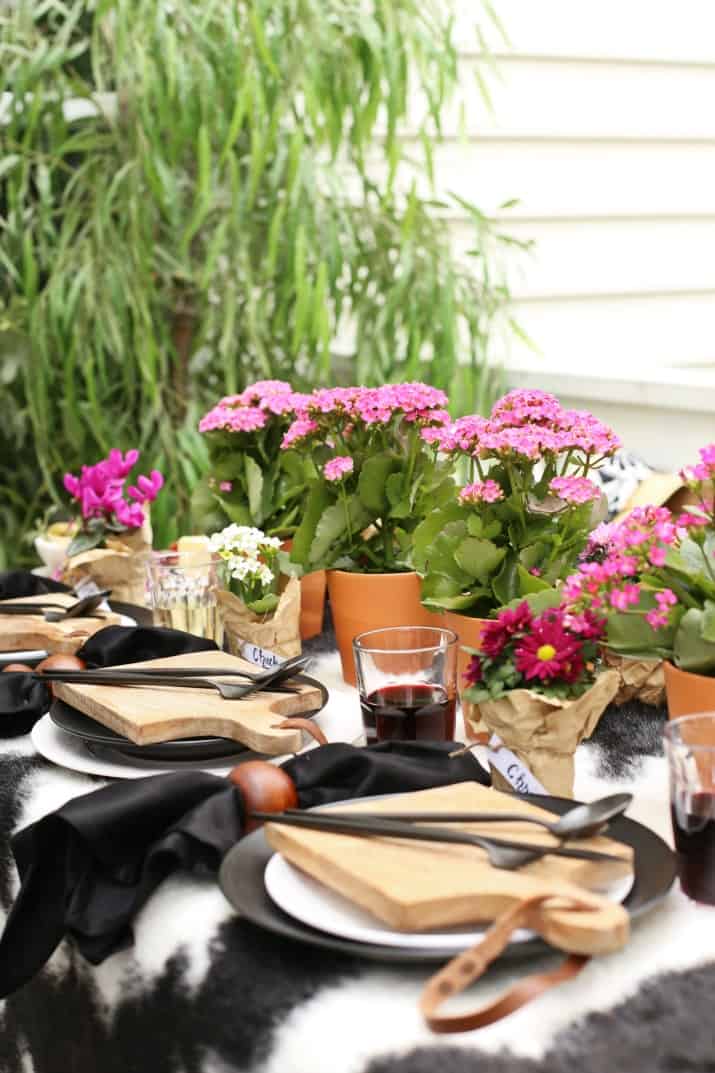 Wine list & menu ideas for a chic dinner party with mini cheese boards
There's something so classic about serving charcuterie and cheese, along with a crudites platter at a dinner party. They're fuss-free starters that everyone loves.
For my cheese board I found some Italian Truffle cheese along with some cured salami. I added a gorgeous herb & blossom crusted cheese that tastes as good as it looks, as well as olives and marcona almonds. The items can be cut and portioned out onto each guest's individual cheese boards.
Another marble serving board holds a modern spin on a crudites platter. These scattered sticks & slices of vegetables are popular with caterers now. They look so artistic and colorful all placed together in an abstract pattern. I included carrots, celery, asparagus, yellow pepper, radishes and an avocado ranch dressing for dipping. It makes such a pretty presentation, don't you think?
For dessert I'm keeping it simple with chocolate ice cream (or gelato), thin crispy cookies, and a light drizzle of Italian black cherries in syrup. Simplicity at its best.
For the main course, take a cue from your wines and wine regions for perfect pairings *source*
Follow this Italian wine guide for perfect pairings

Prosecco – sparkling and a nice palate cleansers it goes great with cheese and charcuterie. For subtler, saltier foods, like oysters, see if you can find a Brut Prosecco, which will be drier. Cheese, on the other hand, will benefit from a bit more richness, which can be found in an Extra Dry Prosecco.

Vernaccia di San Gimignano – Tuscany region; well suited for seafood dishes and light cream sauces.

Vermentino– grown in Sardinia and other areas along the Mediterranean coast; a perfect seafood pairing.

Pinot Grigio | Soave – great with citrus-based foods like lemon chicken or light and floral soups or stews; goes well with steamed, lightly sautéed, or poached foods.

Chianti – from the Chianti region in Tuscany; dry-body; pairs perfectly with tomato-based pasta & Parmigiano-Reggiano cheese; the most classic pairing with grilled meats.

Montepulciano d'Abruzzo | Brunello | Barolo – full-bodied & goes well with grilled, roasted, or baked dishes that have intense flavors.

Barbera – from the Piedmont region; a real crowd-please'r with low tannins, high acidity, and pairs great with everything from pizza to salami to salmon or tomato-based seafood stew.

Amarone – picks up the robust characteristics of spice and earth in game birds like quail, turkey, duck, and squab.

Vin Santo– dessert wine; have some nice biscotti or a torte.