Casual Summer Cocktail Party Buffet
Host a Summer Cocktail Party with Casual BBQ Style for a twist on summer entertaining. I'm showing you how to turn convenient grocery items into stylish party food for a fun backyard soiree. This is all party of our summer entertaining guide to give you ideas for hosting at home.
Tips and Ideas for a summer cocktail party
I'm constantly looking for new ways to entertain and put a spin on traditional ideas. That's why I decided to put a casual BBQ-style twist on the classic cocktail party. I received some delicious grocery items from BabbleBoxx that are perfect for summer grilling, and I think you'll agree that this fun party is a unique way to put them to use!
Send out your Evites, put your pretty sundress on, and get ready for a casual summer cocktail party because this food buffet is a treat for the eyes and mouth. I've turned classic bbq foods into individual size portions for easy snacking. Check out all the tips and ideas for a summer party.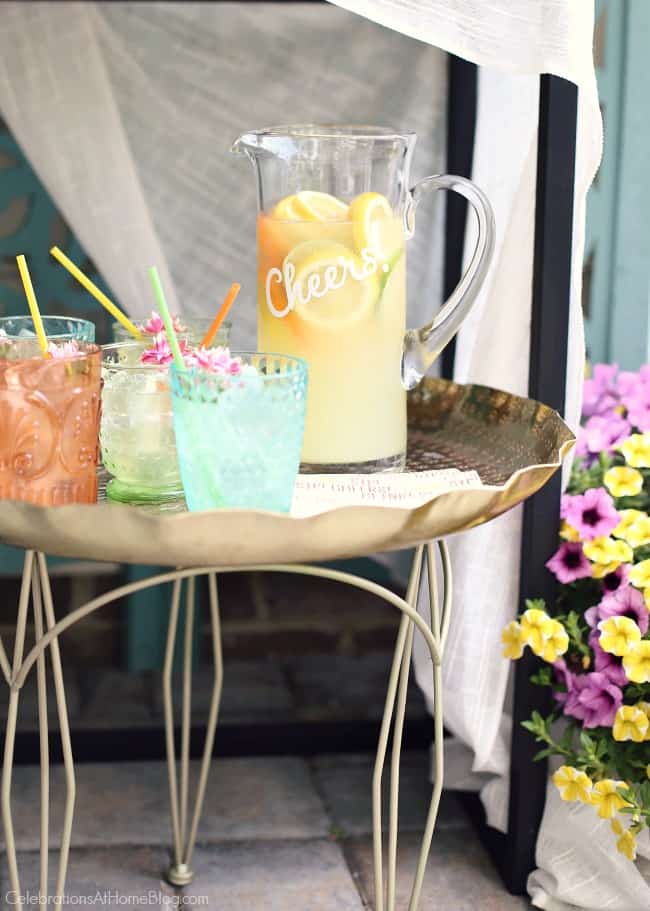 I'm using convenient grocery items for this party, to make it super easy on the hostess. The joy of entertaining shouldn't be overshadowed by the stress of making everything from scratch.
Set up a buffet table with grab & go nibbles. It's all about individual portions and small bites. And don't forget to place a pitcher of cocktails on a tray for easy serving.
Casual Summer Cocktail Party Menu & Tips
Have a pitcher of Ginger-Lemonade cocktails ready for pouring, as soon as your guests arrive.
Ginger-Lemonade cocktail recipe: pitcher drink just add 1 1/2 cups vodka + 3 cups prepared lemonade + 12 ounces ginger beer. Add sliced citrus for a sangria-style fruit infusion.
Nothing says party-style like a fresh cheese board complete with accouterments. I put out a good quality Parmesan cheese along with hummus, almonds, and a mix of Mario Camacho olives. These are packed liquid-free and come in 4 flavors. I particularly love the Garlic, and the Sea Salt Green flavors. These Ritz Cracker Crisps make great dippers for the hummus as well as a base for the cheese. They're so light and crisp, and come in 4 flavors…I'm obsessed with them!
TIP: Garnish your food boards and trays with fresh flowers, herbs, or berries. They make a beautiful accent for any dish!
Turn bbq chicken into small skewers just right for a cocktail party. This makes them easy to pick up and eat without a knife or fork. I used Newman's Own sweet & spicy bbq sauce to brush over them and give them backyard barbecue flavor.
TIP: Thread thinly sliced chicken strips onto wooden or metal skewers, OR cut chicken into bite sized chunks and line them on skewers for easy consumption.
One of my favorite snacks at this table is the mini salads in cheese cups. They're easy to make, but look impressive…and taste delicious! All I did was use this cheese crisp recipe, and place the cooked crisps over the backside of a mini muffin tin, while it's still hot and pliable. Press the sides down and let it cool in the shape of the muffin cup. When you're ready, toss together salad greens with Newman's Own Citrus Splash Dressing, and place a mound inside the cheese cups. The dressing is very light and gives enough flavor without overpowering the other ingredients.
STYLISH ACCENT: Make a pretty citrus "vase" to decorate your food tray by cutting a lime and/or lemon in half; insert a toothpick through the middle of one half and place the other half on top joining the two securely with the toothpick. Press small flowers into cut side of citrus.
Finally, turn standard baked beans into cocktail party food by placing them inside mini jars with lids. These new Green Giant baked beans come in 4 flavors that can stand alone or be used in your favorite recipe.
ADD SOME FUN: Add a little fun to your jars by printing out riddles onto colorful paper, and cutting them into circles to fit the lids. Guests get a brain teaser with their bean jars! You can have the answers printed out separately or have them written on the backside of the paper circles.
What do you think of this relaxed summer cocktail party idea? Do you like the bbq style spin?