Light & Rustic Dinner Party Menu
This light and rustic dinner menu can take you from spring all the way through fall parties. It's easy to prepare, looks pretty with its fresh ingredients, and it's perfect for summer entertaining outdoors too.
Light Dinner Menu
A light meal is just what you need when hosting a casual get-together. And these dinner party menu ideas turned out delicious! Serve them family-style on a fall tabletop design and let their vibrant colors complement the setting.
Whenever I entertain at home I'm guilty of thinking that I have to create a gourmet meal that takes hours to prepare. Although that's actually my idea of fun, I'm also learning the art of restraint and embracing the idea of serving food in a more natural and rustic state.
The recipes for this menu can serve 4 to 6 people and it's easy to increase the ingredients if you need to serve more.
Simple Ingredients
If you've ever been to France or Italy you know how they create a meal with fresh wholesome ingredients and minimal prep. And it's amazing!
I was inspired by that concept and decided on this menu consisting of a cheese board, nicoise salad, and rustic pasta with sausage. It's the type of meal that ignites your taste buds with simple ingredients and fantastic flavor combos.
Cheese Board Starter
Nothing is as classic and satisfying as a party cheese board when entertaining at home. There's no need to go overboard when you're hosting a casual dinner party, just add 2-3 cheese options, nuts, fruit, and bread or crackers.
The beauty is in the arrangement and you really can't go wrong there. Create a charcuterie party board with these items.
blue cheese
white cheddar
purple grapes
fresh figs
walnuts
almonds
French baguette slices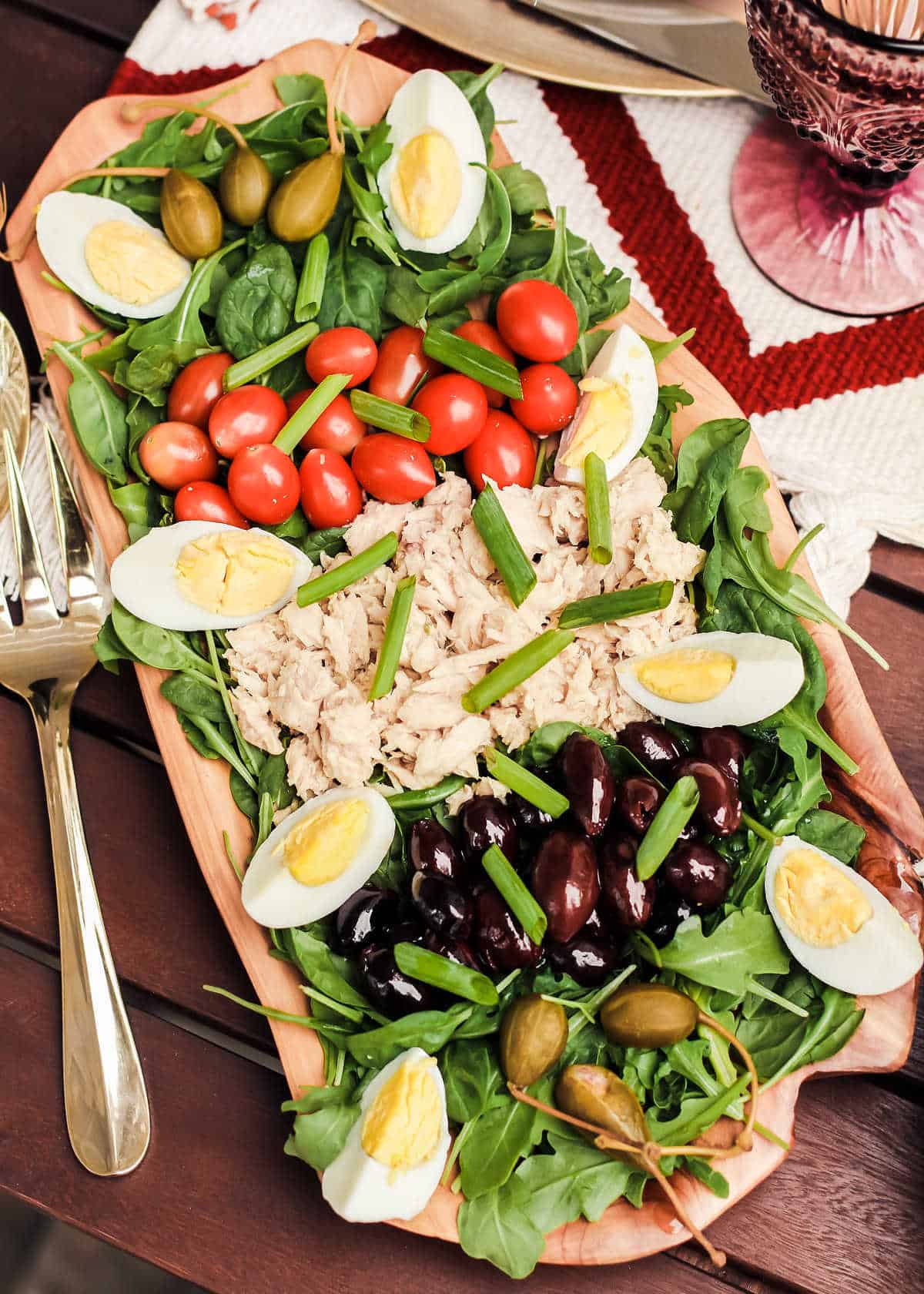 Nicoise Salad
This salad is more like part of the main coarse rather than a starter salad. The protein packed salad is a fabulous combination of ingredients, and oh so French! Add the ingredients in separate rows to add beauty to the presentation.
Key ingredients include spinach & arugula mix, tuna, hard boiled eggs, cherry tomatoes and black olives. See full recipe at the bottom.
Here's a list of alternate options for a rustic meal.
Pasta with Sausage
Nothing satisfies a crowd like pasta tossed with flavorful add-ins. To keep this light and rustic I added sausage medallions. You don't need a heavy sauce, just some good quality olive oil.
I actually used the oil that the sun-dried tomatoes were packed in, to drizzle over the top and it was superb.
Prep Ahead. Cook the sausage before guests arrive, cover with foil or put it in the oven at the lowest setting to keep warm. When it's time to eat, cook the pasta and drain it, then toss in the other ingredients.
This dish can also be served cold or at room temperature. Just use sliced pepperoni or salami instead of the sausage. Get full recipe below.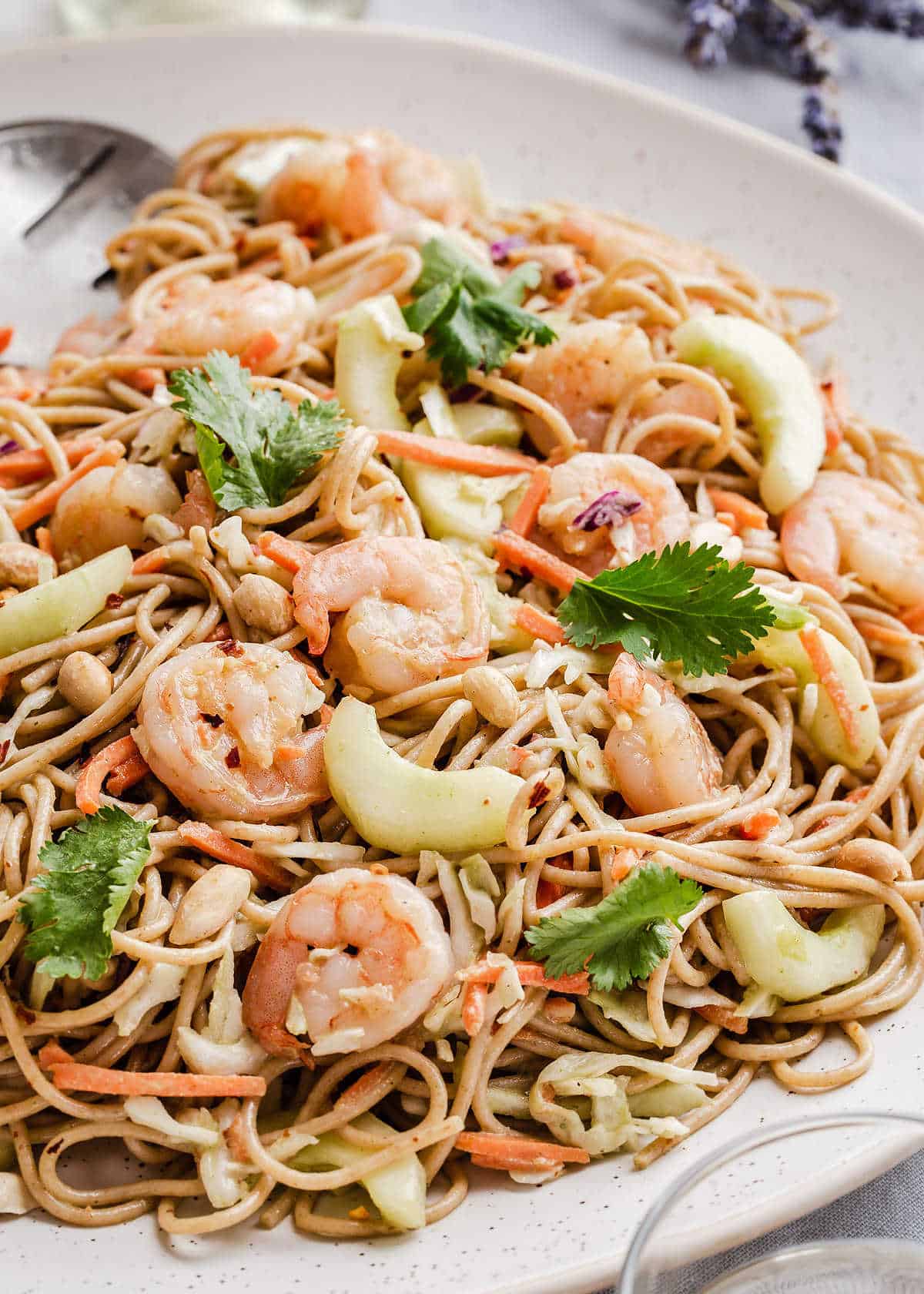 Here are some other recipe options that are good for a rustic menu.
Round out the table with a baguette served with soft butter or ricotta in a bowl drizzled with olive oil, salt and freshly ground pepper.
Wine
Choose a crisp dry or semi-dry white wine to wash it all down. A Pinot Grigio or Sauvignon Blanc are nice, or try a lovely Rosé.
Dessert
For dessert, serve this rustic apple galette with caramel drizzle, or this mixed berry galette. They're easy and definitely say "rustic" dinner.
For alternative options, try one of these recipes.
If you like this post, PIN, Share, or sign up for our Newsletter at the top of the page. And don't forget to follow CAH on Instagram or Facebook. Cheers!
Rustic Dinner Menu Recipes
Easy 30-minute meal for casual dinner party. Salad niçoise and rustic Italian pasta tossed with smoked sausage are filling and hearty for guests.
Ingredients
Nicoise Salad
1 bag ready-to-eat spinach and arugula salad mix
5-6 ounces chunk light tuna (use 2 pouches)
4 hard boiled eggs
1 cup cherry tomatoes
1/3 cup black olives
handful of whole caper berries
green onion, sliced
Vinaigrette Dressing
1/4 cup extra virgin olive oil
3 Tablespoons red wine vinegar
1/2 teaspoon salt
1 garlic clove, minced
Pinch of onion powder
Sausage Pasta
12 ounces penne pasta
12 ounces Italian sausage or Smoked Sausage links
1/2 to 3/4 cup sundried tomatoes (from jar packed in oil) cut into strips
3/4 cup tiny mozzarella balls (bocconcini)
bunch of fresh basil
Extra virgin olive oil or the sundried tomato oil, to taste
Instructions
For the salad, layer a platter with a bed of greens. Top the greens with remaining ingredients; add in rows for pretty presentation.
Add dressing ingredients to an 8-ounce mason jar and replace the lid securely. Shake until dressing if fully emulsified. Drizzle lightly over salad when ready to serve, or let guests add their own.
Meanwhile, slice sausage links into 1/2-inch medallions. Add to preheated skillet and cook until hot and the outside begins to get a caramelized crust. Remove and pat off any residual oil using a paper towel.
For pasta, fill a large stock pot with water. Add about a teaspoon of salt and bring to a boil. Cook pasta according to package directions and then drain.
Remove pot from heat but add the warm pasta back in. Add remaining ingredients and toss to combine.
Pour into a serving dish and serve.