Best Kentucky Derby Party Ideas
These are my top tips and recipes to host the best derby viewing party, guaranteed! Decorations, inspiration, classic food and drink, all right here!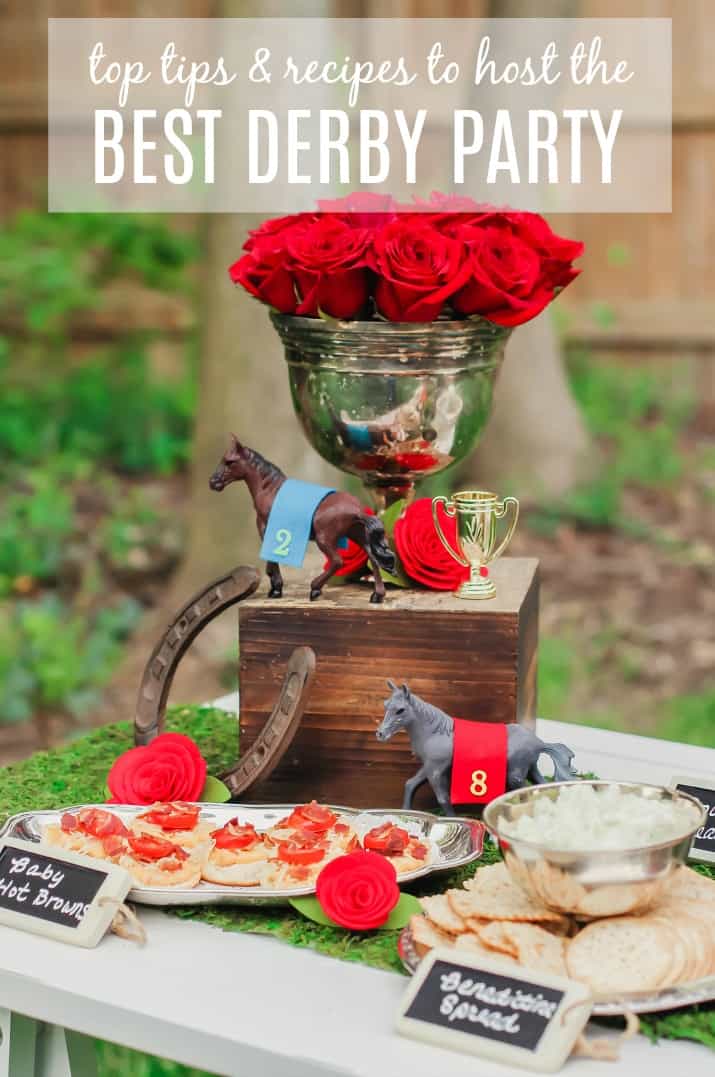 Hosting a Derby Viewing Party
I'm going to just be bold here and declare this to be the best list of ideas for hosting a fantastic Kentucky Derby party.
That's right, you can add an embellishment here, or a banner there, but if you include the ideas shared here you'll cover all the important bases for a derby viewing party including:
horses
roses
bourbon
hats
food and more!
What's more is that you won't go crazy trying to pull it all together. Items are easy to access, and set up is a breeze. That's a good thing since the race itself only lasts 2 minutes!
Plan the party to start a couple of hours before the final race so you can build up anticipation, have some cocktails, and place your bets.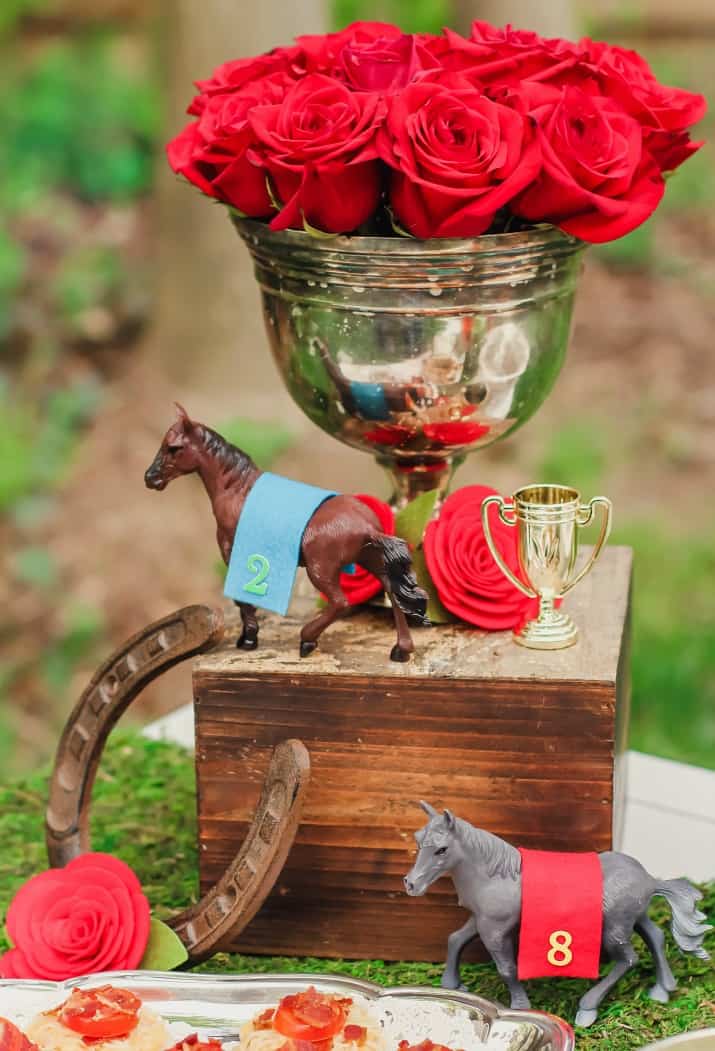 Kentucky Derby Party Décor
Cover the refreshment tables with moss runners from the craft store. They will emulate the field and provide a fantastic base for food and drink. Alternatives include a turf grass runner or a simple green table cloth.
Pick up toy horses from the Dollar Tree and add numbered sheets to their back like the horses wear in the race. Simply cut a long rectangle of felt fabric and attach a number stickers to the sides.
Place a few horseshoes on the table.
Place a dozen red roses inside a silver urn or trophy cup.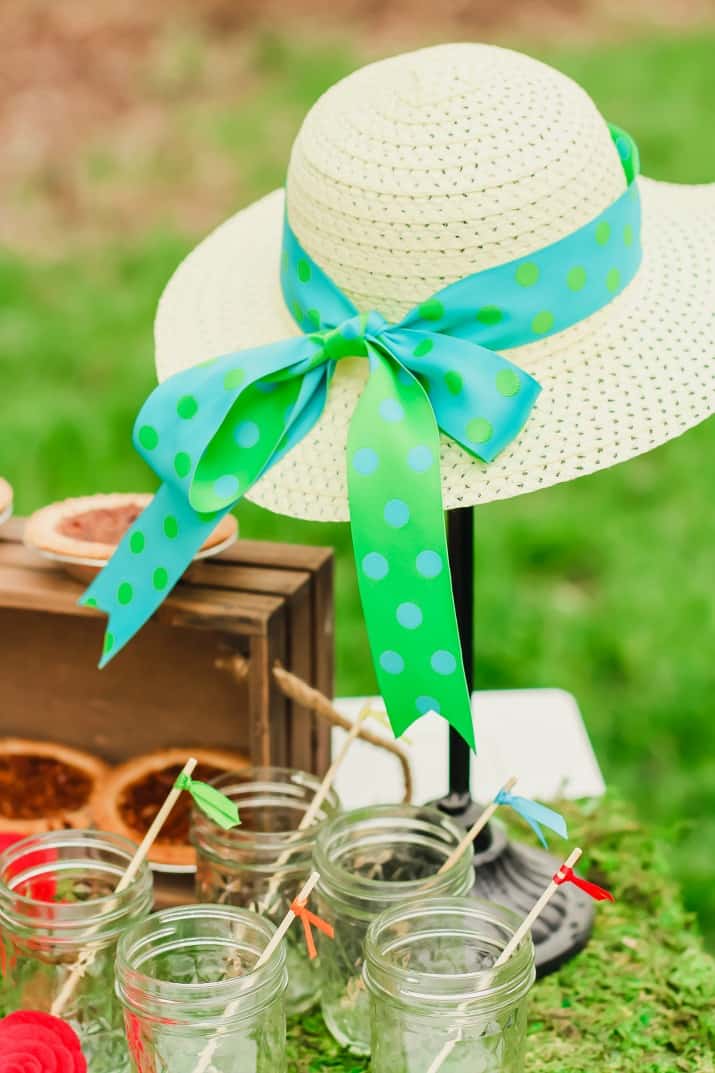 Incorporate Hats
Make sure the ladies wear large, over the top hats! The gents can also wear hats and bow ties.
Use hats as décor too. Place 1 or 2 on a tall stand. Here I used a wreath stand to anchor one end of the table with height.
Food for a Derby Party
Serve these quintessential derby dishes to your guests:
I suggest you serve bourbon meatballs. Everyone loves them and bourbon IS part of the theme here!
Make the best deviled eggs with bacon for your guests to snack on. They're addictive to eat!
Easy 3-ingredient bacon-wrapped crackers are another delicious appetizer to serve. Make the savory or sweet version, or both!
Put out bowls filled with sweet & spicy pecans for guests to nibble on.
You also need to serve mini hot browns for a bite size take on the traditional sandwich.
Make-ahead Benedictine spread with cracker and cut veggies.
Classic mint juleps made with a good quality Kentucky bourbon.
See recipes below.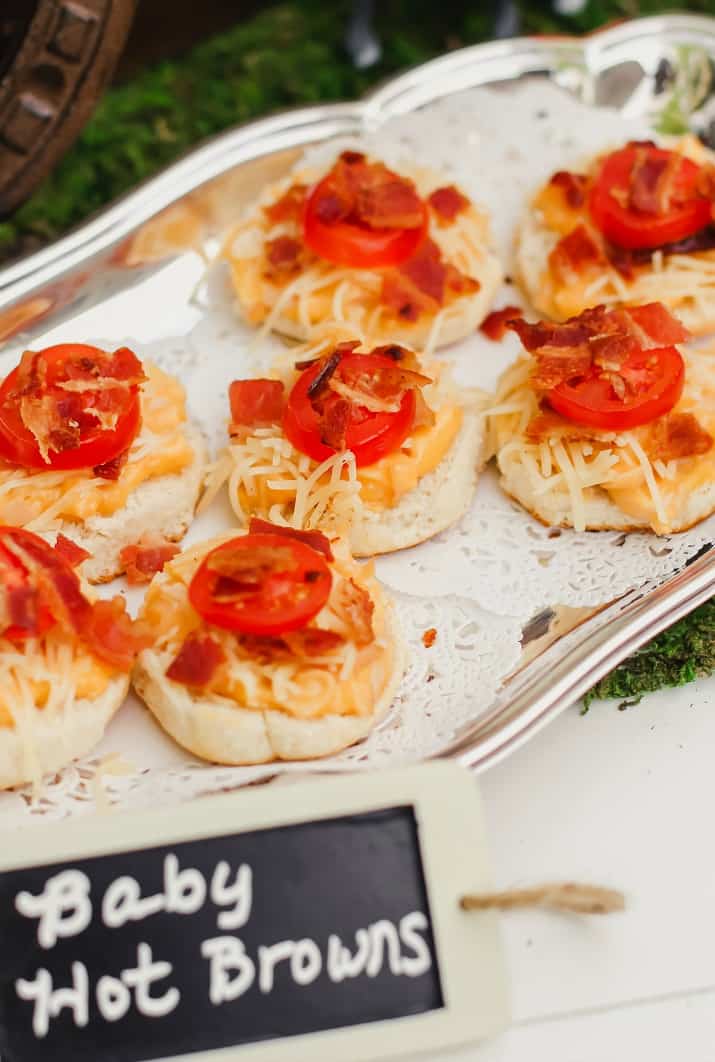 Baby Hot Browns
10 mini biscuits – I find them in refrigerator cans containing 5 biscuits each
1 1/2 cups diced deli turkey
6 slices of bacon, cooked and crumbled
1/2 cup shredded Parmesan cheese
about 6 or 7 plum tomatoes, sliced
Cheese sauce
3 tablespoons butter or margarine
3 tablespoons all-purpose flour
1 cup milk
1 1/2 cups (4 ounces) shredded sharp Cheddar cheese
1/4 teaspoon salt
1/4 teaspoon ground red pepper
Cook biscuits according to package directions. Let cool and slice in half. Set aside.
To make cheese sauce, melt butter in a saucepan over low heat and add flour. Cook, whisking constantly, until smooth. Gradually whisk in milk; cooking over medium heat, whisking constantly until mixture is thickened and bubbly. Add Cheddar cheese, while whisking until cheese melts. Stir in diced turkey, salt, and ground red pepper.
Top biscuit halves with cheese & turkey mixture. Sprinkle with Parmesan and half of bacon. Cook at 375 degrees for about 5 minutes or until Parmesan is melted.
Remove and top with a slice of tomato and sprinkle with remaining bacon.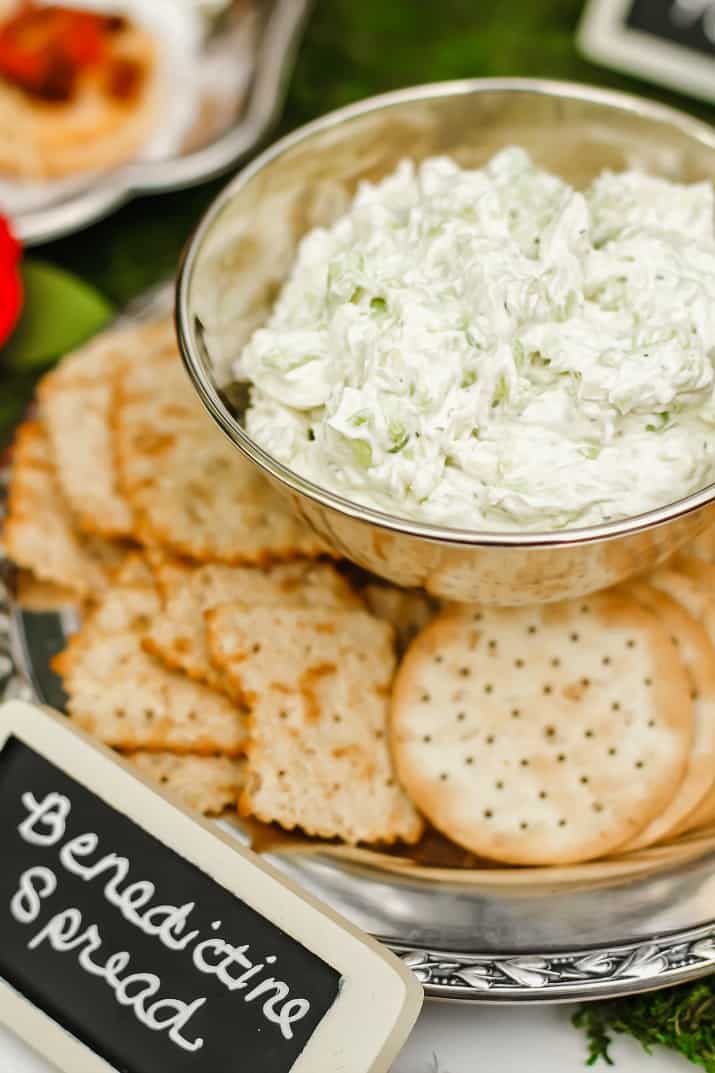 Make this Benedictine as a dip or a spread. It's a southern tradition at parties, from baby showers to bridesmaids luncheons. It's also terrific to make stuffed cherry tomatoes as part of an appetizer buffet.
Benedictine Dip or Spread
8 ounces cream cheese at room temperature
1 cucumber, peeled and grated
About 1/4 of an onion, grated
1 Tablespoon mayonnaise
1/2 teaspoon salt
Pinch of cayenne pepper
Drain all the moisture out of the grated cucumber and pat dry with a paper towel. Do the same with the onion.
Combine all ingredients in a bowl and mix well. Cover and refrigerate a couple of hours or over night so flavors can marry.
Serve as a dip for crackers and veggies, or spread on white bread to make small tea sandwiches. Cut off crusts and serve.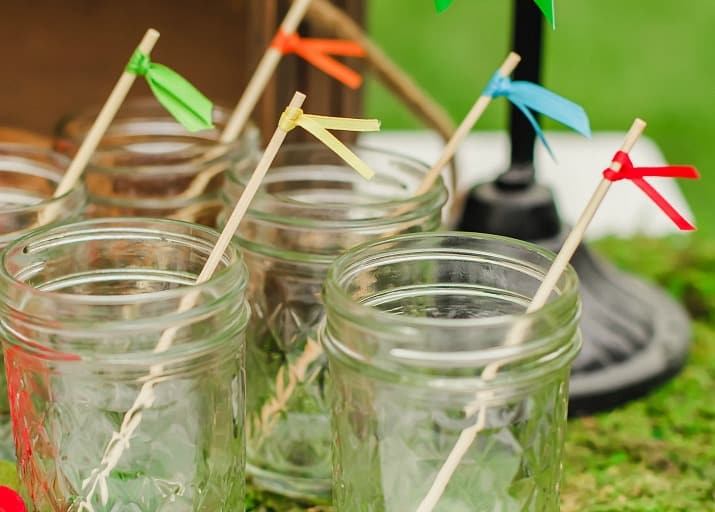 Make these easy DIY "jockey whip" drink stirrers. Use thin ribbon in different colors and tie them on to the ends of wooden skewers for a decorative touch to the glass.
I don't know anyone who has enough silver julep cups for a party. I think the next best thing to do for a crowd is to use 8 oz. canning jars. They keep that Southern feel and they're economical too.
Drinks
Naturally you'll want to serve mint juleps. Use this classic recipe below, made with mint simple syrup.
To change things up a little try these Southern Kentucky Mule cocktails.
For a refreshing twist, add a bourbon ginger lemonade cocktail to the bar.
Classic Mint Julep
2 cups water
2 cups sugar
fresh mint
crushed ice
bourbon whiskey
Make the mint simple syrup by combining the water, sugar, and mint in a sauce pan over medium-high heat. Bring to a boil for 5 minutes.
Let syrup cool for at least 20-30 minutes before removing mint leaves. Transfer syrup to a small pitcher or bottle, cover and refrigerate over night.
Make one drink at a time by adding 1 tablespoon mint syrup with 2 ounces of bourbon over ice. Stir to combine and chill.
Garnish with a sprig of mint.
For added fun, set up a bourbon bar and let guests try some new brands or flavors.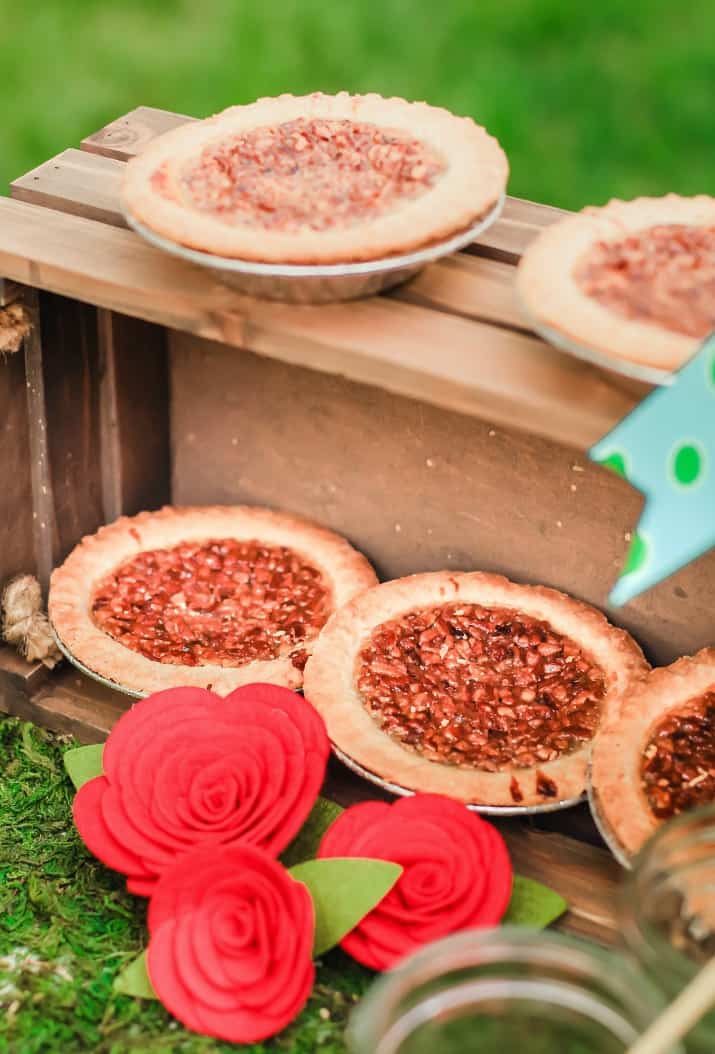 Dessert
Bourbon pecan pie is a derby classic, but why not serve it in mini pie shells so guests can grab and go. You can use muffin tins for the perfect portion size, or you can "cheat" by picking up some minis at the bakery.
Try this Kahlúa pecan pie for a wonderful twist, or this pecan pie trifle as a dessert centerpiece.
Whip up a batch of bourbon balls to serve on the sweets table and to package as guest party favors. These bite size desserts can be made up to a week ahead of time.
These pecan pie bars would be tasty too, and they have a sugar cookie crust.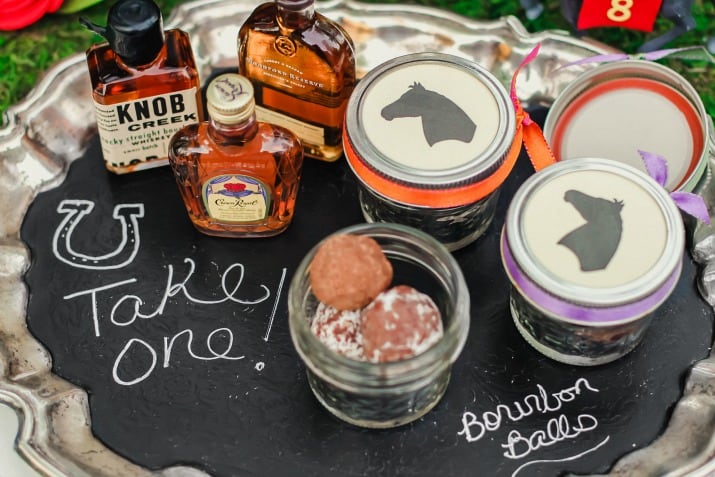 Party Favors
Win or lose the race, send your guests home with themed favors.
Mini bottles of bourbon are a great take home gift for the southern gents.
While packaged bourbon balls are a sweet treat for the belles.
Will you be hosting a Kentucky Derby party or watching the race on Saturday? Make sure to include some of these fun tips and recipes!
If you like this post, PIN, Share, or sign up for our Newsletter at the top of the page. And don't forget to follow CAH on Instagram or Facebook. Cheers!