You're going to love these Easy Pecan Pie Bars with Sugar Cookie Crust. It's like two treats in one! Pecans are a Southern staple and they taste great in everything from appetizers to dessert. Make this traditional bar recipe with a twist for your next gathering. Serve them on dessert tables, at potluck parties, and holiday celebrations.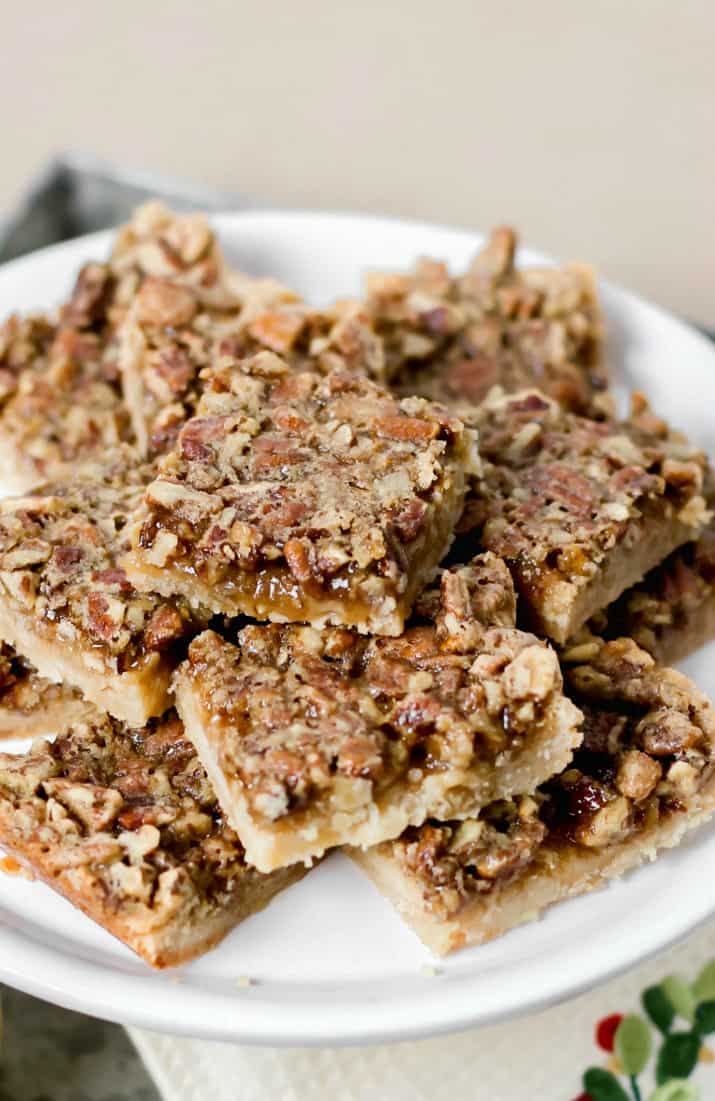 This easy recipe for pecan pie bars saves time by using prepared sugar cookie mix for the crust.
Growing up in the South, pecans and pecan pie are a way of life! I don't think I've ever been to a potluck party or family event where there wasn't at least one pecan pie on the dessert buffet.
If it's not a staple dessert where you live, I urge you to make this recipe with this easy sugar cookie crust. One taste and you'll see why we love our pecans! The sweet and salty combination is one of my favorites.
I've typically made my bars with a shortbread crust. But this sugar cookie crust is a delicious alternative and I love how it turns out.
For more delicious recipes that highlight pecans, see this pecan pie trifle for a show-stopping dessert. Or serve these sweet & spicy pecans when your hosting a cocktail party.
If you like pecan pie you're going to love these hand held desserts.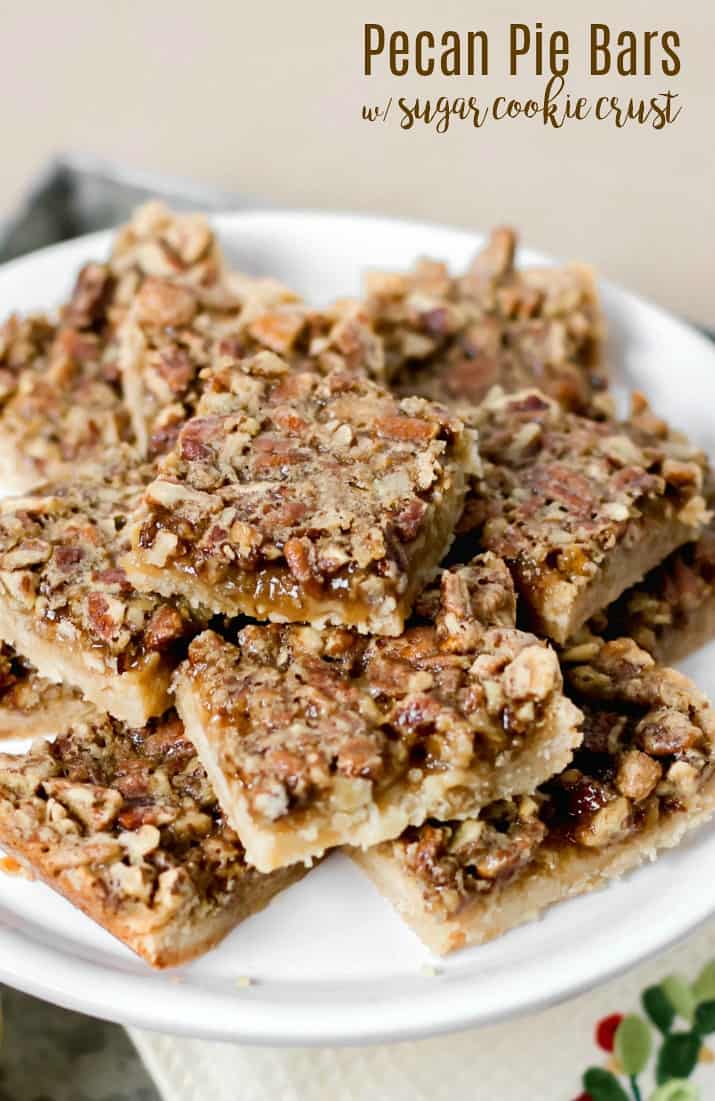 Variety is the key when setting up a dessert table with small bites. You'll want to include cookies, bars, and truffles as well as something with chocolate. It's also a good idea to add something fruity to the mix of items.
These pecan pie dessert bars are a terrific addition and are easy to pick up as you continue to socialize. If you want to combine flavors these chocolate chip pecan bars look totally indulgent and rich.
Easy Pecan Pie Bars with Sugar Cookie Crust
These Easy Pecan Pie Bars with Sugar Cookie Crust are like two treats in one! They're incredibly easy to make and taste amazing! Make them for dessert tables, potluck parties, and holidays.
Ingredients
Crust:
1 pouch (1 lb 1.5 oz) Betty Crocker® sugar cookie mix
1/2 cup butter or margarine, softened
1 egg
Filling:
1 cup packed brown sugar
2 tablespoons all-purpose flour
1/2 teaspoon baking powder
1/2 teaspoon salt
1/2 teaspoon vanilla
2 eggs
1 1/2 cups chopped pecans
Instructions
Heat oven to 350°F. Spray bottom of 13 x 9-inch baking dish with cooking spray.
In large bowl, stir all Crust ingredients until dough forms. Press dough in bottom of pan using floured fingers. Bake 20 minutes.
Meanwhile, in medium bowl, stir all Pecan Filling ingredients until well blended. Pour over hot crust.
Bake 15 minutes or until center is set. Cool completely, about 2 hours before cutting.
Store covered in refrigerator.