Wrapping Party & Gift Ideas to Eat Drink & Celebrate
Navigating the holidays can be tough. Especially when you have a full time job, kids, gifts to buy, and entertaining you want to do. Today I've teamed up with BabbleBoxx with some gift ideas to eat drink & celebrate with!
I've incorporated the items into a gift box that you can give to someone, as well as ideas for a gift wrapping party for you and your gal pals. I've said a million times that I love gifts that can be consumed. That way no one has to find a home for it. As my grandmother used to say, "I don't want anything that can collect dust."
These stylish gift ideas are great for friends, family, and hostesses.
Host a gift wrapping party for a few friends and serve up these tasty ideas.
I've been to a few wrapping parties in the past and it always makes the task so much more enjoyable. The idea is to have a few snacks and cocktails while wrapping a handful of gifts. Take my word for it; the time flies by!
For the holidays you'll want to incorporate the 5 senses to help create the mood for a gift wrapping party.
Sight – Of course you'll want to start by decorating the house. At the very least that involves putting up the Christmas tree. I like to change my Christmas tree every year. This year I've gone with a retro/nostalgic theme incorporating muted tones & gold ornaments, gold tinsel and Nutcracker themed ornaments.
Smell – If you're like me and have an artificial tree, you definitely want to incorporate some Scentsicles Ornaments. They hang from the branches like ornaments and practically disappear while they give off holiday scents. Made of natural fibers and sustainable resources they're infused with the fragrance of the holidays.
Sound – Another no-brainer to set the scene for a gift wrapping party is to play Christmas music. Turn the volume low so it doesn't overwhelm conversations. I found a terrific playlist on Spotify called "Christmas Hits." It includes 89 songs from the classics to updated pop versions. It's all I've been listening to!
Taste – For a holiday wrapping party serve appetizers, Prosecco, and My/Mo Mochi Ice Cream balls for dessert. Start with these bourbon meatballs and curried pumpkin soup shots with stuffing balls. Then for a sweet finish pull out a platter of My/Mo Mochi Ice Cream placed in the form of a Christmas tree! These little portable bites are heavenly. There are 8 different flavors to choose from, and it's delicious ice cream wrapped inside rice mochi dough. Here I served Sweet Mango, Double Chocolate, and Green Tea flavors. Get a $1 Off Coupon by visiting here.
Touch – If you're hosting a wrapping party you'll likely be sitting on the floor in order to have enough room for everyone to work. Make sure to have comfy throws, blankets, and pillows to sit on. Faux fur, cable knit, and other plush fabrics are ideal to curl up and feel cozy.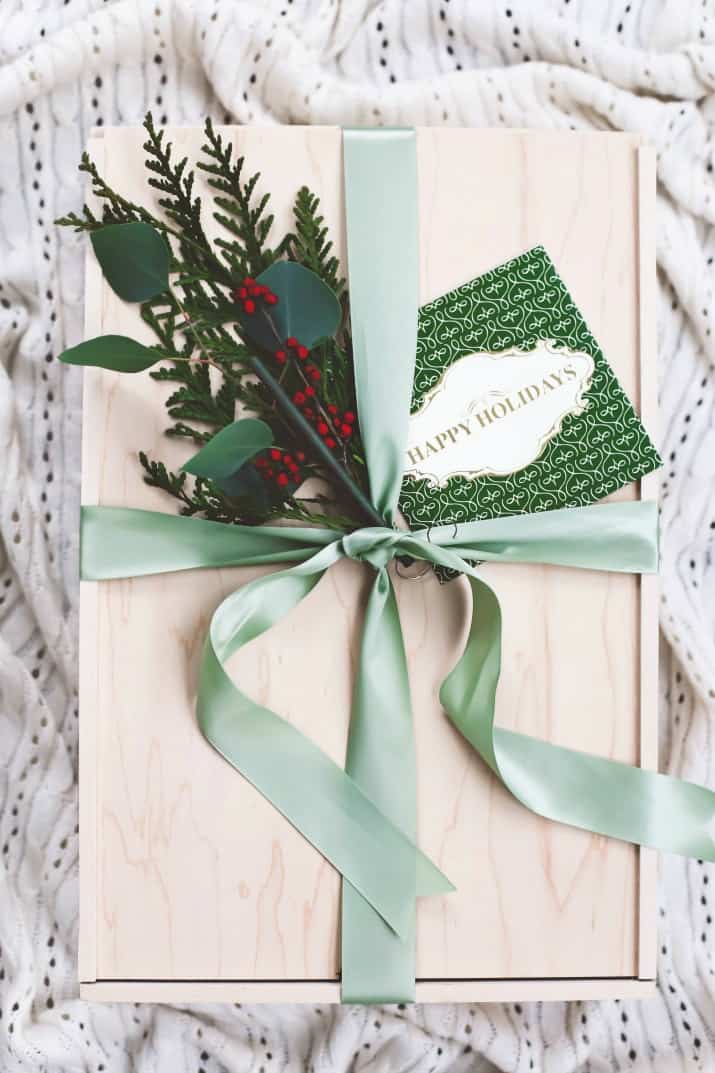 Use these gift wrapping and gift ideas for the holiday.
If you're hosting a wrapping party you can either provide an array of supplies for your guests to use, or have each person bring their own. Even if guests bring their supplies it's a good idea as the hostess to have extra items on hand. Keep in mind neutral wrapping paper, boxes, scissors, ribbon, and gift tags.
HOSTESS TIP: Add clippings of greenery and evergreen branches so guests can tuck some under the bow of their wrapped gift.
Here's a great gift idea for you to give to a friend, neighbor, or as a hostess gift. It starts with a wooden box with a slide lid. You can do a search online to find the size you need. They're so chic and reusable!
Fill the box with shredded paper filler or excelsior then add some of your favorite things.
Candles are a popular gift for the holiday, but why not give a Scentsicles table ornament instead? These fill the room with Christmas fragrance but without the open flame!
A bottle of wine or sparkling Prosecco is always a fantastic gift idea. Give a bottle of Cinzano Prosecco inside your gift box and cross your fingers that you'll be on the 'share' list! Cinzano is dry and crisp with hints of apple and pear. One of my favorite ways to enjoy Prosecco is in a peach bellini. Just add 3 parts Cinzano Prosecco to 1 part fresh peach purée. Pour all ingredients into a chilled flute glass, stir gently and enjoy.
Finally, add a small box of Fran's Chocolates Salted Caramels. These taste amazing! The box of 20 is half milk and half dark chocolate. Fran's is the original creator of this sweet & salty confection, which was introduced in 1998. The dark chocolate caramels are topped with gray salt while the milk chocolate caramels are sprinkled with smoked salt. Both are 100% delicious!
There you have three classic gift items to try for yourself and/or give to someone else.
HOSTESS TIP: As a final flourish, add a Scentsicles tree ornament attached to the sprigs of greenery tied onto the gift box.
Have fun planning a wrapping party and creating gifts with these great ideas.