Charcuterie Skewers Appetizers
Turn antipasto into appetizer charcuterie skewers! Serve individual food on a stick that includes cold meats and cheese with other ingredients usually found on a charcuterie board. This is a great make-ahead recipe for parties, and it's a crowd pleaser every time!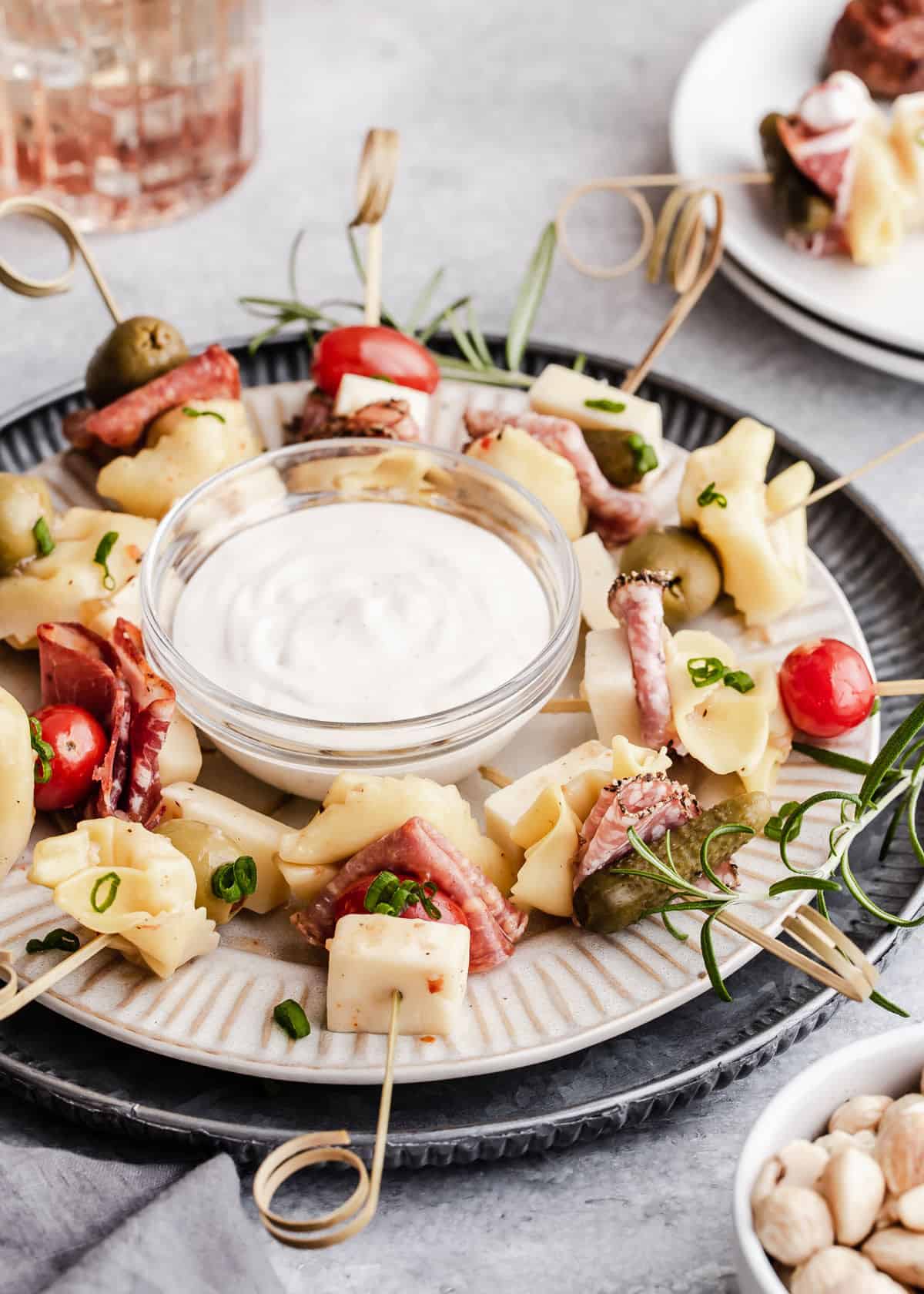 There's so much to love about these appetizer skewers. You're going to want to make them for every gathering!
These are quick and easy to make and they are loved by everyone.
They're a make-ahead appetizer, making hosting super easy.
You can serve them cold or at room temperature so they're ideal for taking to a potluck, a tailgating menu, or easy entertaining at home.
Charcuterie skewers are so versatile. Make as many as you want, and make them how you want. It's all up to you.
Food on a stick is simply fun to eat! You get an individual portion size, you have a handle to hold, and it leaves your other hand free to hold your drink. It's like a mini kabob!
Charcuterie or Antipasto?
Are these appetizers charcuterie or antipasto? Technically speaking, antipasto is an Italian word referring to the first course of a meal and includes small bite-size portions.
On the other hand, charcuterie is the French term for any pre-cooked prepared meats.
While the definitions do differ, we Americans simply refer to any cold meat and cheese platter as a charcuterie board, and it is delicious! Add it to a skewer and it's a yummy party food.
How to Serve Them
I like to serve these with a bowl of good ranch dressing so you can dip them. It just adds another layer of delicious flavor. Other good additions are pesto sauce or balsamic glaze drizzled lightly over the skewers.
Serve them for holidays or a Christmas cocktail party and lay them in a circle like a wreath. Garnish with fresh rosemary to resemble Christmas tree branches. Add a small dip bowl in the center.
Put 2 or 3 skewers in small snack cups or glass jars and serve "jarcuterie." Everyone gets their own individual portion, and you can add a little bit of the dipping sauce in the bottom of the cup.
These are yummy dinner party appetizers to have before sitting down to the main meal.
The cheese tortellini and meat make these a hearty appetizer for Super Bowl parties or game day.
Ingredients
Meats. Look for a package of thin slices of cured charcuterie meat in the meat and cheese section of the grocery store. Aldi, Trader Joes, and Wegman's have a great selection. Use any combination of genoa salami, calabrese salami, capocollo (aka coppa), soppressata, or pepperoni. You can also cut small slices of summer sausage or Spanish chorizo and add them.
Cheese. Buy the blocks and cut them yourself. You'll want them a little bigger than the pre-cut cubes you can buy. Classic cheddar and white cheddar are my favorites, but other good choices are swiss, Monterey jack, pepper jack, bocconcini (tiny mozzarella balls), provolone, Havarti or Gouda.
Cheese Tortellini. These little cheese filled pasta shapes are what make these skewers extra good and hearty. They're the perfect size for skewers, you can buy them in the refrigeration section, and they cook quickly. There's also tri-colored tortellini that can add even more color to the skewers.
Fresh & Pickled Vegetables. This is going to add color, texture, and flavor to your charcuterie sticks. Use fresh cherry tomatoes, sweet baby pickles or cornichons, and stuffed olives. There are so many variations of stuffed olives, you can try cheese stuffed, jalapeno stuffed, or traditional pimento stuffed.
Italian Dressing. Here's where it gets even better. Use a good quality Italian dressing to marinate your ingredients in for several hours or over night. It keeps the pasta from drying out and adds just enough seasoning to the other ingredients. NOTE. Start with a half cup of dressing and add more if needed. You want to moisten and season the ingredients, not drench them.
How to Make Easy Charcuterie Skewers
You'll need 6-inch or 8-inch wooden skewers. Get plain ones or decorative themed ones.
This party recipe requires very little in the way of measuring or mixing. You just cook the tortellini, marinate ingredients, and assemble onto skewers.
Expert Tips
Use bottled dressing as the marinade, to make entertaining easy.
Marinate the meats, cheese, and tomatoes in the dressing before threading them onto the skewers. That way they can fully take on the flavors.
Make the skewers up to a day ahead and keep covered in the refrigerator.
Additions & Variations
Incorporate these ideas into our already flavorful bites.
Roasted red pepper add so much flavor but they are very wet. Make sure to remove them from the jar and pat dry with a paper towel. Then cut them into 1-inch pieces.
Include artichoke hearts on the skewer. Find them marinated in olive oil in jars, or use the ones from a can that are packed in brine. I suggest using the canned ones if you want to add them to the Italian dressing marinade with the other ingredients.
Marinated mushrooms are yummy and you could add them to the regular sticks, or use as a substitute for meat for vegetarians.
If you like the sweetness of pepperoncini peppers, you can add those too. They're packed in jars of brine and similar to roasted red peppers in that they are very wet. You'll have to cut the stem end off and pat dry with paper towel before adding them.
I love to add bread such as focaccia or ciabatta cut into 1-inch cubes. Just don't marinate them beforehand.
Make caprese skewers using just cherry tomatoes, bocconcini and fresh basil leaves.
More Skewered Appetizers Ideas
Another fantastic make-ahead option is ham, cheese and fruit kabobs. They're a mildly sweet and savory combo.
Easy teriyaki chicken on a stick is so flavorful and is a terrific appetizer.
Chicken skewers appetizers with jerk seasoning can be made ahead for easy hosting.
Puff pastry cheese skewers look adorable and who can resist these cheesy bites?
Appetizer fruit skewers are lightly sweet and savory. A fantastic hors d'oeuvre at any gathering.
Make your pigs-in-a-blanket or meatballs more elegant by serving them in little rows on a skewer.
Layer a chunk of ham (smoked or honey roasted), slice of apple, and a chunk of blue cheese.
Wrap a piece of ham around a chunk of pineapple, place a cherry on top and skewer it into a pineapple. Perfect for a luau or tropical theme party, and your guests will be impressed!
Add a cube of dense bread (focaccia or ciabatta), a cube of salami, and cube of smoked provolone.
Cut flower shapes into fruit slices, using cookie cutters, and layer with grapes or berries. Perfect for a kid's party or spring shower.
For a breakfast or brunch menu, make French toast kabobs layered with fruit. It's easy when you start with French toast sticks from the freezer section.
If you like this post, PIN, Share, or sign up for our Newsletter at the top of the page. And don't forget to follow CAH on Instagram or Facebook. Cheers!
Easy Charcuterie Skewers
Put antipasto on a stick with these appetizer charcuterie skewers! Everyone loves this delicious and colorful party food that's so easy to make.
Ingredients
1 (9-ounce) package refrigerated mini cheese tortellini
1 (6-ounce) package variety pack of cured meats - salami, soppressata, capicola, etc.
1 (8-ounce) block of cheese; extra sharp cheddar, white cheddar, swiss cheese, or tiny mozzarella balls
1 jar stuffed olives, any variety
1 jar baby sweet pickles or cornichons
1 pint cherry tomatoes
1/2 cup bottled Italian dressing, plus more if needed; or use your favorite recipe
30 wooden skewers, 6 or 8 inches long
Instructions
Cook pasta according to package directions; drain and rinse under cold water. Drain well and let air dry or pat with a paper towel.
Cut cheese into 1/2-inch cubes.
Add tortellini, cheese, meat slices, and tomatoes to a medium size bowl or baking dish. Pour Italian dressing all over and give everything a stir so it gets dressed in the marinade.
Cover and refrigerate for at least 2 hours, or up to 24 hours.
When you're ready to make the skewers, fold meat slices into quarters. Add a vegetable, a piece of meat, a cheese cube, and a tortellini (in any order) to each skewer and set on a serving tray or platter. Continue until you've got all the ingredients used.
Serve immediately or refrigerate until party time.
Notes
Serve with a small bowl of ranch dressing to dip into, or drizzle lightly with pesto or balsamic glaze.